Crispy Oven Baked Tilapia [Video]
Last updated on June 18th, 2021 at 07:07 pm
Crispy Oven Baked Tilapia soaked in buttermilk and covered with bread crumbs, is the perfect dinner option for busy weeknights. The fish is cooked in about 15 minutes, and it has a fresh and delicious taste.
If you want to deviate a bit from a traditional meat meal, this Baked Tilapia is the perfect candidate. It is a quick and great dinner option, and you can serve it with Chunky Mashed Potatoes or Creamy Scalloped Potatoes. For a healthier option, you could pair the tilapia with Oven Roasted Bok Choy or Roasted Brussels Sprouts.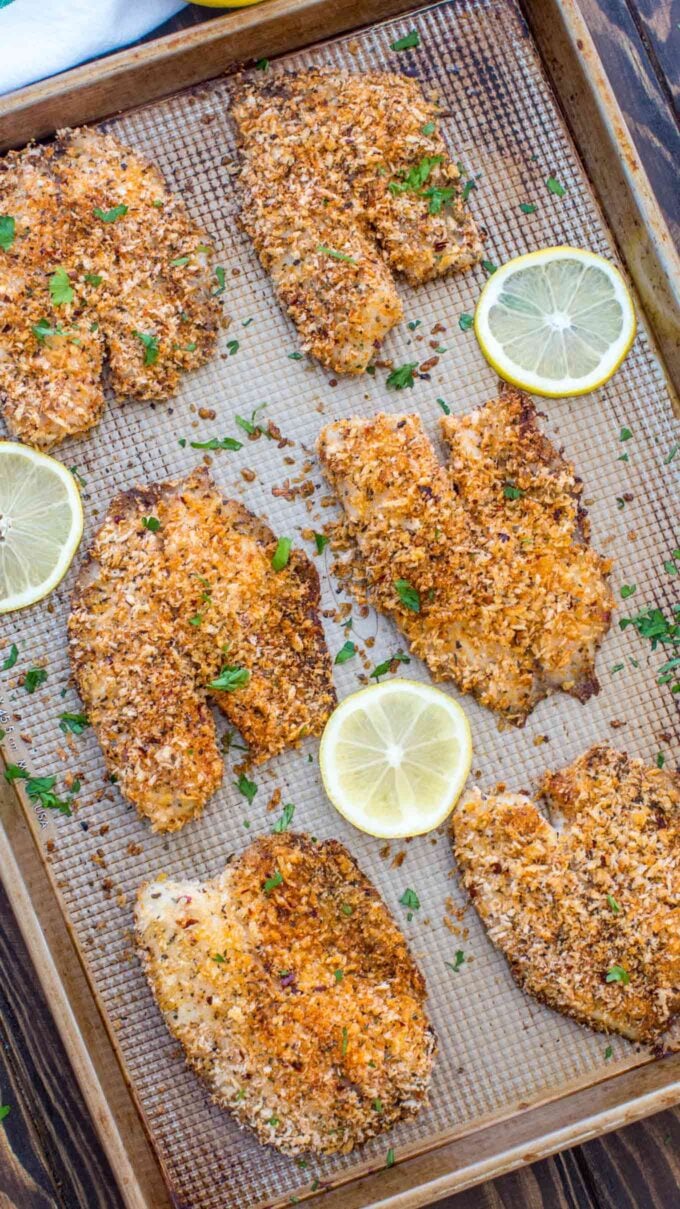 Easy Oven Baked Tilapia
Baked Tilapia has a nice mild flavor, so it's a great dinner option for the whole family. Prior to baking, I soaked the tilapia filet into buttermilk and then coated it with Panko bread crumbs. This mixture gives the fish a juicy and buttery flavor on the inside, and a crispy coating on the outside.
Also, the bread crumbs coating gives the fish a nice golden brown color when baked. After cooking the tilapia, I top the fish with the most delicious homemade light lemon aioli sauce, for the perfect finish.
This meal is incredibly delicious, refreshing, and satisfying, while made in a very short time. I love making this dish for dinner since it's healthy and ready in just 30 minutes. I used frozen tilapia filets, as they tend to be cheaper, but fresh fish would be even better. For frozen filets, make sure you let them thaw, and pat them dry with paper towels before cooking.
How do you make baked tilapia crispy?
The secret in making the tilapia perfectly crispy is starting with dry filets, coating them with bread crumbs, and baking at a higher temperature. In this case, it is best to bake the fish at 400 degrees F for 12-15 minutes.
For full directions, please follow the instructions at the bottom of the page. Check out the video below on how to easily cook this dish.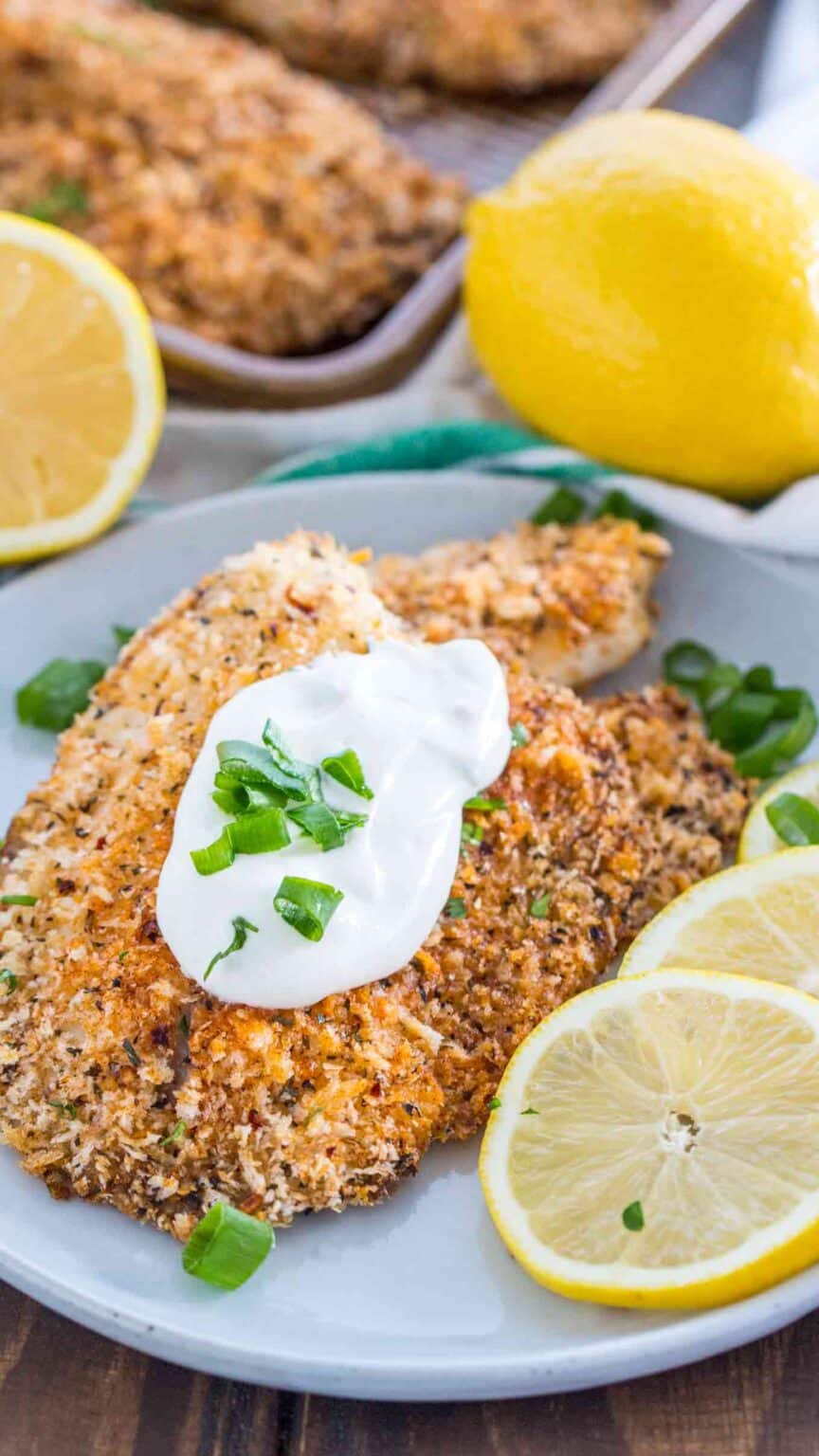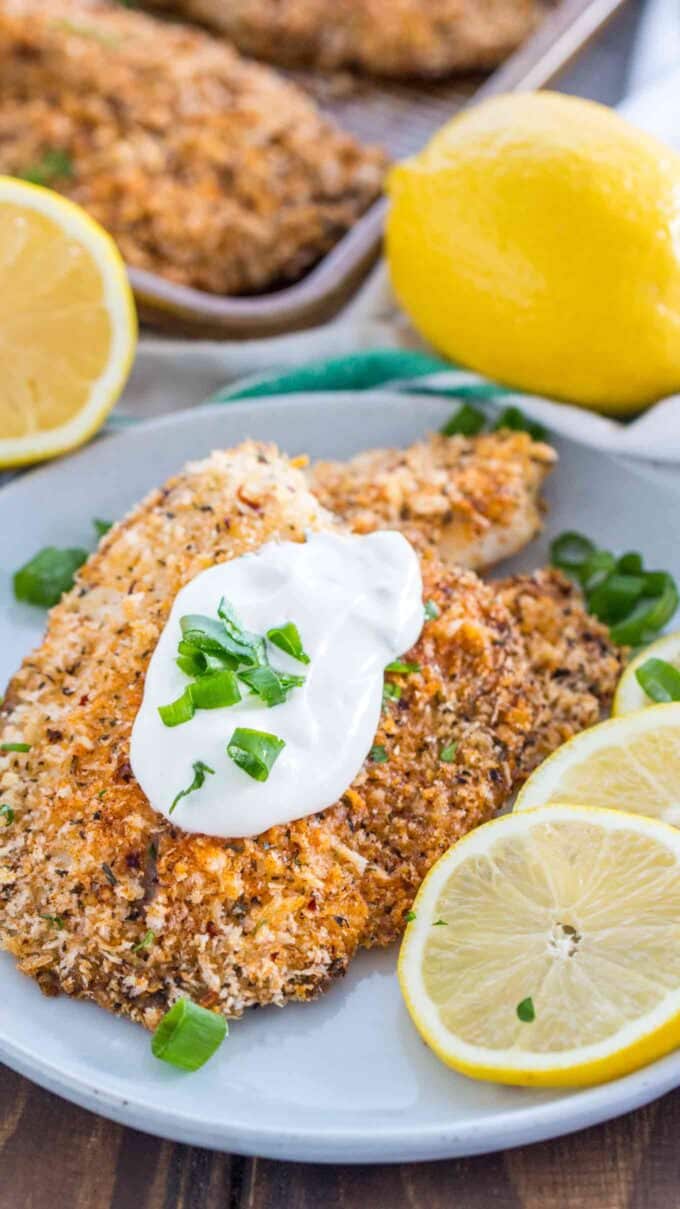 What to serve with Crispy Oven Baked Tilapia?
The fish will pair well with vegetables, rice, potatoes, and greens. Some great suggestions are listed below:
WHAT WINE PAIRS WELL WITH CRISPY OVEN BAKED TILAPIA?
You could pick from Chardonnay or Pinot Noir as these wines have good acidity, which pairs nicely with tilapia. Also, Sauvignon Blanc is a great match with light, zesty tilapia.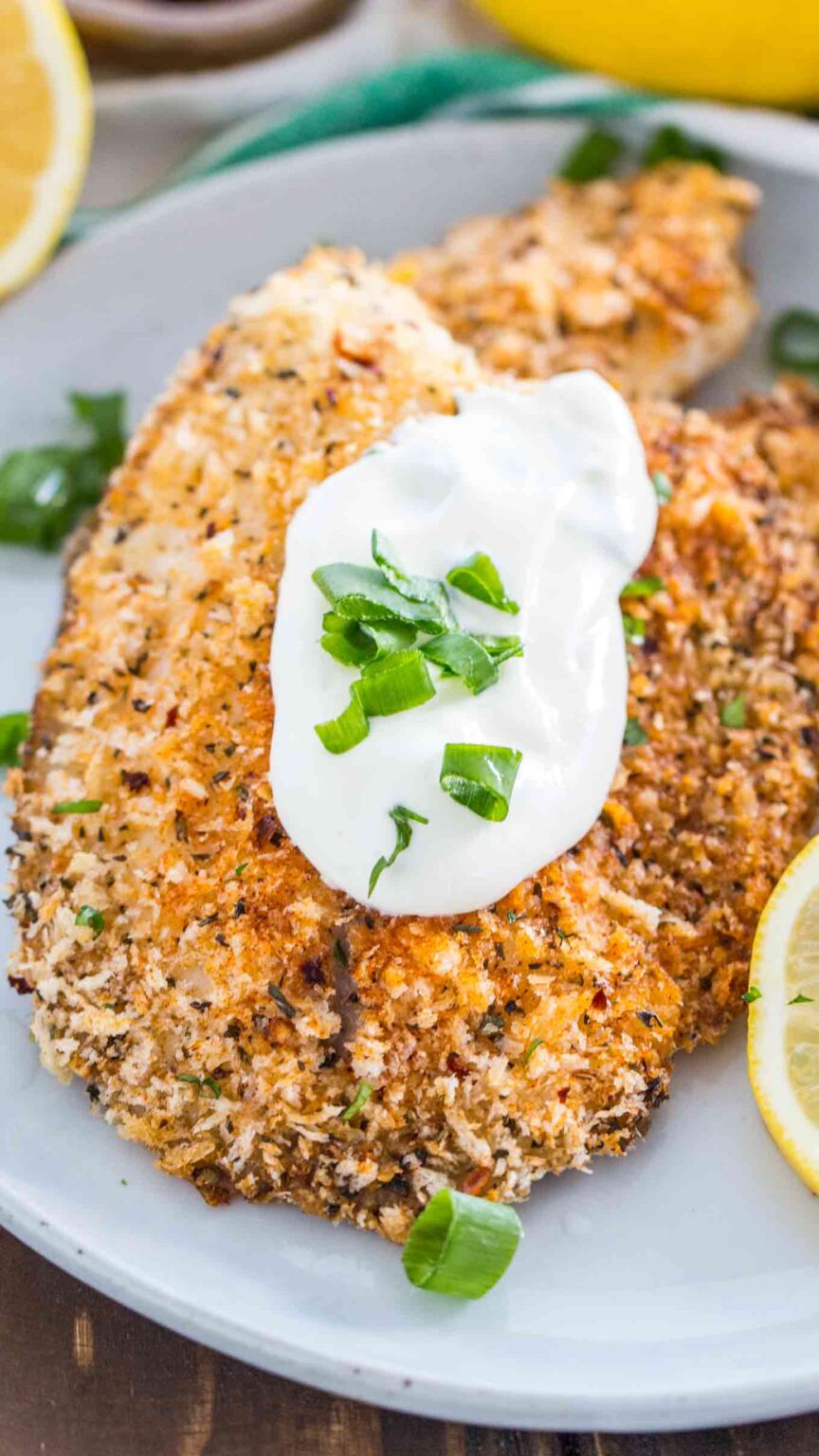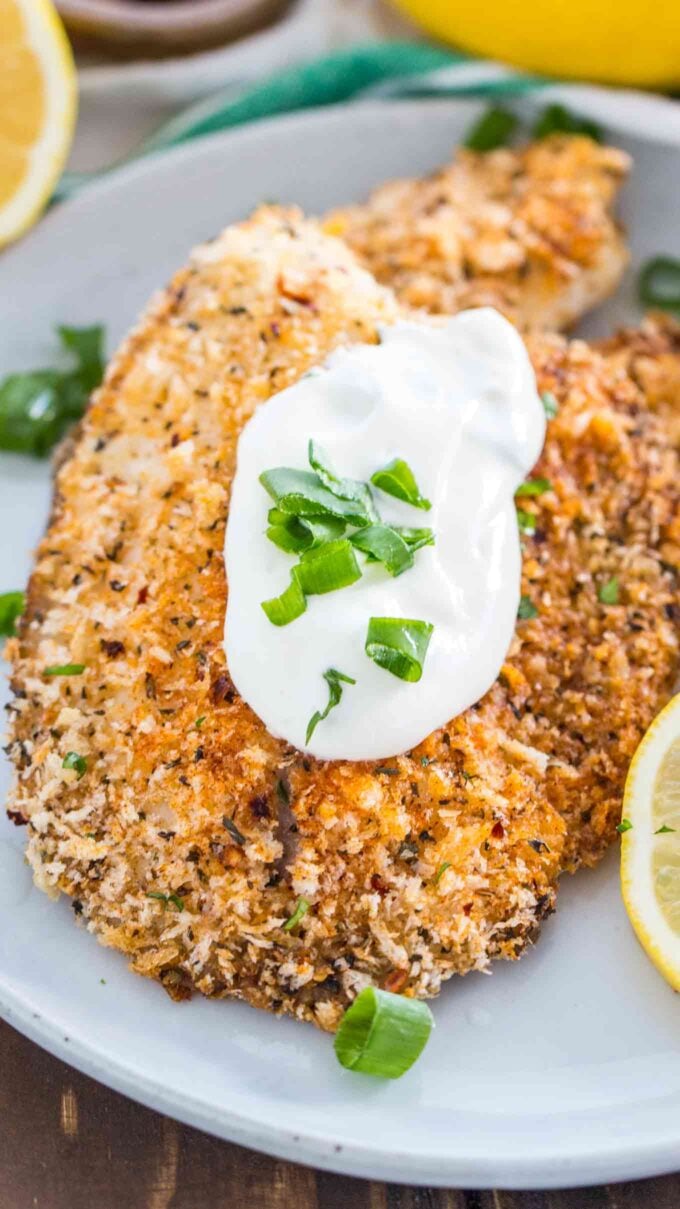 HOW LONG CAN I KEEP FRESH TILAPIA IN THE FRIDGE?
Tilapia can be kept for 1 to 2 days in the refrigerator before cooking. That is if you just bought very fresh tilapia filets, or if you just defrosted in the fridge frozen tilapia.
However, if you thawed the tilapia in the microwave or in cold water, you should cook it immediately.
Recipe Tips:
If you use frozen fish fillets, make sure you place them in the fridge way in advance so they can gradually thaw.
Similarly, if using fresh tilapia fillets, I like to rinse them under cold water first and dry them with paper towels.
Don't skip the lemon juice, it adds an amazing citrusy flavor to the fish.
Also, if you love garlic, add some to the fish.
Don't overcook the fish, check on the filets after about 10 minutes mark. They don't need more than 15 minutes top to be done.
For extra flavor, I recommend dipping it in this delicious homemade alfredo sauce.
In addition, you could skip the breadcrumbs, or make this lemon garlic tilapia.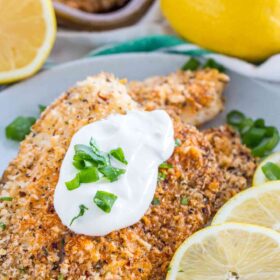 Crispy Oven Baked Tilapia
Crispy Oven Baked Tilapia soaked in buttermilk and covered with bread crumbs, is the perfect dinner option for busy weeknights. The fish is cooked in about 15 minutes, and it has a fresh and delicious taste.
Save
Share
Print
Pin
Rate
Ingredients
6

tilapia filets

(thawed and pat dry)

1

egg

1

cup

buttermilk

1 1/2

cups

Panko bread crumbs

1

teaspoon

Italian seasoning dried herbs

1

teaspoon

dried basil

1

teaspoon

garlic powder

1/2

teaspoon

paprika

1/4

teaspoon

red pepper flakes

1/4

teaspoon

salt & pepper

(or to taste)
Homemade Light Lemon Aioli:
3

tablespoons

light mayo

1/2

cup

plain greek yogurt

zest of 1 lemon

2

tablespoons

lemon juice

2

tablespoons

chopped green onions

salt and pepper

(to taste)
Instructions
Preheat oven to 400 degrees Fahrenheit.

Add parchment paper to a large rimmed baking sheet. Set aside.

Whisk together the egg and the buttermilk in a large, shallow bowl. Set aside.

Add the panko bread crumbs to a large shallow bowl and combine with the remaining ingredients: Italian seasoning mix, dried basil, garlic powder, paprika, red pepper flakes, salt and pepper. Stir to combine.

Pat dry the fish filets, using tongs or by hand, take a fish filet, dip it into the buttermilk mixture, toss into the breadcrumb mix. Place on the prepared baking sheet. Repeat with the others.

Ensure the breadcrumb mixture is not soggy or wet after tossing the first filets, if needed add more panko breadcrumbs. For a thicker coating, after the first round of dipping, dip each fish filet again into the buttermilk mixture and breadcrumb mixture. In that case the panko breadcrumb quantity should be doubled.

Bake for 12-15 minutes or until the coating is golden brown and fish is fork tender. Spray with cooking spray mid baking for the coating to have a shiny, golden brown color.

Remove from oven, lightly squeeze some lemon juice onto the fish filets and garnish with parsley. Serve with lemon aioli and lemon wedges on the side.
Homemade Lemon Aioli:
Add all the ingredients to a medium bowl and stir until fully combined. Taste and adjust for salt, pepper or lemon juice.
Nutrition
Calories:
337
kcal
|
Carbohydrates:
23
g
|
Protein:
41
g
|
Fat:
8
g
|
Saturated Fat:
2
g
|
Cholesterol:
118
mg
|
Sodium:
398
mg
|
Potassium:
659
mg
|
Fiber:
1
g
|
Sugar:
4
g
|
Vitamin A:
230
IU
|
Vitamin C:
2.3
mg
|
Calcium:
144
mg
|
Iron:
2.7
mg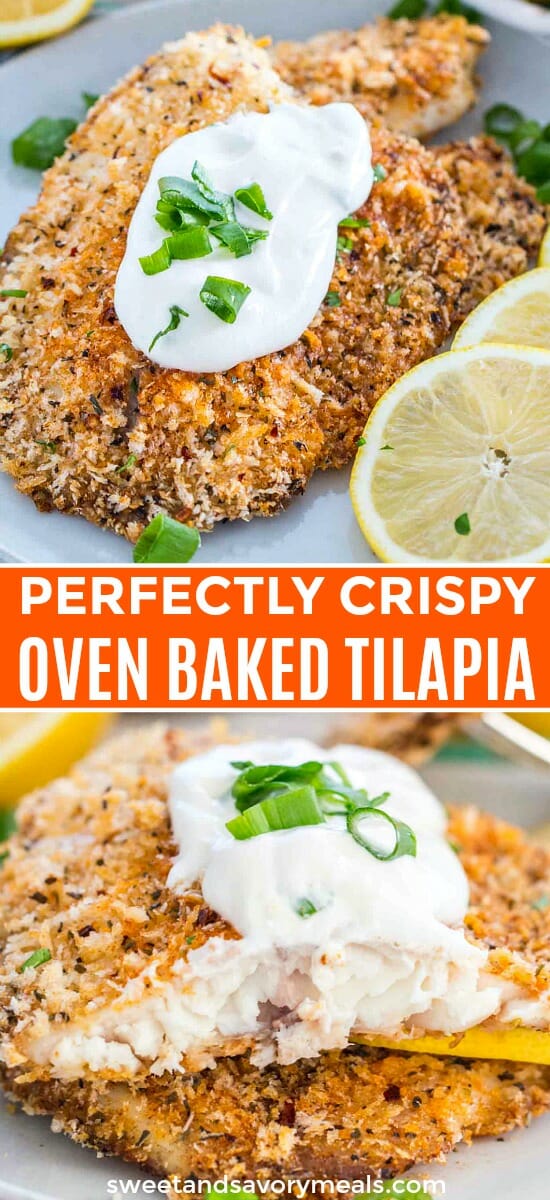 More recipes you might love