Chunky Mashed Potatoes
This post may contain affiliate links. Please read my disclosure policy.
Absolutely delicious and easy to make Chunky Mashed Potatoes topped with fresh green scallions and a drizzle of olive oil make the perfect side dish.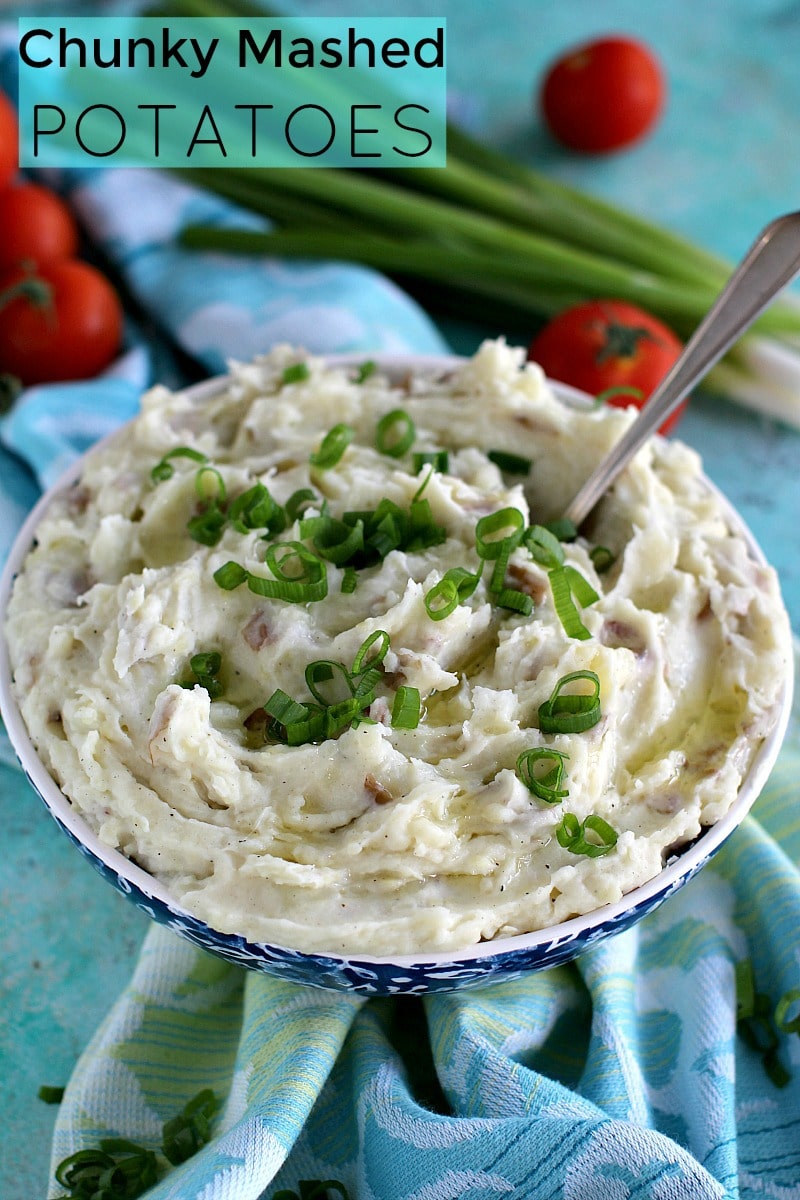 Chunky Mashed Potatoes are one of my favorite side dishes, we make it a lot at our house. First, it's very easy to make, usually we have tons of leftovers, which is always a winner. Second, our toddler adores his Chunky Mashed Potatoes especially when topped with some sour cream or cottage cheese. Third, the toppings and flavors are endless!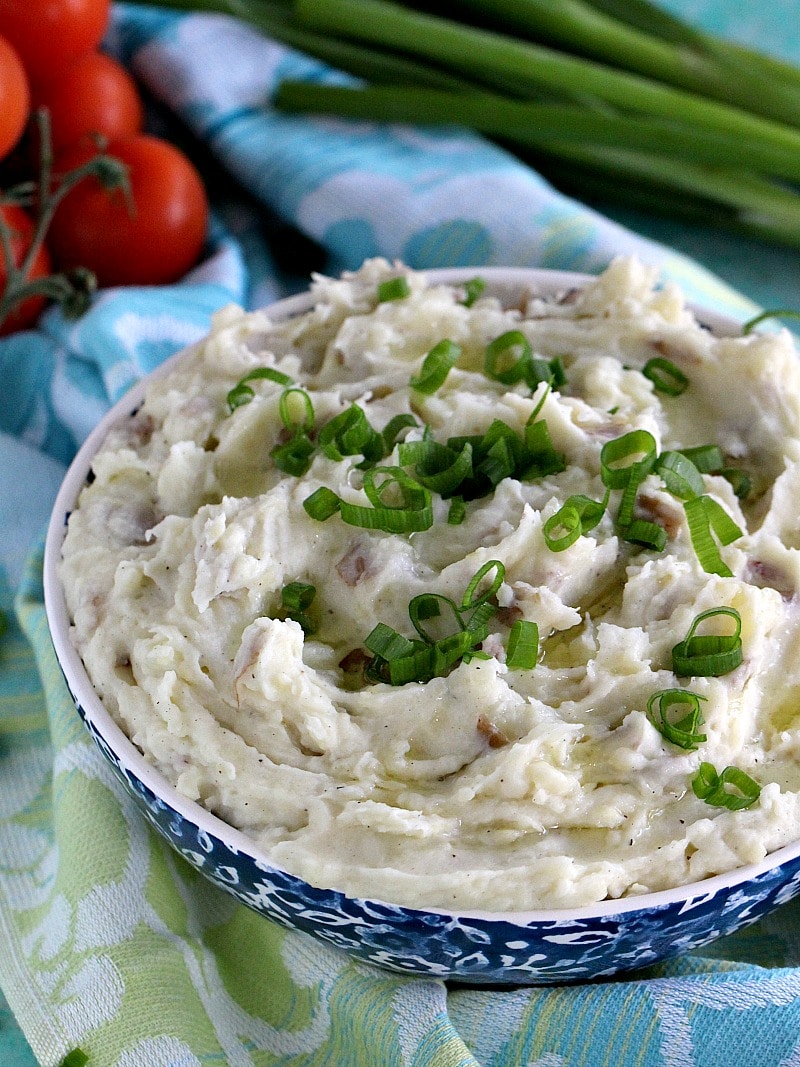 Chunky Mashed Potatoes are perfect for the Thanksgiving meal, especially since you can play with the toppings that your family loves, here are a few of my favorite suggestions:
Caramelize some onions until they are browned and soft and mix them into the Chunky Mashed Potatoes
Caramelized mushrooms, caramelized onions and a bit of truffle oil add amazing flavor and also make the dish more gourmet
Crumbled bacon – is also a winner and always seems to be a crowd pleaser
Tons of black pepper and grated cheddar cheese – for Cracked Pepper Cheesy Chunky Mashed Potatoes
Green scallion and olive oil for a fresh taste
Sour cream , green scallion and cheddar cheese
Cottage cheese for a protein boost
Mashed cannellini beans mixed in, for a protein boost
Caramelized onions and garlic topped with crumbled potato chips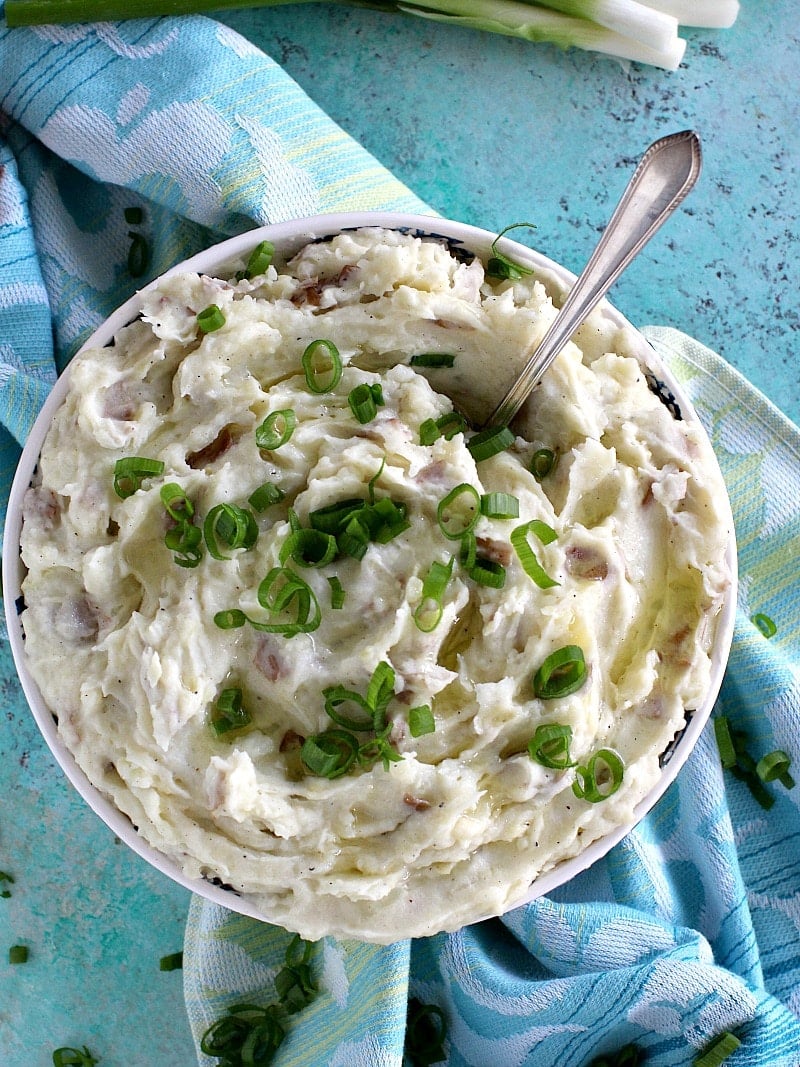 You can mix in the toppings that you like and serve, or you can serve the Chunky Mashed Potatoes plain and set up a fun topping bar so everyone can choose what they like.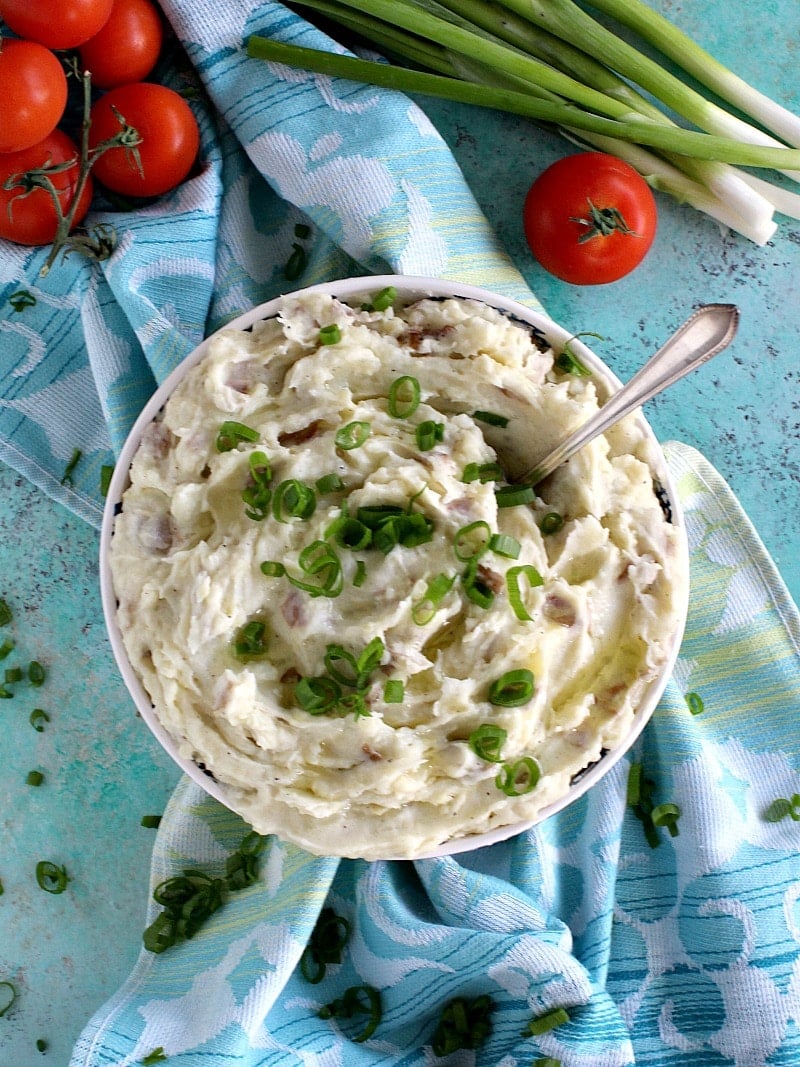 My secret to perfect Chunky Mashed Potatoes are actually choosing organic potatoes and leaving the skin on, it adds such a nice texture. Never leave the skin on if the mashed potatoes are not organic! Also, I love using whole heavy whipping cream to add some nice creaminess to the mashed potatoes.

MY LATEST VIDEOS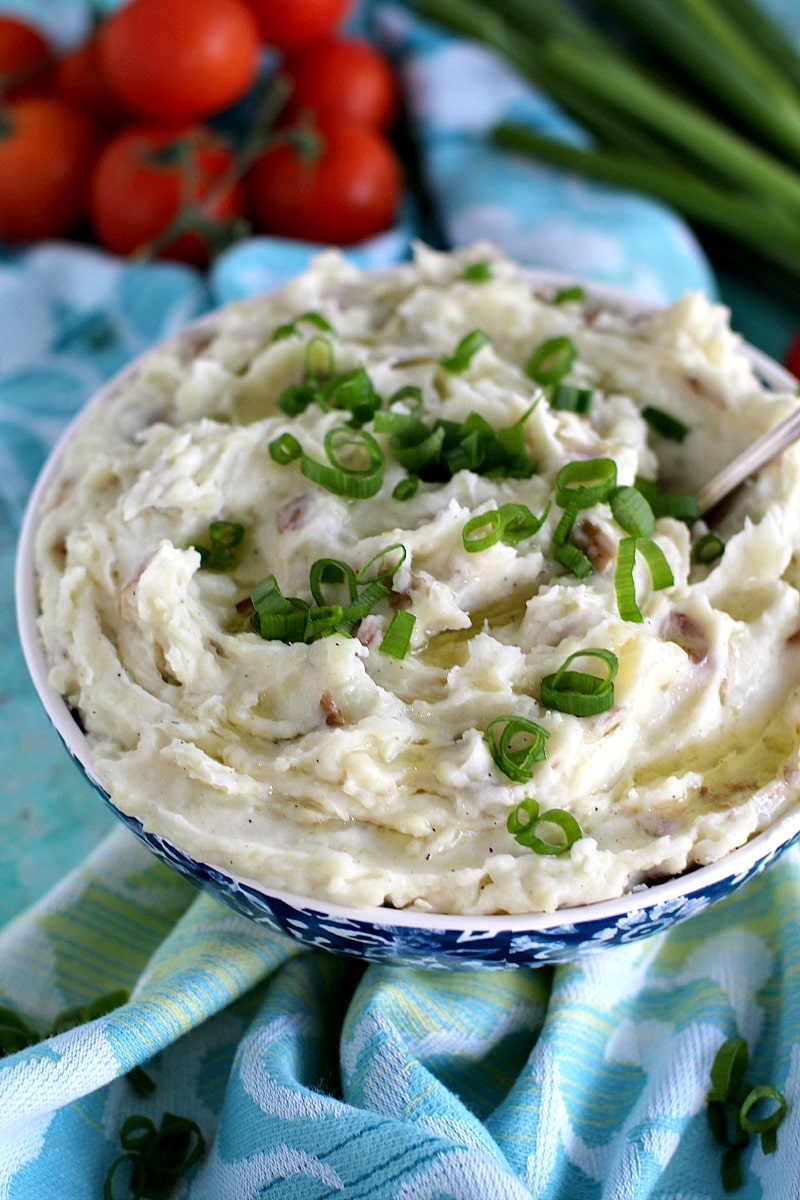 This version is topped with chopped fresh green scallions and a drizzle of organic olive oil, I think its such a perfect combo and it goes well with most the main courses, we served these with fish and a veggie sauce and it was amazing, so stay tuned next week for a delicious fish recipe that my husband made for us on date night.
Chunky Mashed Potatoes
Absolutely delicious and easy to make Chunky Mashed Potatoes topped with fresh green scallions and a drizzle of olive oil make the perfect side dish.
Author:
Katalina Kastravet
Ingredients
3 lbs russet or Idaho potatoes, washed well but not peeled
4 tablespoons unsalted butter, softened
1 cup heavy whipping cream, warmed in the microwave
Coarse salt, to taste
Freshly ground black pepper, to taste
Garnish:
½ cup chopped green scallions
Drizzle of organic olive oil
Instructions
Cut the potatoes into halves, this will help the potatoes boil quicker.
Place the washed potatoes into a large pot and cover with water.
Bring to a boil and cook until the potatoes are tender, about 30 - 40 minutes. To check if the potatoes are done, insert a knife or a fork into the center, the potatoes should be soft but not falling apart.
Once done, drain the water, place the pot over low heat and add the butter and half of the warm cream to the pot. Using a wire masher, mash the potatoes until almost smooth, leaving some chunks.
Add the rest of the warm cream little by little, and stir. Season with salt and pepper, taste and adjust.
If you want the potatoes more creamy, stir in a little more warm cream.
Transfer to a serving bowl, top with freshly chopped green scallions and a drizzle of olive oil.
Enjoy!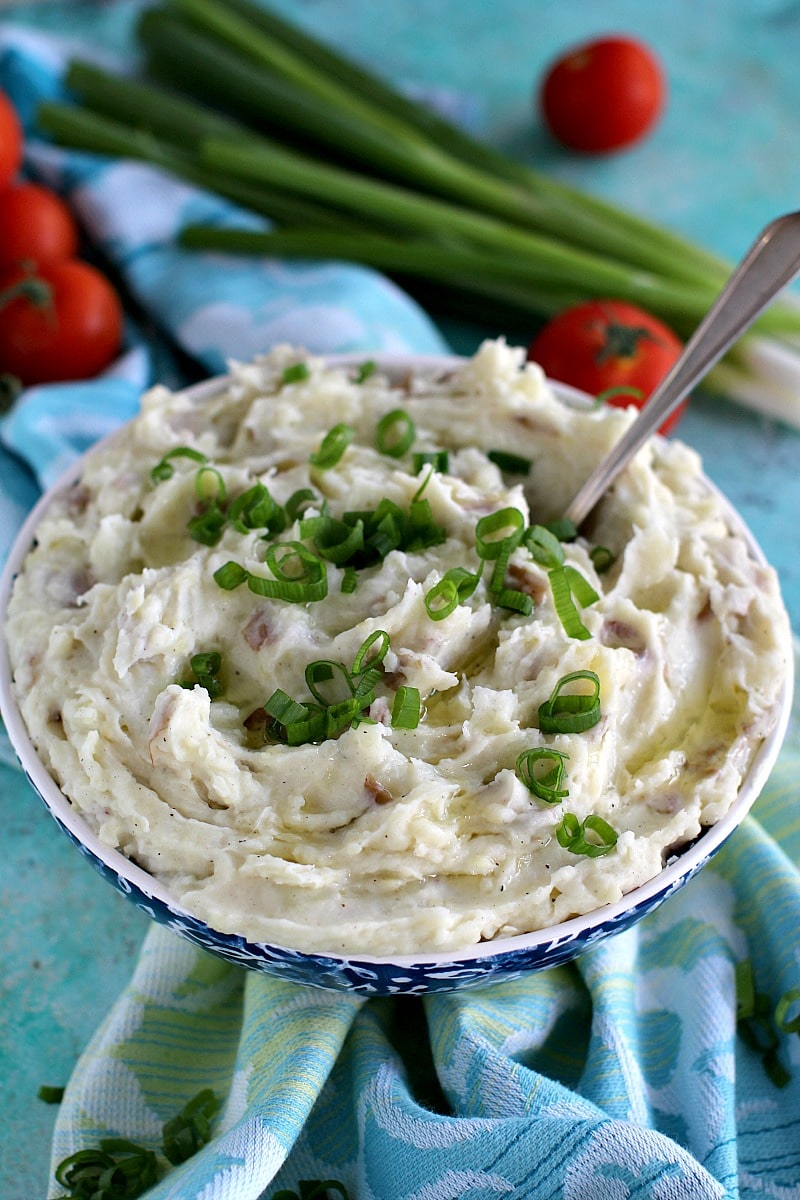 mmmm potato yumminess!
Peas and Peonies, LLC. owns the copyright on all images and text and does not allow for its original recipes and pictures to be reproduced anywhere other than at this site unless authorization is given. If you enjoyed the recipe and would like to publish it on your own site, please re-write it in your own words, and link back to my site and recipe page. Copying and/or pasting full recipes to social media or personal blogs is strictly prohibited. Sharing this recipe is very much appreciated and encouraged. Read my disclosure and privacy policy. This post may contain affiliate links.