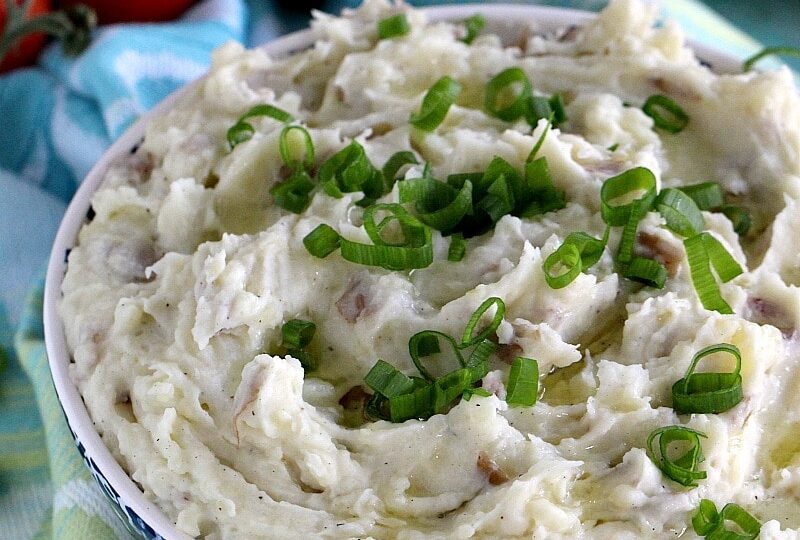 Chunky Mashed Potatoes
Chunky Mashed Potatoes are absolutely delicious and easy to make topped with fresh green scallions and a drizzle of olive oil.
Chunky Mashed Potatoes
These Chunky Mashed Potatoes are one of my favorite side dishes, we make it a lot at our house. First, it's very easy to make, usually we have tons of leftovers, which is always a winner. Second, our toddler adores his Chunky Mashed Potatoes especially when topped with some sour cream or cottage cheese. Third, the toppings and flavors are endless!
Chunky Mashed Potatoes are perfect for the Thanksgiving meal, especially since you can play with the toppings that your family loves.
My secret to perfect Chunky Mashed Potatoes are actually choosing organic potatoes and leaving the skin on, it adds such a nice texture. Never leave the skin on if the mashed potatoes are not organic! Also, I love using whole heavy whipping cream to add some nice creaminess to the mashed potatoes.
Here are a few of my favorite suggestions:
Caramelize onions or mushrooms
Crumbled bacon
Grated cheddar cheese or cottage cheese for a protein boost
Green scallion and olive oil for a fresh taste
Sour cream
What type of potatoes should I use to make Chunky Mashed Potatoes?
Idaho or Russet potatoes are the best choice as they are high in starch and low in moisture. They will result in fluffier and creamier mashed potatoes.
Can I make mashed potatoes in the pressure cooker?
Yes, you totally can and this recipe is easy to follow and you will end up with delicious mashed potatoes. The great thing about cooking mashed potatoes in the pressure cooker is that it takes only 12 minutes to cook them. You can make them ahead of time, or cook them on the side while you are working on other dishes. Check the Instant Pot Mashed Potato here.
How can I make creamy Mashed Potatoes?
I like to add heavy cream and butter to mine, for the creamiest and most comforting taste and texture. If you want the mashed potatoes extra fluffy, you can use a hand mixer to fluff them up.
Pin This Chunky Mashed Potatoes Recipe to your Favorite Board
How can I make Instant Pot Mashed Potatoes Healthier?
To cut on the calories, you can add skim milk, a few tablespoons of whipped butter and light sour cream to them.
How do I make Ranch Mashed Potatoes?
After I mash the potatoes, I like to stir in 1/2 cup of Ranch salad dressing, they taste amazing!
How to reheat mashed potatoes?
Add them to a microwave safe dish and heat them at half power for five minutes, stirring occasionally. Once the potatoes are hot, stir well, and add additional warm cream or milk and butter, as needed. Stir well to combine.