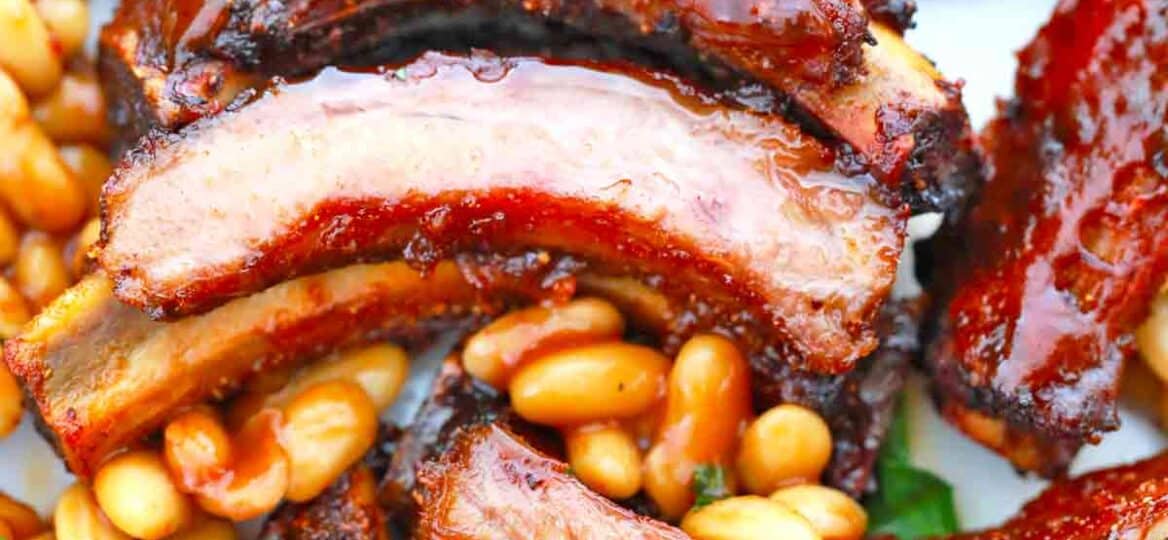 Air Fryer Pork Ribs Recipe
Air Fryer Pork Ribs are easy and delicious, made with just a few ingredients, smothered in barbecue sauce, and seasoned with brown sugar and spices. It does not get much easier than that. In fact, you can have these on your dinner table in half the amount of time it usually takes in the oven.
Turn a classic summer bbq recipe into a quick and easy dinner with this great air fryer recipe. This recipe is similar to our juicy and tender AF Pork Belly Bites, they are amazing, tender, and only take 17 minutes to cook!
The first time you make these, your family will be hooked and so will you. Most people never even considered cooking them this way, but they really turn out great.
If you like juicy ribs, this delicious recipe will win you over right away, this is a great way to make bone tender ribs.
Keep this recipe handy for the summer months, this way you can cook tender pork ribs whenever you crave some.
The whole process of making these air fryer bbq ribs is pretty simple. First, we start with dry rub ribs, this way we make sure that they are perfectly seasoned. After that, we cover them in bbq sauce and continue to cook.
This method will quickly become one of your favorite recipes to cook the best ribs in a fast way!
Serve this easy summer cookout dish with a side of baked beans, air fryer corn on the cob, or some crunchy coleslaw.
Alternatively, if you do not have an air fryer try our Instant Pot Country-Style Ribs made with liquid smoke and apple juice. They are what you would call fall off the bone ribs because they really do fall off the bone.
Ingredients needed:
You only need a few simple ingredients to make this easy recipe. Scroll down to our recipe card for more details.
Rack: We used pork baby back ribs with the membrane removed. A rack of ribs is enough for our family, but feel free to double the recipe.
Barbecue sauce: You can use your favorite BBQ sauce or make a homemade version.
For the rub:
Brown sugar: Light or dark will both work.
Spices: Garlic powder, smoked paprika, onion powder, white pepper, and salt.
How to make air fryer pork ribs:
Preheat: First, set the fryer to 380 degrees F for a few minutes to preheat.
Rub: Meanwhile, mix the spice rub ingredients together in a small bowl and then coat the meat generously.

Cook: Then, place the ribs, meat side down in the air fryer basket before cooking for 20 minutes.

Flip and cook: After 20 minutes, flip the meat with a pair of tongs and cook for another 10 minutes.

Coat: Last, coat the air fryer pork ribs with barbecue sauce and put them back in the fryer for another five minutes at 400 degrees F. Make sure you coat both sides of the ribs.
Serve: Finally, take the meat out and let them rest for five minutes before serving. Add additional BBQ sauce as needed.
Oven-Baked Pork Ribs:
To make this recipe in the oven, we recommend you follow the same steps of preparation, and after that just change the method of cooking.
Since you will be cooking this in the oven, start by preheating the oven to 350 degrees F. Also, line a baking dish with foil and set it aside.
First, we coat the meat in the mouth-watering homemade spice rub and bake them meat side, covered with foil, for up to 2.5-3 hours, until tender.
After that, uncover the meat and brush it generously with barbecue sauce, and broil for 5-20 minutes.
Slow Cooker Pork Ribs:
For the crockpot version of this recipe, again we follow the same steps, first, cover the meat in the dry rub.
Next, arrange it in the crockpot and pour half of the bbq sauce on top. Cook on low for 8-9 hours or on High for 5 hours.
When the ribs are tender, transfer them to a rimmed baking sheet, brush with more bbq sauce and broil for 5-10 minutes
Instant Pot Pork Ribs:
Another way to make traditional ribs is with this Best Instant Pot Ribs recipe.
First, cover again the meat in the spice rub, and after that pressure cook them on high pressure for 35 minutes. After that, do a 15-minute natural pressure release.
Finally, transfer them to a rimmed baking sheet, brush with bbq sauce and broil for 5-10 minutes.
How to serve:
This is one of my favorite air fryer recipes and it will probably be one of yours after tasting these tender ribs coated in tangy sauce. You can also try one of these great serving suggestions:
This goes perfect with two large bowls of side dishes like our scrumptious corn salad or BLT potato salad.

Sprinkle a few red pepper flakes on the back of the ribs for a nice kick.
In addition, add some extra bbq sauce on the side for dipping the juicy air fryer ribs into it.
Add teriyaki sauce on top for a completely different flavor that your family will love.

Make these delicious ribs for the game day instead of wings and your friends will be thrilled.

This main dish goes great with some kind of creamy starch like our famous mac and cheese

is another easy side.
Frequently asked questions
Why are my AF pork ribs dry?
Dry meat usually comes from cooking at too high of a temperature. If your air fryer baby back ribs are tough, you may not have removed all the membrane.
It is possible that you did not cook them long enough or cooked them too long. Some fryers are different, and the cooking time may vary.
Can you slow cook in the air fryer?
This may seem silly, but you can slow cook in something besides your slow cooker or crock pot. Using your air fryer will work great.
First, prepare the food in an oven safe dish while you preheat the fryer to 175 degrees. Cook for about two hours, checking periodically.
Can I put water in my air fryer?
It depends on who you ask and what type of fryer you have. Read the manual carefully to make sure it is okay to do so before trying it. Adding a few tablespoons to the bottom of the basket can keep your food from drying out as well as prevents grease drips from burning.
How to store Air Fryer Pork Ribs:
Store: Put leftover ribs in plastic wrap or aluminum foil and an airtight container before refrigerating for up to three days.
Freeze: Or if you cannot finish them in a few days, you can freeze them for about three months.

For that, just add them to a freezer-safe bag.

Thaw: Remember to thaw overnight in the fridge before serving.
Reheat: Reheat in the air fryer or oven.
More summer cookout recipes:
Cooking tips:
Do not forget to remove the silver membrane, this is a thin membrane on the back of the ribs that needs to be removed. Flip the rack over and just grab one end and pull it off.

Using a meat thermometer to get an accurate reading, make sure the internal temperature is at 145 degrees before removing.

Also, be sure to cook these in a single layer or they will not cook properly. The hot air has to be able to circulate.
If you rinse your meat, pat it dry with a paper towel before coating it in the spice rub.
Be sure your ingredients are at room temperature for best results.
In addition, if you plan on cooking a larger rack, it depends on the size of your air fryer if it will fit. Most likely, you will have to use a sharp knife to cut it into a few sections. However, if you own an air fryer oven, you can easily cook an entire rack of tasty ribs.
Also, don't forget to start cooking these with the meaty side of the ribs down first.
Deliciousness to your inbox
Enjoy weekly hand picked recipes and recommendations