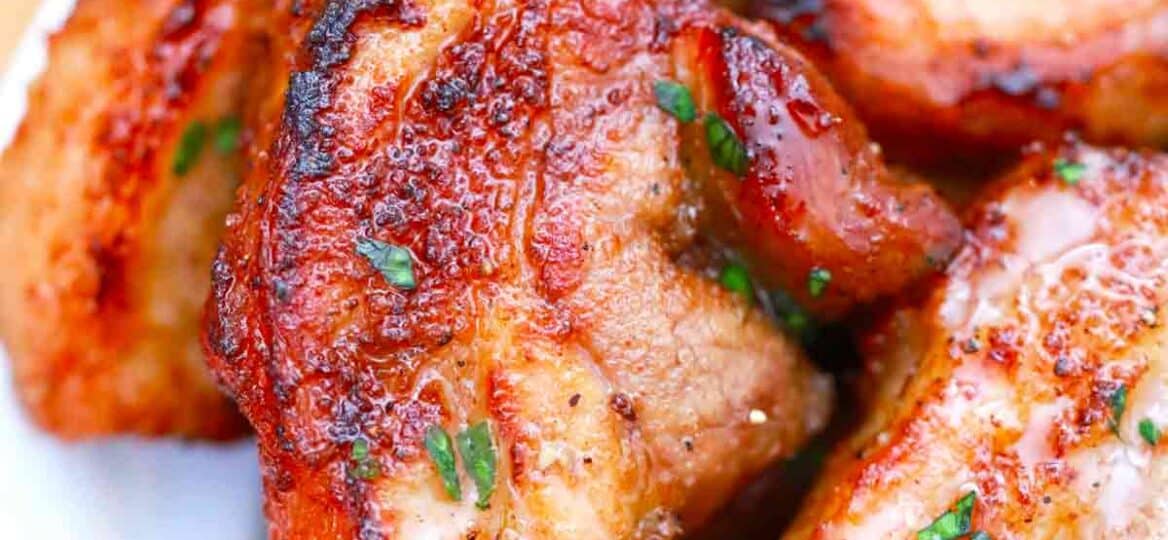 Air Fryer Pork Belly Bites
Air Fryer Pork Belly Bites are the perfect appetizer, snack, or you can even use them as a main course with some veggies and a dipping sauce. The crispy skin and intense flavors make these perfect little morsels a favorite with the whole family. This is one of those air fryer recipes that is a game-changer when it comes to frying food because it is easy, fast, and delicious.
If you are more in the mood for beef, try our Garlic Butter Steak Bites made with ribeye and Worcestershire sauce. Alternatively, you may also like these Bacon Wrapped Chicken Tenders with sweet chili sauce.
The flavor of this delicious dish is unique. Pork belly tastes like bacon but in a thicker cut. The pork skin gets all crispy as it does with deep-frying but without all the extra oil and mess of using a deep fryer.
Also, cooking it with hot air makes these so much more flavorful and crunchier. You should be able to find this cut of meat at your local grocery store or try grocery stores nearby.
You can also ask at the meat department if you do not see any out on display. Alternatively, a butcher or meat shop is a great way to get exactly what you want, and you can get it cut as you want it.
Also, Air Fryer Salmon made with brown sugar, red pepper, and smoked paprika is another delicious meal to try. For more great recipes, check our blog post.
Ingredients needed:
To get our printable recipe card with all the instructions and measurements, scroll down. These are the main ingredients in this air fryer pork belly recipe:
Pork belly: This recipe calls for 1.5 pounds. If you want more, be sure to adjust the amount of the other ingredients.
Canola oil: You can also use olive oil or whatever you prefer.
Sesame oil
Brown sugar
Garlic powder
Salt
Black pepper
Sesame seeds: For serving.
How to make air fryer pork belly bites?
Preheat: First, preheat your air fryer to 400°F.
Dry: Meanwhile, pat the meat dry with a paper towel and cut it into one-inch pieces with a sharp knife.
Mix: Then, combine the ingredients except the meat in a large bowl.

Cover: Next, add the pork belly slices to the oil mixture and make sure each piece is completely covered.

Place: After, lay each piece in the basket in a single layer. You may have to cook several batches separately.
Fry: Finally, cook the pork for 18 to 20 minutes, flipping them several times for even heat distribution.
Remove and serve: Last, remove the meat and serve it warm with sesame seeds on top.
Recipe variations:
Garlicky: Feel free to add another half tsp garlic powder for full-on garlicky flavor.
Make it spicy: Add chili powder for some spiciness.
Heat it up: For even more heat, add Cajun spices or red pepper flakes.

Make it smaller: You could make smaller pieces if you prefer.
Buffalo bites: Make these pork buffalo bites by soaking them in our homemade buffalo sauce before cooking.
How to serve:
These little crispy crackling pork bites make the perfect finger food for game day, holiday parties, or just for a snack. Or try one of these ideas:
Frequently asked questions
What temperature do you cook pork in the air fryer?
First, you need to preheat your air fryer. If you do not have a preheat button, just set it for the cooking temperature for five minutes before using it.
For best results, the temperature for pork is between 375- and 400-degrees F.
Can I cook frozen pork belly in the air fryer?
Yes, air frying frozen pork belly is fine. It just takes longer than fresh thawed meat.
Typically, it will take about 30 minutes depending on the size while thawed meat only takes about 15 to 20 minutes.
How can I quickly thaw frozen meat?
The best way of thawing meat is in the refrigerator. If you do it this way, you have to thaw it for at least eight hours per pound. For a large item, you should leave it for 24 hours for every five pounds.
So, if you have a 20-pound turkey, you can thaw it in your fridge in about four days.
If you need your meat faster, you can use the cold water method but you have to make sure it is completely sealed in a leak-proof plastic.
Also, you have to change the water every 30 minutes. A small pack of up to three pounds may thaw in an hour but anything more will take at least three hours.
How to store leftovers:
Store: If you have leftover pork, it will stay fresh for several days in the refrigerator. Once your meat has cooled to room temperature, you can put it in the refrigerator in a sealed container for three to four days.
Freeze: If you want to freeze your leftovers, wrap in foil or plastic, place them in a Ziploc bag, and they will store safely for up to 90 days.
Thaw: Thaw overnight in the refrigerator before serving for best results.

Reheat: After it is thawed out, reheat for three minutes in the air fryer or one minute in the microwave.
More appetizer recipes:
Cooking tips:
The easiest way to cut the meat is when it is cold. If the meat is thawed out too much, put it in the fridge for about 20 minutes so it hardens up.

For extra crispy skin, put the meat in your broiler for several minutes before serving.

Air frying time depends on the size of the pork pieces and the size of your air fryer. Also, different models cook at different speeds so just keep an eye on it.

Pork belly is just like bacon only it is not cured, smoked, or sliced.
Make sure you do not burn these. You want them crispy but not black.
Air Fryer Pork Belly Bites
Ingredients
1 1/2

pounds

pork belly

2

tablespoons

canola oil

1

tablespoon

sesame oil

1

tablespoon

brown sugar

1

teaspoon

garlic powder

1

teaspoon

smoked paprika

1

teaspoon

salt

1

teaspoon

pepper

Sesame seeds

for serving
Instructions
Preheat the air fryer to 400 degrees F.

Pat dry the pork belly and cut it into 1-inch pieces. For easier cutting make sure the pork belly is cold.

In a large bowl, combine all the ingredients except the meat.

Add the pork belly pieces to the bowl and stir until well covered in the mixture.

After that, arrange the pieces in a single layer in the air fryer basket. If needed cook in batches.

Air fry for 18-20 minutes, flipping them a couple of times throughout the cooking time. The cooking time will depend on the size of your pork belly pieces. They are done when browned and crispy.

Remove from the air fryer and serve garnished with sesame seeds and your favorite dipping sauce.
Deliciousness to your inbox
Enjoy weekly hand picked recipes and recommendations