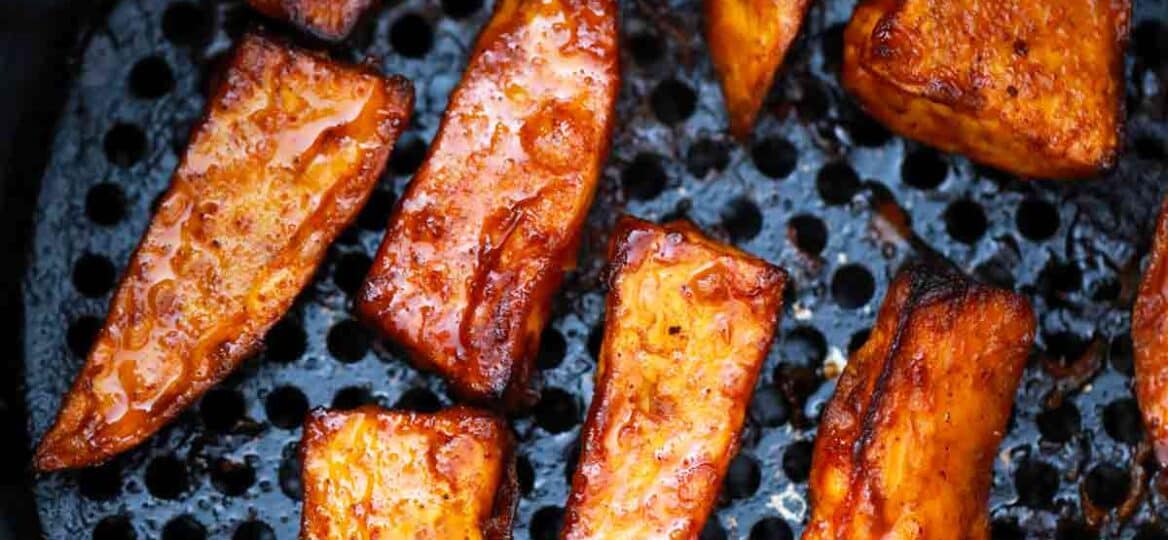 Air Fryer Sweet Potato Wedges
Air Fryer Sweet Potato Wedges are crispy on the outside and tender and fluffy on the inside with a sweetness that will make you want more. In fact, this is one of my family's favorite air fryer recipes and it is easy to do so you can let the kids help too. All you need is potatoes, oil, and a few spices.
For an alternative, try our recipe for extra crispy Air Fryer Sweet Potato Fries. If you would rather have the whole creamy potato, this recipe for Air Fryer Sweet Potatoes is a perfect healthy side dish. For those who like regular potatoes better, you can make these Crispy Air Fryer Potatoes in less than 30 minutes with a handful of ingredients.
For crispy sweet potato fries that are more of a mouthful than the little skinny ones, this recipe is awesome and easy. It makes a delicious side dish to any meal but is especially good with turkey and pumpkin pie. Or just serve them as a snack with ranch dressing or your favorite dipping sauce.
You don't need a lot of oil for these. In fact, you can make them with less oil or even without any at all. But you might want to give them a spritz of cooking spray to get the seasonings to stick better. No matter how much you use, this dish is a healthy alternative to deep-frying.
We enjoy making a big batch and having them as a side dish or snack. As an alternative, serve them as an appetizer with a variety of dipping sauces. Another option is to serve them on top of rice bowls or add them to salads.
Since air fried sweet potatoes are a hit with kids as well, adding them to lunch boxes is such a delicious option. They also make a healthy and nutritious snack for moving night, or anytime they crave a fry.
The best part is that this recipe is highly customizable, you can toss them in your favorite spices or seasonings. This way you can create savory versions or sweet versions of this easy recipe.
Follow us on Pinterest for more delicious recipes!
Ingredients needed:
Scroll down to our recipe card to get the detailed instructions and measurements but here are the simple ingredients for these air fryer sweet potato wedges:
Potatoes: One large sweet potato or three small, peeled and rinsed in cold water.
Corn starch: It reduces the moisture and helps achieve that crispy shell.
Brown sugar: Light or dark are both good. Also, the sugar is optional, you can skip it if you prefer so.
Olive oil: Extra virgin olive oil is what we used, but you can use vegetable oil or whatever other kind you like.
Spices: We used paprika and cinnamon, but any spices that you like will work great.
Salt: To taste.
How do you make air fryer sweet potato wedges?
Preheat: To start, preheat your fryer to 390 degrees F.
Cut: Meanwhile, cut the potatoes into wedges using a sharp knife and a cutting board. Try to make them all the same size. Wash and pat dry.
Mix: After, Put the wedges into a large mixing bowl and add the rest of the ingredients. Mix together well to make sure all the wedges are coated with seasoning.

Place: Next, add a little oil or cooking spray to the basket and then place the fries in a single layer without touching so the hot air can circulate.
Fry: Finally, fry the wedges for about 10 minutes on each side or until they are golden and crispy.
Tip: Cooking time varies depending on the size of your air fryer. Yours may work faster and need less cooking time so keep your eye on them.
Serve: When ready serve them as a side dish with your favorite dipping sauce.
Recipe variations:
Other oil: Feel free to use avocado oil or another kind of oil with a high smoke point for these fries.
Less oil: Alternatively, use less oil for a healthy alternative.

Garlic: You could also sprinkle with garlic powder after cooking or add a teaspoon to the seasoning mix for an intense flavor.
Onion: Similarly, a bit of onion powder is also a great choice.
Leave it on: Also, leaving the sweet potato skin on the wedges is fine and will provide more vitamin A and antioxidants.
Spice it up: For a spicy kick, add some cayenne pepper or chili powder.
How to serve:
These homemade sweet potato fries are easy to make and even easier to eat. Have them as a snack by themselves or with dip. These also go great with many different entrées for a healthy side dish. Here are some other serving ideas:
Serve as a light and healthy lunch with these flaky and gooey turkey grilled cheese sandwiches.

Sprinkle with cinnamon and sugar for sweeter wedges.
Another way to enjoy these is with our turkey meatballs. You can dip them in the delicious sauce.

Add a bit of cheddar or parmesan cheese for cheesy fries.

Air fryer fries also make a fantastic side dish with this tender pumpkin pot roast.
Frequently asked questions
Why aren't my wedges crispy?
The most common reason that your potato wedges are not crispy is that they are too moist. After slicing your potatoes, be sure to blot them with a paper towel to get rid of any excess moisture. They could also be too close together in the air fryer basket. Make sure they have enough room.
Should I soak my potatoes before air frying?
Yes, it is important to soak your sweet potato wedges in cold water for at least 30 minutes but longer is better, up to eight hours. This helps get rid of the excess starch that can cause them to be soggy. After soaking, drain them and pat them with a paper towel to dry them.
Are sweet potatoes healthy?
Just one cup of sweet potato has more than 100% of your recommended daily value of vitamin A, 65% of vitamin C, 50% of manganese, 29% of vitamin B6, and 27% of potassium. These tasty vegetables also have antioxidants, protein, and fiber, and they have fewer calories than white potatoes.
How to store leftovers:
Store: After the fries are cooled to room temperature, put them in an airtight container in your fridge for up to three days.
Freeze: The best way to freeze your air fryer sweet potato wedges is to flash freeze them on a baking sheet until they are solid. Then, put them in a freezer bag and into the freezer for up to three months.

Thaw: Be sure to thaw them overnight in the fridge before reheating.
Reheat: For crispy fries, reheat them in the oven at 350 degrees F for five to seven minutes.
More Air Fryer Recipes:
Cooking tips:
Try to cut the wedges the same size so they cook evenly.
Make sure you place them in a single layer with space between them for best results.

Preheat your fryer for five minutes before using.
You do not have to use oil, but they may be dryer that way.
Watch them closely so they do not burn. Cook time varies depending on the thickness of the wedges and the size of your air fryer. Yours may need less time.
Choose potatoes that are short, round, and small with a deep orange color.
Scrub them well before cutting.
Air Fryer Sweet Potato Wedges
Ingredients
4

medium sweet potatoes

peeled or unpeeld, washed and cut into wedges

1

tablespoon

cornstarch

1

tablespoon

paprika

1

tablespoon

brown sugar

1/2

teaspoon

cinnamon

2

tablespoons

olive oil

Salt

to taste
Instructions
Mix all the ingredients in a large bowl.

Arrange the wedges in a single layer in the air fryer basket, ensuring they aren't touching.

Cook at 390 degrees F for 20-25 minutes, flipping over halfway.

Air fry until golden and crisp. Cook in batches if needed.

Transfer to a plate and sprinkle with salt generously. Serve immediately.