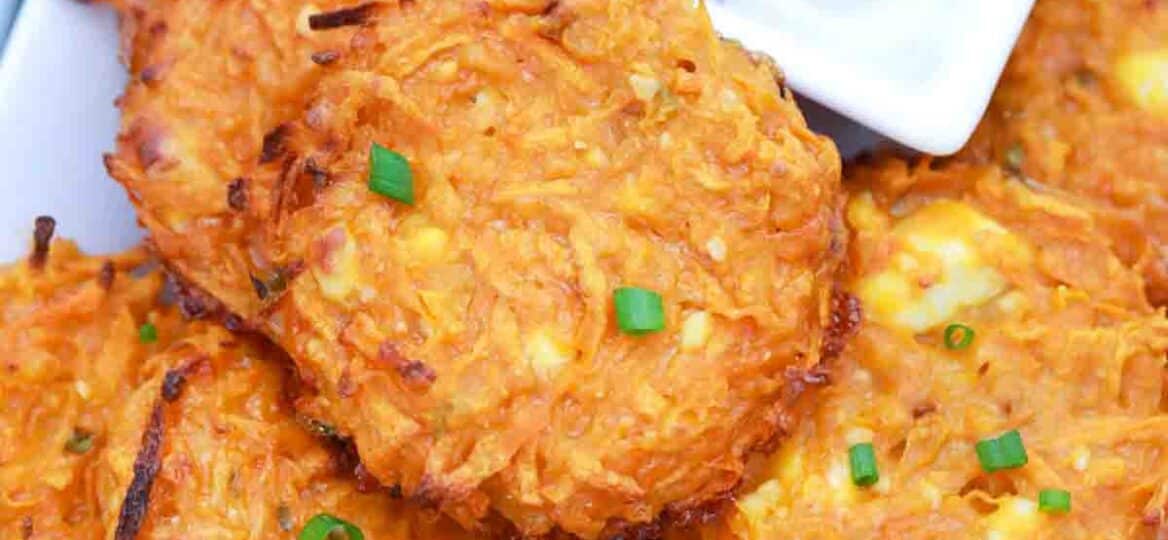 Sweet Potato Fritters Recipe [Video]
Sweet Potato Fritters are crispy on the outside and soft and fluffy on the inside with a mild sweetness balanced by some saltiness from the cheese. You can serve these as a Thanksgiving side dish or breakfast or make them for snacks anytime. The natural sweetness of the potatoes makes them easy to pair with.
If you really love sweet potatoes, try our Slow Cooker Mashed Sweet Potatoes made with heavy cream, cinnamon, and brown sugar. Instant Pot Sweet Potatoes are fast and easy with just one ingredient! Another way to enjoy this veggie is with our Roasted Sweet Potatoes recipe flavored with maple syrup.
Fritters can be made from just about anything from fruit to meat. They are found in all different cuisines like Greek loukoumades, Indian pakora, and French beignets.
But the frying technique was started by the Japanese in the 1500s when they fried shrimp with herbs and vegetables like eggplant and zucchini. South Africa makes them with pumpkin and cinnamon for a really sweet treat.
If you love sweet potatoes, you are going to enjoy this easy recipe for sweet potato fritters. This is one of those simple recipes you can make with the kids or grandkids when they visit. They will love making the patties by hand and you will love watching them.
Are you looking for more sweet potato recipes? Our instant pot sweet potato pie is delicious with brown sugar, caramel sauce, and whipped cream, or try these sweet potato cheesecake bars made from cream cheese and pumpkin pie spices. For something different, try our recipe for sweet potato bread with maple cinnamon glaze.
Ingredients needed:
You will need to gather these ingredients for this great recipe. Then, when you are ready to begin, scroll down to our recipe card at the bottom of the page for the precise measurements and directions.
Medium sweet potatoes: Peeled and grated.
Feta cheese: Crumbled.
Spring onion greens: Finely chopped.
Smoked paprika
Onion powder
Garlic powder
Medium beaten eggs
All-purpose flour
Olive oil
Vegetable oil: Preferably in a spray bottle.
Garlic-infused oil
Dried chili flakes: Optional.
How to make sweet potato fritters from scratch?
Preheat: Preheat your oven to 425 degrees F.
Grate sweet potatoes: While you wait, peel and grate your sweet potatoes. You can use the grater attachment on your food processor to make it easier and faster.
Drain the liquid: Then, use a fine sieve to squeeze out as much liquid from the sweet potato before putting it into a large bowl.
Add other ingredients: Next, add chili flakes, onion powder, garlic powder, olive oil, paprika, greens, and feta cheese and mix thoroughly.
Add eggs and flour: After, beat the eggs before you add them and the flour to the sweet potato mixture.
Make the patties: Now, make the round patties and place them on a baking sheet with parchment paper sprayed with vegetable oil. Spray the top of the sweet potato fritters as well.
Bake fritters: Then, bake the fritters for 25 to 30 minutes until they are golden brown and crispy on the outside.
Serve: Finally, serve warm with your favorite dipping sauce.
How to make deep-fried sweet potato fritters from scratch?
Preheat skillet: To begin, add oil to a cast iron skillet or frying pan and cook over medium heat until it is sizzling. Add more oil as needed.
Prep the potatoes: While you wait, peel and shred the potatoes and squeeze out as much liquid as you can from the grated sweet potato.
Combine it all together: Then, mix all the ingredients and the shredded potatoes in a large mixing bowl.
Deep frying fritters: Once the pan is ready, form fritters by hand and carefully place them in the hot pan. Do not overcrowd the pan.
Pan-fried fritters: Next, pan fry for two or three minutes on each side or until both sides are golden brown and crispy.
Drain: As they finish cooking, place the cooked fritters on paper towels to drain the excess oil.
Serve sweet potato fritters: Lastly, serve your sweet potato fritters with your favorite dipping sauce.
Recipe variations:
Another oil: You can use avocado oil or whatever kind of cooking oil you like.
Different flour: Likewise, any type of flour can be used such as coconut or almond flour.
Herbs and spices: Sprinkle in your favorite herbs and spices like rosemary, ginger, and cinnamon for all the flavors of fall.
Fluffy fritters: Add a teaspoon of baking powder for fluffier sweet potato fritters.
More veggies: Feel free to add your favorite veggies like spinach, kale, shredded carrots, or green onion.
Add meat: Chopped bacon or shredded pork would be a nice addition to these sweet potato fritters.
Spicy fritters: For extra spicy sweet potato fritters, add a dash of red pepper flakes or chipotle peppers.
How to serve:
This easy recipe is perfect as a side dish, or you can top it with your favorite veggies for lunch or dinner. They are easy to make and do not take long so you can whip them up in no time at all. Try one of these serving suggestions or share one of your own in the comments section at the bottom of the page.
Add poached eggs, bacon, and sausage on top of a sweet potato fritter for a hearty breakfast. Or you can use a fried egg instead.
Use leftover sweet potato fritters to make a casserole. Try our loaded sweet potato casserole recipe.
Top these sweet potato fritters with your favorite shredded cheese like cheddar or mozzarella.
Sweet potato fritters taste delicious with a spoonful of our homemade cranberry sauce.
The natural sweetness in these goes great with a bit of cinnamon and sugar on top for a healthy dessert.
Try dipping these sweet potato fritters in our tangy honey mustard sauce or homemade yum yum sauce.
If you like spicy food, these sweet potato fritters are deliciously dipped in sriracha sauce.
Frequently asked questions
Are these healthier baked in the oven or pan-fried?
Any time you cook something in oil, you will end up with extra fat and calories. Even with something as healthy as sweet potato fritters. Making them in the oven uses very little oil so you do not get as much fat in your fritter. However, if you use a healthy oil like olive or avocado oil, it will not be so bad.
Why are my sweet potato fritters soggy?
You may not have gotten all the excess moisture out of your sweet potatoes, or you might have used too much liquid or flour in your recipe. Reduce the amount of flour and cook at a higher temperature for a shorter amount of time. Also, be sure to let them cool on a rack or paper towel to drain the grease.
How can I shred my sweet potatoes without a shredder?
First, slice your sweet potatoes into coins. Then, stack several coins on top of each other and slice them into very thin matchsticks with a sharp knife. If you want them even smaller, use a large sharp knife to chop the matchsticks until they are small enough for what you are making.
What is the nutrition information in this recipe?
Each fritter has about 150 calories, 9 grams of carbohydrates, and 8 grams of fat with 2 grams of saturated fat, 3 grams of monounsaturated fat, 2 grams of polyunsaturated fat, and 1 gram of trans fat. You also get 40 milligrams of cholesterol, 190 milligrams of sodium, and 2 grams of sugar.
In addition, each fritter has 5 grams of protein, 165 milligrams of potassium, and 2 grams of fiber as well as 3 milligrams of vitamin C, 94 milligrams of calcium, 2 milligrams of iron, and 5,450 units of vitamin A. These are just estimates and depend on how large your fritters are and the ingredients you use.
How to store leftovers:
Store: Leftover sweet potato fritters can be stored in an airtight container in the fridge for several days.
Freeze: If you cannot finish them in a few days, pack them into a freezer bag and freeze them for up to three months.
Thaw: Remember to thaw frozen fritters in the fridge overnight for best results.
Reheat: To reheat, place fritters in a microwave-safe dish and heat for 45 to 90 seconds. Or you can bake them at 400 degrees F for 10 minutes.
More side dishes:
Cooking tips:
For extra crispy fritters, flip them halfway through the cooking process.
Another way to make sure your fritters are crispy is to make sure you squeeze all the excess liquid from your grated sweet potatoes before using them.
If you do not have a sieve to squeeze out the liquid, just put the shredded sweet potatoes between two paper towels and squeeze. Repeat with new paper towels until you do not get any more moisture.

You can use a box grater instead of a food processor if you do not have one. A cheese grater works fine too.
Add more flour and salt as needed depending on the size of your sweet potatoes.
If you are pan-frying, use a thermometer that clips to the side of the pan to make sure your oil stays above 365 degrees F.
To shorten prep time, you can use pre-cut sweet potatoes or frozen shredded sweet potatoes. But you still need to make sure you squeeze out all the excess moisture or your fritters will be soggy.
Sweet Potato Fritters
Ingredients
2

medium sweet potatoes

about 11oz once peeled and grated

4

oz

feta cheese

crumbled

2

teaspoons

olive oil

1

teaspoon

smoked paprika

1

teaspoon

garlic powder

1/2

teaspoon

onion powder

1/4

teaspoon

dried chili flakes

optional

3

medium eggs

1/2

cup

all-purpose flour

1

tablespoon

green onion

finely chopped

Cooking spray
Instructions
Preheat the oven to 400 degrees F.

Line a baking tray with parchment paper and spray it lightly with cooking spray. Set it aside.

Peel the sweet potatoes and grate them. Squeeze out as much liquid as you can and place them into a large bowl.

Add the crumbled feta, paprika, garlic, oil, onion powder, green onions, and chili flakes. Mix everything together.

Beat 3 eggs in a separate bowl and add them to the mixture, also add the flour. Mix until fully combined.

️Use an ice cream scoop to take spoonfuls of the mixture and use your hands to form round patties.

Arrange them on the prepared baking tray. Spray the patties lightly on top with cooking spray.

️Bake in the oven for 25-30 minutes until they are crispy and cooked through. Flip them half way so both sides are crispy.

Serve with your favorite dipping sauce.
Deliciousness to your inbox
Enjoy weekly hand picked recipes and recommendations