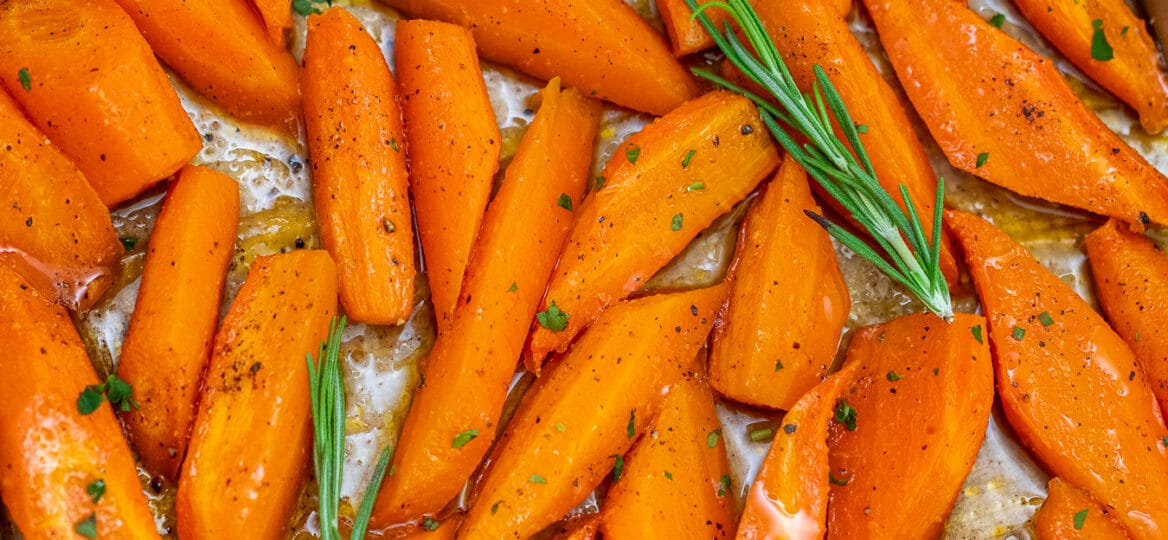 Brown Sugar Roasted Carrots [video]
Roasted Carrots make for a quick, tasty, and healthier side dish that is sweet and tender using only a few ingredients you already have in your pantry!
If you are looking for side dishes, then, this recipe will be ideal especially if you are busy. Once prepared, you will only have to wait for about 30 minutes to cook! This is one quick recipe like the Instant Pot Mashed Potatoes, Grilled Potatoes, and Crack Chicken Pasta Salad!
Brown Sugar Roasted Carrots
Roasted Carrots are a good recipe to add flavors to this popular root vegetable. Naturally, this vegetable tastes slightly sweet and woody with a hint of bitterness at times. This recipe will give it a lift in terms of sweetness and with added spice!
This goes well with just about anything! Serving this with meat as the main dish balances out the meal with its fiber content. Since it has few calories, it is good for weight control as well. With this recipe, you get all these health benefits and so much more while enjoying a tasty dish!
With this recipe, this vegetable joins bok choy, squash, and asparagus in the roasted department. This vegetable is common and quite affordable, too. So, there is no excuse not to try this side dish!
Carrots Health Benefits
This vegetable has few calories but many vitamins and nutrients. According to the USDA, 100 grams of this veggie has 41 kcal and the following:
88 g water
0.93 g protein
9.58 g carbohydrates
320 mg potassium
16706 IU vitamin A
13.2 µg vitamin K
Though it has a high amount of carbs, it has a low glycemic index which means that it does not quickly raise the amount of sugar in the blood after eating it. It also has pectin, a kind of soluble fiber that can help further control blood sugar.
It is also a popular source of beta carotene which converts into vitamin A which is good for our vision and immune system.
How to make Roasted Carrots:
Cut: Prepare the carrots by washing, peeling, and cutting each piece into 1 1/2-inch smaller pieces. While doing so, you can start preheating the oven at 415 degrees.
Glaze: In a bowl, mix together olive oil, butter, pure maple syrup or honey, light brown sugar, paprika, garlic powder, kosher salt, and black pepper. Add in the carrots.
Arrange: Line a baking pan with parchment paper and pour in the glazed veggies. Arrange the pieces into a single layer.
Bake: Bake until soft. Check for doneness by pricking with a fork.
Serve: Garnish with chopped parsley then, serve warm.
Do you roast carrots with the skin on:
I like them peeled but this is a matter of personal preference. You can keep the skin on which has a lot of nutrients. Just make sure to scrub and clean the veggies properly before cooking.
How long does it take to roast carrots:
Typically, you can bake them for 20 minutes on one side then, flip each piece with a spatula. Then, bake the other side for another 10 minutes.
That is just a total of 30 minutes of cooking time, excluding the preparation.
What is the healthiest way to cook carrots:
While others may think that eating veggies raw would be the best, it is not necessarily the case for some veggies including carrots. Studies show that eating cooked carrots results in better absorption of beta carotene.
For this vegetable, steaming and boiling are the most beneficial ways.
But before you reach out for your steamer, roasting this veggie is not so bad either, especially when kept as big chunks. Adding oil also helps bring out the fat-soluble nutrients so that you can absorb them better.
What do you serve roasted carrots with?
You can serve this with any main dish. This is great to have on your holiday table!
We suggest serving this alongside heavy dishes like:
How to store it:
Refrigerate: You can simply refrigerate it for 3 days and reheat. For optimum flavors and texture, reheat the next day.
To reheat: Unfortunately, freezing is not an option since it can turn mushy upon thawing. You can reheat this dish by heating in a pan, or back in the oven, brushing with the glaze.
Make-Ahead: Considering these options in storing, you can make this dish in advance. Also, what you can do is prepare the vegetables first, and then, submerge in water and refrigerate. After a day, you drain the water, pat dry, and then, roast.
Recipe Tips:
Note that the cooking time indicated was for this specific cut and this greatly depends on the size. So, remember to check for doneness halfway.
For a colorful dish, you can mix in other varieties such as the purple, yellow, and white ones.
You can also make this into a savory dish by leaving out the honey and sugars and adding more of the spices or your favorite herbs.