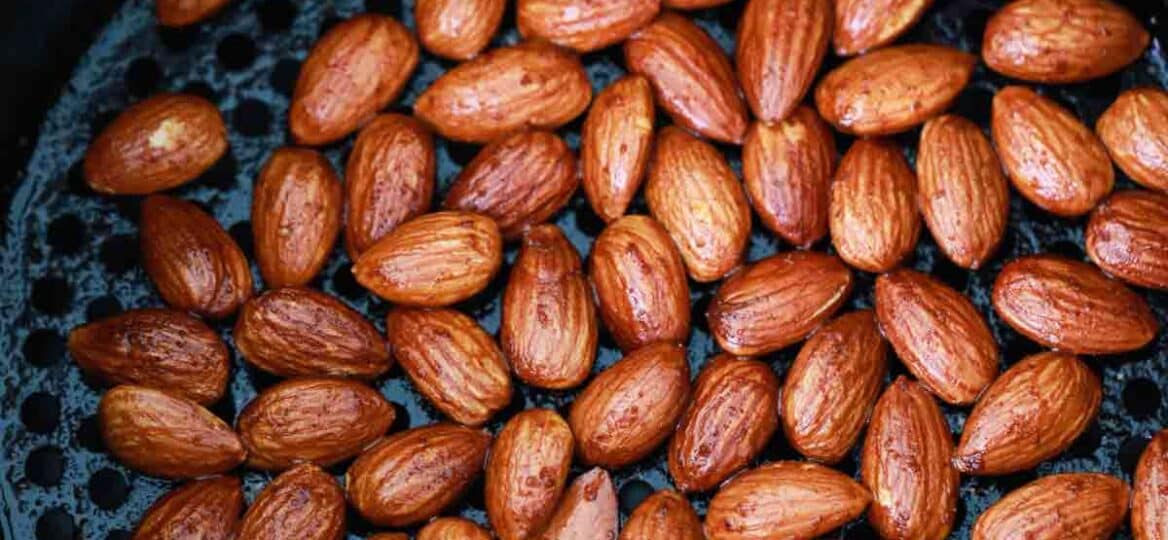 Air Fryer Roasted Almonds
Air Fryer Roasted Almonds are an easy way to turn that bag of plain nuts into a delicious and healthy snack you will all love. These are one of my family's favorite snacks and this is the easiest roasted almonds recipe you can try. We use smoked paprika on these, which gives them a smokier flavor. But you can use whatever seasoning you like.
Are you looking for another air fryer recipe to try? This Air Fryer French Toast recipe is crispy outside and creamy inside, perfect for breakfast or any time of the day. For an easy dipping treat, our Air Fryer French Toast Sticks are amazing dipped in maple syrup. If you want a classic dessert that everyone will enjoy, these Air Fryer Peanut Butter Cookies are chewy, soft, and full of chocolate chips.
The air fryer gives these nuts a crispy texture in just a few minutes and the paprika makes them so delicious you will have a hard time not eating them all in one sitting.
While these are good for you, they are not good to eat in excess so try to stick to one serving or a little more. This recipe only has two ingredients and a few easy steps so you can have a yummy snack in minutes.
Ingredients needed:
There are only two ingredients in our recipe so you should not have any trouble gathering all you need. The exact instructions and measurements are found below on our recipe card but here are the main ingredients:
Plain almonds: You can use fresh raw almonds or a bag of packaged nuts.

Smoked paprika: The smoky flavor makes these nuts irresistible.
Salt
Vinegar: For a tangy taste.
Sesame oil
How do you make air fryer roasted almonds?
Preheat: First, preheat your fryer at 350 degrees F.
Coat: Meanwhile, add the nuts and the rest of the ingredients to a large bowl and stir them up to coat thoroughly.

Cook: Then, place almonds in a single layer in the air fryer basket.

Shake: After five minutes, give the basket a good shake to stir them up.
Check: Keep cooking, checking after two minutes to see if they are done. They do not have to cook for a long time.
Remove: After they are completely cool, you can move them to an air-tight container.
Recipe variations:
Salt: If you would rather skip the paprika, just add some salt to make salted nuts.
Cinnamon: Make these crunchy air-fryer cinnamon almonds by coating them in cinnamon and sugar instead of paprika.
Garlic: Similarly, add some garlic to make garlicky roasted almonds.

Oil: Add a bit of olive oil to help make the paprika stick.

Spicy: Another great idea is to sprinkle some cayenne or red pepper flakes on the nuts for a spicy kick.
How to serve:
This is a great snack served any time of day, but they are perfect for something to munch on when you need a boost of energy. Try one of these serving suggestions for other ways to eat them.
Puree roasted almonds for delicious almond butter to spread on crackers or this easy beer bread.
Sprinkle brown sugar on top for a sweet twist that blends well with the paprika.
Add a handful of these to this sweet pear salad or savory avocado tuna salad.

These would also taste terrific chopped and sprinkled on cereal or muffins for breakfast or an easy snack.
Frequently asked questions
Are roasted almonds good for you?
They are a very healthy snack with a variety of vitamins like 75mg of calcium, 1mg of iron, 210mg of potassium, and 1mg of niacin. These nuts are also filled with lots of healthy fats, which help in lowering cholesterol levels and can even help in lowering blood pressure.
In addition to all that, one serving of almonds gives you 50% of your daily values of Vitamin E and riboflavin. Another reason to eat this delicious snack is that it can help with weight loss. The fiber in them helps to keep you feeling fuller longer.
When is the best time to eat almonds?
Although there is no bad time to eat almonds, you will get the best benefits if you consume them in the morning. Try having some of these in your oatmeal. This is extra beneficial because the tryptophan in the almonds with the B6 of the oats convert to serotonin, which boosts your mood.
Should I soak almonds before roasting?
You do not have to soak them, but it does make them easier to digest for those who have trouble with that. Also, the enzyme inhibitors (phytic acid) in the nuts can bind to the nutrients in your body, causing nutrient deficiency in some people. Soaking will get rid of the phytic acid so you can get more out of them.
How to store leftovers:
Store: Roasted almonds stay fresh for up to three months in an airtight container (like a mason jar) in the refrigerator or for a week at room temperature.
Freeze: To keep them longer, you can freeze them for up to six months in an airtight container.

Thaw: Thaw the nuts overnight in the fridge before eating.
Reheat: You do not have to reheat them unless you want to. They are just as good cold.
More Air Fryer Recipes:
Cooking tips:
Spray the basket with olive oil to keep them from sticking.

If you only have a handful of leftovers, use them as a topping on the cake, in your oatmeal, or in a salad.
Alternatively, you could use them in trail mix for the kids.

These are also fun to add to nut butter like homemade sunflower or pistachio butter.
If your air fryer is on the fritz, roast them in the oven at 325 degrees F for 10 – 12 minutes.
Buying your nuts in bulk can save you money. Raw almonds will stay good for up to two years in the freezer.
This is a fantastic snack for those with diabetes because they help in lowering blood sugar.
Air Fryer Roasted Almonds
Ingredients
1 1/2

cup

plain almonds

1

teaspoon

smoked paprika

1

teaspoon

salt

1

teaspoon

white vinegar

1

teaspoon

sesame oil
Instructions
Preheat the air fryer to 350 degrees F for 2 minutes.

Combine all the ingredients in a bowl.

Add the almonds into a single layer in the basket, and air fry for 5 minutes. Shake well the basket and continue cooking, checking every minute, until they are done. For about 3-5 minutes.

Cook in batches if needed.

Transfer to a bowl and fully cool before serving.
Deliciousness to your inbox
Enjoy weekly hand picked recipes and recommendations