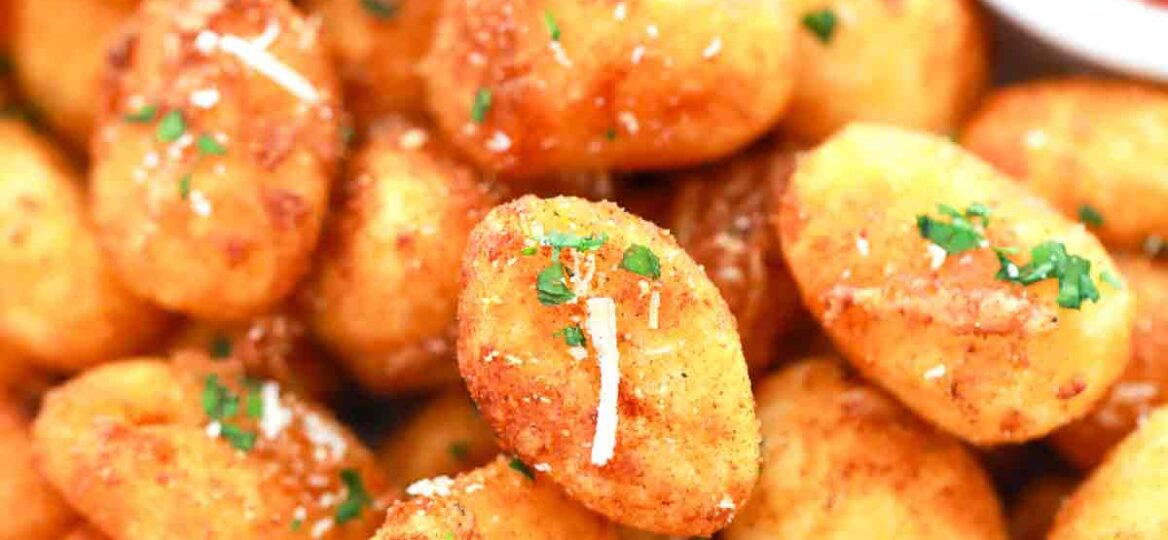 Crispy Air Fryer Gnocchi
Air Fryer Gnocchi are irresistibly crispy on the outside and tender on the inside, coated in a flavorful seasoning blend. Not only is it fast and easy, but it is also a versatile food you can use in many ways. Add a dash of sea salt, black pepper, and garlic powder, or mix it into one of your favorite dishes.
This pan-seared Creamy Tuscan Salmon would go great with this great recipe whether you eat it with sauce or not. If you would rather have some pasta, try this amazingly cheesy Instant Pot Feta Pasta recipe that came from TikTok. Also, for a different pasta dish, you have to try this recipe for Creamy Instant Pot Mac and Cheese.
Air fryer gnocchi recipe
For a new way to enjoy your favorite pasta sauce without having the pasta, this cooking method is perfect to geet the crispy texture outside and creamy inside. Add them to some veggies for a side dish to any meal or make it a meal with a salad or tater tots.
To get the best result from this recipe, start with your gnocchi at room temperature. Although the easiest way would be to grab them out of the freezer and cook them from frozen, it takes less time if they are thawed out already. However, frozen cauliflower gnocchi is doable.
This is a favorite way to cook gnocchi and is also one of my favorite air fryer recipes that I can serve as an appetizer or main dish. The whole family will love this irresistible snack.
Follow us on Pinterest for more delicious recipes!
Ingredients needed:
We use seasonings and spices to make the flavor pop. Overall, this dish is made with simple ingredients that you probably have on hand.
Gnocchi: You can use sweet potato, white potato gnocchi, or cauliflower gnocchi.

Olive oil: Vegetable oil or some other type of oil will work too.
Parmesan cheese: Very finely grated.

Seasoning: We used salt, garlic powder, and paprika.
How to make air fryer gnocchi?
Preheat: First thing to do is to preheat your air fryer to 400 degrees.

Toss: Meanwhile, place gnocchi in a mixing bowl and toss with olive oil, seasonings, and parmesan cheese.
Cook: Then, transfer gnocchi to the air fryer basket after you spray the bottom of the basket with oil or cooking spray and set it to cook for 13 minutes.

Shake: Don't forget to give it a good shake every five minutes and remove it when it is golden brown and crispy.
Recipe variations:
Add other spices: You can also add dried basil, onion powder, and whatever other spices you like.

As an alternative, coat these in Taco seasoning, Ranch seasoning, or Cajun seasoning.

New way: Make this recipe in a new way by sprinkling some sugar and cinnamon on top.

Spice it up: As an option, add some cayenne pepper or red chili powder for a bit of spiciness.

Make it meaty: Also, try to toss in a handful of pepperoni or bacon bits to make it a meaty dish.
How to serve:
Garnish with parsley or fresh basil and serve with some marinara sauce on the side. Or try one of these serving ideas:
Add a dash of parmesan cheese on top after removing them from the air fryer.
Or try some other kind of grated cheese like cheddar or mozzarella.
Also, serve with this heavenly beer bread and some salsa on the side.

Mix with some tiny tomatoes along with some sugar snap peas and raw carrots.

You could even mix it with some bang bang sauce or pesto.
Frequently asked questions
Do you need to boil gnocchi before frying?
No. You can cook gnocchi right from the package. Whether they are shelf-stable, refrigerated, or frozen, toss them in the air fryer basket with some olive oil and you will have golden brown crispy gnocchi in no time.
If you do want to boil them first, just bring a large pot of water to a boil and cook until they float. This usually takes about three minutes. Then drain them in a colander to get rid of the excess water before putting them in a large bowl to serve.
What is Trader Joe's cauliflower gnocchi?
Traditional gnocchi are made with potatoes, but Trader Joe's has made this awesome snack into a healthier and even more delicious side dish or appetizer. They use 75% cauliflower and just some potato starch and cassava flour for their version.
Actually, with this recipe, you can make them a main dish by adding some meat or veggies and some marinara sauce or tomato sauce alongside some garlic bread. Most people think these are much better than regular gnocchi.
Are gnocchi healthy?
As a potato dish, they are not as healthy as the cauliflower version, but they are still healthier than pasta. But not much. The difference between pasta and potatoes is negligible, however, the cauliflower version is the best bet.
Also, you do not have to worry about eggs, dairy, sugar, or wheat in this crispy cauliflower gnocchi.
How to store leftovers:
Store: If you have any air fried gnocchi leftovers, store them in your refrigerator for up to three days in an airtight container.

Freeze: Go ahead and toss your leftovers in a freezer bag and freeze them if you are not going to finish them in three days. They will stay fresh in there for 90 days.
Thaw: You do not have to thaw them if you are air frying them. But you can thaw them overnight in the fridge if you are going to reheat them in the microwave or oven.
Reheat: The easy way to reheat these is by spraying the air fryer basket with cooking spray or olive oil and placing them in a single layer to cook for about five minutes.
More Air Fryer Vegetarian Recipes:
Cooking tips:
For an alternative to olive oil, try avocado oil.
You can buy Trader Joe's cauliflower gnocchi in the grocery store frozen but don't follow the instructions on the bag or they will be soggy. Use this air fryer recipe instead.

Try different ways of cooking this dish to see which way you like best.

Make sure to cook them until crispy, this is the trick why this recipe is so good.
Also, do not skip the spices and seasonings, the recipe is versatile so you can use whatever you like.
Air Fryer Gnocchi
Ingredients
1

lb

gnocchi

2

tablespoons

olive oil

1/2

teaspoon

salt

1

teaspoon

garlic powder

1

teaspoon

paprika

2

tablespoon

finely grated parmesan cheese
Instructions
Heat air fryer to 400 degrees F.

In a large bowl toss well all the ingredients.

Transfer gnocchi to the air fryer basket.

Cook for 13-15 minutes, shaking 3-4 times during the cooking process. Gnocchi are done when golden and crispy.

Garnish with parsley, extra parmesan cheese, and serve with marinara sauce on the side.