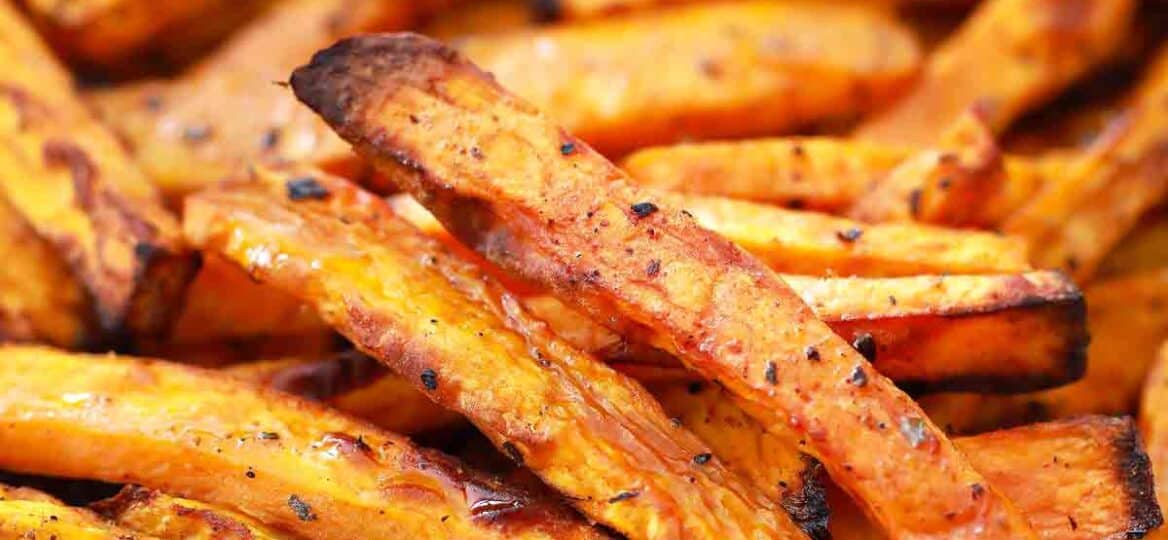 Air Fryer Sweet Potato Fries [Video]
Air Fryer Sweet Potato Fries are seasoned with paprika and other spices, then air-fried till golden crisp. They are cooked in less than 20 minutes and are a perfectly crispy and healthy side dish.
Air Fryer recipes are some of my favorites. They are healthy and a great alternative to deep frying because little oil is used. For more easy Air Fryer side dishes, try my zucchini fries, corn, or these extra crispy potato chips.
Making sweet potato fries in the air fryer is a healthy alternative to deep frying or even compared to oven-roasted fries. Firstly, this method uses less oil. As a result, you are consuming less fat and fewer calories, but getting the same level of crispiness.
Also, air fryer sweet potato fries are super quick and easy to prepare. You simply cut the spuds, season, and cook. In less than 20 minutes you end up with a perfect side dish.
These potatoes are very versatile and tasty that you can basically pair them with any main dishes for breakfast, lunch, or dinner.
Ingredients needed:
This is a very easy recipe, made with just a few ingredients:
sweet potatoes
olive oil
garlic powder
smoked paprika
dried basil
How to make Crispy Air Fryer sweet potato fries?
Preheat – First, preheat the air fryer to 400 degrees f.
Prepare the spuds – Then, place the spuds on a cutting board. Using a sharp knife, slice up the potatoes into wedges lengthwise. Fill up a large bowl with cold water and submerge them for at least an hour and up to 8 hrs. When you're ready to cook, pat as dry as you can using a paper towel.
Season. Next, use a little bit of olive oil along with seasoning and toss to coat evenly.
Cook. Arrange the wedges into the bottom of the air fryer basket in a single layer. Then air-fry for about 15 to 20 mins. Shake the basket intermittently to ensure even cooking.
Serve. Lastly, enjoy them warm as a side dish, or as a nice healthy snack.
Recipe variations and substitutions:
Regular French fries: Using regular potatoes such as Idaho, Russet, Yukon Gold, or white potatoes is a great alternative.
Other seasonings: Feel free to use your favorite seasonings. Some great additions would be Italian seasoning, cajun seasoning, or ranch seasoning.

Sweet and savory: Skip the spices, and instead use some sea salt then toss them into cinnamon sugar.
Parmesan: Toss in grated parmesan for a salty, cheesy hit!

Spicy: Double the black pepper, and sprinkle with chili powder or cayenne pepper.
Are sweet potato fries healthy?
Yes! Sweet potatoes are packed with Vitamin C, Vitamin A, Vitamin b6, phosphorous, iron, calcium, and magnesium. Compared to regular spuds like Russets and Idaho, they also have more fiber while having a bit fewer calories.
Do note that potatoes, no matter the variety, are carb-heavy foods. Therefore, if you're trying to lose weight or cut out carbs from your diet, you'll want to eat them in moderation.
How to cut sweet potato fries?
First, pick the sweet potatoes that are not very large and extra long. That way, you don't need to cut the wedges in half to fit them into the basket. Also, keep in mind that once air-fried the wedges will shrink.
Next, peel the potatoes. Using a sharp knife, place them on a cutting board and cut the spud in half lengthwise. This way, it will be easier to lay them flat.
Then, cut them into about 1/4-inch to 1/2-inch thick.
How long does it take to cook frozen sweet potato fries in an air fryer?
Depending on how big your pieces are and the model of the appliance. Generally, the cooking time is about 20-25 minutes at 400 degrees F from frozen. Also, there is no need to defrost!.
What kind of oil is best to use for air frying?
Feel free to use any oil you'd like. However, I tend to use a neutral oil that won't mask the delicious flavor of the sweet potatoes. In addition, oil with a high smoke point is recommended. Aside from olive, use canola, vegetable oil, peanut oil, or avocado oil.
What to serve with them?
This is a healthy side dish that goes pretty much with any meal. Here are some great suggestions:
Favorite dipping sauce:
You can't go wrong with dipping your fries! My all-time favorites are:
More Air fryer recipes to try:
How to store leftovers?
Store: First, let the leftover completely cool at room temperature. Then, refrigerate leftover in an airtight container for up to 3 days.
To freeze: It is best to freeze them in a single layer on a baking sheet until solid. Once solid, transfer the wedges to an airtight container or ziptop bag and freeze them for up to 3 months.
To reheat: Pop them in a preheated oven at 350 degrees F for about 5-7 minutes. Alternatively, rewarm leftover fries in the air fryer at 380 degrees f for about 5 minutes.
Cooking tips:
Always try to cut the potatoes evenly. This will ensure uniform cooking.
In addition, place them in a single layer so the hot air can circulate between them. This will result in crispy fries.
Prior to cooking, ensure that the air fryer is preheated to 400 degrees f.
Feel free to omit the oil or cooking spray altogether. However, the fries will taste dryer in that case.
Air Fryer Sweet Potato Fries
Ingredients
2

large sweet potatoes

2

tablespoons

olive oil

1

teaspoon

garlic powder

1

teaspoon

smoked paprika

1

teaspoon

dried basil

Salt and pepper
Instructions
Cut:
Cut the sweet potatoes lengthwise into thin planks and after that each plank into strips.
Soak:
Soak the sweet potato fries in cold water for 30 to 60 minutes, up to 8 hours.
Dry:
Drain water and pat dry sweet potatoes with paper towels to remove as much moisture as possible.
Season:
Preheat air fryer to 400F.

Add to a bowl, then add the rest of the ingredients, and toss well to coat.
Air Fry:
Add fries to the air fryer, spread out in a single layer. Cook for 15 to 20 minutes, shaking every few minutes to evenly cook. Work in batches.

Serve immediately with your favorite sauce.
Deliciousness to your inbox
Enjoy weekly hand picked recipes and recommendations