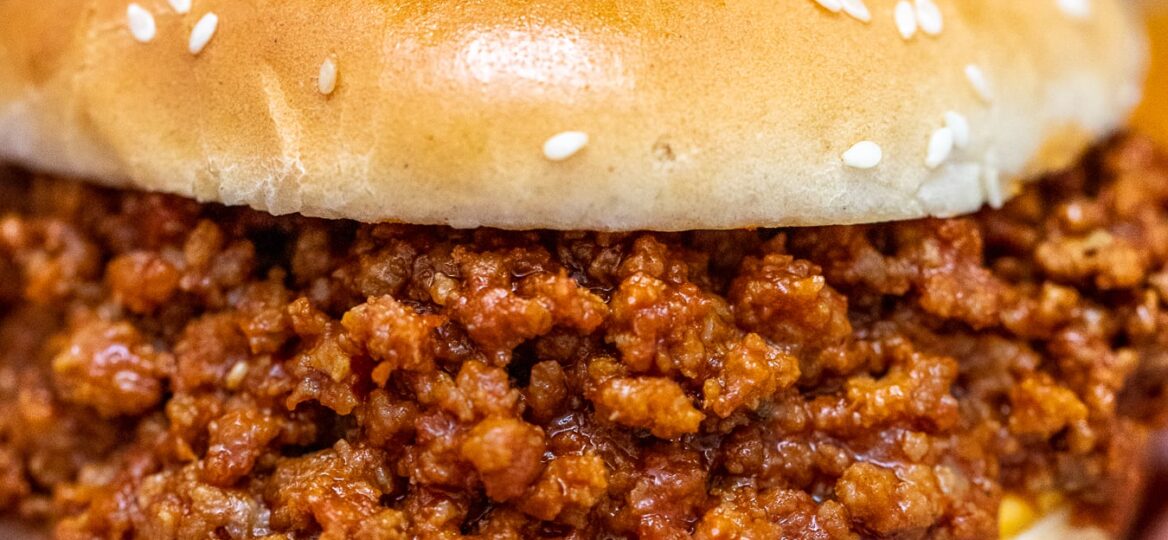 Slow Cooker Sloppy Joes [Video]
Slow Cooker Sloppy Joes are every child's favorite comfort food and are a true classic! They are made with ground beef, tomato sauce, brown sugar, and seasoning. Reminisce your childhood right in your kitchen with this easy recipe!
So, if you are looking for more classic, family favorite recipes then check out my Creamy Instant Pot Mac and Cheese, Juicy Homemade Meatballs, and Baked Buffalo Wings!
This is an easy crockpot meal that's kid-friendly and perfect for serving a large crowd. It is made with only a handful of ingredients, and it takes less than 10 minutes to assemble it.
Slow Cooker Sloppy Joes are hearty, delicious, and family-loved meals! This dish is rather simple, because you simply brown the meat, and then dump everything to cook in the slow cooker. It is the perfect dinner recipe for those busy days to enjoy with the whole family.
Paired with various side dishes, you get yourself a complete and satisfying meal! I usually buy more ground beef to make a larger batch and store for later, especially when I host a party or having a game night. You may even use the crockpot to keep it warm during the entire party!
Ingredients needed:
Beef: I go with 90% lean ground beef, but you can go with what you like.
Tomato sauce: Use a good-quality one.
Seasoning: I like using brown sugar, garlic powder, onion powder, smoked paprika, salt, and black pepper.
Vegetable oil: To brown the meat.
Ketchup
Worcestershire sauce: One of my favorite sauces. It adds a lot of flavor to the dish.
Prepared mustard
Hamburger buns
Yellow cheese or cheddar cheese
How to make Slow Cooker Sloppy Joes?
For a quick tutorial, watch the recipe video attached to the recipe card. The general steps are as follows:
Brown the beef: Over medium-high heat, add some oil to a large skillet, and brown the ground beef. Then, add the seasoning ingredients along with salt and pepper. Using a wooden spoon, mix the ingredients, and continue cooking the beef for about 6-8 minutes until it is no longer pink.
Transfer: Next, transfer the beef mixture into the crockpot along with the rest of the ingredients.
Slow Cook it: Then, cover and cook on HIGH or LOW, whichever you prefer. It will take at least 3 hours, and 6 hours at most.
Assemble: Lastly, put the resulting mixture in between toasted buns and add cheese before serving.
Variations:
Meat: This sloppy joe recipe works perfectly with other meats as well. Swap the beef with ground turkey, or ground chicken and follow the same cooking steps.
Veggies: I tend to omit the onion and bell peppers. However, feel free to chop some red bell pepper or green pepper and add to the mixture.
Sauce: You can use your favorite sauce here. Instead of tomato sauce, you can use chili sauce, bbq sauce, canned sauce, or simply tomato paste.
Seasoning: Mix in other seasonings. Some great additions would be chili powder, cajun seasoning, or ranch seasoning mix.
Stove top version: If you don't have a slow cooker or crock pot, then you can easily make them on the skillet. Try my Bacon Cheeseburger Sloppy Joes recipe.
What are Sloppy Joes?
They are a kind of sandwich, but unlike the usual hamburgers, the "patty" in this dish is loose and saucy. It is primarily made with ground beef in tomato sauce, seasoned with different spices and flavorings.
Where did Sloppy Joes come from?
Some resources say that a certain Joe in Havana, Cuba, who owns a restaurant, came up with the recipe. Visiting friends noted how sloppy the place was, with all the dirt and water covering the space. From then on, the place was called Sloppy Joe's.
Do I have to brown the meat first?
Over the years, I found out that browning the meat really makes the difference in flavor and taste. If you want to make the best sloppy joes, then I would definitely recommend browning and crumbling the meat first.
This will take an additional 5-10 minutes, but it caramelizes the flavors and the whole dish.
Can I make them vegetarian?
Yes! If you want to omit the meat, you could. However, this classic dish is known to be made with ground beef. But as an alternative, you can substitute the meat with meatless crumbles.
Also, the meatless crumbles are already cooked, so you do not have to brown them.
What to serve with Crock Pot Sloppy Joes?
Turn it into a full meal by serving it with these equally delicious side dishes:
How to Store leftovers:
Refrigerate: First, let the meat mixture cool down. Then, transfer it to an airtight container and store it in the fridge for up to two days.
Freeze: Make this dish into a freezer meal by putting single portions of the filling into freezer bags and storing them in the fridge for up to two months. Thaw before reheating.
More slow cooker recipes:
Cooking Tips:
If you want a twist in the flavor, try making this pizza sloppy joes recipe.
Also, instead of putting in between buns, you can opt to use the meaty sauce as a pizza topping or use the meat mixture on bread rolls, or slider buns.
As stated above, you may use ground turkey or mix in ground pork.
This simple dish can be easily doubled. Just double the ingredients, and follow the same cooking steps.
In addition, to lessen the fat, you may use a non-stick pan and leave out the oil when browning the meat.
To make it spicier, add some chopped jalapeno to the mix.
Deliciousness to your inbox
Enjoy weekly hand picked recipes and recommendations