Mexican Street Corn Potato Salad Recipe [Video]
Last updated on December 20th, 2022 at 04:27 pm
Mexican Street Corn Potato Salad is the perfect side dish for a summer BBQ, creamy, refreshing, and loaded with sweet corn. With tender potatoes, creamy sauce with a slight spiciness, and crunchy fresh corn kernels, this is a favorite with my family. This is the most delicious way to prepare corn potato salad in my opinion.
Looking for other recipe ideas? Another way to use Mexican street corn is in this Pasta Salad made with small shell noodles, red onion, and cotija cheese. Or you can try our Crack Corn Salad flavored with ranch salad dressing, sour cream, and cheddar cheese.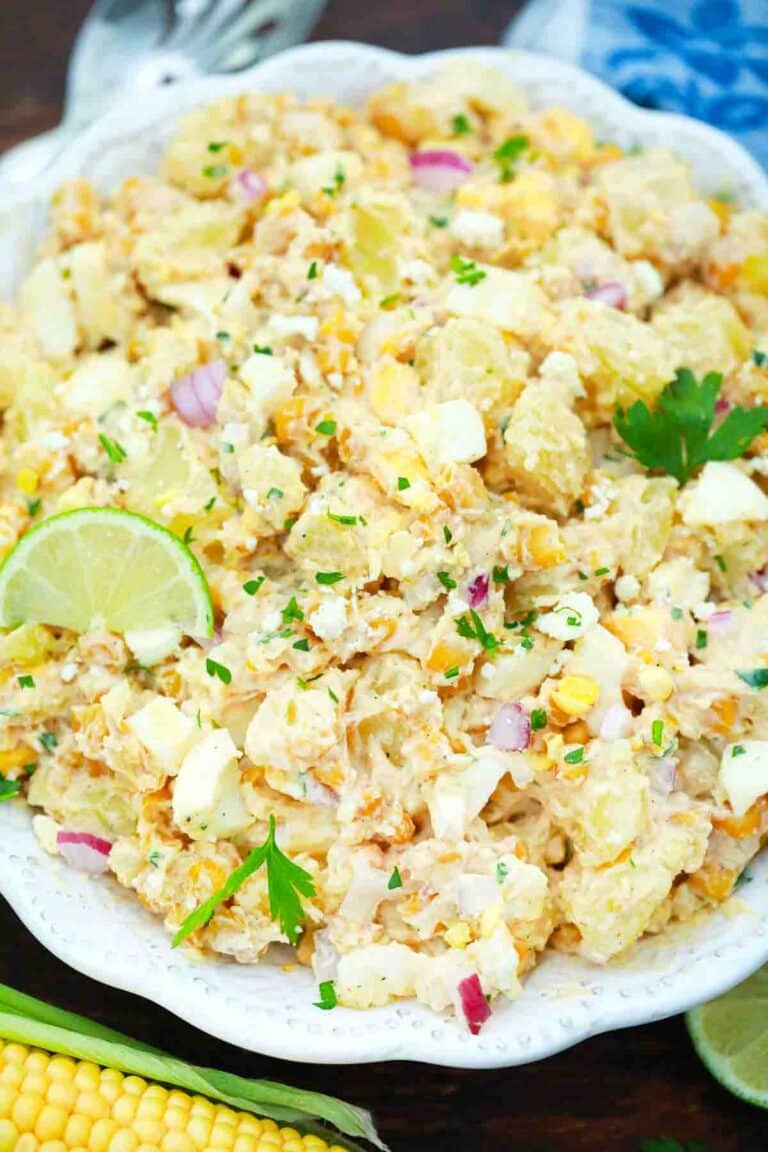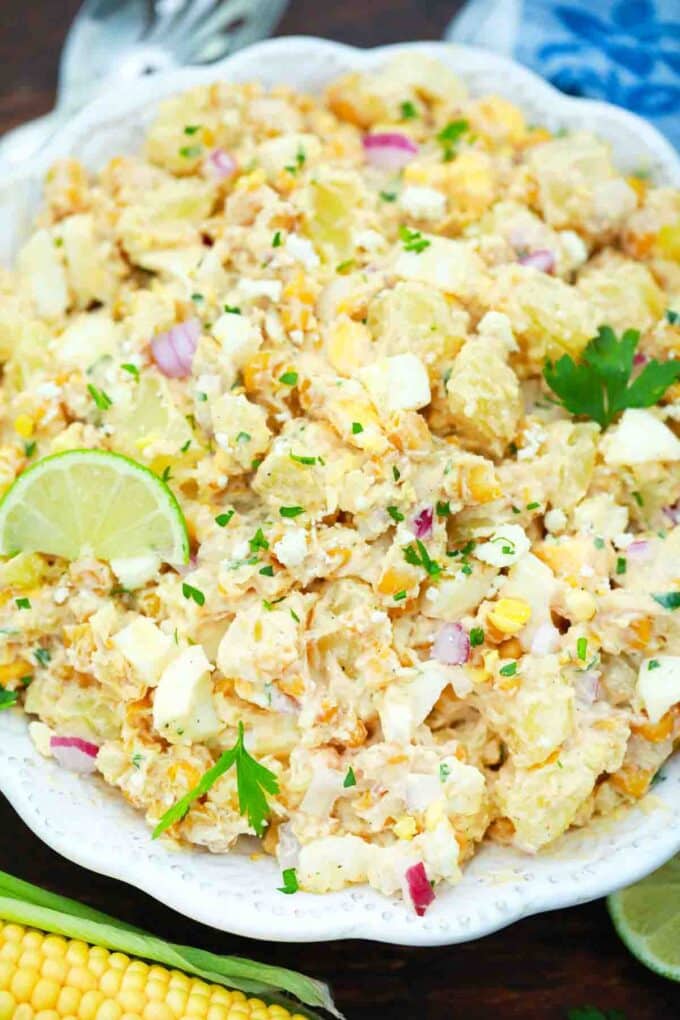 Potato salad has been a picnic and barbecue staple for American families for centuries. But the first one is thought to have been served by Spanish explorers when they came to the New World in the 17th century.
The original was made by boiling potatoes in a mixture of vinegar and spices or wine. The first American recipe for this popular salad was from the 1800s and was made with mustard, sugar, and vinegar.
Mexican street corn potato salad is one of those dishes that screams summer. Whether you are preparing a picnic in the park, a backyard barbecue, or just making dinner for the family, this fun twist on potato salad is delicious.
It is naturally gluten-free and you can also make it vegan if you use a vegan mayonnaise, switch feta for cotija cheese, and omit the eggs.
There are many kinds of potato salads from classic to the new modern styles. If you are looking for some new potato salad recipes, try our loaded baked potato salad made from russet potatoes, bacon bits, and blue cheese salad dressing or this BLT potato salad made with tri-color potatoes, cherry tomatoes, and dill pickle relish.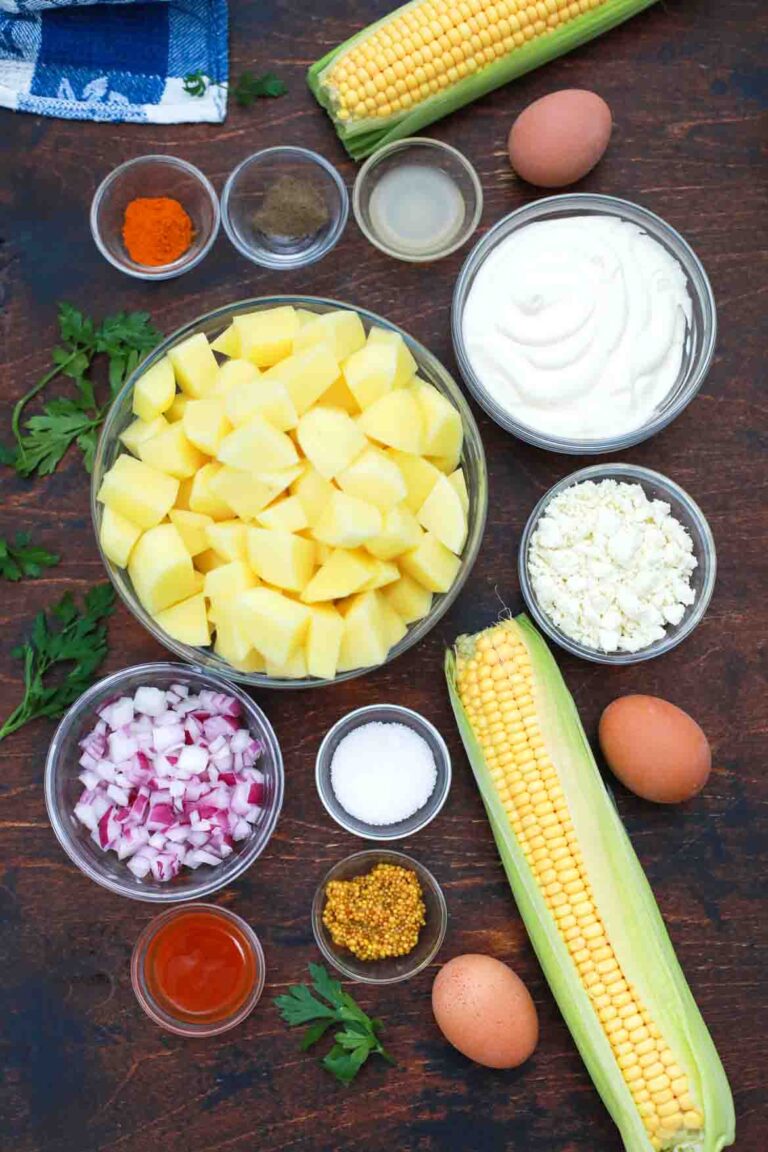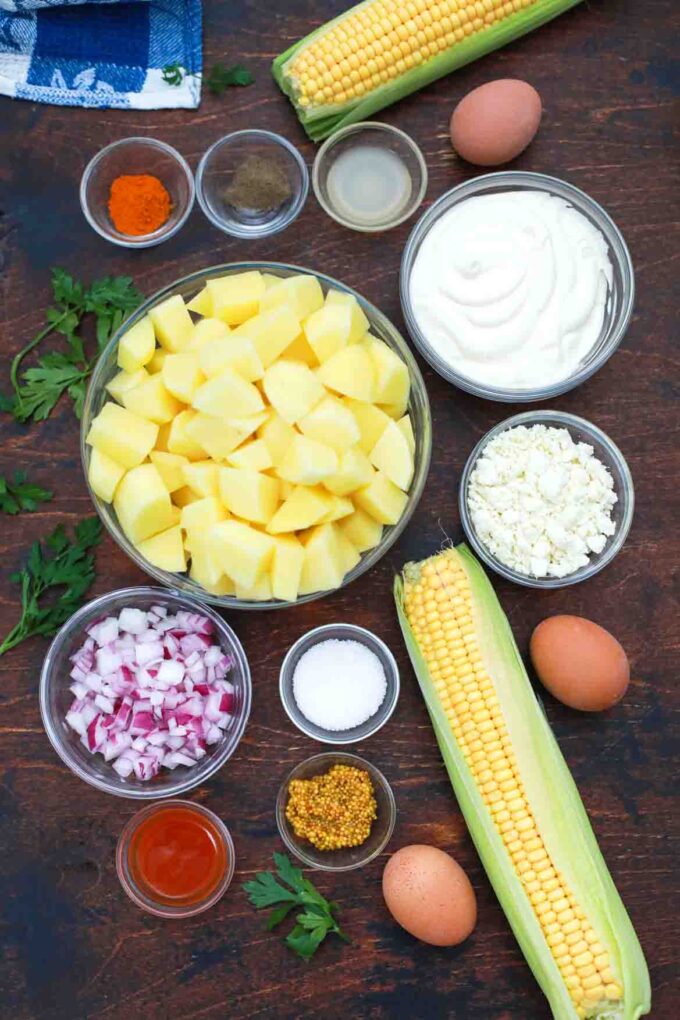 Ingredients needed:
You will need these ingredients to make this awesome Mexican street corn potato salad. When you are ready to begin, scroll down to our printable recipe card where you can find the exact measurements and directions.
Russet potatoes: Peeled and chopped into 1/2-inch pieces.
Hard-boiled eggs: Chopped small.
Cotija cheese: Crumbled.
Small red onion: Finely chopped.
Fresh corn kernels: We used sweet corn.
Mayonnaise
Lime juice
Hot sauce
Smoked paprika
Dijon mustard
Chipotle chili powder
Kosher salt: Adjust to taste.
Black pepper: To taste.
Sugar: Adjust according to taste.
Finely chopped cilantro
How to make Mexican street corn potato salad recipe?
Boil potatoes: First, put the potatoes into a large pot of water and bring them to a boil over high heat. Continue to boil until they are just about fork-tender, for about 10 minutes. Drain them and set them aside to cool.
Whisk the sauce: Next, in a large bowl, whisk the mustard, lime juice, mayo, hot sauce, chili powder, salt, pepper, and sugar.

Char the corn: After, char the corn until it is just lightly blackened in a pan with olive oil on medium-high heat.

Mix it all together: Last, mix the corn and chopped eggs with the potatoes and then add the cilantro, cotija cheese, and onion. Stir well.
Serve Mexican potato salad: You can serve warm potato salad but for best results, chill for several hours before serving.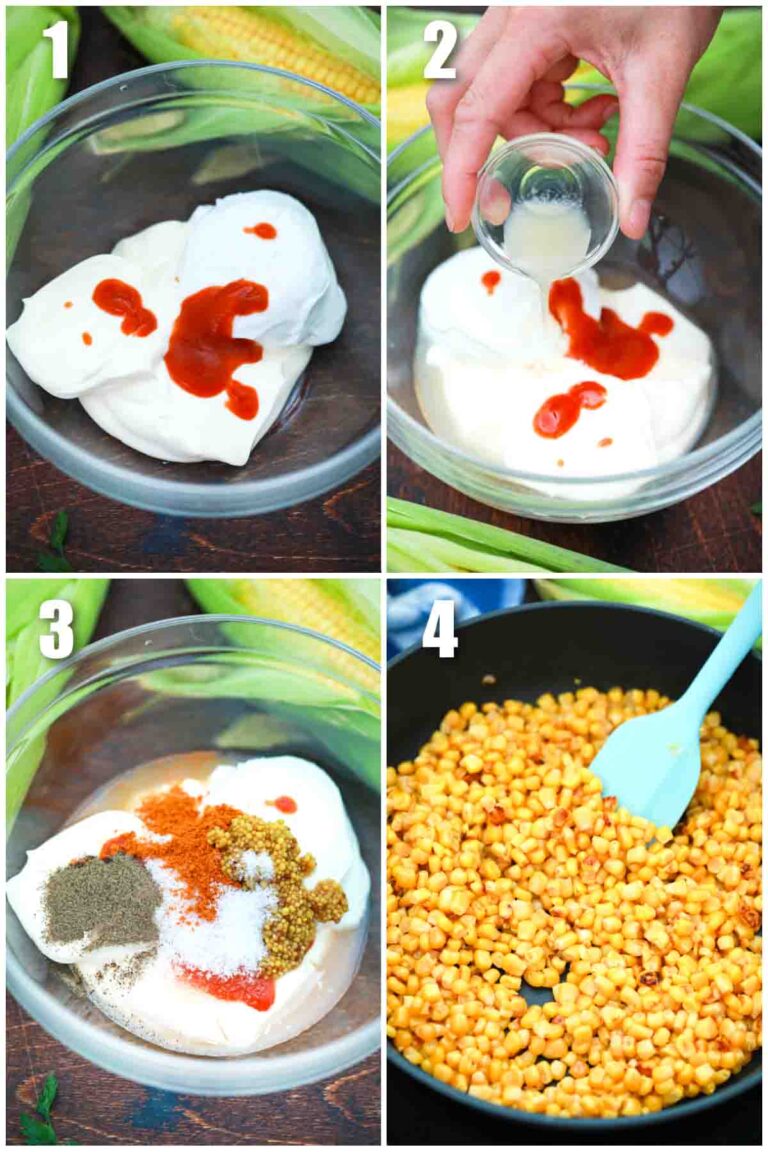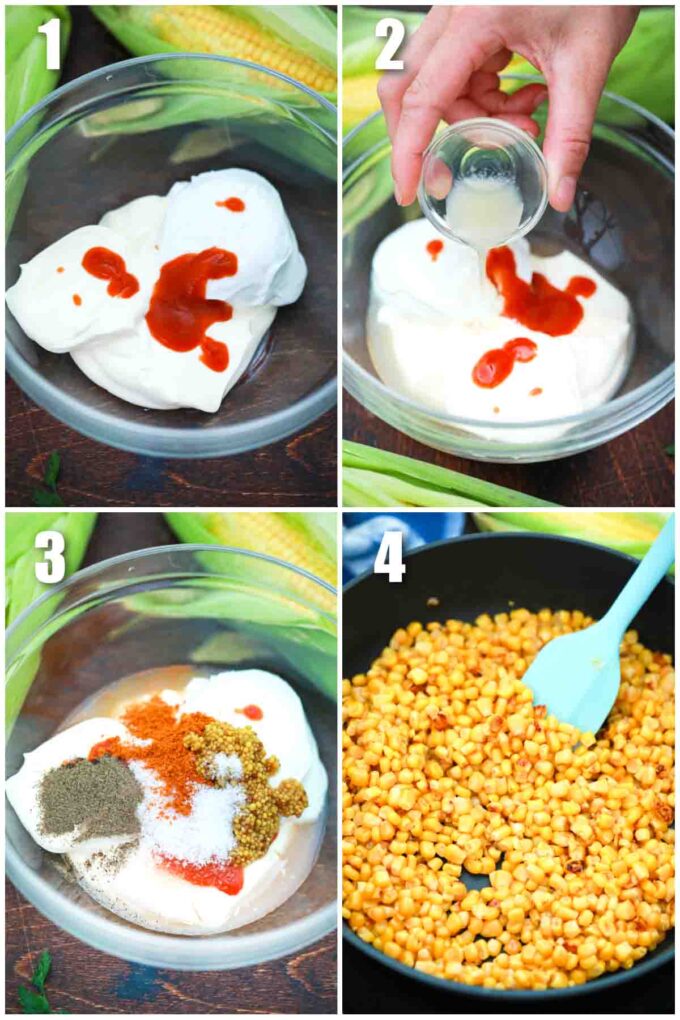 Recipe variations:
Other cheese: If you cannot find cotija cheese, you can use feta cheese instead.

Alternate spices: Also, you can use regular chili powder and paprika if you cannot find what the recipe calls for.

No mayonnaise: Instead of mayo, try plain Greek yogurt or sour cream.

Baby potatoes: If you use baby potatoes, just cut them in half.
Lime zest: For extra lime flavor, add a teaspoon of lime zest.

Other spices: You can also add onion and garlic powder or whatever spices you enjoy.

Frozen or canned corn: If you cannot find fresh corn in your grocery store or farmers' market, use canned or frozen corn.
Spicy: Make your Mexican street corn potato salad extra spicy by adding jalapenos, cayenne pepper, or red pepper flakes.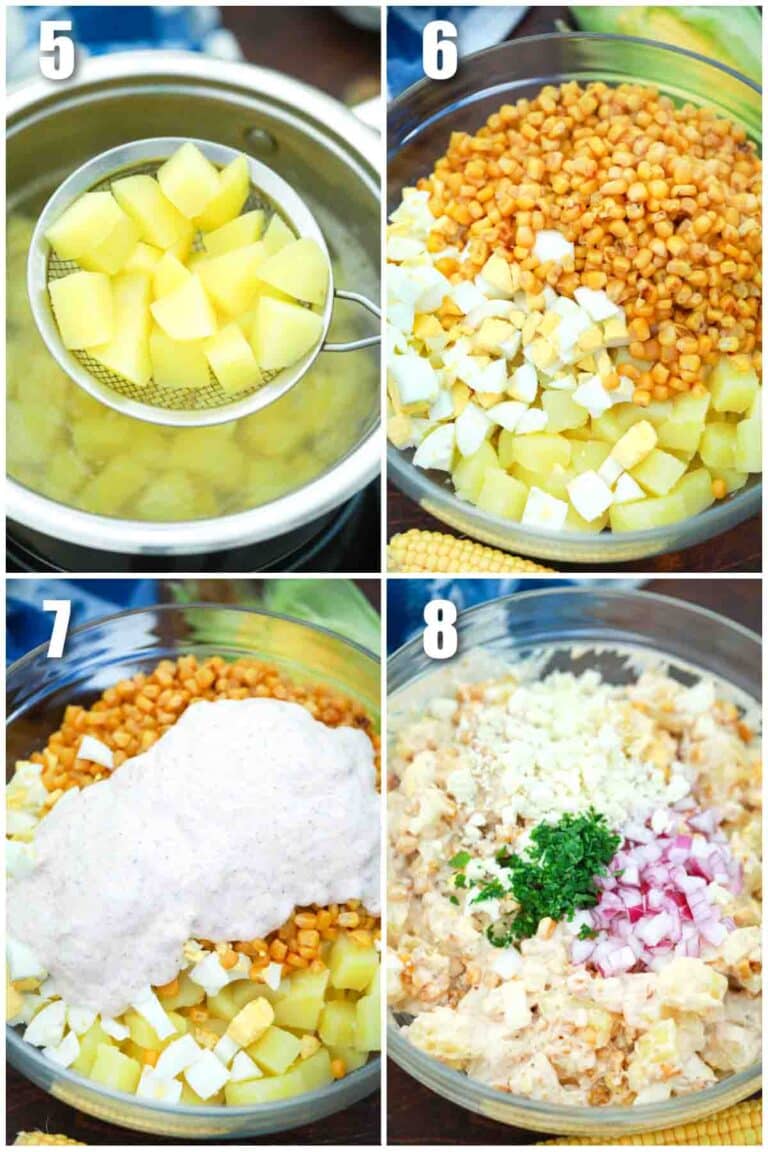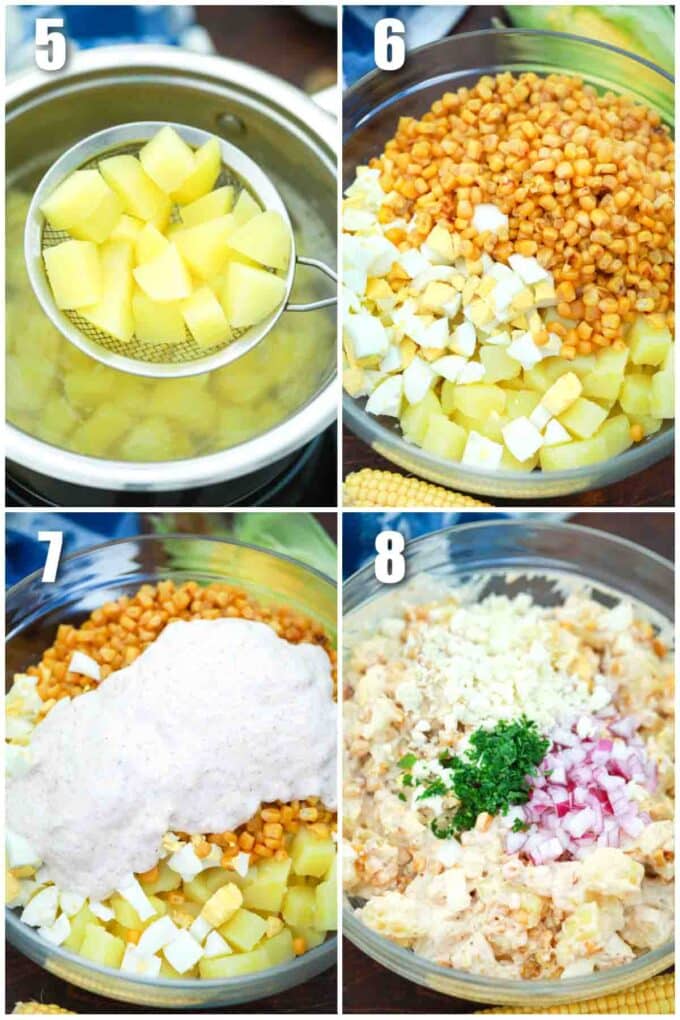 How to serve:
You can serve this Mexican street corn potato salad as an appetizer, entree, or side dish recipe. It goes great with other Mexican-style cuisine or any type of food you are serving. Try one of our fun serving ideas or share one of your own in the comments section below.
If you want to serve this as a meal, add sliced or ground beef, chicken, or pork. Learn a fast way to cook frozen ground beef in the instant pot.
Sprinkle some parmesan, romano, or another kind of cheese on top for an even more cheesy flavor
Toss in some grilled chicken to make this Mexican street corn chicken recipe.
Add a few lime wedges for garnish so guests can add more lime juice if they want to.
This potato salad goes just as well with tacos and fajitas as well as burgers and hotdogs. Try our recipe for air fryer hot dogs so you can keep the grill open for steaks and burgers.

Serve on a bed of fresh lettuce for a more "salad-y" salad.

Add some of our dill pickle dips to the top for a nice tangy surprise.

You can also toss in a handful of chopped tomatoes, green onions, and bell peppers.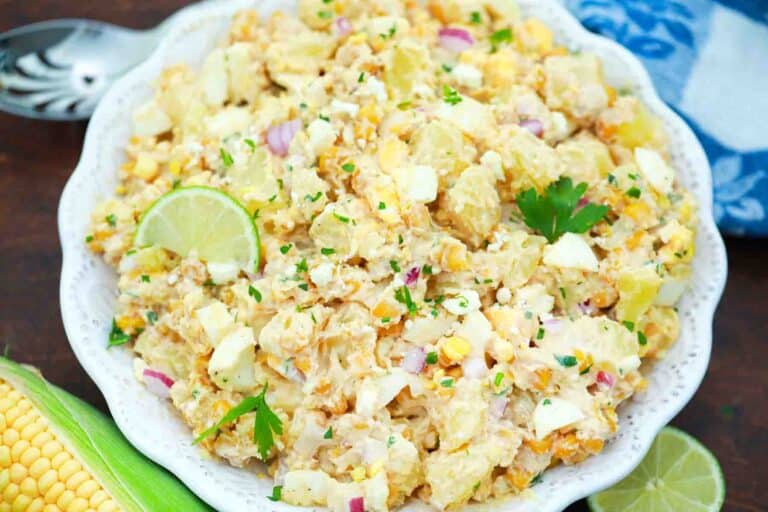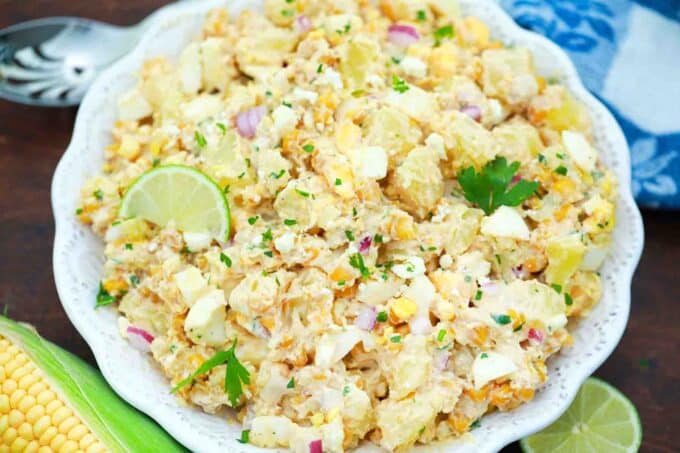 Frequently asked questions
What is Mexican street corn?
Also known as elote, is a popular snack served on the streets of Mexico, hence the name. It is made by roasting a corn cob before slathering it with mayo, cotija cheese, cilantro, lime, and chili powder. It is often served as a side dish or appetizer in a traditional Mexican dinner.
What is the best type of potato for this salad?
There are three basic kinds of potatoes all-purpose, waxy, and starchy. For this type of dish, you want the waxy kind that holds its shape when boiling. The most popular one is Yukon Gold, which has fine-grained dense flesh.
This recipe calls for russet potatoes, which are also a good choice if you chop them small and they have the classic taste. Fingerling potatoes are also perfect for this dish since you can leave the skin on to hold the flesh together when boiling.
What is the best way to remove fresh corn kernels from the corn cob?
First, stand the cooked and cooled corn cob on a baking sheet covered with parchment paper and use a sharp knife to cut downward, as close to the cob as possible. Keep rotating and turning until all the kernels are removed. Pick up the parchment paper and pour the kernels into a large mixing bowl.
What are the nutrition facts in this recipe?
Each serving of this delicious Mexican street corn potato salad has 300 calories, 33 grams of carbs, 13 grams of fat, 5 grams of saturated fat, 12 milligrams of cholesterol, and 5 grams of sugar. But you also get 6 grams of protein, 600 milligrams of potassium, 300 units of vitamin A, 30 milligrams of vitamin C, and 70 milligrams of calcium.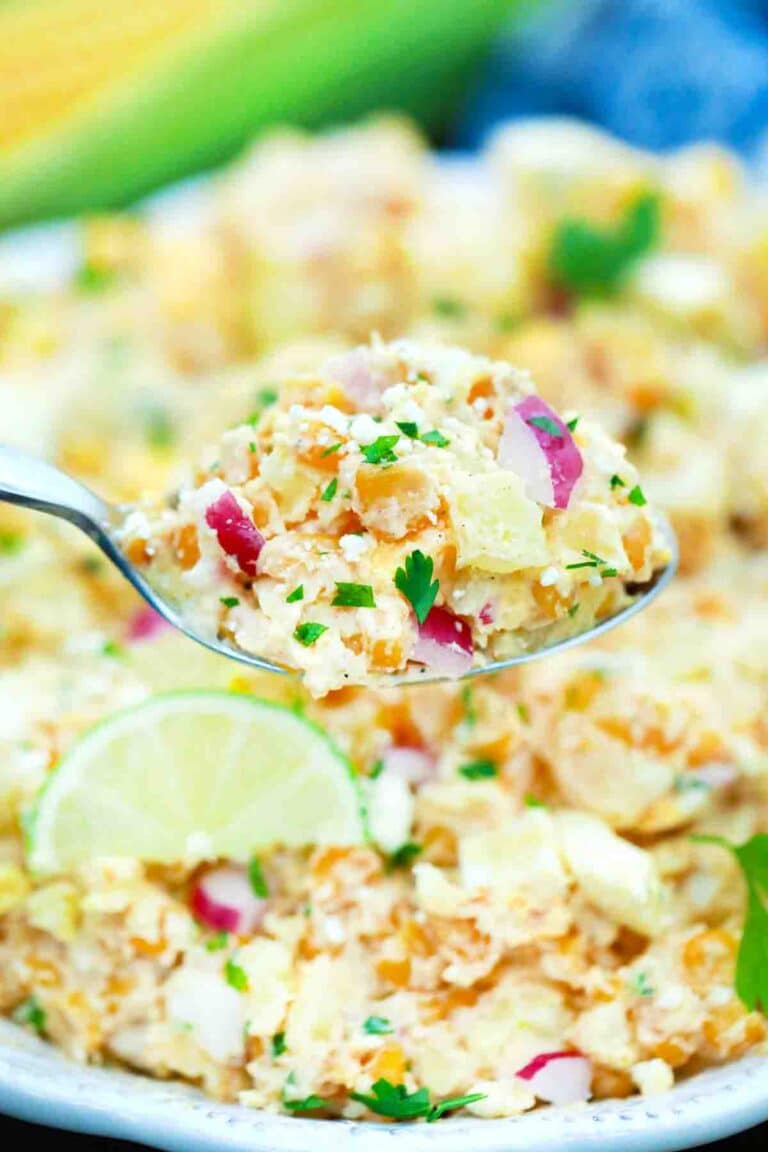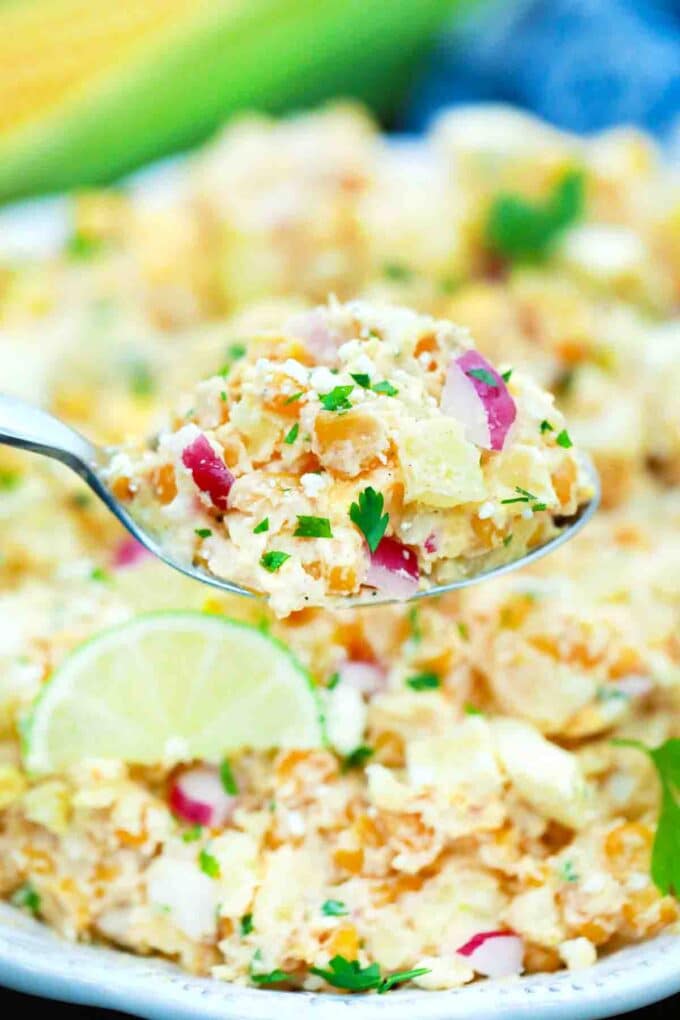 How to store leftovers:
Store: Refrigerate leftovers right away in an airtight container and eat them within three or four days.
Freeze: The easiest way to freeze Mexican street corn potato salad is by putting it in a freezer bag. Press it down to remove all the air and you can lay it flat to save room. Be sure to put the date on it and use it within a few months.

Thaw: Thaw overnight in the refrigerator before serving for the best flavor and texture.
Reheat: To reheat, put the salad in a microwave-safe container and heat for 60 to 90 seconds, depending on how much you are reheating.
More salad recipes:
Mexican street corn potato salad cooking tips:
You may see cotija cheese spelled cojita cheese in places. It is the same delicious cheese with a different spelling.
Cook time varies depending on the type of potato you use and how small you chop them.

Be sure to start your potatoes in cold water. You do not want to use hot or boiling water because the outside of the potato will cook faster than the insides.
Also, use salted water to help season your potatoes while they cook.
Some people do not like cilantro. A large percentage of folks think it tastes like soap. You can use dill, parsley, or basil instead.
Buy organic potatoes and leave the skin on for more nutrients and flavor.

Another great potato salad trick is to use those potatoes made to be cooked in the bag. That way they are already clean and ready to go. Just pop the bag in the microwave for about 10 minutes and let them cool before slicing. No need to boil.
For other popular recipes, check out our food blog.
Our feta potato salad is another unique idea made with mini-potatoes, olive oil, and feta cheese. Or stick with tradition and try our recipe for classic potato salad. We also have a delicious recipe for overnight or seven-layer salad you can make with iceberg lettuce, eggs, bell peppers, peas, and cranberries. No matter how you make potato salad, it is sure to be a family hit!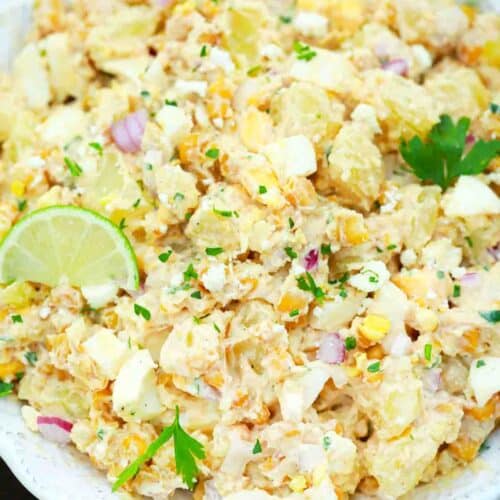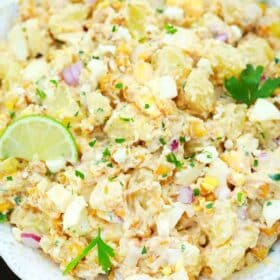 Mexican Street Corn Potato Salad
Mexican Street Corn Potato Salad is the perfect side dish for a summer BBQ, creamy, refreshing, and loaded with sweet corn.
Save
Share
Print
Pin
Rate
Ingredients
2

lbs

russet potatoes

(peeled and chopped into 1/2-inch pieces)

1 1/2

teaspoons

kosher salt

(for boiling the potatoes)

6

large ears of corn

(kernels removed - or use 1 can or sweet corn, drained)

6

hard boiled eggs

(chopped small - optional)

1

small red onion

(finely chopped)

1/2

cup

cotija cheese

(crumbled)

2

tablespoons

fresh cilantro

(finely chopped)

1/2

teaspoon

freshly ground black pepper

Salt

(to taste)
Dressing:
1 1/4

cup

mayonnaise

2

tablespoons

lime juice

1

tablespoon

hot sauce

1

tsp

smoked paprika

1

tsp

dijon mustard

1

teaspoon

kosher salt

(or to taste)

1

teaspoon

sugar

(or to taste)
Instructions
Add the potatoes to a large pot and cover with water, also add 1 1/2 teaspoons of salt. Place on the stove over medium-high heat and bring to a boil.

Boil until barely fork-tender, about 9-10 minutes. Drain well and let cool in the pot or in a colander.

In a medium bowl whisk together the dressing ingredients and place in the fridge to chill.

Next, while boiling the potatoes, place a cast iron pan over medium-high heat, add just a splash of oil, and add the corn kernels. Stir and cook until lightly charred. Remove from heat and set aside to cool.

Transfer the cooled potatoes to a large mixing bowl.

Add the chopped eggs, if using. Add the corn, onion, cotija cheese, and cilantro. Stir to combine.

Add the salad dressing and gently stir until fully coated. Taste and adjust for salt and pepper.

Serve warm or chilled with more cotija cheese on top and fresh cilantro.
Nutrition
Calories:
638
kcal
|
Carbohydrates:
49
g
|
Protein:
15
g
|
Fat:
44
g
|
Saturated Fat:
9
g
|
Polyunsaturated Fat:
22
g
|
Monounsaturated Fat:
11
g
|
Trans Fat:
0.1
g
|
Cholesterol:
217
mg
|
Sodium:
1558
mg
|
Potassium:
1001
mg
|
Fiber:
4
g
|
Sugar:
9
g
|
Vitamin A:
694
IU
|
Vitamin C:
19
mg
|
Calcium:
120
mg
|
Iron:
3
mg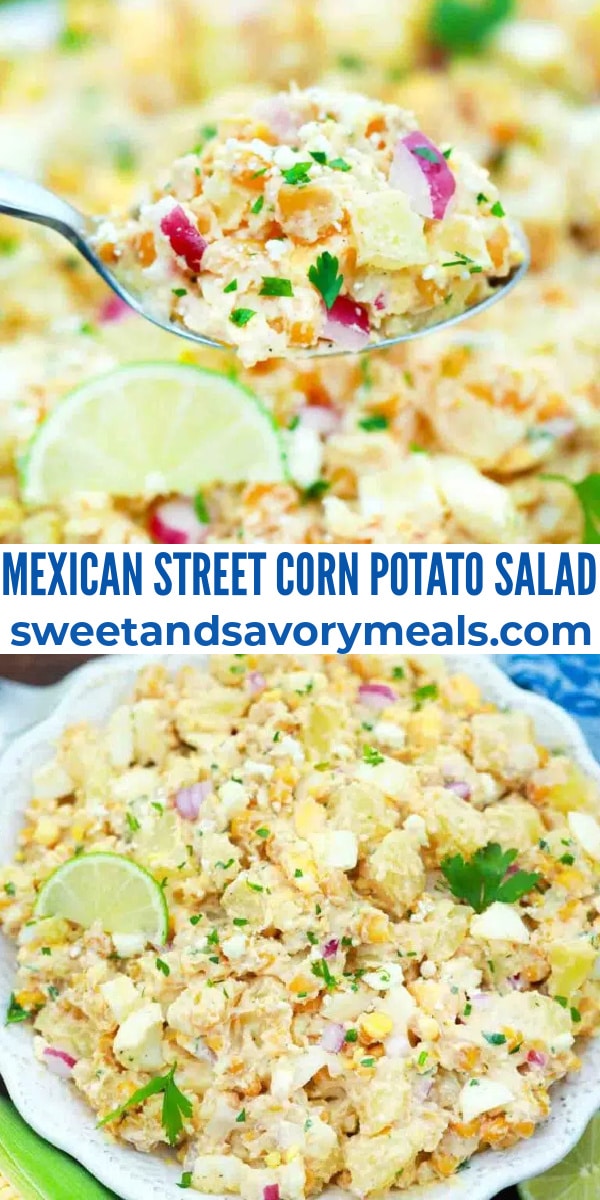 More recipes you might love