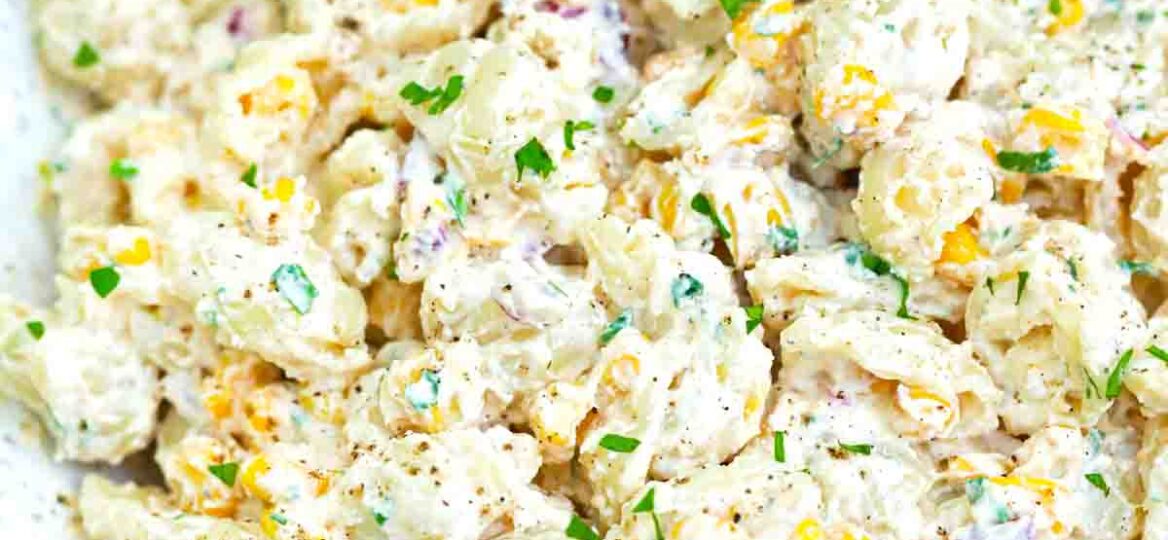 Mexican Street Corn Pasta Salad Recipe [Video]
Mexican Street Corn Pasta Salad is full of flavors with sweet corn, tender pasta, and lots of cotija cheese, all coated in a creamy lime dressing. If you love Mexican street corn, you will really love this street corn pasta salad.
To get this easy pasta salad recipe started, begin with Mexican Street Corn made with cotija cheese, chili powder, and lime juice. Another way to enjoy this kind of Mexican food is with this Mexican Street Corn Dip made with pepper jack and cream cheese.
Incredibly flavorful and full of extra vitamins in the veggies, this corn pasta salad is a healthy meal for anyone. If you use vegan mayonnaise and omit the sour cream, you can make it vegan as well. For a meaty dish, add grilled chicken and some bacon to your Mexican street corn pasta salad.
Whether you want to make this for dinner tonight or lunch tomorrow, this side dish cuisine is fresh tasting with delicious flavor in every bite. Get the kids to help and you will have it ready in minutes.
Perfect for a summer barbecue, Labor Day Party, or any other day of the year, this Mexican street corn pasta salad recipe is like nothing you have ever tasted. This delicious recipe is easy and fast with very little prep time.
Looking for another side dish recipe? Try these Mexican street corn chicken tacos made with chicken breast, fresh tortillas, and sour cream or avocado corn salad made from sweet corn, cherry tomatoes, red onion, and olive oil.
Another delicious side dish cuisine, our Pesto Pasta Salad is an amazing recipe made from penne pasta, pine nuts, and cherry tomatoes. For a sweeter salad, try our pineapple cucumber salad doused with maple syrup and soy sauce.
Ingredients needed:
These are the basic ingredients you will need to make this delicious pasta salad recipe. For the step-by-step directions, scroll down to our recipe card at the bottom of the page.
Pasta Salad Ingredients:
Uncooked pasta: Cooked and chilled.
Frozen corn: Or canned corn will work as well.
Cotija cheese: Or feta cheese.
Red onions: Diced.
Jalapeños: Chopped.
Cilantro: Chopped.
Fresh garlic cloves: Minced.
Chili powder
Salt
Pepper
Garlic powder
Cayenne pepper
Dressing Ingredients:
Mayonnaise: Or Miracle Whip.
Sour cream: Or heavy whipping cream.
Lime juice
Lime zest
Salt
Pepper
How to make Mexican street corn pasta salad from scratch?
Cook the pasta: To begin, cook pasta according to the package directions.
Cook corn: While the pasta is cooking, prepare sweet corn as directed. I chose to roast mine in a pan with tajin and garlic powder for eight minutes on medium-high heat.
Drain and cool pasta: After it is finished cooking to al dente, drain pasta completely and let it cool.
Make the dressing: While the pasta cools, mix all the dressing ingredients with a whisk and set aside.
Make the Mexican pasta salad: Add the cooked pasta, corn, garlic, jalapenos, red onion, chili powder, lime juice, lime zest, and salt and pepper in a large bowl. Add cheese to the top and stir before mixing in the creamy salad dressing.
Serve: Finally, serve with your favorite tortilla chips or tortillas.
Recipe variations:
Other cheese: You can use parmesan, queso fresco cheese, or some other kind of cheese instead of or in addition to the cotija cheese.
Sour cream: Instead of sour cream, you can use Greek yogurt.
Other veggies: Feel free to use other veggies like green onions, bell pepper, carrots, peas, or asparagus.
Legumes: You can also add legumes like black beans, pinto beans, or black-eyed peas.
Less heat: If you are not a fan of spicy food, skip the jalapeno pepper.
Other juice: Instead of lime juice, try lemon, pineapple, or orange juice.
Grilled corn: Grill corn on the BBQ or a grill pan to make freshly grilled corn pasta salad.
Roasted corn: Try the frozen fire-roasted corn instead of regular for extra flavor.
Fresh corn: Use fresh corn from the cob if you have the time and do not mind cutting it off the cob.
Mexican crema: You could also use Mexican crema instead of sour cream.
Vegan mayo: For a vegan pasta salad, use vegan mayo and skip the sour cream.
How to serve:
Mexican street corn pasta salad is an easy and delicious dish that can be served as a side dish, snack, or whole meal. Add your own favorite veggies, sauce, and toppings, or try one of these ideas:
Serve on a bed of lettuce to make it more like a traditional salad.
One way to cook corn for this Mexican street corn pasta is with this great recipe for instant pot corn on the cob.
Add sour cream to the top of the salad before serving.
You can also add a small bowl of chopped green onion, fresh herbs, tomatoes, and other favorite toppings.
To make this a whole meal, add grilled chicken, pork, or beef.
Add your own favorite herbs like thyme, rosemary, and paprika.
If you have any remaining dressing, you can use it for sandwiches or other pasta salads like our taco pasta salad.
Frequently asked questions
What is an easy way to get the corn off the cob?
To remove corn off the cob, stand the cob on a cutting board and use a sharp knife to slice downward, removing all the kernels. Another way is to place a small bowl upside down in a large bowl and slice the kernels off holding the cob on top of the inverted bowl.
Should this be eaten hot or cold?
Although you have to cook the pasta, the salad should be served cold. The fresh veggies and creamy dressing make a scrumptious cold side dish or main entree for your next picnic or day at the beach. Just pack it in an airtight container in a cooler to keep it cold.
Why is it called Mexican street corn?
If you look at the history of corn, which the Spanish call elote, you will find out that it began in Mexico. In fact, about 9,000 years ago the first wild corn plants are thought to be discovered in Mexico. Although, it took another 2,000 years before there was any evidence of humans eating corn.
A 5,000-year-old corn cob found in Mexico was found to be partially domesticated, proving that is where it was first discovered.
What are the nutrition facts for this recipe?
One serving of Mexican street corn pasta salad has 350 calories, 13 grams of fat with 4 grams of saturated fat, 20 milligrams of cholesterol, 50 grams of carbohydrates, and 6 grams of sugar. But it also has 10 grams of protein, 920 units of vitamin A, and 98 milligrams of vitamin C.
How to store leftovers:
Store: Keep your leftover Mexican street corn pasta salad in an airtight container in the fridge and eat it within three days.
Freeze: If you cannot finish all of the Mexican street corn pasta salad in three days, you can freeze it for up to three months.
Thaw: Put your frozen street corn salad in the fridge overnight before serving for the best flavor and serve chilled.
More potluck recipes
Pasta salad cooking tips:
Use regular sour cream instead of low-fat to make sure the pasta salad dressing is rich and creamy.
Be sure to salt the pasta water so it cooks with flavor.
Rinse your pasta with cold water after it cooks to keep it al dente.
Grilled corn brings out the best flavors in this salad and you can do it inside with a grill pan if the weather is not cooperating.
Fresh corn is a nice way to make this Mexican street corn recipe even fresher but frozen corn or canned corn is more convenient if you are in a hurry.
For al dente pasta, remove the pasta from the heat when it is not completely finished.
Mexican Street Corn Pasta Salad
Ingredients
2 1/2

cups

small shell pasta

dry

10

oz

corn

frozen, fresh or canned

1/2

cup

Cotija cheese

crumbled

1

small red onion

diced

2

Jalapeños

seeds removed and chopped

1/3

cup

fresh cilantro

chopped

2

cloves

garlic

minced

1

teaspoon

chili powder

1/4

teaspoon

sea salt

or to taste

1/4

teaspoon

ground black pepper

or to taste

1/4

teaspoon

garlic powder

1/8

teaspoon

cayenne pepper
Lime Dressing:
1

cup

mayonnaise

1/2

cup

sour cream

or greek yogurt

1/4

cup

lime juice

1

teaspoon

lime zest

Salt and pepper

to taste
Instructions
Cook the pasta:
First, boil pasta according to the package directions aiming for al dente.

Drain and set aside in a large bowl. Drizzle with a bit of oil and gently stir.
Cook corn:
If using frozen corn, first thaw it. If using canned corn, first drain it very well.

While the pasta is cooking, prepare the corn. Just place a non-stick skillet over medium heat and cook the corn stirring for 6-8 minutes.

The corn is ready when it's lightly charred. You can also add a bit of spice to it: paprika, cumin, and garlic powder.
Make the dressing:
Mix all the dressing ingredients in a small bowl and set it aside.
Assemble the pasta salad:
Add the rest of the ingredients to the large bowl with cooled pasta and gently stir to combine.

Next, add the creamy salad dressing and stir until everything is well coated.

Finally, serve with tortilla chips and lime wedges on the side.
Deliciousness to your inbox
Enjoy weekly hand picked recipes and recommendations