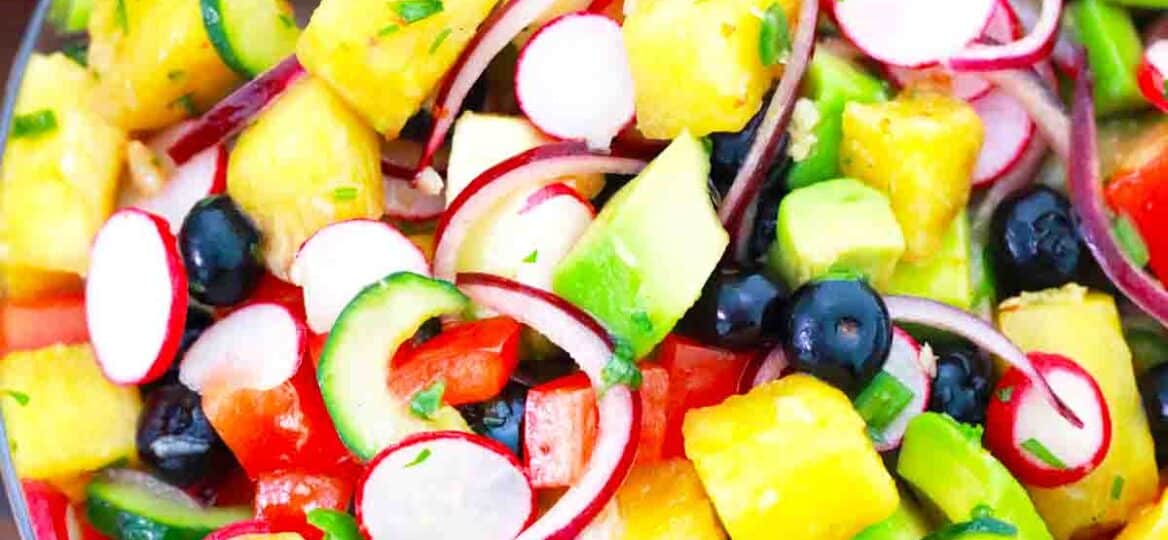 Pineapple Cucumber Salad Recipe
Pineapple cucumber salad is made with sweet pineapple, tangy red onion, juicy blueberries, and crunchy cucumber in a sweet and spicy dressing. The flavors meld together to make a refreshing side dish. No matter how you serve it, this is one of the best salads you will ever taste.
Not in the mood for pineapples? Try our fresh Cucumber Salad recipe with red onion, fresh dill, and sesame oil. If you are looking for seafood salad cuisine, try our Shrimp Salad recipe. It is creamy, refreshing, and crunchy. Or you may enjoy this Shrimp Cobb Salad made with seared shrimp, crunchy bacon, avocado, and sweet corn.
Another thing about this great pineapple cucumber salad recipe is that it is full of vitamins and nutrients, has a bunch of antioxidants, and boosts your immunity. It can even reduce inflammation and ease the symptoms of arthritis.
The cucumbers are perfect for detox, lower blood sugar, and are low in calories. Blueberries help with heart health and fiber. This is the perfect recipe for summer cookouts as it pairs well with any main dish.
It can be served with pork, chicken, or seafood, or used as a topping on tacos. The salad is perfect for barbecue parties or to bring to a potluck. Not only does this pineapple cucumber salad taste delicious but it also looks beautiful.
It has bright colors of red peppers, onions, and radishes combined with yellow cucumbers, purple blueberries, green cucumbers, avocado, and jalapeno. The flavor is outstanding with a burst of sweetness, tanginess, and spiciness in each bite.
Ingredients needed:
You only need a handful of ingredients for this delicious pineapple cucumber salad recipe. For full directions and measurements, scroll down to our recipe card.
Ripe pineapple chunks: Cut into bite-size pieces.
Red bell pepper: Diced.
Blueberries
English cucumber: Seeded and cut into half rounds.
Red onion: Sliced thin.
Jalapeno: Diced and seeded.
Avocado: Diced.
Green onions
Radishes: Sliced thin.
Fresh cilantro: Chopped.
Salad dressing:
Fresh lime juice
Olive oil
Sweet Asian chili sauce
Maple syrup
Soy sauce
Minced garlic
Kosher salt: To taste.
Freshly ground black pepper: To taste.
How to make pineapple cucumber salad recipe?
Make the salad dressing: First, put all the salad dressing ingredients into a small bowl. Whisk vigorously until it is all blended.

Assemble the salad: Next, in a large bowl, combine pineapple, bell pepper, radishes, blueberries, cucumber, red onions, green onions, avocado, and cilantro.
Dress the salad: Last, pour salad dressing onto the pineapple salad and toss well to make sure everything is coated with the sweet and spicy mixture. Add kosher salt and black pepper.
Chill and serve: After letting your salad chill in the refrigerator for at least an hour, serve immediately.
Recipe variations:
Make it spicy: For a spicy pineapple cucumber salad, add cayenne pepper to your dressing for some extra heat.
Other citrus fruits: Feel free to add other citrus fruits like oranges, lemons, grapefruits, and limes.
Other fruits: This salad would also be great with pieces of delicious watermelon or strawberries.

Pineapple juice: Add pineapple juice to the dressing for a sweeter salad.

Lime zest: Add lime zest to your salad dressing for a blast of lime flavor.
Fresh mint: Make your pineapple cucumber salad minty with a few sprigs of fresh mint, chopped.

Creamy dressing: For a creamy salad dressing add 1/2 cup of Greek yogurt or sour cream.
How to serve:
Our easy pineapple cucumber salad recipe is ready in minutes and can be served as an appetizer, side dish, dessert, or a whole meal. You get all the flavors of summer including fresh lime juice and juicy blueberries and the prep time is minimal. Try one of these great serving suggestions or one of your own for lunch or dinner tonight.
Serve with our fresh homemade whipped cream on top for a creamy dessert dish.
This pineapple salad is the perfect side dish for our juicy grilled chicken or this tangy grilled pork chop recipe.
You do not have to wait until summer to make this delicious dish. It tastes great in any season, If you cannot find fresh fruit, use canned pineapple and frozen blueberries.

If you are making this for a backyard summer barbecue, serve it with our delicious boozy watermelon lemonade.

Make our pineapple cucumber salad for your main entree for dinner tonight. Just add other ingredients to make it more filling such as chicken or pork chunks, shrimp, or other veggies.
This salad also makes a fantastic side dish for these slow cooker beer ribs or barbecue chicken taquitos with sweet corn.
Looking for more salads to enjoy? Try some of our delicious recipes. This avocado corn salad is bursting with veggies like cherry tomatoes, corn, and red onions and our summer fruit salad has black grapes, mango, and strawberries.
And this healthy quinoa salad is a full meal with tomatoes, chickpeas, cucumber, peppers, and feta cheese. The perfect summer dish you can serve any time of the day.
Frequently asked questions
What is the difference between English cucumbers and regular ones?
There are actually almost 100 varieties of cucumber but the main three used in the kitchen are pickling, slicing, and English cucumbers. An English cucumber is made to get rid of the characteristics of the slicing cucumber that we do not really like.
For example, it has thinner skin, tiny seeds, and a sweeter taste. The skin is so thin, that there is no need to peel it and the seeds can be eaten with no digestive issues. The sweeter flavor means you can enjoy a raw cucumber like you would an apple or pear.
How do I peel and cut a fresh pineapple?
First, cut off the green spiky leaves and cut a small slice from the bottom so it will stand up while you cut the skin off. Using a sharp knife, cut from the top down as close to the pineapple flesh as possible. Then, remove the brown dots, which are called dots.
You can cut the eyes out easily by laying the pineapple on its side and rotating it while you hold the knife at an angle to form a trench. The eyes line up in a spiral so you end up with a really nice-looking design.
Next, you have to deal with the core. If you are planning to cut it into chunks like in this recipe, you can just cut the pineapple into fourths and cut out the core. If you want rounds, slice and remove the core with a corer or paring knife.
How long does a fresh pineapple last?
The shelf life of a whole pineapple is limited to just a few days at room temperature or for about four days in the crisper drawer of the fridge. Because the pineapple weeps by the second day, keeping it out of the fridge for more than a couple of days will cause it to get soggy and possibly rot.
What is the nutritional information for this pineapple cucumber salad?
Each serving of this delicious pineapple cucumber salad has about 375 calories, 50 grams of carbohydrates, 21 grams of fat, and 35 grams of sugar. Also, every serving has 3 grams of saturated fat and 15 milligrams of sodium.
But on the positive side, it also has 3 grams of protein, 165 milligrams of vitamin C, 1,370 units of vitamin A, and 52 milligrams of calcium. It even has 8 grams of fiber and 2 milligrams of iron.
How to store leftovers:
Store: Be sure to keep leftover pineapple cucumber salad in an airtight container in the refrigerator. Because pineapple weeps, it is only good to store for about two days or your salad will get watery.

Freeze: If you are not going to be able to eat all your pineapple cucumber salad in a few days, you can freeze it for up to three months. Just put it in a freezer bag and make sure you squeeze all the air out of it before sealing.
Thaw: You will need to let your salad thaw out in the refrigerator overnight before serving.
More salad recipes:
Salad-making tips:
Use disposable gloves when seeding and cutting jalapenos to prevent burning.
So you do not have to search for a fresh pineapple in the off-season, you can use canned pineapple instead.
You can also use regular cucumber instead of English cucumber.
Be sure to chop your veggies and fruit into bite-size pieces so your family does not need a knife and fork to eat them.

Remember that the nutrition facts are approximate and are based on the exact recipe used here.
Pineapple Cucumber Salad
Ingredients
Salad:
1

ripe pineapple

cut into 1-inch chunks

1

English cucumber

seeded and cut into half moon pieces

1

red onion

thinly sliced

1

jalapeno

seeds removed and diced

1

avocado

diced

1/2

cup

thinly sliced radishes

1/2

cup

fresh blueberries

1

red bell pepper

seeds removed and diced

1/4

cup

cilantro

chopped

2

tablespoons

green onions
Salad Dressing:
2

tablespoons

lime juice

1/4

cup

olive oil

1/4

cup

sweet Asian chili sauce

2

tablespoons

maple syrup

2

tablespoons

soy sauce

2

cloves

garlic

minced
Instructions
Add salad dressing ingredients to a small bowl and whisk until fully combined.

In a large mixing bowl, add pineapple chunks, fresh blueberries, sliced radishes, cucumber, red onion, avocado, bell pepper, cilantro, and green onions.

Pour dressing on top and gently toss until evenly combined and everything is coated in the dressing.

Add salt and pepper to taste.

Refrigerate the salad for at least an hour or until ready to be served.
Deliciousness to your inbox
Enjoy weekly hand picked recipes and recommendations