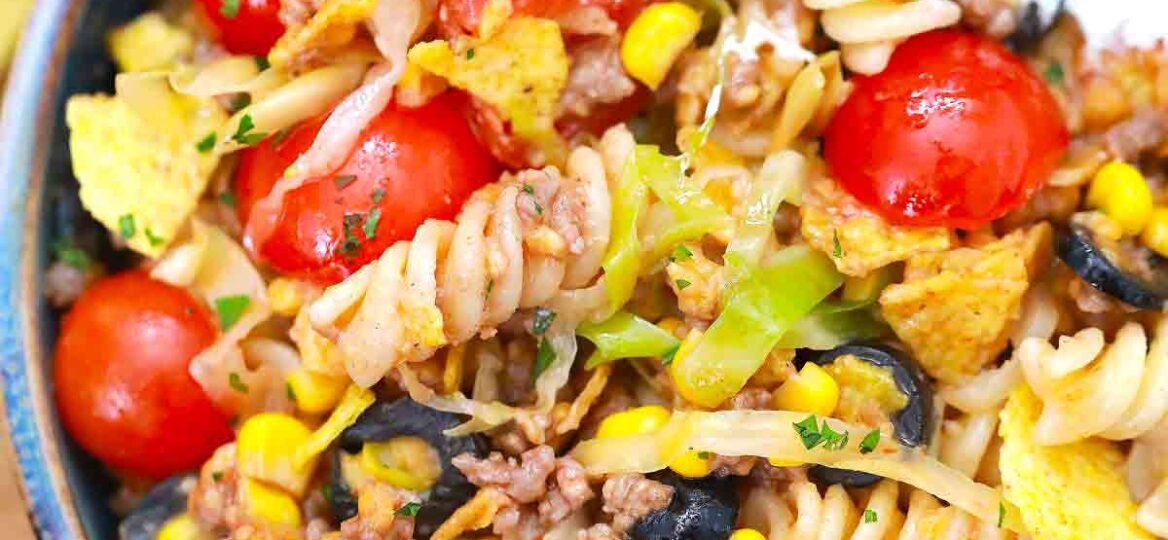 Taco Pasta Salad is a hearty and delicious dish that combines authentic Mexican flavors in every single bite. This is the ideal summer recipe made with seasoned ground beef, Dorito chips, and dressing.
There is not a better way to enjoy a day at the pool or BBQ than with this salad. It is full of proteins, nutritious, and satisfying. For more summer favorites, try my Cabbage Salad, Avocado Chicken Caesar Salad, and Berry Cheesecake Salad.
This Taco Pasta Salad is such a yummy dish, and it is ideal for summertime and bbq season. It is refreshing, easy to assemble, and will feed a large crowd. I love Mexican flavors, and this dish perfectly represents it. In addition, it is very creamy, filling, and also crunchy at the same time.
You can easily double or triple the portion, and leftovers taste just as good or even better the following day! The Tex-Mex flavors here are quite outstanding. Starting from the dressing, taco seasoning, and various cheeses. Simply put, this dish is perfect for summer gatherings.
You can also easily modify it by swapping the ingredients or adding something else. For example, black beans, bell pepper, or other veggies can be used instead. The cheese can also be swapped with your favorite type. Feel free to experiment, as the possibilities are limitless here!
Ingredients Needed:
Ground beef: I like using 90-95% lean ground beef here.
Taco seasoning: This is a must-have ingredient as is the front and center here!
Veggies: Cherry tomatoes, purple onion, black olives, lettuce,
Rotini
Cheese: Shredded cheddar or Mexican cheese.
Corn kernels
Dorito chips or tortilla chips
Sour Cream
How to make Taco Pasta Salad from scratch?
Cook the noodles: First, cook the pasta according to package instructions.
Brown the beef: In a separate pan over medium heat, cook beef for a few minutes. Drain and rinse excess fat. Then, sprinkle the taco seasoning over the meat, and mix together.
Slice the veggies: Meanwhile, chop the veggies, such as tomatoes, bell pepper, and lettuce.
Assemble: In a large bowl, combine all the ingredients together, and then stir in the dressing, and toss with some crushed chips.
Serve: You can serve it right away, or refrigerate it for 30 minutes for the flavors to absorb, and then serve.
Recipe variation and adaptation:
Pasta: Feel free to use any type here. Bow tie, shell, rotini, macaroni, farfalle will work great.
Seasoning: Similarly, you can use another seasoning. For example, ranch or Catalina seasoning can be used instead.
Veggies: Brussel sprouts, green beans, black beans, black or green olives, green peppers, sliced avocado are a great addition as well.
Add Doritos: Another great mix-in would be some crushed Doritos.
Spicy: For a spicier kick, add some chopped jalapenos or chilis. If you want to go the extra mile, mix in a can of diced green chiles. Also, if you like your dishes really spice, chop one chipotle in adobo sauce and use a few tablespoons of the sauce into the dressing.
Meat: Instead of ground beef you can use ground chicken, steak cubes, turkey, or lamb.
Cheese: Everything is better with cheese and this recipe is no exception. We recommend using Colby Jack cheese or cheddar cheese. Other options are to use Mexican blend cheese or queso fresco.
Gluten-free: Make this recipe gluten-free by using gluten-free pasta and make sure the chips and spices are also gluten-free.
Beans: Mexican cuisine is rich in beans, to make this recipe heartier and even more packed with protein, mix in some black or pinto beans.
What goes with Taco Pasta Salad?
This dish is satisfying on its own. However, you can easily pair it with some of the following:
Should I serve Beef Taco Pasta salad warm or cold?
Traditionally, this recipe is served cold during spring or summertime. Because the outside temperature is higher, this is the perfect refreshing meal to serve cold.
However, if you want to serve it cold during other periods, simply microwave the dish for 1-2 minutes until it is warm.
What Other Types of Dressing Can I Use?
Some of the other dressings you can use are:
Olive oil – if you want to save some calories, simply use some extra virgin olive oil.
Southwest
French dressing
Storing instructions:
Leftovers can be stored in an airtight container, and then refrigerated for up to 4 days.
Freezing is not recommended because of the water content in the tomatoes and other veggies. When it thaws, the dish will become soggy. Therefore it is better not to freeze it.
Recipe tips:
I highly recommended letting the dish sit together in the fridge for at least 30 minutes prior to serving. This will allow the flavors to mingle.
Also, to save time, you can buy a bag of pre-shredded cheese and lettuce. Then, simply assemble the ingredients together.
The pasta should be cooked al dente. As stated above, any type will work, but I recommend using short-cut pasta such as fusilli or rotini.
Instead of chips, you can use croutons.
For a healthier option, go with whole-wheat pasta, leaner ground meat, light dressing, and use more veggies.
Freshly chopped cilantro or parsley is the best way to garnish the salad.