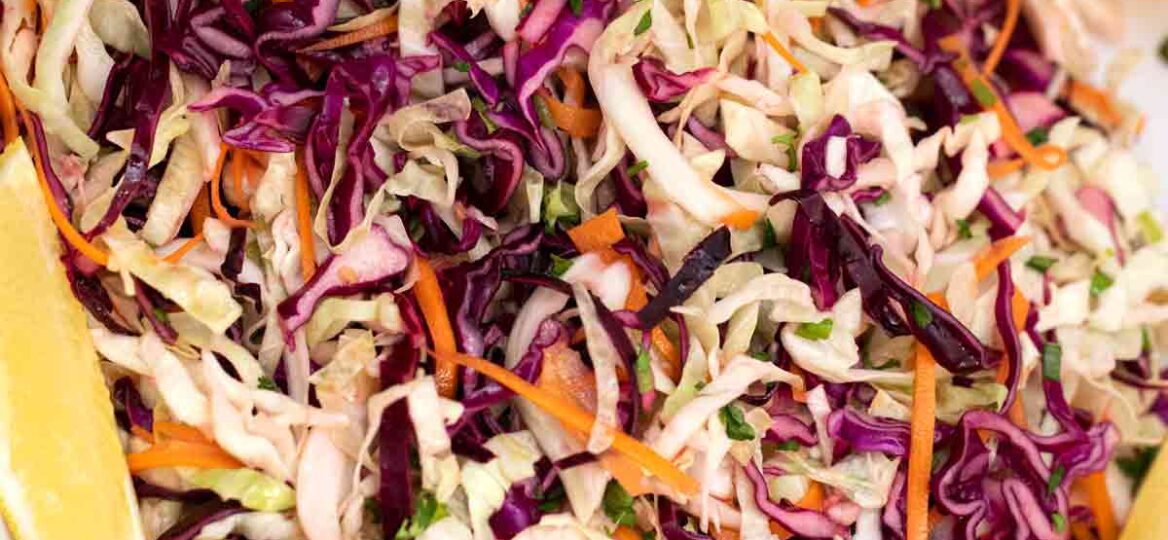 Cabbage Salad in a zesty lemon-mustard garlic dressing is fresh, delicious, and looks gorgeous plated up! Serve this healthy side dish alongside your favorite meat or seafood entrees.
Cabbage is delicious, cheap, and so versatile! Use it for some extra-special mashed potatoes aka Irish Colcannon, add it to a hearty Sausage and Cabbage Soup, or shred it for the best Homemade Coleslaw you'll ever make!
Fresh Cabbage Salad Recipe
Cabbage Salad is bright and light, satisfying, and adds a burst of flavor to any meal. This dish has zip and crunch plus layers of flavor from the herbs, Dijon, and lemon in the dressing.
It pairs nicely with equally-light mains like Garlic Butter Swai Fish Recipe and Maple Soy Grilled Salmon, but also great with heavier ones like BBQ pork chops and fried chicken. Ready in minutes with endless variations, this is guaranteed to make a frequent appearance in your menu!
Is cabbage salad healthy?
Yes, it's one of the most nutritious sides you can eat. It's full of fresh cabbage and carrots, both excellent sources of vitamins, important minerals, and fiber.
The dressing is low-cal, low-sodium, and low-carb. No fat here, except the splash of healthy olive oil to make the dressing come together!
Can you eat raw cabbage in a salad?
Yes. Don't worry about it tasting raw. The acids in our dressing will wilt the leaves down so that it's tender but still retains a nice crisp.
How do you make raw cabbage taste good?
Like any food, adding the right seasonings to raw cabbage takes it to the next level! This dressing made of lemon, fresh garlic, and Dijon is especially tasty with this raw veggie.
If you prefer your vegetables cooked, enjoy it roasted, caramelized, in a soup, or a casserole!
Is cabbage low in calories?
Incredibly so. A cup of it (raw) only has a total of 22 calories. Because of that, this salad is a fantastic addition to a balanced diet and can help you with your weight loss goals!
What cabbage is best to use in a salad?
I like using a mixture of green and red because they hold up really well to the dressing. They're able to absorb flavors and become tender without losing all their crunchiness. The leaves of other varieties like Savoy can be too delicate. That blend of vibrant green and purple cabbage looks so beautiful, too.
How do you make cabbage salad from scratch?
Mix the dressing up. Measure and put everything in a jar. Shake well and season to taste.
Toss. Take your shredded veggies and pour the dressing all over. Coat and toss, then leave for 20 minutes. The veggies will become very juicy and wilt down to almost half.
Serve. Plate it up with lemon wedges on the side and a sprinkle of chopped fresh oregano.
Recipe variations:
Use other sweeteners: Instead of sugar, you can use honey or maple to balance out the tanginess of the dressing.

Add other veggies: Thinly-sliced red onions add a nice bite. You can also add raw broccoli and cauliflower to the dish.
Make it creamy: Add a splash of Greek yogurt or plain yogurt for a richer dressing!

Asian Style: Replace the cider vinegar with rice vinegar, and use soy sauce instead of salt. Skip the Dijon and replace the herb with fine-grated ginger.

Indian Style: sauté garlic followed by cumin seeds, then add to the dressing.
Middle Eastern: Toss some coriander and mint into the dressing.
Mediterranean: Instead of apple cider vinegar, use red wine vinegar.
Mexican: Replace the vinegar with lime, and toss in some chopped cilantro.
Can I make it in advance?
Sure! Mix up the dressing and chop the cabbage, then store them separately. Simply assemble the dish before serving.
How do I choose a fresh cabbage?
It should be heavy and dense in your hands, and the outer leaves should be firm and bright green without imperfections like bruises or cracks.
Why is my fresh cabbage salad soggy?
You may have shredded it too finely, which tends to extract too much moisture from the leaves and makes the salad watery. Don't forget the oil as well, because it's key to emulsifying the dressing.
Finally, don't let the dish stand for too long after tossing together. 20 minutes is enough to marinate the veggies and give it the perfect tender-crispiness.
How to store:
I don't recommend storing this dish for several days, because it can become too wilted and soggy if left for too long. But if you do have leftovers, you can put them in air-tight containers and make sure to consume them within a day or two.
More Salad Recipes:
Recipe Tips:
Don't chop the vegetables too thinly, or you may end up with a soggy dish.
This dish needs a little time to become perfect— plan for at least 20 minutes of marinating time before the meal.
Can't find red cabbage? Using all green is fine!