Caramelized Cabbage Recipe [Video]
Last updated on June 18th, 2021 at 11:06 pm
Caramelized Cabbage is full of umami from the lightly-charred cabbage wedges and the spiced tomato sauce. A savory side dish that's as delicious as any main!
This dish is amazing on its own, but it also complements a lot of entrees. Serve it alongside Bacon-Wrapped Pork Tenderloin, Cheeseburger Meatloaf, or Beer Pot Roast.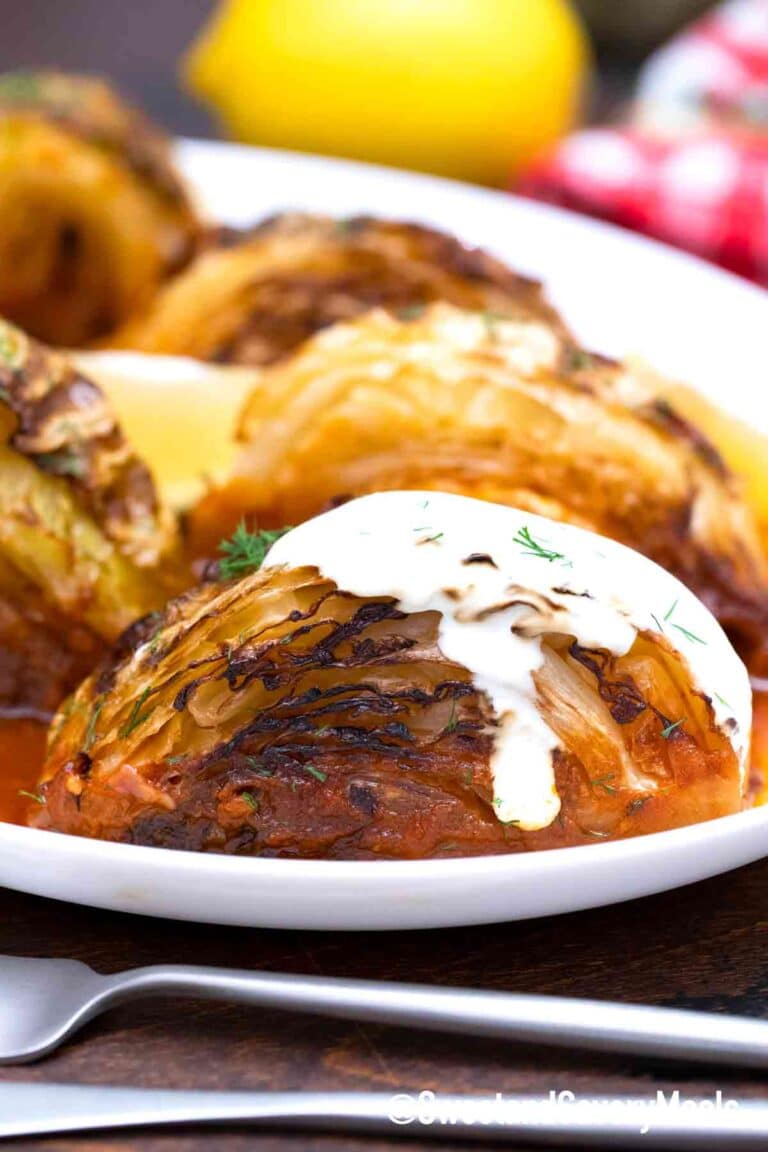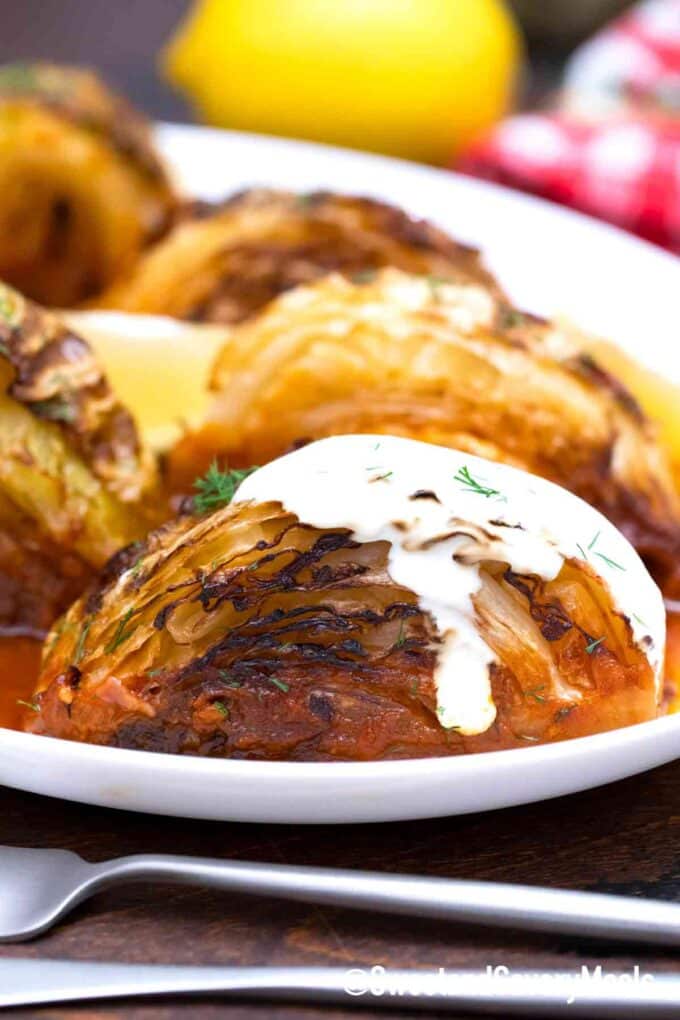 Cast Iron Fried Cabbage Recipe
Caramelized Cabbage uses simple ingredients to make a veggie dish that's jam-packed with flavor. It starts with seasoned, caramelized vegetables that are already delicious on their own. The tomato sauce takes it to the next level with bold spices like cumin and paprika.
For a final layer of flavor, it's served with refreshing sour cream, lemon, and fresh herbs. It's amazing how they all work together to create a stunning side dish that's good enough for both weeknights and special occasions!
What is the best tasting cabbage?
The freshest, highest-quality ones you can get will always taste the best. Each variety has a unique flavor that complements different recipes.
For instance, green cabbage starts of peppery and gets sweeter as it cooks, making it delicious when boiled or sauteed.
The red ones are earthy and perfect for colorful coleslaws. Savoy is sweet, mild, and tender, while Napa is especially tasty in raw salads.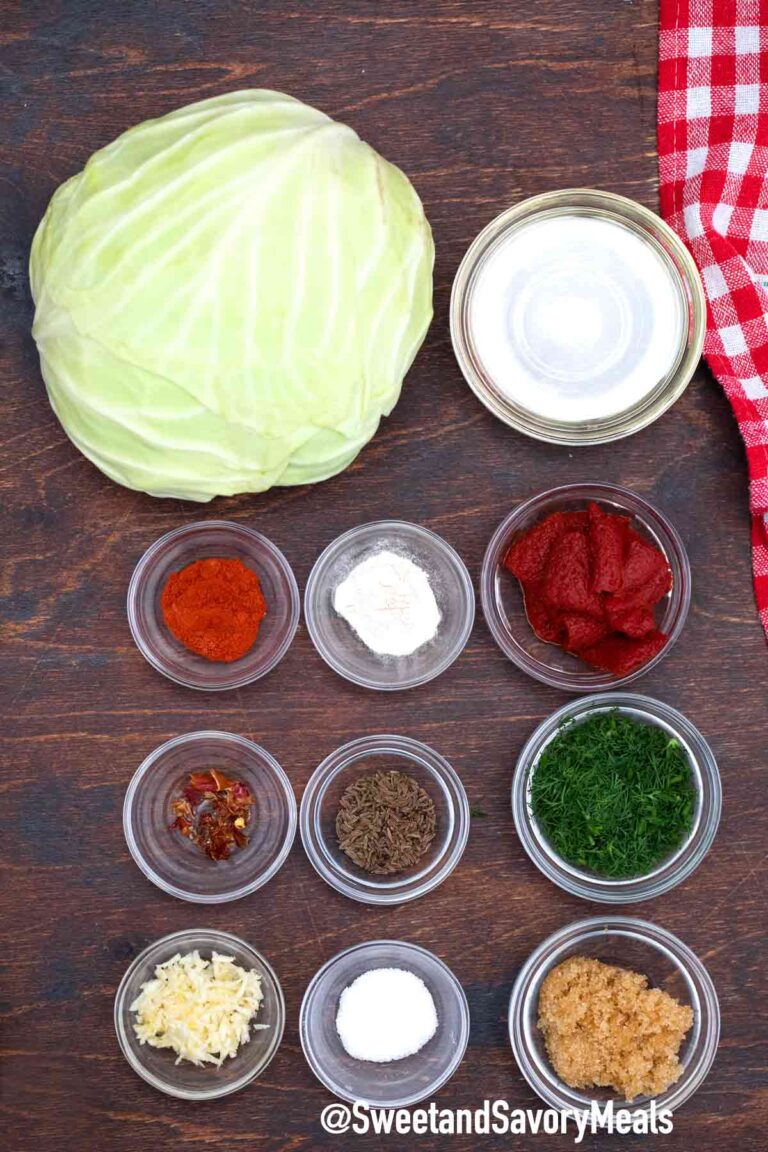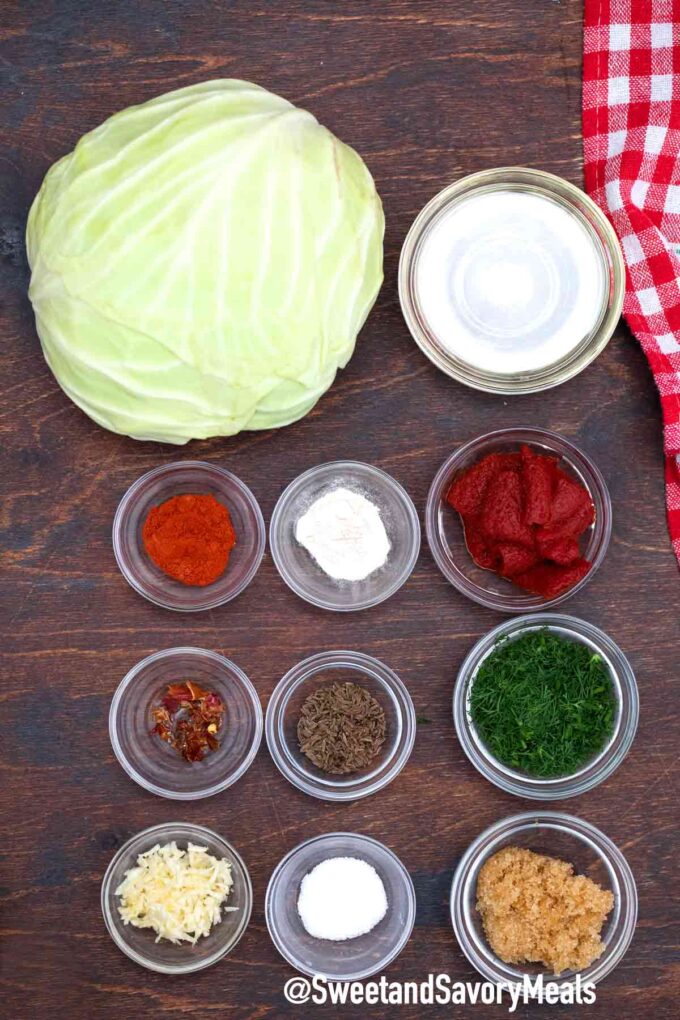 Is cabbage good for you to eat?
Yes, it's one of the healthiest foods you can add to your diet! It packs on the fiber without piling on the calories or carbs.
It's also loaded with vitamins and minerals. In fact, you can get nearly 70% of your daily Vitamin C requirement from a cup of this vegetable alone!
This veggie has been linked with better complexion, weight loss, decreased risk of heart disease and diabetes, and so many more health benefits. On top of that, it's super tasty too!
How long do you cook cabbage for?
Follow these general cook times:
Boil: 3 to 5 mins. for shredded, and around 8 minutes for a whole head sliced into wedges.
Bake: 30 mins. in a 450F oven, flipping at the 15-minute mark.
Grill: Cook covered on a medium-hot grill for about 20 mins.
Sauté: Thinly-shredded, it will take about 15 minutes to caramelize and become tender.
Steamed: Shredded pieces need about 5 minutes covered, then steamed for 2 minutes uncovered to evaporate remaining moisture.
Fried: Slice small and pan-fry for about 7 minutes.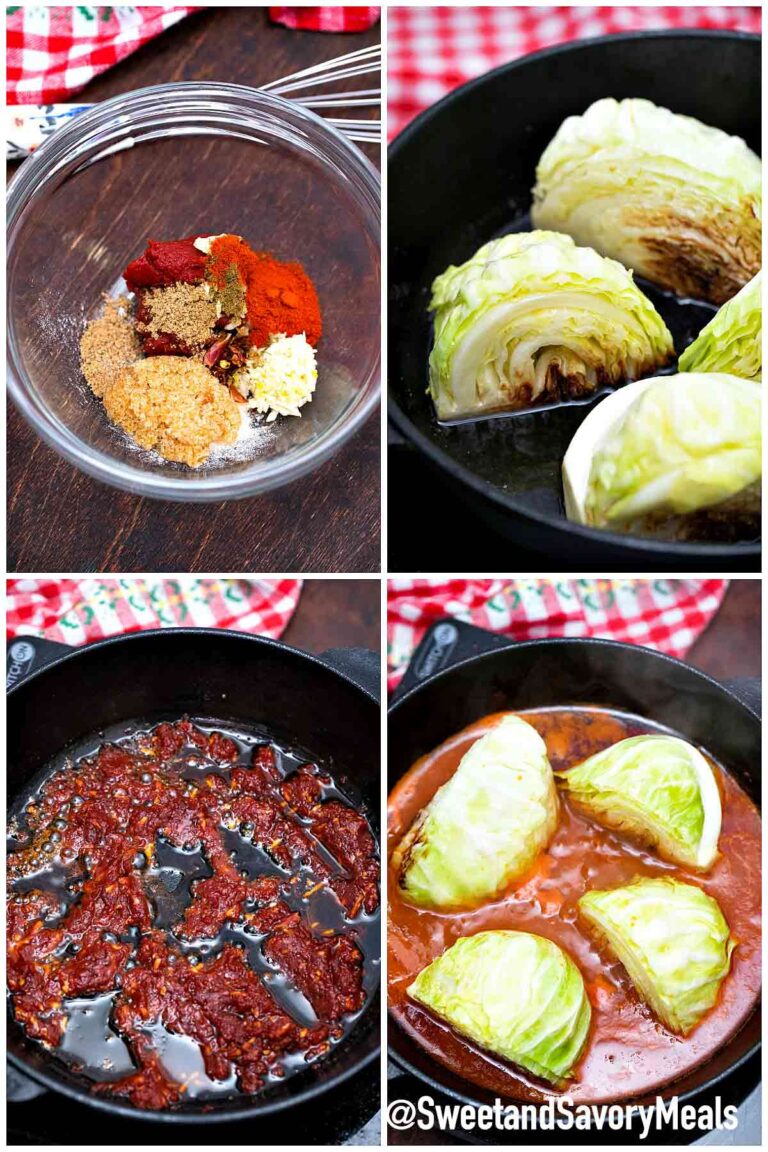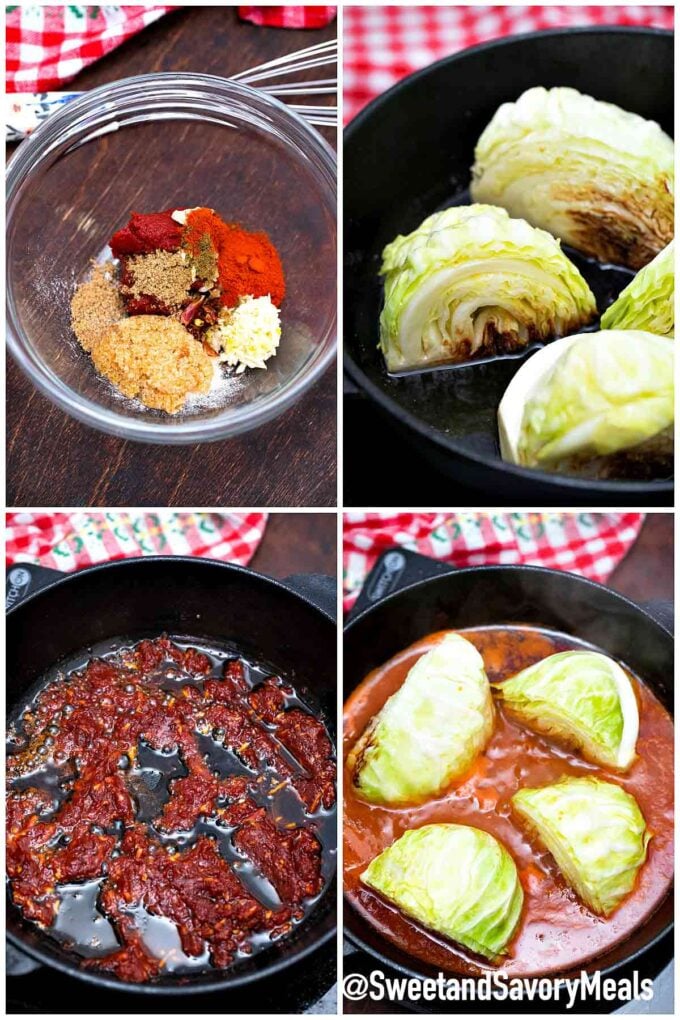 How do you make Caramelized Cabbage?
Prepare. Stir the spices, sugar, and crushed pepper with the tomato paste. Cut the vegetable into wedges.
Sear. Place the wedges cut-side down in a hot pan with oil. Cook until all the sides have a light char. Set aside.
Make the sauce. Sauté the spiced tomato paste in a little oil. Simmer with a little water.
Bake. Arrange the wedges in the pan with the sauce. Bake in a 350F oven for about 40 to 50 mins, until the vegetables are tender with caramelized edges and almost are the liquid is gone.
Serve. Enjoy hot, with a sprinkle of dill plus lemon and yogurt on the side.
Recipe Variations:
Add bacon: Add crispy bacon for a more savory sauce.
Make it spicy: For a hotter version, double the pepper flakes or add some cayenne.

Add sausage: Make it heartier by adding some sliced and browned sausages before baking.
Use broth: Instead of water, boost the flavor of the sauce by using stock.
How to avoid soggy cabbage?
After rinsing, pat it dry and remove as much excess moisture as you can. I like using a salad spinner for shreds and small chunks.
If you're cooking it with liquid, make sure to follow the exact amounts in the recipe.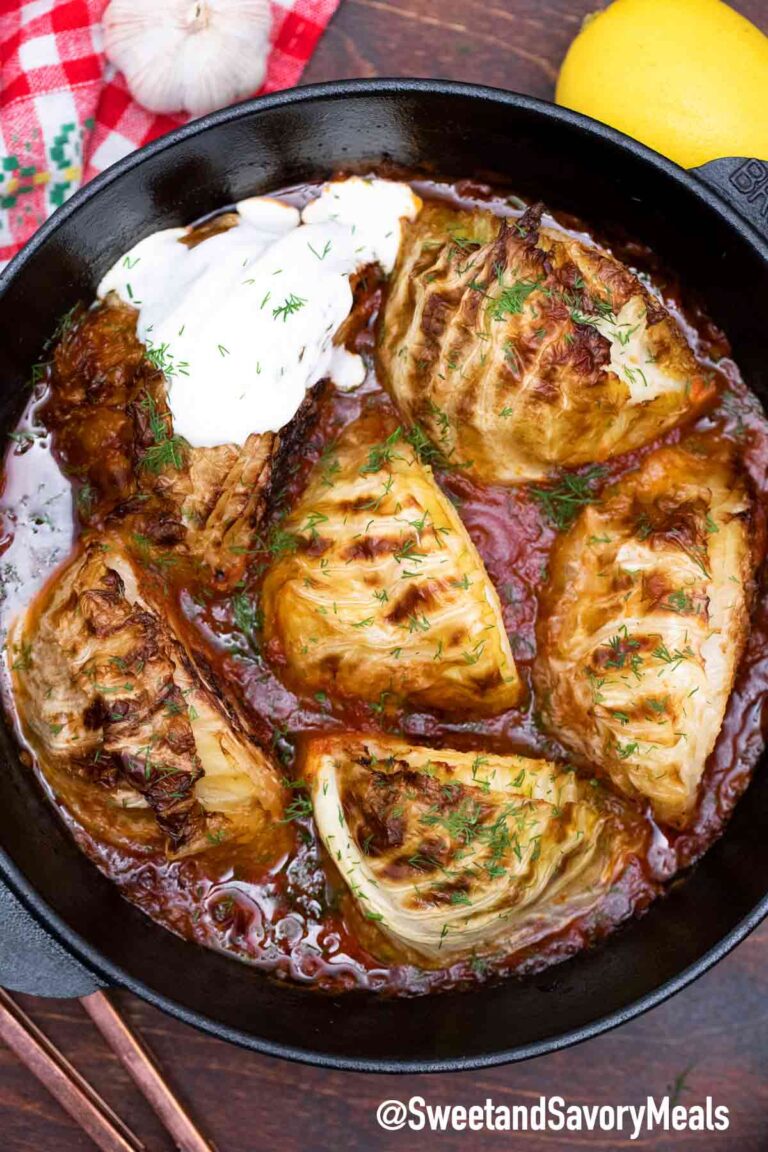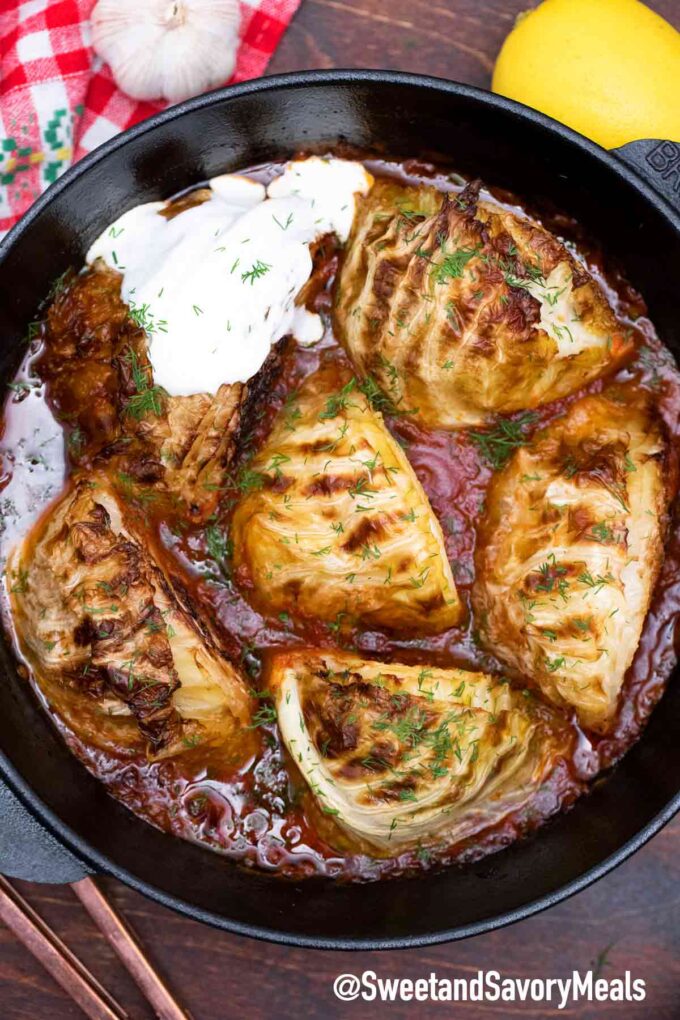 Can you cook cabbage too long?
Yes, it's very easy to overcook it. You will notice it become limp and emit a slightly sulfuric smell when it's overdone.
To avoid this, just cook until it's tender and bright green. Sample a piece to see if it's already done to your liking.
Do you need to wash cabbage before cooking?
Yes. Washing removes any debris or dirt trapped between the outer leaves. A quick rinse will do, then shake off any excess.
How to store Fried Cabbage:
Cool any leftovers, then transfer to a tightly-sealed container along with any remaining sauce. It will keep up to 3 days in the fridge, and up to a month if you freeze it.
How to reheat Caramelized Cabbage:
No need to thaw before you reheat it, as doing so can make the vegetables soggy. Microwave directly or heat in a pan with a little water.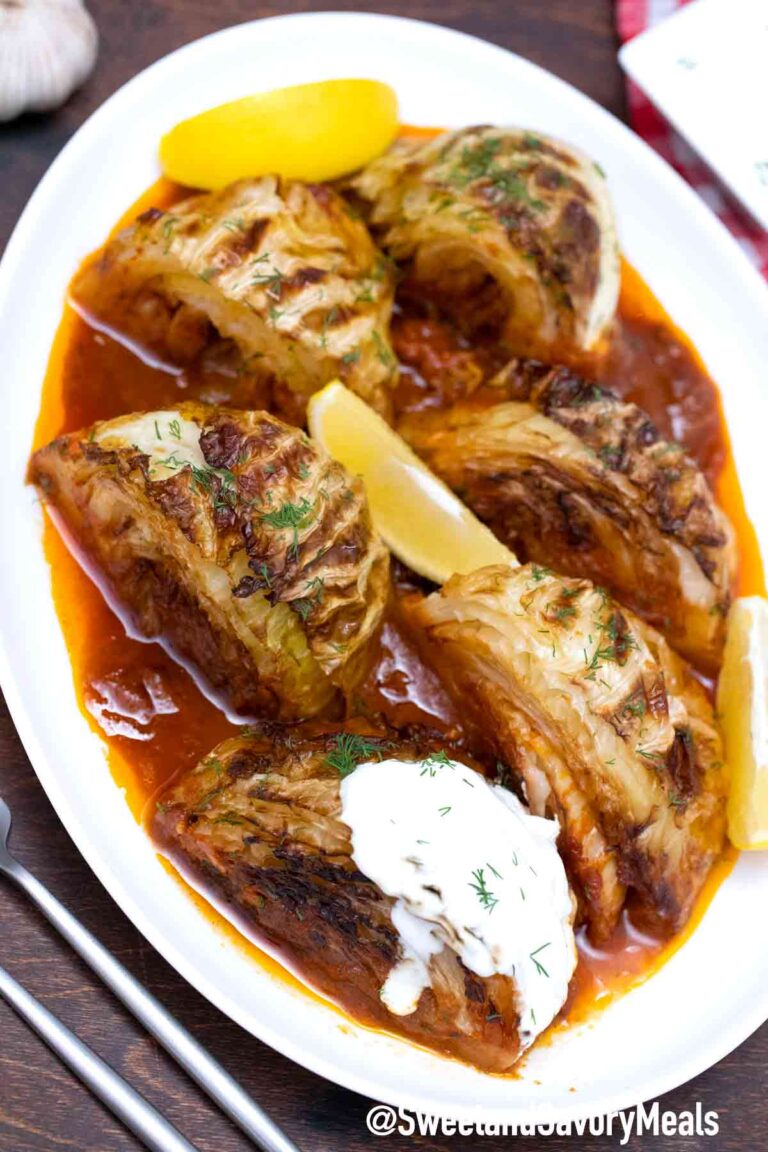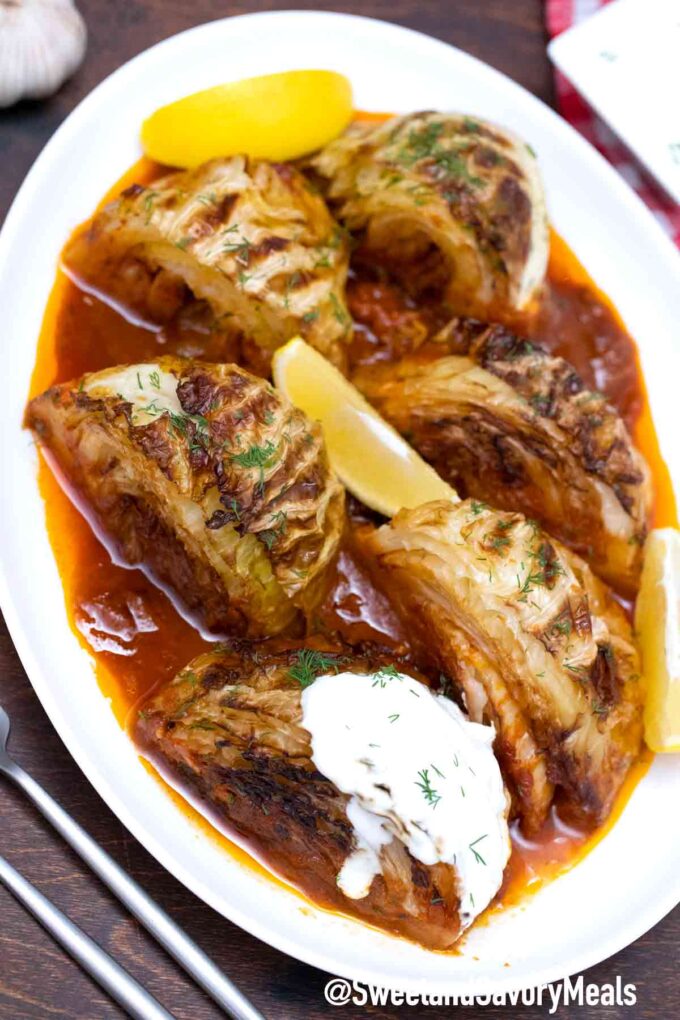 More Cabbage Recipes:
Recipe Tips:
Cut through the core, and don't cut it off. We need them to keep the wedges together.
Sauté the spiced tomato paste until it splits and deepens in color.
Sear the wedges until they have nicely brown, toasted brown bits and edges. That caramelization is key to flavor!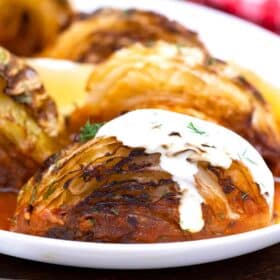 Caramelized Cabbage Recipe
Caramelized Cabbage is full of umami from the lightly-charred cabbaged wedges and the spiced tomato sauce.
Save
Share
Print
Pin
Rate
Ingredients
1/4

cup

tomato paste

4

garlic cloves

(minced)

1 1/2

teaspoon

ground coriander

1

teaspoon

ground cumin

1

teaspoon

onion powder

1

teaspoon

smoked paprika

1/4

teaspoon

crushed red pepper flakes

2

tablespoons

brown sugar

1

medium head of green cabbage

(cut into wedges 4 or 6 wedges)

1/2

cup

olive oil

(divided)

Kosher salt

(to taste)
For Serving:
3

tablespoons

chopped dill

(or parsley)

1/2

cup

Greek yogurt

(or sour cream)

Lemon wedges
Instructions
Preheat oven to 350 degrees F.

In a small bowl, stir together tomato paste, garlic, coriander, cumin, onion powder, smoked paprika, brown sugar and red pepper flakes.

Cut cabbage in half through the core and after that, cut each half through the core into 4 wedges.

Heat a large cast-iron skillet over medium-high and add 1/4 cup of olive oil.

Once the oil is hot, add the cabbage wedges to the pan cut side down and season with salt. Cook until lightly charred, about 4 minutes per side. Set aside.

Pour remaining ¼ cup of oil into the skillet and add the tomato paste mixture, cook over medium heat, stirring frequently, until tomato paste begins to split and slightly darken, 2–3 minutes.

Add water to come halfway up sides of the pan, and season the mixture with salt to taste, bring to a simmer.

Add cabbage wedges back into the skillet and bake in the preheated oven, uncovered and turning wedges halfway through baking. The cabbage should be very tender, and the liquid mostly evaporated, about 40–50 minutes.

Garnish with dill or parsley, and serve with yogurt and lemon wedges.
Nutrition
Calories:
238
kcal
|
Carbohydrates:
17
g
|
Protein:
4
g
|
Fat:
18
g
|
Saturated Fat:
3
g
|
Cholesterol:
1
mg
|
Sodium:
124
mg
|
Potassium:
413
mg
|
Fiber:
4
g
|
Sugar:
11
g
|
Vitamin A:
519
IU
|
Vitamin C:
59
mg
|
Calcium:
93
mg
|
Iron:
1
mg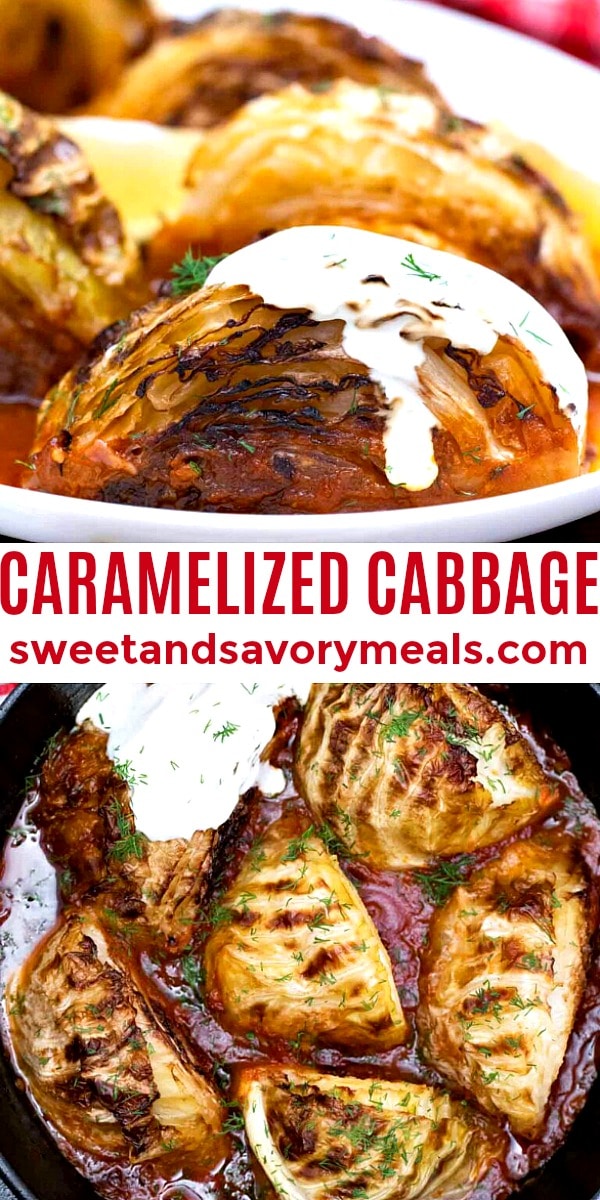 More recipes you might love