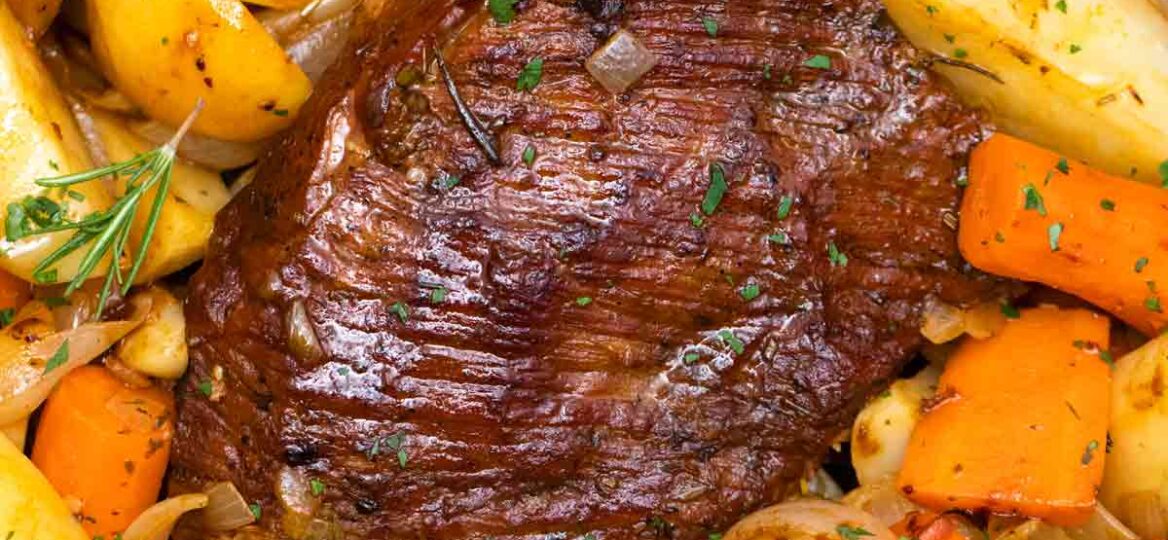 Beer Pot Roast Recipe [Video]
Beer Pot Roast is made with tender beef, braised with beer, and roasted for hours with fresh herbs and root vegetables. The perfect hearty and festive dinner that is hassle-free and always turns out fantastic.
If you are looking for more recipes that are easy to make but are perfect to feed a crowd, make great leftovers, or would make a great festive meal, we have some great options for you. Check out our great Red Wine Pot Roast, Herb Roasted Turkey, that comes with instructions on how to brine a whole turkey, and also our Lemon-Herb Butter Chicken.
Beer-Braised Pot Roast Recipe
Beer Pot Roast is incredibly tender and delicious. The beef is so juicy that it melts in your mouth. It is infused with your favorite beer brew, which makes this recipe simply outstanding. The roast is easy to make, with just a few simple steps to follow and some planning in advance for it to cook.
Made with fresh herbs for extra flavor, they balance the richness from the beer. The addition of the root vegetables makes it so convenient as you have the side dish ready to serve with the beef. The carrots add sweetness and the potatoes add a nice and earthy undertones.
This dish is perfect for holidays or if you would like to make a hearty dinner for your family, it makes great leftovers that stay juicy and good for days in advance. You can make this dinner without the veggies, and serve it with mashed potatoes or shred the beef and serve it in sandwiches.
What cut of beef to use for Beer-Braised Pot Roast?
As a rule, always go for tougher cuts when cooking a pot roast. The tougher the cut, the best it will turn-out! Here are some options you can choose from:
Top or Bottom round – comes from the rear part of the cow.
Chuck Roast – it comes in a few versions, all great: Chuck Eye or Clod Roast, arm or shoulder roast.
Brisket – this is a more expensive option and is cut from the lower chest portion of the cow.
What Beer to use for Beer Pot Roast?
I usually recommend using your favorite beer, as the flavor will be front and center. Obviously, a darker ale will add a much deeper flavor and the sauce will have more maltiness and body. If you do not like darker brews, go for a light beer. Below we have included some options we have tried and liked:
Light Beer – like Korona, or anything similar.
Brown Ales
Dark Ales
Stouts – definitely choose your favorite, as the beer will infuse the beef. A dry stout that we love is the Guinness, always delicious in this recipe.
Amber Lagers
How to Make Beer-Braised Pot Roast?
Brown the beef. In a Dutch oven over high heat, add the oil, and then sear the meat on all sides until nicely browned. Set it aside.
Make the braising liquid. In the same Dutch oven, sauté the seasonings and the herbs, add the tomato paste and next add back the browned chuck along with the broth and the beer of choice. After that, add the bay leaves, onion quarters, whole garlic, carrot, potatoes, and fresh sprigs of rosemary.
Braise. Cover the Dutch oven with the lid and cook in a pre-heated oven for about 3-4 hrs, or until tender.
Serve. Shred or slice, and enjoy.
Recipe Variations:
Make it in the slow cooker: Follow this slow cooker version instead and add the beer!
Use other cuts: based on your budget and taste preference choose the cut that is best for you. Also, this recipe can be made with a pork loin, it will taste fantastic!
Make it in the Instant Pot: Use this Instant Pot Red Wine Beef Roast recipe and substitute the beer for one. You will love it, and the great thing about the IP is that dinner will be ready in under two hours.
Add more veggies: We used carrots and potatoes, but you can also add mushrooms, turnips, parsnips, celery, or sweet potatoes.
Use other beer types: Try the recipe with different types of brews and see the one that you like more!
What is the difference between a roast and a pot roast?
The main difference between the two is that pot roast is cooked in liquid, usually broth, or a mix of broth with wine or beer. The other one is cooked dry, usually covered in a dry rub or heavy seasoning.
What is the difference between a pot roast and a Yankee Roast?
The two usually are very similar, the main difference is that Yankee Pot Roast is cooked with different root vegetables. Check out our recipe for more details.
Should you sear a roast before cooking?
This is definitely a must-do, do not skip step. Searing the beef locks in flavor and also adds a nice caramelized, deeper flavor, which will make a big difference in how the recipe turns out.
How much liquid should you add?
Usually a little over two cups is enough, but you should always check while the roast is in the oven and if needed add more. Keep in mind that when you add alcohol, most of it evaporates during cooking, so to avoid burning the beef, better keep an eye on it, and add more if needed.
Something to keep in mind is that if you add too much from the start, the beef will be braising instead of roasting. To avoid this, keep an eye on it and add more as needed.
Also, you can use the liquid to make gravy! The liquid will also be necessary to cover the meat if you decide on freezing it, so don't throw it away.
More easy beef recipes:
Recipe Tips:
Always sear the beef cut, this locks in flavor, make sure it is nicely browned on all sides.
Next, cut the veggies into larger pieces, so they don't get mushy while cooking.
Use fresh herbs, it will add a nice flavor to the dish.
Make sure you braise the roast and check if it has enough liquid, check for tenderness to make sure it is perfectly cooked!