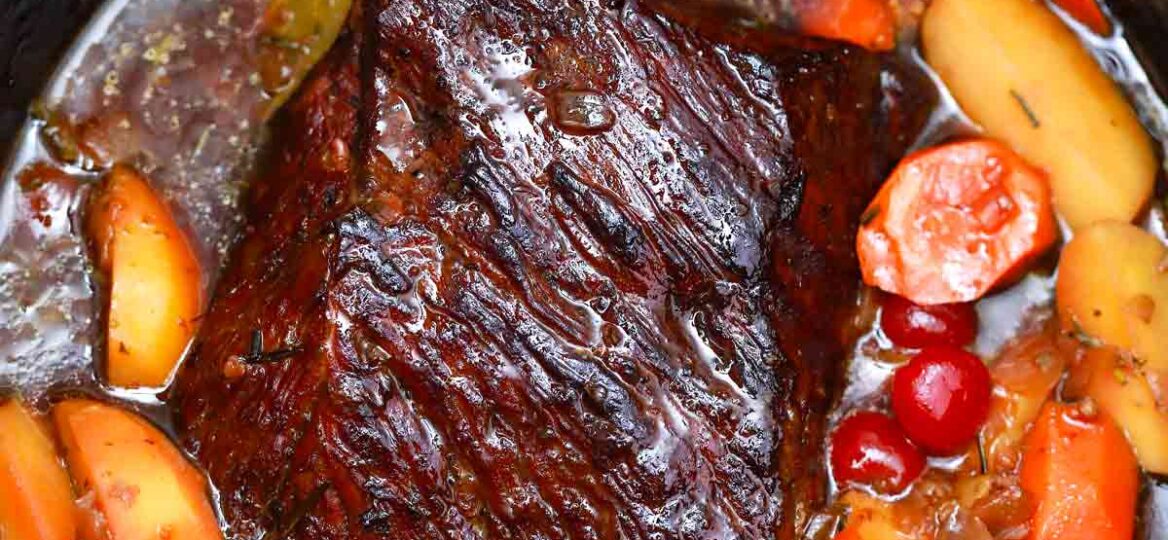 Dr. Pepper Pot Roast [Video]
Dr. Pepper Pot Roast is meltingly tender, smoky, and savory with a sweet kick from Dr. Pepper and Maraschino cherries. Insanely good and beyond easy!
Beef is such a versatile protein, and so tasty in a wide variety of recipes. Enjoy the Asian flavors of this Korean Beef Bulgogi, some old-fashioned Beef Stew, or this amazing one-pan Sticky Honey Garlic Beef!
Dr. Pepper Pot Roast with Maraschino Cherries
Dr. Pepper Pot Roast is unlike any other roast you've ever had. It has such a unique flavor profile from both the maraschino cherries and Dr. Pepper.
It's meaty and savory, with the warmth of herbs, and a smoky fruitiness that's downright addicting. Best of all, the slow oven cooking process gives you supremely juicy beef and vegetables.
This is one of those rare recipes which is hearty enough for a weeknight meal but also tastes gourmet and worthy of company. Get ready for rave reviews!
How to choose beef for pot roast?
First, pot roast isn't a cut of meat in itself— it's a cooking method. Basically, you brown a big hunk of tough beef, then braise it in seasonings and liquid for hours until it's super tender.
Because of that low and slow procedure, tough cuts make the best choice for this recipe. You want a very lean cut with tons of connective tissue. These cuts have a high amount of collagen which breaks down during the cooking process. In turn, it tenderizes the meat and turns the braising liquid into a rich and velvety sauce.
Three particular cuts make a fine choice:
Chuck – my absolute favorite! The terrific marbling makes for the juiciest results, and it's usually more affordable than other cuts, too.
Brisket – this one is a barbecue staple, but it's also a great option for this recipe thanks to a ton of fat that keeps the meat tender. However, it tends to be pricier than chuck.
Bottom round – also a wonderful cut for this cooking method! much leaner than the first two, so don't forget to add more fat to your braising liquid to prevent the dish from drying out.
What is the best cut of beef to make tender pot roast?
Well-marbled chuck is what I'll always recommend, hands down. Aside from choosing high-quality meat, make sure to cook it for at least 3 to 4 hrs. This tough cut needs time to break down into juicy perfection.
Is a chuck roast the same as a pot roast?
No. Chuck is a specific cut or part of the beef. A pot roast is a way to prepare such cuts by braising them in liquid for hours.
What is Dr. Pepper soda?
It's a soft drink that's carbonated, and one of the oldest brands in the US! It has lots of flavors, from the classic to cherry, cola, ginger, and more. Lovely and refreshing over ice, and magical in savory recipes like this one!
How do you make Dr. Pepper Pot Roast?
Sear the seasoned chuck. Brown all the sides in hot oil until it develops a nice, dark crust. Set aside.
Get the braising liquid ready. To the same pan, cook the aromatics followed by the herbs. Deglaze with a half cup of stock. Add the rest of the stock, Dr. Pepper, and molasses.
Slow cook. Return the chuck to the pan, along with the cherries and potatoes. Put the bay leaves and sprigs of fresh rosemary on top. Cook at 325 degrees F covered in the oven until fork-tender, around 3 to 4 hours.

Reduce the sauce. Remove the meat, veggies, and cherries. Strain out all the liquid, then discard excess fat. Reduce the liquid on a brisket until it's thick and glaze-like.
Serve. Shred or slice the meat, spoon glaze over the top, and plate up with cherries and more herbs on top. Enjoy hot!
Should my pot roast be covered in liquid?
Yes. Otherwise, you run the risk of drying the meat out. However, you don't want too much liquid in there, or it will stew instead of braising.
You also want enough leftover liquid to make a gravy or sauce, especially with this recipe. Trust me, that Dr. Pepper sauce is so yummy, you'll be fighting over the last drops in the pan!
Recipe variations:
Add more veggies: This is also delicious with chunks of sweet potatoes, celery, meaty mushrooms, frozen corn and peas, and parsnips.
Use root beer: Not a fan of Dr. Pepper? Use your favorite root beer instead!
Use other cuts: This recipe will also work with a nice bottom round or a brisket.
Make it spicy: Add a dash of pepper flakes or chipotle if you like it hot.
Can you make it in the slow cooker?
Yes! Brown the chuck first. Then, whisk together the ingredients for the braising liquid so they're distributed evenly.
Arrange the meat and veggies at the bottom of your slow cooker, cover with the liquid, and top with herbs.
Cook on low for 8 hrs. or on high for 4 hours. Reduce the strained liquid for the sauce and serve as desired!
Can you make it in the IP?
The IP is perfect if you want to make this recipe, but don't want to wait several hours for it. Brown your meat right in the IP. Sauté aromatics, then add the herbs. Deglaze the bottom thoroughly with stock, and then add the rest of the ingredients for the braising liquid.
Set timer to 45 minutes for High-Pressure cooking, then perform a natural release once done. Take out the meat and veggies. Reduce the strained liquid to create the glaze sauce. Serve hot with more cherries and herbs!
What to serve with Dr. Pepper Pot Roast?
Try it over fluffy mashed potatoes or mashed cauliflower! Don't waste a drop of that heavenly sauce and mop it up with these easy 30-minute dinner rolls or crust bread. Feeling lazy? Serve it with a side of steamed broccoli and call it a day!
More Recipes:
How to Store:
Take the cooled leftovers and transfer them to a tightly-covered container (make sure it's freezer-friendly if you're planning to keep it frozen). Cover it with any remaining sauce to avoid drying the meat out.
If you're storing it in the fridge, consume within 3 days. Frozen leftovers will stay good for up to 2 months. Thaw, then microwave until hot to reheat.
Brown the chuck deeply on each side. This is key to great flavor and prevents you from ending up with grey meat.
Cut the veggies in big chunks so they come out tender, not soggy, after hours of cooking.