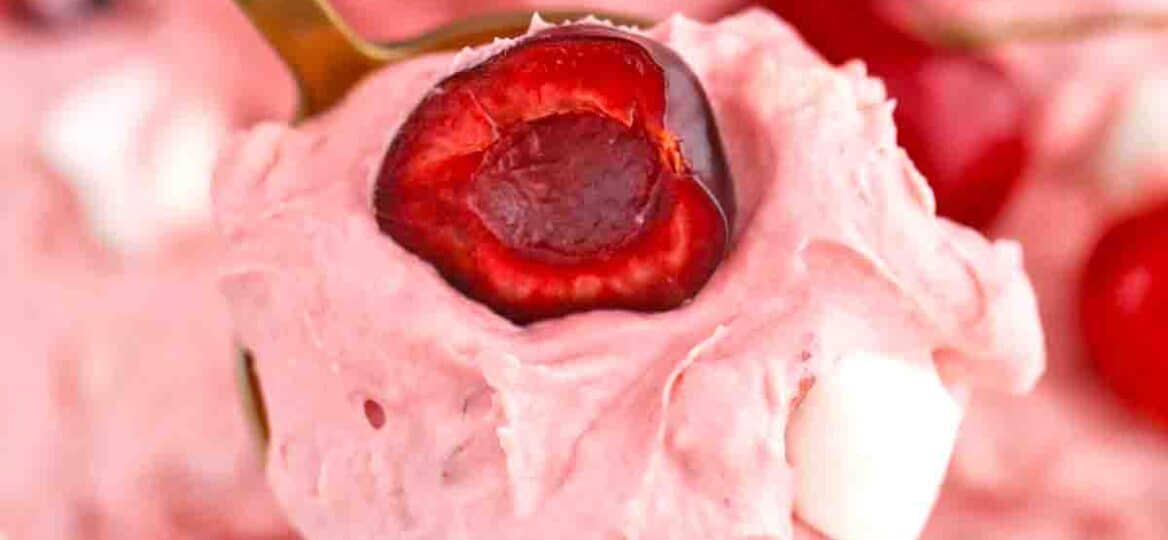 Cherry Cheesecake Fluff Recipe
Cherry Cheesecake Fluff is the perfect blend of rich cheesecake flavors, luxurious creamy texture, and sweet and tangy cherries. Delicious for dipping, topping, or eating with a spoon. Make it for your next backyard barbecue, family get-together, or an afterschool snack for the kids. No matter how you serve this delicious dish, it will be a hit.
Marshmallow fluff was invented by Archie Query, who sold it door-to-door in his hometown of Somerville, Massachusetts in 1917. A candy company from Boston bought the recipe from him for $500 and it became famous after being advertised on the Ed Sullivan Show in the 1920s. But it was the Watergate Salad, made with pudding, whipped cream, pineapple, marshmallows, and pecans that first introduced fruit to the mixture in 1976 when Kraft brought out its pistachio pudding.
You can make this delicious delight in minutes with just a few steps and a handful of ingredients. Although the recipe calls for whipped cream, pudding, cream cheese, marshmallows, vanilla, milk, and cherry pie filling, you could easily make this with just the cherries, cream cheese, and whipped cream. But the marshmallows give it texture and the pudding gives it a richer flavor.
Ingredients needed:
Here is what you need to make this cherry cheesecake fluff recipe. Once you gather all the ingredients, find our handy printable recipe card at the bottom of the page for precise measurements and easy instructions.
Mini marshmallows
Cheesecake instant pudding mix
Vanilla extract
Milk
Cool Whip whipped cream
Cherry pie filling
Cream cheese: Softened to room temperature.
How to make cherry cheesecake fluff from scratch?
Beat it: First, beat the cream cheese in a large bowl with an electric mixer (or the mixing bowl of your stand mixer) until it is light and fluffy.

Mix: Then, stir in the pudding mix, vanilla, milk, and cool whip to the cream cheese mixture. Beat together on low until smooth.
Add the rest: Last, gently fold in the marshmallows and cherry pie filling.

Chill and serve: Finally, chill in the fridge for up to 24 hours before serving.
Recipe variations:
Red, white, and blue: Looking for a patriotic treat for Memorial Day or the 4th of July? Add blueberries for a red, white, and blue dessert cuisine.

Other pudding mix flavors: Try experimenting with other pudding mix flavors. Vanilla would be a nice change but be creative! Try chocolate, lemon, or lime.
Different extract: In fact, if you want to try other flavors, you could also switch the extract with almond, orange, lemon, or whatever you like.

Other fruit: Actually, you can just switch the cherries to something else entirely. Grab a can of apple pie filling or use some peach preserves. Even blueberry, raspberry, or blackberry pie filling would be great! Why not be daring and use them all?
Add crunch: To make your sweet and creamy fluff crunchy, add some chopped walnuts, pecans, pistachios, or other nuts.

Chocolate flavor: Chocolate chips would be a delicious addition.
Graham crackers: Mix in a half cup of graham cracker crumbs for a real cheesecake flavor.
How to serve:
You can serve this tasty treat as a side dish, dessert, or a special surprise at your next family reunion. Or just grab a spoon and dig in! With all the flavor of cherry cheesecake and cream, the only thing missing is the graham crackers. But you can add them! Here are some great serving ideas. Share your own ideas in the comments section. We love hearing from our readers!
Serve as a dip for fresh fruit like apple slices, strawberries, or pineapple chunks.
Instead of Cool Whip, you could also use homemade whipped cream. We have a creamy, rich recipe for whipped cream that is super easy and delicious. All you need is heavy whipped cream (heavy whipping cream), powdered sugar (or granulated sugar), and vanilla extract. Beat until stiff peaks form.

For even more cherry flavor, add some maraschino cherries on top before serving.

Similarly, you can use homemade cherry pie filling as well. Just get some cherries, almond extract, sugar, cornstarch, and lemon juice for our sweet and tangy easy recipe.
A drizzle of chocolate syrup on top would be absolutely wonderful.

This cherry cheesecake fluff goes great on top of a bowl of ice cream too! Try it with our no-churn cherry ice cream.

Instead of dipping in fresh fruit, you can also use cookies, crackers, or vegetables.

Add a dollop of this delicious cherry fluff to a bed of lettuce for a cherry fluff salad.
Frequently asked questions
What is the difference between heavy cream and whipped topping?
Heavy whipping cream has a higher fat content. You will find at least 36% fat in heavy cream and only about 30% in whipped topping. Also, the cream is made with milk fat and milk rather than corn syrup, vegetable oil, and water. Finally, heavy cream is richer and has more flavor, and will hold its shape longer.
Can I make this recipe dairy free?
Yes, they have a dairy-free version of each of these ingredients. There are whipped cream recipes made with coconut milk or almond milk, which is also a good substitute for milk. Similarly, cream cheese can be made with tofu, nut cream, or coconut cream too. The pudding mix typically does not have any dairy in it so you do not have to change that.
Do I have to chill this before serving?
Although you do not have to, it is best to chill your cherry cheesecake fluff for at least an hour before serving. This helps soften the marshmallows and lets the cream thicken and flavors blend together better. I like to make my fluff the night before and chill it overnight.
Why is my cherry cheesecake fluff watery?
If you add anything to your cherry cheesecake fluff that has moisture or juice in it, this can cause your fluff to be watery. For example, if you add crushed pineapples or another fruit, strain them or pat dry with paper towels to absorb the excess moisture. Also, be careful not to stir it too much before you serve it.
What is the nutritional information for this recipe?
Looking for the nutrition, calories, and fat content? Here it is! But these are just estimates. Each delicious serving has 567 calories, 35 grams of fat, 20 grams of saturated fat, 61 grams of carbs, 54 mg sugar, 95 mg cholesterol, and 120 mg sodium. But you also get 1 mg iron, 120 mg calcium, 8 mg vitamin C, 1,332 units of vitamin A, 4 grams of fiber, 224 mg potassium, 13 grams unsaturated fat, and 4 grams of protein.
More cherry recipes to try:
How to store leftovers:
Store: Refrigerate leftover cherry cheesecake fluff in an airtight container. It will stay fresh for up to three days in the fridge.

Freeze: Freezing is also an option if you have a lot left over. Put it in a freezer-safe container or freezer bag and freeze for up to 90 days.

Thaw: Although it tastes great partially frozen, you can thaw it overnight for serving the next day.
Recipe tips:
You can certainly make your own whipped cream and cherry pie filling for the best flavor. We like to shorten prep time by using premade whipped cream, pudding, and canned cherry pie filling.

Looking for other great recipes? Check out our food blog for everything from appetizers to entrees.

If you think this cherry fluff recipe sounds wonderful, we even have a couple of other fluff recipes you may like.
For a sugar-free version, use artificial or natural sweeteners like Stevia, Splenda, or honey. They also sell sugar-free cherry pie filling, whipped cream, pudding, and cream cheese.

Instead of pudding mix, you can use powdered sugar.

Make sure your cream cheese is softened to room temperature for easier mixing.
You can eat this right away, but it tastes even better after being chilled for a few hours to soften the marshmallows.

Speaking of soft marshmallows, use marshmallow fluff if you do not like the texture of the marshmallows.
Cherry Cheesecake Fluff
Ingredients
8

ounces

cream cheese

room temperature

3.4

ounces

Cheesecake Instant Pudding Mix

1

teaspoon

vanilla extract

1/4

cup

milk

8

ounces

cool whip

or homemade whipped cream

21

ounces

can cherry pie filling

10

ounces

mini marshmallows

1/2

cup

cherries

pitted and halved
Garnish:
Extra cherries and marshmallows
Instructions
First, add the cream cheese to a large bowl and beat it with a mixer.

After that, add the instant pudding mix, vanilla extract, milk, and cool whip. Beat on medium speed and stop to scrape the sides and bottom of the bowl a few times.

Finally, with a rubber spatula, fold in the cherry pie filling, fresh cherries, and mini marshmallows.

Refrigerate for up to 24 hours and serve garnished with more cherries and marshmallows.
Deliciousness to your inbox
Enjoy weekly hand picked recipes and recommendations