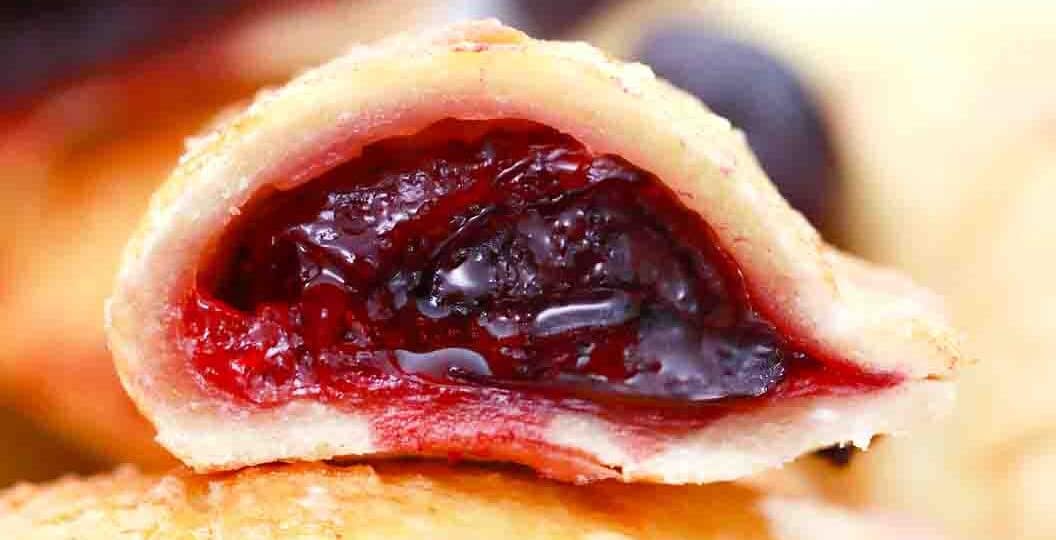 Air Fryer Cherry Hand Pies Recipe [Video]
Air Fryer Cherry Hand Pies are flaky and delightfully crisp on the outside, and sweet and juicy on the inside, made with just 5 ingredients. The flaky pastries are filled with tangy delicious cherries and they only take about 15 minutes. All you need is refrigerated pie crusts, cherry pie filling, an egg, and sugar.
If you liked this recipe, you should try our recipe for Maraschino Cherry Pie with cool whip, Maraschino cherries, and graham cracker cookie crust. Another delicious pie you may enjoy, our Amish Custard Pie recipe is made from handmade custard and an Amish pie crust.
This easy recipe is a delicious summer dessert to eat on the go. You can give them to the kids when you are on the go and there is no worry about messes. They are great for little ones too since they are smaller and much easier to eat than a piece of pie.
With just a few ingredients and a few minutes of prep time, you can have them ready in no time! You probably already have most of these things in your kitchen.
If you like cherry pies from McDonald's or another fast-food restaurant or even a bakery, you will love this homemade air fryer cherry hand pies recipe. The taste is completely different when it comes from home.
The fresh crust and warm gooey cherry pie filling are something you cannot compare to a pie and making hand pies is fun with the kids.
Looking for some healthy recipes to go with your air fryer cherry hand pies? Try our crispy air fryer chicken and veggies with broccoli, cauliflower, zucchini, and bell peppers or garlic herb butter roasted chicken seasoned with garlic, rosemary, and lemon.
This pineapple cucumber salad recipe would make a nice fresh side dish. For another air fryer recipe, try this Air Fryer Falafel with hummus, cucumber, and pita bread.
Ingredients needed:
These are the simple ingredients for this air fryer cherry hand pies recipe. For precise measurements and directions, scroll down to our handy recipe card.
Refrigerated pie crusts
Cherry pie filling
White granulated sugar
Olive oil: Or some other cooking spray.
Large egg: At room temperature.
Water: For the egg wash.
How to make air fryer cherry hand pies from scratch?
Prepare the pie crusts: First, you need two refrigerated pie crusts, so thaw your frozen pie crusts as directed on the package. If they are already thawed out, move on to step two.
Roll the dough: Then, on a lightly floured surface, roll out your pie dough with a rolling pin and cut three 5-inch circles from each crust with a glass or a biscuit cutter. Set aside the scraps.
Add the cherry pie filling: Next, spoon about two tablespoons of the cherry filling into the circles while leaving a 1/2-inch border.
Shape the pies: After, use a wet fingertip to press the edges together to seal. Fold in half, making a 1/2 moon shape. Pinch the edges together before using a fork to crimp them carefully.
Brush the pies: Then, prepare the egg wash by whisking the egg with the water in a small bowl and brushing it onto the pies with a pastry brush.
Add sugar and steam holes: Sprinkle sugar all over the top of the hand pie and make three cuts on top to release the excess steam. Repeat this step with the remaining dough circles.
Arrange the pies: Last, preheat the air fryer to 360 degrees F before you place fruit pies in the air fryer basked prepared with olive oil. Make sure they are in a single layer without touching for even airflow. You may have to cook in batches.
Cook: Finally, air fry cherry hand pies until golden brown, about eight to nine minutes.
Serve: Go ahead and serve these delicious little pie bites after they cool for a few minutes.
How to make cherry hand pies in the oven:
Preheat: First, preheat your oven to 400 degrees F and prepare a baking sheet with non-stick cooking spray. Or use parchment paper instead of spray.
Cut the circles: Meanwhile, roll out the pie crust dough on a floured surface and use a glass or cookie cutter to cut out three circles of about five inches from each pie crust.

Fill the dough: Next, add a heaping tablespoon of cherry pie filling to each circle and wet the edges before crimping them all the way around with a fork.

Brush the pies: Then, whisk the egg and water and brush the top crust with the mixture. Cut a small slice to let out any extra steam.

Bake the cherry hand pies: Lastly, bake for about 15 minutes or until they are golden brown on top.

Cool and serve: Finally, let the pies cool for several minutes before serving.
Recipe variations:
Other flavors: Feel free to use other pie filling flavors like blueberry, peach, or apple.
Homemade pie crust: Instead of prepared pie dough, you can make your own favorite homemade crust.
Canned pie filling: You can use canned pie filling or use our recipe for homemade cherry pie filling.
Smaller pies: Make six three-inch rounds from each crust and fill each with a heaping tablespoon of pie filling.

Other pie filling flavors: Try other flavors of our homemade pie filling like sweet and tangy strawberry, delicious apple pie filling, or homemade lemon curd.
Puff pastry: You could also use puff pastry dough instead.
Meat pies: They don't have to be sweet pies. Use taco meat or shredded chicken or beef instead of cherry pie filling.
Extra flavor: Spread vanilla extract or lemon juice on your crust before filling for extra flavor.
How to serve:
You can have these delicious little pie bites hot and ready on the table in less than 15 minutes for a scrumptious breakfast, delightful dessert, or a sweet snack anytime. Or try one of these great ideas:
Add a dollop of whipped topping for a creamy treat. Try our homemade whipped cream recipe.
Make these pies festive by topping them with powdered sugar, rainbow sprinkles, or chocolate chips.

A small scoop of vanilla ice cream would also go great on top of these air fryer cherry hand pies. Or try our no-churn cherry ice cream for double cherry flavor.

These cherry pies would be great for a picnic with fried chicken and potato salad.

Pack these in the kids' lunch for a sweet surprise.
Frequently asked questions
Can I use a metal tray in the air fryer?
You can use any kind of baking dish in the air fryer that you would use in an oven. Anything ovenproof is also air fryer proof. They also make special pans and silicone molds for air fryers now to fit smaller baskets.
Would a paper plate catch on fire in the air fryer?
It is not a good idea to use any kind of paper in the air fryer such as paper plates or napkins. They are not heavy enough and could fly around because of the intense airflow. If they get stuck in the heating element, they could definitely catch on fire. Either way, paper is a fire risk just as it would be in the oven.
How do I make vanilla glaze to top these pies?
The glaze ingredients include powdered sugar with vanilla and a little bit of milk. Just mix two to three tablespoons of milk with one cup of powdered sugar and one teaspoon of vanilla extract. You can make it as thick or thin as you want by using less or more milk.
What is the nutrition information for this recipe?
Your air fryer cherry hand pies may not be considered to be healthy food but they are not considered to be bad for you either. Each serving has 350 calories, 50 carbs, 25 milligrams of cholesterol, and 15 grams of fat including 5 grams of saturated fat, 2 grams of polyunsaturated fat, 1 gram of trans fat, and 7 grams of monounsaturated fat.
But you also get 55 units of vitamin A, 5 milligrams of vitamin C, 33 milligrams of calcium, and 2 milligrams of iron as well as 5 grams of protein, 140 milligrams of potassium, and 3 grams of fiber. These are approximate numbers and may vary depending on how you alter the ingredients.
How to store leftovers:
To store: You can store leftover hand pies for two days at room temperature and three to five days wrapped in plastic wrap in an airtight container in the fridge.
Freeze: You can also freeze your air fryer cherry hand pies for up to three months.
Thaw: Thaw overnight for best results.
Reheat: Reheat frozen in the air fryer for five minutes at 350 degrees F or thawed for two minutes.
More air fryer desserts:
Cooking tips:
You can use butter-flavored cooking spray instead of olive oil spray for a buttery taste.
Use the excess dough to make extra air fryer hand pies in any size you like. Try making some tiny ones for the little tykes.
Make sure to thaw the pie crusts completely before using them to prevent tears or cracks.
Similarly, if you use frozen cherry pie filling, let it thaw completely before using.
You will likely have to cook these in batches depending on the size of your air fryer basket.
In addition, cook time may vary depending on the thickness of the dough rounds.
Make a whole bunch of these air fryer cherry hand pies and freeze them so you can have snacks on the go anytime you want.
Air Fryer Cherry Hand Pies
Ingredients
2

refrigerator pie crusts

1 1/2

cup

cherry pie filling

1

large egg

1

tablespoon

water

2

tablespoons

white granulated sugar

Cooking spray
Instructions
First, thaw the pie crusts per the directions on the package.

Roll out the pie dough on a lightly floured surface and using a cookie cutter cut out 3 or more 5-inch circles from each crust. Discard the scraps.

Add 2 tablespoons of cherry pie filling to the center of the circles leaving about a ½inch border.

Next, dip a fingertip into some water and run it around the edges of the circles. After that, fold them to create a half-moon shape.

Using your finger pinch the edges together. Crimp the edges together using a fork.

In a small bowl, whisk the egg with the water and use the egg wash to brush the surface of the hand pies.

Sprinkle with sugar and make 3 small incision cuts on the top.

Preheat the air fryer to 360 degrees F.

Spray the basket with oil spray. Arrange the pies, in one single layer not touching each other. If needed cook in batches.

Air fry for 9-10 minutes, or until golden brown.
Deliciousness to your inbox
Enjoy weekly hand picked recipes and recommendations