Garlic Herb Butter Roasted Chicken [Video]
Last updated on June 18th, 2021 at 09:26 pm
Garlic Herb Butter Roasted Chicken makes the juiciest, most tender chicken thanks to the fresh butter, zesty garlic, lemons, and aromatic stuffing. An elegant recipe for a dinner party, yet simple enough for a weeknight meal!
This recipe is versatile, so it won't be hard to pair it with sides. For a few ideas, these Crispy Rosemary Potatoes complement the herbs in the recipe. Toss your favorite mix of greens with my Homemade Caesar Dressing for a light salad, and serve these soft and fluffy 30-Minute Dinner Rolls to complete the meal.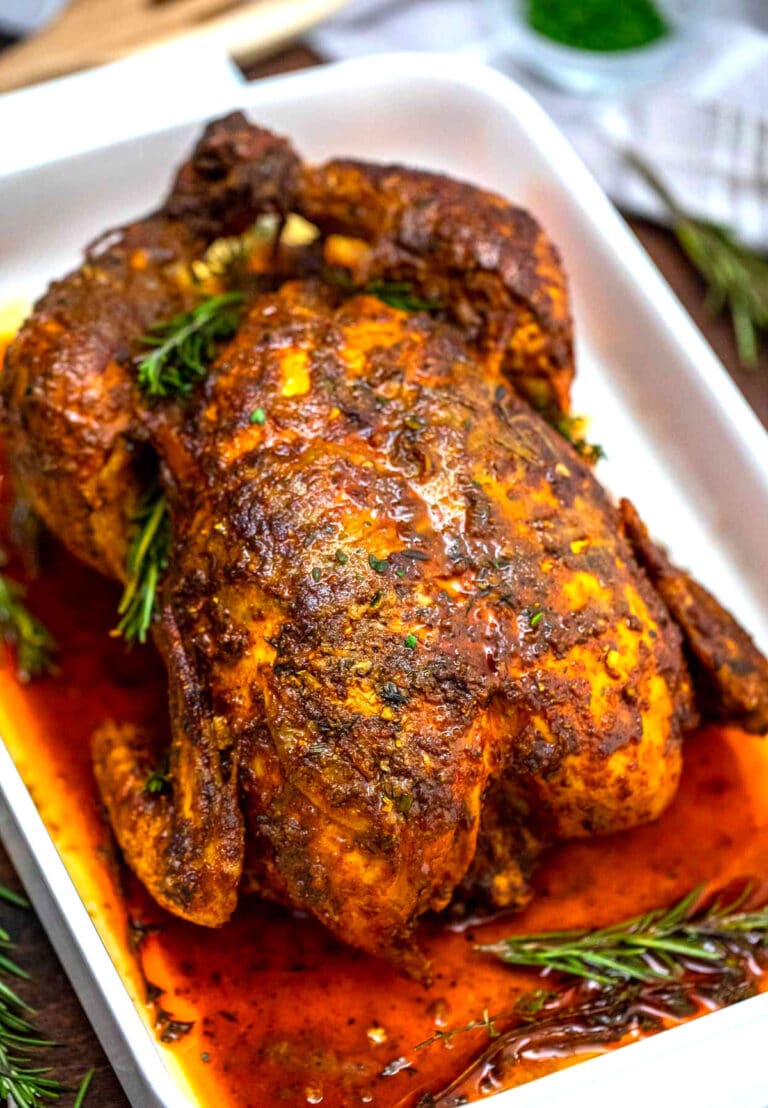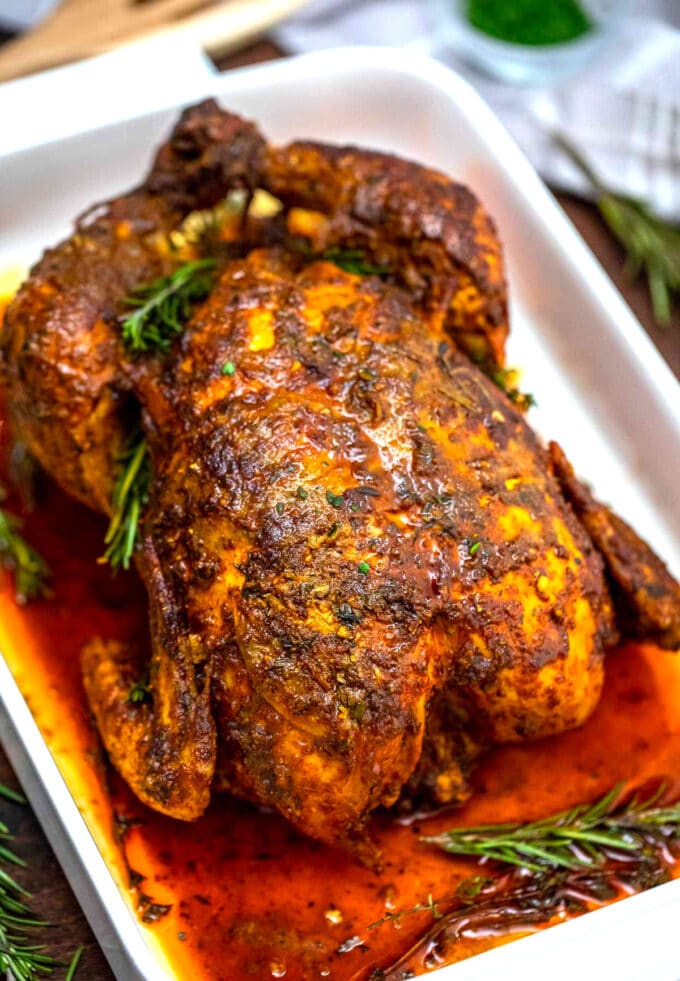 Easy Roasted Chicken Recipe
Garlic Herb Butter Roasted Chicken will make you swear off buying the rotisserie version for good. It's so easy, yet so flavorful— imagine that crispy golden skin, juicy meat, and a medley of herbs, butter, lemon, and garlic— and it only takes a little more than an hour from prep to the table!
Also, I swear I get better and better at preparing the whole fowl every time I make this recipe. That's hitting two birds with one stone: get to practice your roasting skills, and reward yourself with a fantastic meal at the same time.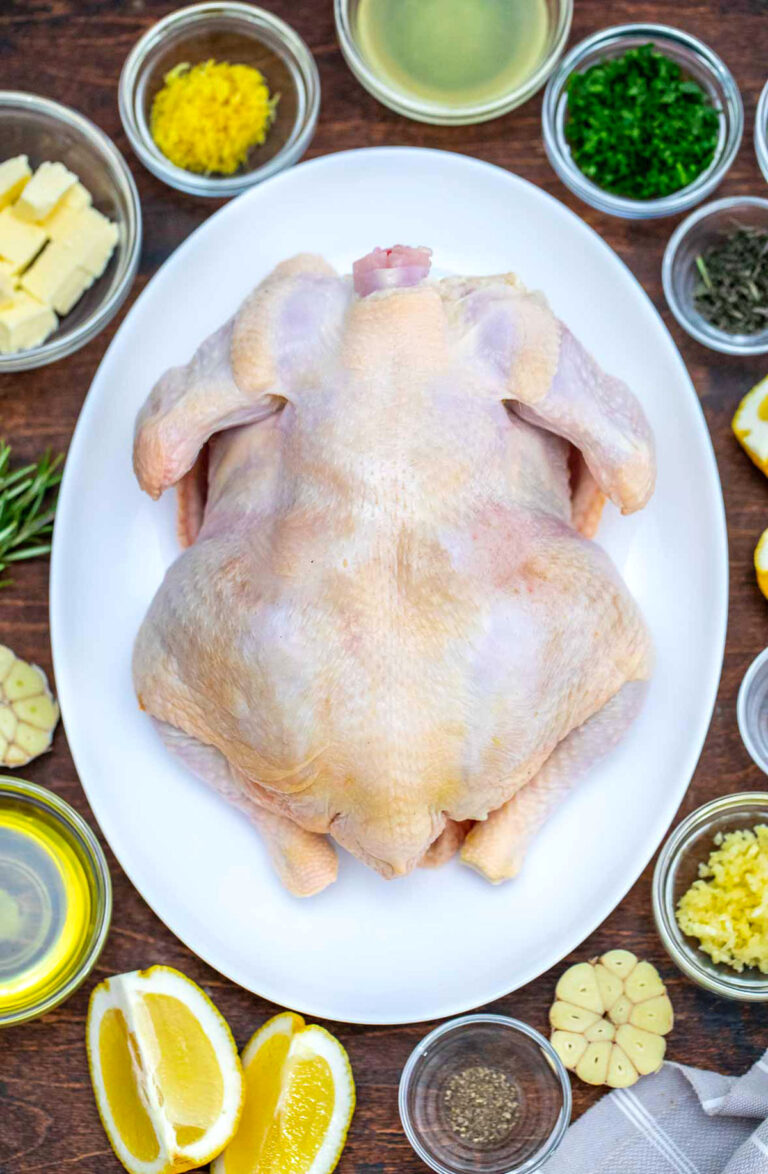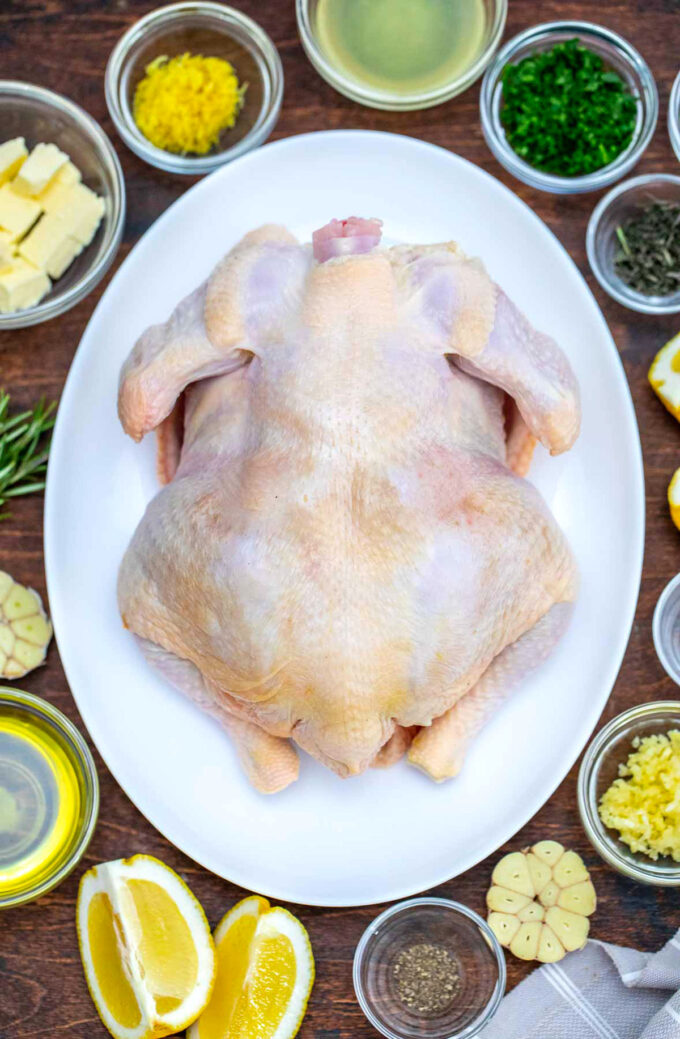 How do you prepare chicken for roasting?
Remove the neck and the giblets, along with leftover feathers and fat. Rinse the meat, then pat dry. Season liberally inside and out. Stuff with more aromatics, then use kitchen string to tie the legs together. Now it's ready for the oven!
What goes into Garlic Herb Butter Roasted Chicken?
I kept it simple, using common ingredients like garlic, butter, olive oil, lemons, salt, and pepper. For the herbs, you'll need thyme, rosemary, and parsley. Because the ingredients are so simple, you can make this recipe as frequently as you like!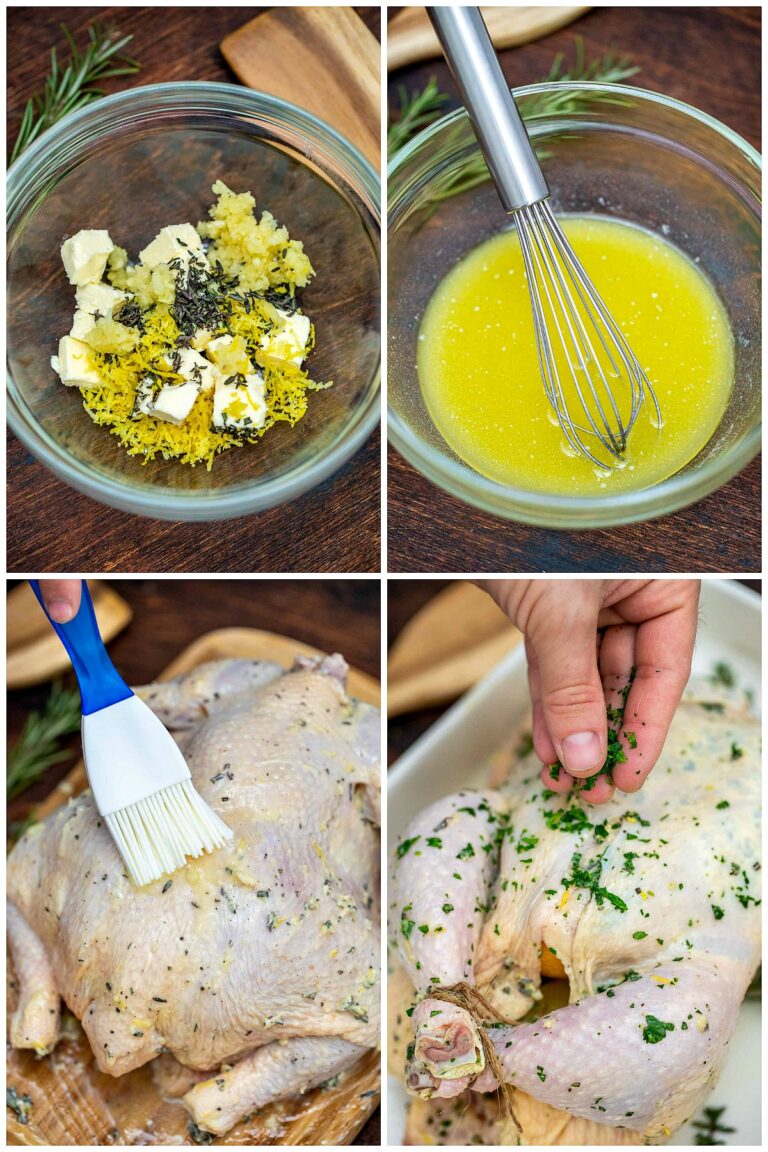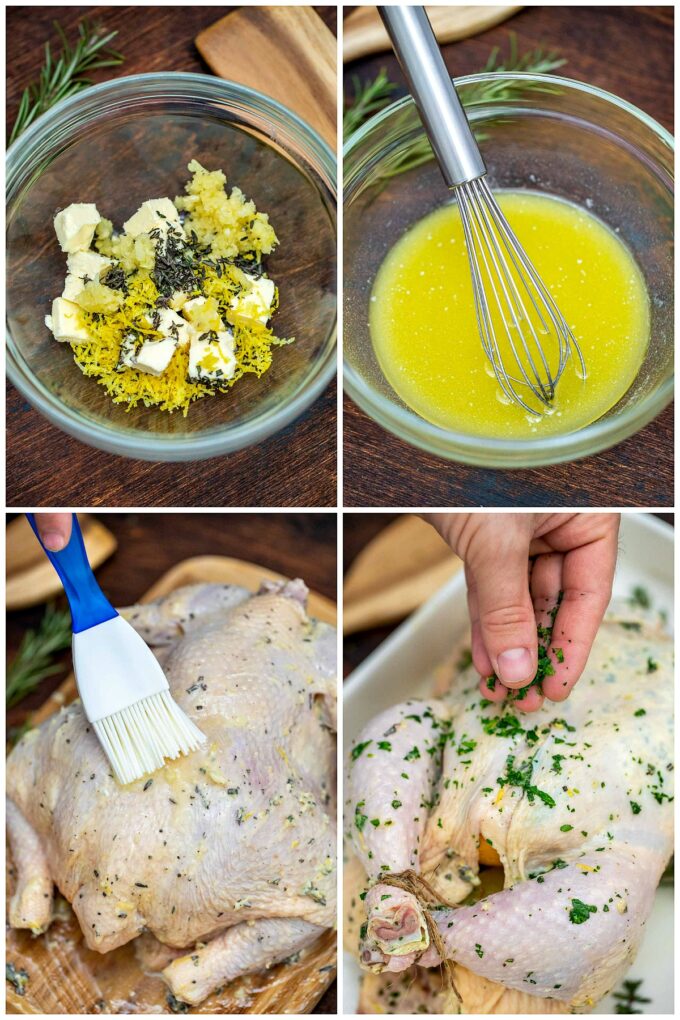 How to make Garlic Herb Butter Roasted Chicken
Prepare
Clean the meat, measure out the ingredients, and pre-heat the oven.
Season
Rub with salt and pepper, herbs, and pour lemon butter all over. Stuff with aromatics.
Cook
Roast, and basting halfway through. Finally, broil to achieve a golden, crispy skin.
Rest and serve
Rest, pour drippings over the meat, and serve with your preferred sides.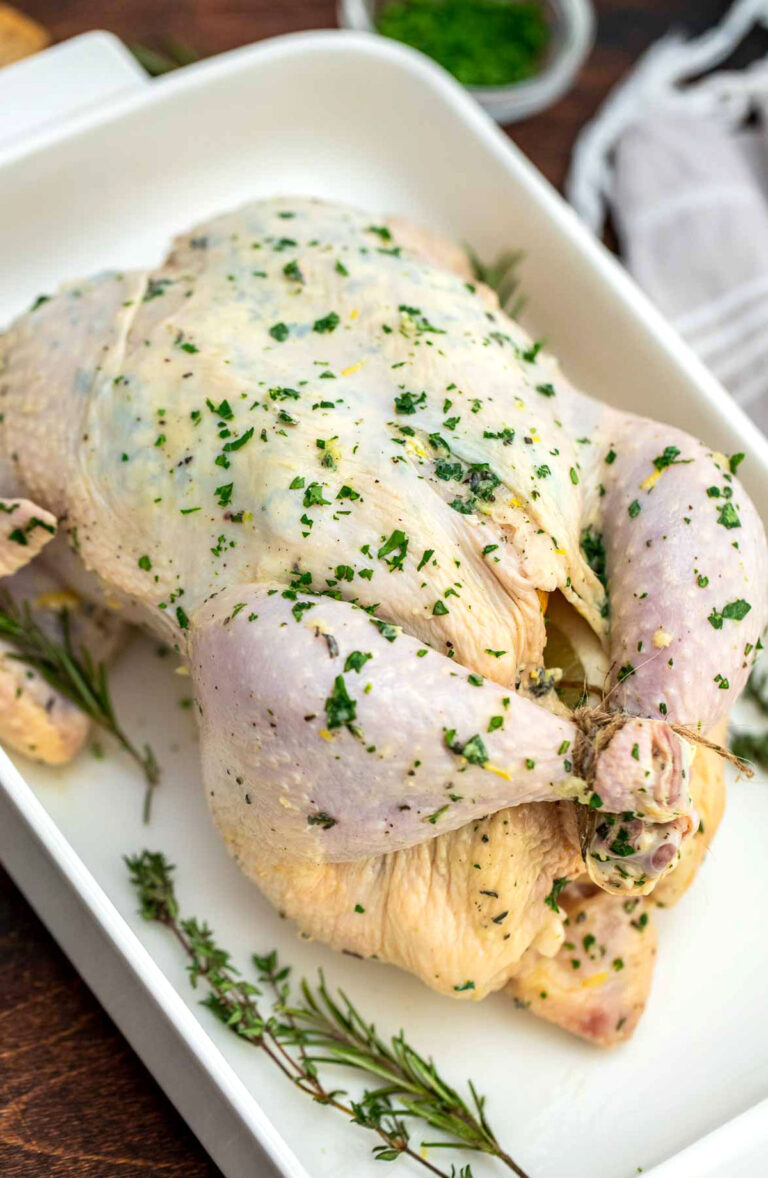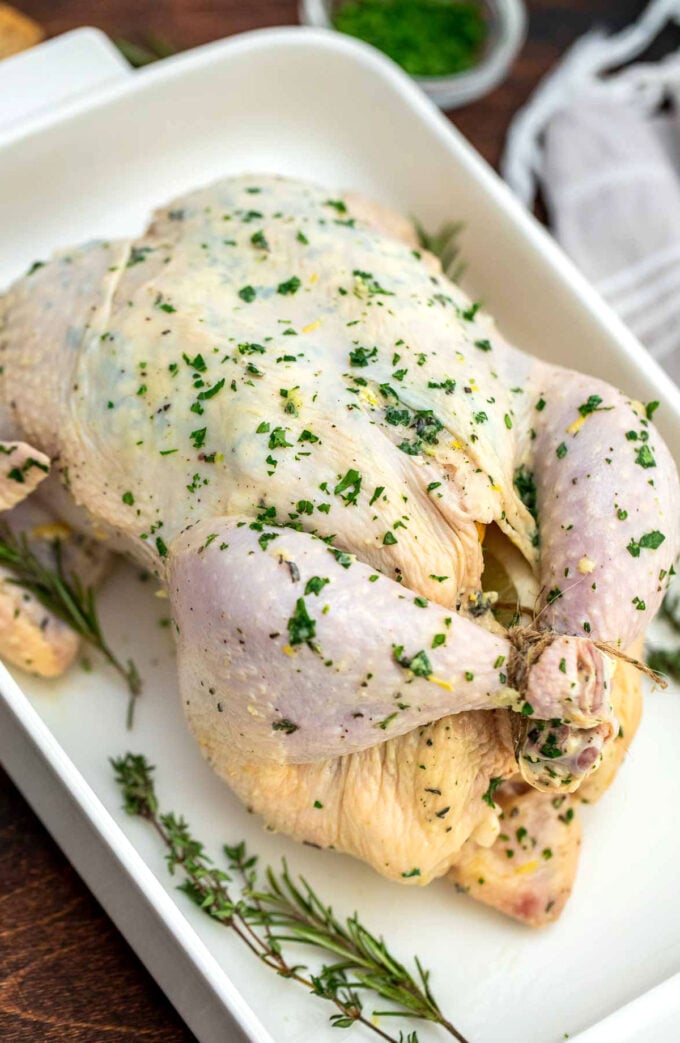 How long to roast a whole chicken?
A 2-3 kg (4 to 5-pound chicken) usually takes an hour or so. Adjust cooking time depending on weight.
Do you have to brine a chicken for roasting?
Brining is an excellent technique to infuse flavor and lock in moisture. Feel free to do it if you have time!
However, my recipe is already moist and loaded with flavor, so there's no brining needed. Just prep, roast, and enjoy.
How do you know when a roasted chicken is done?
Check if the juices run clear when you pierce the thigh. Another way is to check for 160° and 165° temperature by inserting an instant-read thermometer into the inner thigh.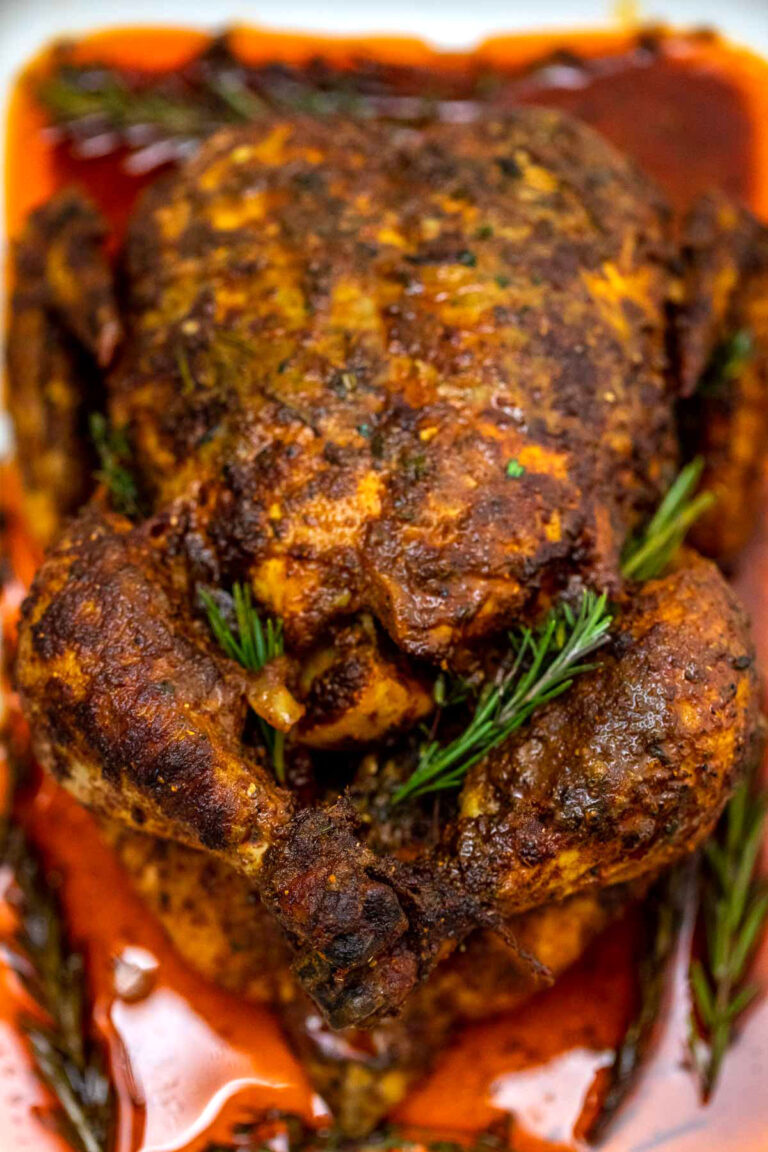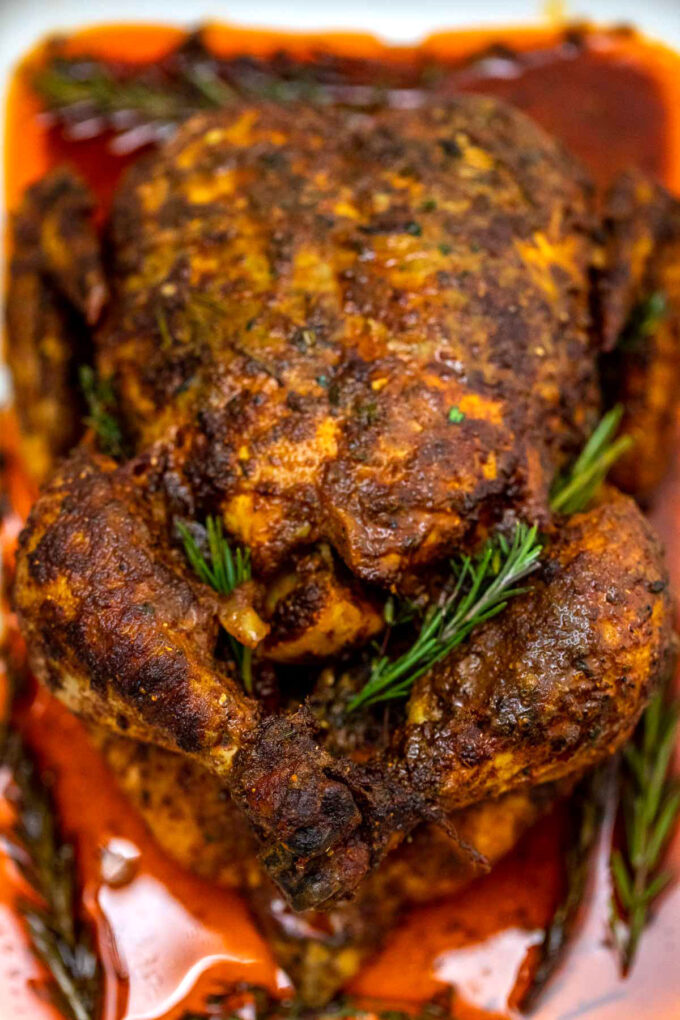 How to store:
Cool the chicken within two hours after cooking. Wrap it up using plastic wrap or foil. Keep it at the top shelf of your fridge for quality and safety. Use it up within two to four days.
To heat it in the microwave on medium for up to five minutes. However, I prefer cooking it in the oven again for 25 minutes since it tastes freshly cooked that way and also crisps up the skin.
What to serve with:
Any side dish you love with a roast will work well for this recipe.
Serve with baked or mashed potatoes, or use sweet potatoes for a nice twist. Steamed vegetables or salads are a light and tasty side as well.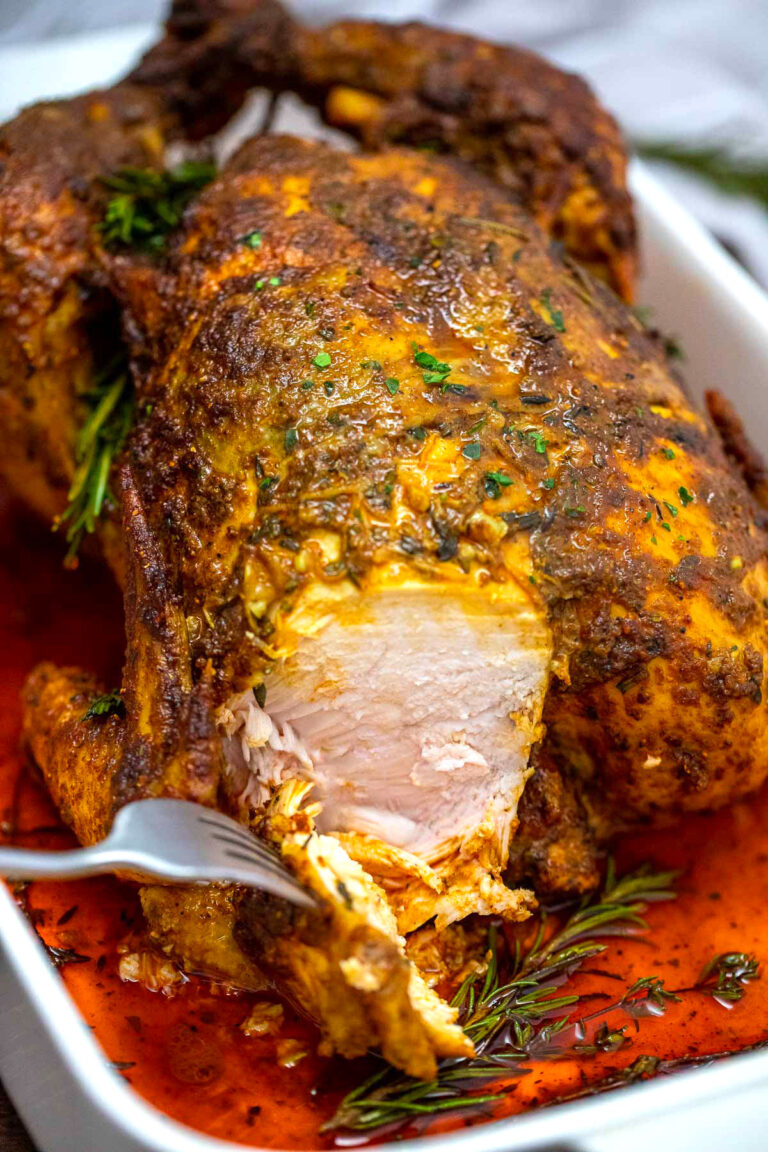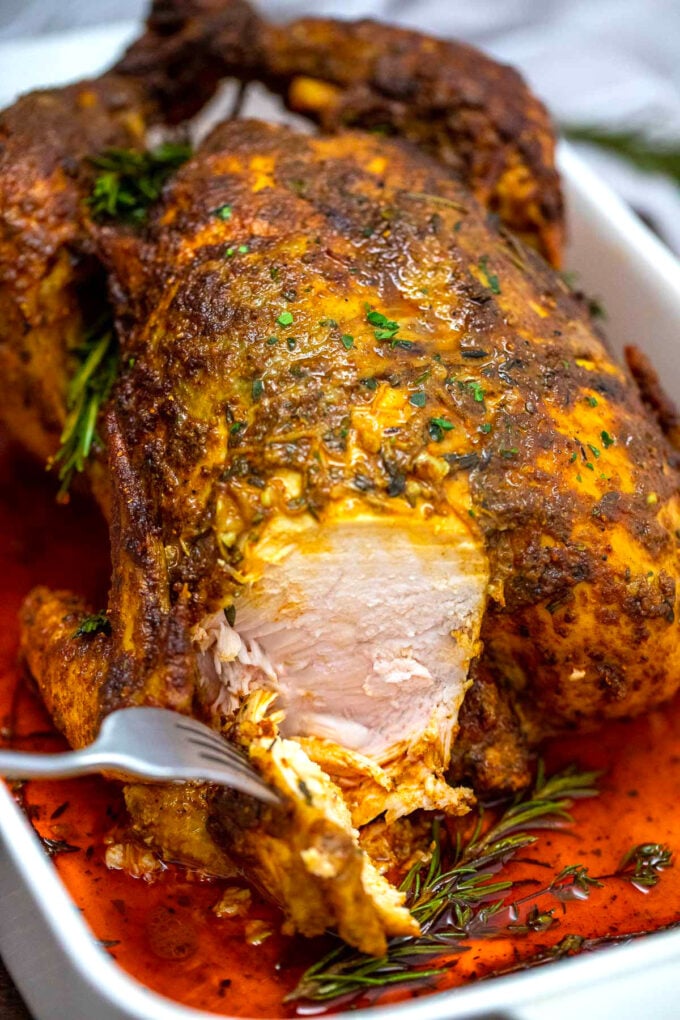 More Delicious Recipes: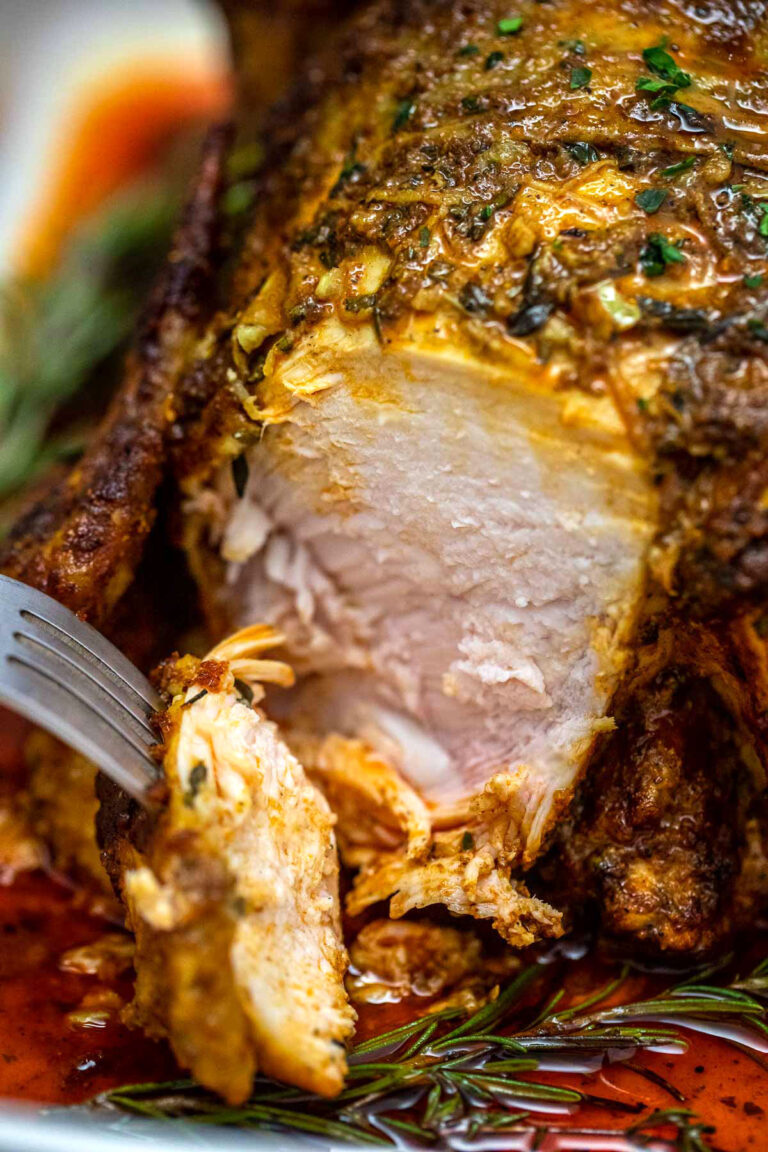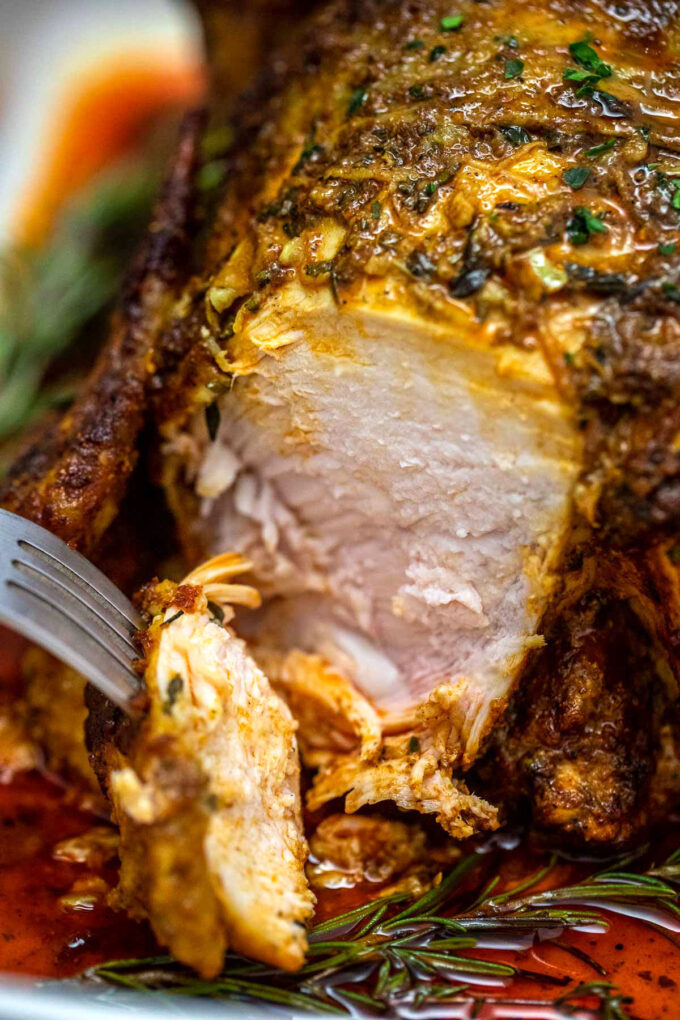 Recipe Tips:
Try to get organic, free-range chicken for the best texture.
Rub the seasonings under the skin to infuse with flavor.
Experiment with herb combinations, such as tarragon and oregano.
Add some dried chili flakes for a spicy kick.

Tent with foil if you notice the meat starting to dry out.
Season generously, including the cavity.
Don't forget to rest after cooking. This redistributes all those yummy juices inside the meat.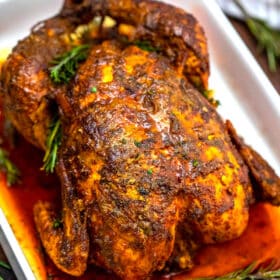 Garlic Herb Butter Roasted Chicken
Garlic Herb Butter Roasted Chicken makes the juiciest, most tender chicken thanks to the fresh butter, zesty garlic, lemons, and aromatic stuffing.
Save
Share
Print
Pin
Rate
Ingredients
4-5

pound

whole chicken

(room temperature with giblets and neck removed from the cavity)

1/4

cup

unsalted butter

(melted)

4

tablespoons

olive oil

1

lemon

(zested first and juiced)

Salt and freshly ground pepper

(to taste)

4

tablespoons

butter

(room temperature)

2

tablespoons

fresh parsley

(chopped)

1

tablespoon

fresh rosemary

(chopped)

1

teaspoon

fresh thyme

(chopped)

1

tablespoon

paprika

(optional - for a darker color when roasting)

6

cloves

garlic

(minced)

1

head

garlic

(roughly peeled and cut in half horizontally through the middle)

6

sprigs

fresh rosemary

(tied together)

3

sprigs

fresh thyme

1

lemon

(quartered)
Instructions
Preheat oven to 425 degrees F.

Lightly grease with olive oil a roasting pan and set aside.

Clean the chicken, rinse it under cold running water, pat dry with paper towels. Remove any excess fat and leftover feathers.

In a small bowl combine olive oil, melted butter, and lemon juice, stir well. Place the chicken on a cutting board or into the prepared pan and pour the butter mixture over the chicken. Use your hands to get it under the skin and inside the cavity.

Season chicken liberally with salt and pepper on the inside and outside. Sprinkle on top with the parsley.

In a medium bowl combine 4 tablespoons of butter with the chopped fresh rosemary, chopped fresh thyme, lemon zest, and minced garlic, add the paprika if using. Stir to combine.

Rub the mixture all over the chicken, and get it under the skin as well.

Stuff the chicken with the halved garlic head, fresh rosemary sprigs, fresh thyme sprigs, and the quartered lemon. Tie legs together with kitchen string.
Roast:
Place chicken breast-side up into the prepared roasting pan and roast for 1 hour and 15-25 minutes. Baste halfway through cooking, and roast the chicken until juices run clear when it is pierced with a skewer.

Baste again when the chicken is done roasting, after which turn on the broil and broil it for 2-3 minutes, just until golden.

Remove from the oven, cover with foil and allow to rest for 10-15 minutes before serving.

Use the pan juices to drizzle them over the chicken.

Serve with fresh lemon wedges on the side.
Nutrition
Calories:
413
kcal
|
Carbohydrates:
3
g
|
Protein:
21
g
|
Fat:
36
g
|
Saturated Fat:
11
g
|
Cholesterol:
97
mg
|
Sodium:
194
mg
|
Potassium:
249
mg
|
Fiber:
1
g
|
Sugar:
1
g
|
Vitamin A:
701
IU
|
Vitamin C:
18
mg
|
Calcium:
26
mg
|
Iron:
1
mg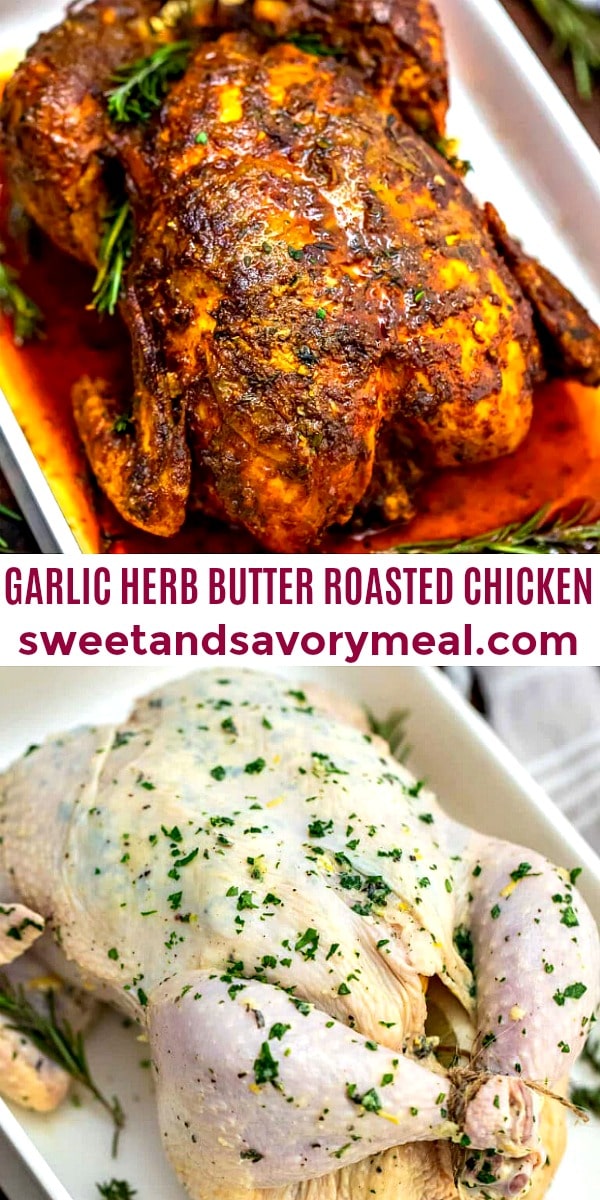 More recipes you might love