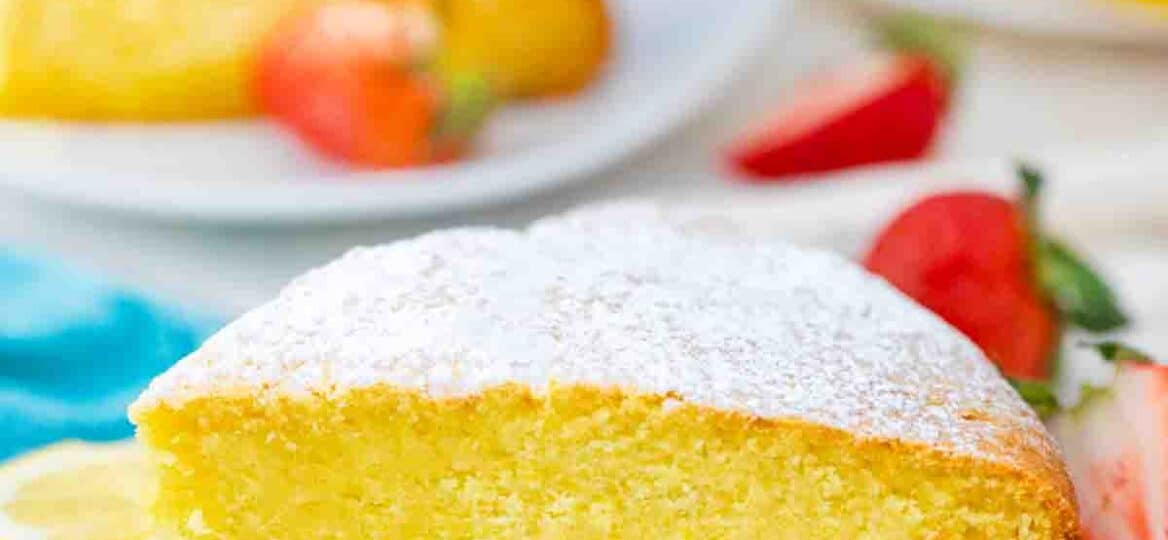 Best Lemon Ricotta Cake Recipe
Lemon Ricotta Cake is a rich and creamy cake traditionally served in Italy, it has a dense yet fluffy texture and is thoroughly infused with lemon flavor. To get this, you have to beat the butter and sugar for several minutes before combining it with the other ingredients.
Also known as Italian lemon ricotta cake, it was the Italians who first made this dessert in Sicily. In fact, they were the ones who first made ricotta cheese. In Italy, the cheese is made from sheep, goat, or even water buffalo milk but Americans typically use cow milk. Traditionally, ricotta is used in many Italian desserts including cannoli and cheesecake.
In my house, this Italian lemon ricotta cake gets 5 stars. The lemony flavor is perfectly blended with the mild creamy ricotta cheese. Topped with powdered sugar, this refreshing cake is light enough for breakfast but still makes a decadent dessert with a scoop of ice cream.
Ingredients needed:
These ingredients are what you need to make this easy lemon ricotta cake recipe. When you are ready to begin making your cake, find our recipe card at the bottom of the page with the directions and exact amounts.
All-purpose flour
Softened butter
White granulated sugar
Whole milk ricotta cheese: Or full-fat ricotta cheese.
Large eggs
Vanilla extract
Lemon zest
Fresh lemon juice
Baking soda: Not baking powder.
Salt
Powdered sugar (or icing sugar): For dusting the top of the cake.
How to make lemon ricotta cake from scratch?
Preheat and prepare: First, preheat oven to 350 degrees F. Prepare a 9-inch springform pan using butter and set aside.
Make the ricotta mixture: Next, in a large mixing bowl or stand mixer, add softened butter and sugar, and cream until combined. Add the ricotta cheese and blend for about four to five minutes or until light and fluffy.
Mix the wet ingredients: Now, stir in the eggs, one at a time. Then, add the lemon juice, zest, and vanilla extract.
Combine: After, mix the flour, baking soda, and salt in a medium bowl before adding the flour mixture to the wet ingredients. Let it mix until it is fully combined, scraping the sides of the bowl as you go.
Bake your cake: Lastly, pour the lemon ricotta cake batter into the prepared pan and bake for 45 to 55 minutes or until it passes the toothpick test.
Cool, dust, and serve: Finally, let the cake cool in the pan for 15 minutes before removing the collar. Let it cool completely on a wire rack and dust with powdered sugar before serving.
Recipe variations:
Skim ricotta: You can use part-skim ricotta cheese but it will not be as creamy. It is the creamy ricotta cheese that gives this delicious cake such a perfect texture.
Sour cream: If you choose to use skim ricotta, replace half of it with sour cream for a moist cake without all the fat.
Almond extract: This traditional Italian cake also tastes great with almond extract instead of vanilla extract.
Other flavors: In fact, you could flavor your cake any way you like with different flavored extracts such as strawberry, orange, or lime.
More lemon flavor: If you want even more lemon flavor, add a teaspoon of lemon extract.
Different flour: Feel free to use a different flour per your preferences. For example, if you have allergies, you can use some type of gluten-free flour like almond flour.
Cake flour: Similarly, you can use cake flour if you want an extra fluffy cake.
How to serve:
This delicious lemon ricotta cake is really easy to make and can be on your table for dessert in just an hour. Try one of these fantastic serving ideas or share one of your own in the comments section at the bottom of the page.
This amazing lemon ricotta cake would be great with a bit of lemon glaze on top.
You could also top your yummy lemon cake with a dollop of whipped cream. Try our easy recipe for homemade whipped cream.
Why not put some fresh berries on top like raspberries, blackberries, or sliced strawberries?
Instead of powdered sugar, coat the entire cake with frosting like our rich cream cheese frosting.
Plain ricotta cake is good but everything is more festive with sprinkles or chocolate chips on top.
Serve this fabulous cake with a scoop of ice cream on the side. Try this wonderful recipe for Oreo ice cream that only needs three ingredients.
Add a coating of chopped nuts like walnuts, pecans, or almonds.
Frequently asked questions
What is a springform pan?
Springform pans are round cake pans that have removable sides and bottoms. There is an interlocking band of metal that can be removed after your cake is finished cooking. Then it sits in the base without the sides to finish cooling. This helps prevent messing up your cake when removing it from the pan.
Does it matter if I use salted or unsalted butter?
Yes, if you use salted butter, you should leave out or lower the amount of salt you add to your recipe. Otherwise, it can be too salty. In some dishes, just the cream is needed while others use salt for taste. Salt also keeps your butter fresh longer because salt is a preservative.
What difference does it make if I use melted butter?
Using room-temperature butter will help your cake have the fluffy texture you want for this recipe. It can be creamed with sugar without losing its texture, giving a more even distribution of fat in your cake. This makes your cake more tender and airy because the fat traps the air bubbles.
Why do some recipes call for a pie crust?
Some say the perfect Italian dessert like delicious lemon ricotta cakes should be served in a pie crust instead of using a prepared springform pan. Because it is similar to a cheesecake in form and texture, using a pie crust just makes sense if that is what you like. You can use a store-bought prepared crust or make one of your own from cookies or dough.
Why is it important to use a preheated oven?
This is probably the most important step in any recipe. If you start cooking your food in a cold oven, the cooking temperature will not be correct. For example, if your cake needs to cook for 45 minutes at 350 degrees F, putting it in before preheating could mean that it did not reach the correct temperature until it was almost halfway done cooking. This leads to uneven cooking, burning, and possibly raw food.
What are the nutrition facts in this recipe?
Italian servings are a bit different than American servings, but we are using the US version. Each serving of this scrumptious cake has 500 calories, 120 grams cholesterol, and 90 mg sodium. It also has 12 grams of fat, 7 grams saturated fat, 90 carbs, and 60 grams sugar. On the other hand, it also has 60 mg vitamin C, 170 mg calcium, 400 mg potassium, 9 grams protein, and 4 mg iron.
How to store leftovers:
Store: You can store your leftover ricotta cake in an airtight container in the fridge. It will stay fresh for about a week.
Freeze: To freeze your leftover cake, wrap it in plastic and put it in a freezer bag or freezer-safe container. It can stay frozen for up to 90 days.
Thaw: For the best results, thaw your cake in the fridge overnight.
More recipes with lemons:
Baking tips:
Make sure your ingredients are at room temperature—especially the eggs, butter, and cheese.

Use fresh lemon juice and zest for the best lemon flavor. Juice from fresh lemons always tastes better than bottled lemon juice.
To pass the toothpick test, a toothpick inserted into the middle of the cake should come out dry or with just a few crumbs.
Feel free to use a regular cake pan if that is all you have. But line it with parchment paper to keep it from sticking.
You could also use two round cake pans to make a layer cake.
Always use your oven's middle rack so it cooks evenly. Otherwise, the top may get too brown, or the bottom may burn.
This is a great make-ahead recipe. You can refrigerate for up to a week or freeze for several months.

If you are looking for more lemon dessert recipes, check out our food blog.
Lemon Ricotta Cake
Ingredients
3/4

cup

unsalted butter

softened

1 1/3

cups

granulated sugar

15

oz

whole milk ricotta cheese

3

large eggs

room temperature

1

teaspoon

vanilla

1

large lemon

zested and juiced

1

teaspoon

baking soda

1/4

teaspoon

salt

1 1/2

cups

all-purpose flour

Powdered sugar

for dusting the top of the cake
Instructions
Preheat oven to 350 degrees F.

Grease a 9-inch springform pan with butter or baking spray, and set aside.

In a large mixing bowl or stand-up mixer, beat butter and sugar until creamy and combined. Scrape the sides and bottom of the bowl with a rubber spatula.

Add the ricotta cheese and whisk on medium speed until light and fluffy, about 4 to 5 minutes.

After that, mix in the eggs, one at a time.

Next, add in the vanilla, lemon zest, and lemon juice and whisk to combine.

Stir in the baking soda and salt. And add the flour and mix until just combined, make sure to scrape the sides and bottom of the bowl with a rubber spatula.

Pour the batter into the prepared pan and bake for 45-55 minutes, or until a toothpick inserted in the middle of the cake comes out clean, or with just a few crumbs, but NOT raw batter.

Let the lemon ricotta cake cool in a pan for 10-15 minutes before removing the ring. Continue to cool it on a wire rack.

Dust it with powdered sugar before serving.
Deliciousness to your inbox
Enjoy weekly hand picked recipes and recommendations