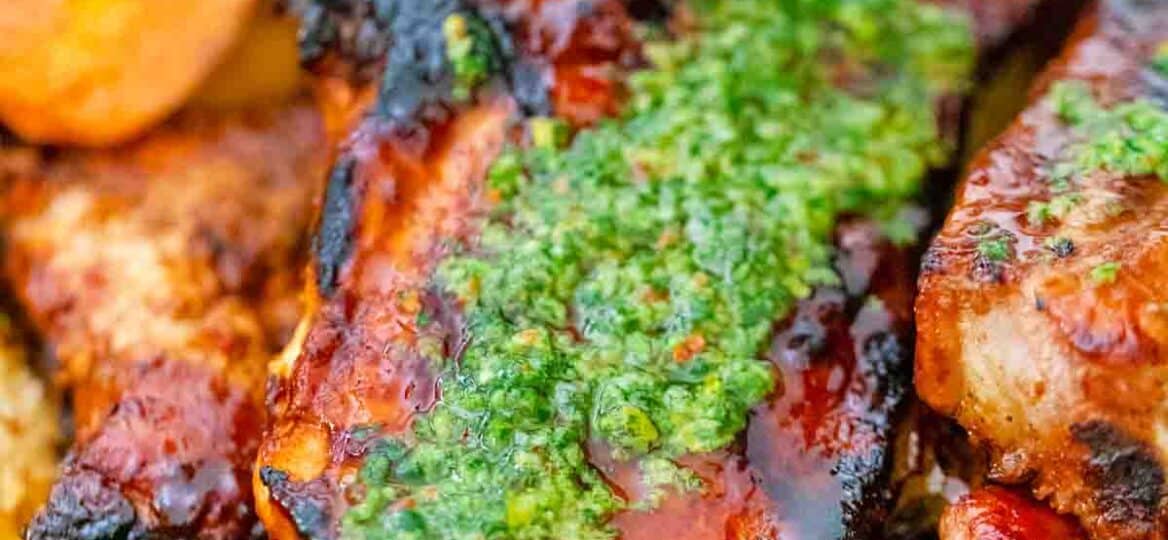 Lemon Chimichurri Pork Chops Recipe
Lemon Chimichurri Pork Chops are a slightly spicy bbq and sweet chili glazed grilled pork chops, topped with a homemade chimichurri sauce. These tender and juicy pork chops with chimichurri go great with any side dishes you like from veggies to potatoes. Serve them with whatever you like or just eat them by themselves.
If you are interested in other grilled dishes, try our Grilled Steak and Marinade. It is made with all sorts of yummy flavors including Worcestershire, pineapple juice, lemon juice, honey, rosemary, oregano, and garlic. These Garlic Butter Steak Bites are also scrumptious, made from sirloin steak, butter, Worcestershire, garlic, rosemary, parsley, and red pepper flakes.
Did you know there are five different kinds of pork chops? These include shoulder chops, rib chops, sirloin chops, porterhouse chops, and boneless pork chops. The rib chop is the most common, cut from between the shoulder and the loin. A loin chop is also commonly chosen. It is shaped like a T-bone steak with loin on one side and tenderloin on the other.
We used rib chops for this mouthwatering meal, but you can use whichever cut you like. To make pork chops with chimichurri sauce, you do not have to work all day in the kitchen as some may think. This easy meal can be done in minutes to have your dinner on the table in under an hour.
Are you looking for other pork recipes? How about pork tenderloin? Try our bacon-wrapped pork tenderloin seasoned with minced garlic, sliced jalapenos, honey, and, of course, bacon. And this slow cooker pork stew is another way to enjoy pork. Made with red wine, butter, onion, garlic, tomato paste, beef broth, and bay leaves and served with mini red potatoes, peas, carrots, and celery.
Follow us on Pinterest for more delicious recipes!
Ingredients needed:
To make these chimichurri lemon pork chops, you need these simple ingredients. When you are ready, find our recipe card at the bottom of this page for the measurements and directions.
Bone in pork chops: Ours were about one inch thick.
Molasses
Sweet chili sauce
Barbecue sauce
Kosher salt
Black pepper
Chimichurri:
Chopped garlic cloves
Fresh cilantro
Fresh parsley
Extra-virgin olive oil
Fresh lemon juice
Jalapeno: Deseeded.
Lemon zest
Dried Italian seasoning
Red pepper flakes
Kosher salt
How to make chimichurri lemon pork chops from scratch?
Make chimichurri: To begin, add all the chimichurri ingredients to a food processor and mix on low for one to two minutes. Just until the cilantro and parsley are uniformly chopped. Put the chimichurri in a mason jar and chill until ready to use.
Make the sauce: Next, stir the sweet chili sauce, molasses, and barbecue sauce in a small bowl.
Preheat the grill: Then, preheat your barbecue grill to medium heat.
Dry, season, and grill: Now, pat each pork chop dry with paper towels and season generously with salt and pepper. Put them on the hot grill, slathering the barbecue sauce mixture on top. Cover and let them cook for five to six minutes before flipping.
Grill until done: After, flip the chops and give them another good slathering of sauce before cooking for another five to six minutes. Your grilled pork chops should read 155 degrees F with an instant-read thermometer when you remove them from the grill. Then, let them rest until they are 160 degrees F.
Top and serve: Finally, top your pork chops with a dollop of chimichurri.
How to make chimichurri lemon pork chops in the oven?
Chop the chimichurri ingredients: First, make your chimichurri by mixing all the ingredients in a food processor for one or two minutes. Chill until ready to use.
Preheat and prep: Then, preheat the oven to 400 degrees F and prepare a grill pan with nonstick cooking spray.
Mix it up: While you wait for the oven to heat, mix the barbecue sauce, chili sauce, and molasses in a small bowl.
Baste and bake: Next, pat your pork chops dry and then season with salt and pepper before placing them on the grill pan. Coat the top in barbecue sauce and then bake for six to seven minutes.
Bake some more: Now, turn your pork chops over and coat the other side with sauce. Cook for another six to seven minutes. The internal temperature should be 155 degrees F when you take them out of the oven but let them rest until they reach 160 degrees F.
Time to eat: Lastly, add a heaping tablespoon of fresh chimichurri to your pork chops before serving.
Recipe variations:
Lime zest: For a different citrusy taste, use lime zest and juice instead of lemon.
Fresh herbs: Feel free to add your own grilling herbs and spices like oregano, thyme, rosemary, or smoked paprika.
Different oil: Instead of olive oil, you can use vegetable oil or whatever you like.
No bones: Instead of bone-in chops, you can use boneless but grill them for a shorter time.
No heat: If you are not a fan of spicy food, you can leave out the jalapeno and red pepper flakes.
Different meats: This recipe also works with chicken, turkey, and beef.
How to serve:
You can serve these lemony chops for dinner tonight because it takes less than 30 minutes to prepare them. We have some great serving ideas here for you to try. You can also share your own ideas at the bottom of this page in the comments.
Squeeze a drizzle of lime juice on your chops before serving for an extra citrusy flavor.
These tasty pork chops would go great with mashed potatoes. Try our extraordinary recipe for perfectly creamy mashed potatoes.
Add a handful of shredded mozzarella or Mexican-style cheese while they are still warm for an ooey-gooey cheesy topping.
Another terrific side dish for this dinner is this creamy one-pot mac and cheese.
Sprinkle some bacon bits on top of these yummy chops because bacon goes with everything.
Rice is always a great Mexican side dish like Mexican rice or Mexican street corn.
Leftovers can be shredded and used in a salad or sandwich.
Frequently asked questions
What is chimichurri?
Chimichurri is considered to be an Argentine barbecue or marinade sauce. It is used as a baking ingredient, a way to marinate meat, and as a condiment. The traditional chimichurri is made from chili pepper, olive oil, vinegar, garlic, and parsley. However, like in this recipe, sometimes other ingredients like cilantro, lemon, and Italian seasonings are used.
How long does it take pork chops to cook?
Typically, pork chops take about seven to eight minutes per half an inch at 400 degrees F. This means one-inch chops will take between 14 and 16 minutes. However, it is best to use your own calculations depending on the size of your pork chops and the temperature of your grill. The best way to make sure they are cooked all the way is by using a meat thermometer. Remove them from the grill when they reach 155 degrees F.
Why are my pork chops dry?
It is possible that you cooked them too long. You should start checking your chops after four minutes just in case using a meat thermometer. Some grills cook slower or faster than others. Your pork chops may also be dry if you use too high of a temperature. Again, some grills cook hotter than others.
What are the nutrition facts in this recipe?
Each pork chop has 500 calories, 44 carbs, and 16 grams fat with 5 grams saturated fat. It also has 80 mg cholesterol, 900 mg sodium, and 25 grams sugar. On the other hand, you will also get 3 mg iron, 30 mg vitamin C, 144 units vitamin A, 2 grams fiber, 773 mg potassium, and 29 grams protein. These nutrition, calories, and fat numbers are estimates.
How to store leftovers:
Store: Refrigerate leftover pork chops in an airtight container for two to three days.
Freeze: To freeze, wrap the leftovers in plastic wrap and then place them in a freezer bag. You can freeze them for up to 90 days.
Thaw: The night before serving, move your frozen chops to the fridge to thaw.
Reheat: You can reheat pork chops in the microwave for 45 to 90 seconds, depending on how many you are reheating.
More pork chops recipes to try:
Cooking tips:
To get the grill marks, sear the chops on high heat for one minute on each side before you reduce heat and cook until done.
If you are not a huge fan of cilantro, you can leave that out of the chimichurri.
Cut down on prep time by using premade chimichurri. It can be homemade or storebought.
Make sure you remove the seeds from the jalapenos unless you like extra spicy food.
When handling jalapenos, wear gloves. The oils can soak into your skin and if you rub your eyes, they will burn.
If you like your sauce hot, put it in a medium pot on the stove on low for a few minutes or heat it in the microwave.
Bone-in chops are juicier and taste richer than boneless chops.
Be sure to let the pork chops rest so the juice can redistribute.
Lemon Chimichurri Pork Chops
Ingredients
4

bone-in pork chops

about 1-inch thick

Salt and pepper

to taste

1/4

cup

barbecue sauce

2

tablespoons

sweet chili sauce

1

tablespoon

molasses
Chimichurri sauce:
4

cloves

garlic

chopped

1

cup

fresh parsley

1/2

cup

fresh cilantro

1/2

cup

extra-virgin olive oil

1

large lemon

juiced

1

jalapeno

deseeded

1

teaspoon

lemon zest

1

teaspoon

dried Italian seasoning

1

teaspoon

red pepper flakes

1

teaspoon

salt

plus more to taste
Instructions
Chimichurri sauce:
Add all the chimichurri sauce ingredients to the bowl of a food processor. Blend on low for 1-2 minutes or until parsley and cilantro are uniformly chopped. The mixture should be smooth, but still have some texture from the herbs.

Transfer the sauce to an airtight container and refrigerate for up to a week.
Grill the pork chops:
Mix the bbq sauce, molasses, and sweet chili sauce in a medium bowl.

Preheat the grill to medium heat.

Also, you can use a grill pan, on the stove over medium heat.

Pat dry pork chops with paper towels, and season with salt and pepper on both sides.

After that, arrange them on the grill. Top the pork chops with some barbecue sauce mixtures using a kitchen brush. Cover and let cook for 5-6 minutes before flipping.

Flip and slather the chops with the remaining barbecue sauce, and cook covered for another 5-6 minutes. A meat thermometer inserted into the center of the chops should read 155F/68C.

Remove from the grill when and let them rest until the temperature reaches 160F/71C.

Serve topped with a generous spoonful of chimichurri and grilled vegetables.