Bacon Wrapped Pork Tenderloin
Bacon Wrapped Pork Tenderloin is crispy on the outside and juicy on the inside. Made with garlic, honey, and jalapenos for extra flavor.
We love making easy and delicious Pork dishes like our favorite Slow Cooker Peach Pork, Best Instant Pot Ribs, and Garlic Jalapeno Pork Loin.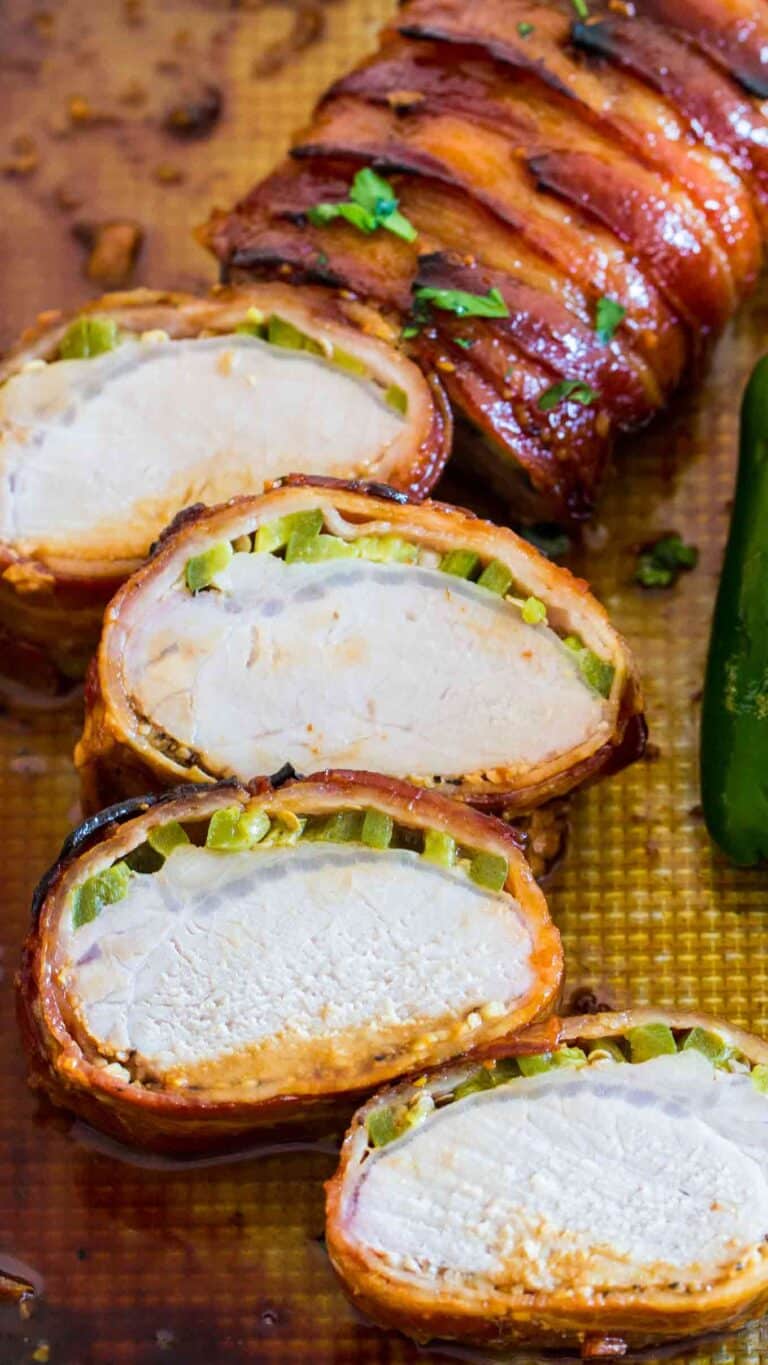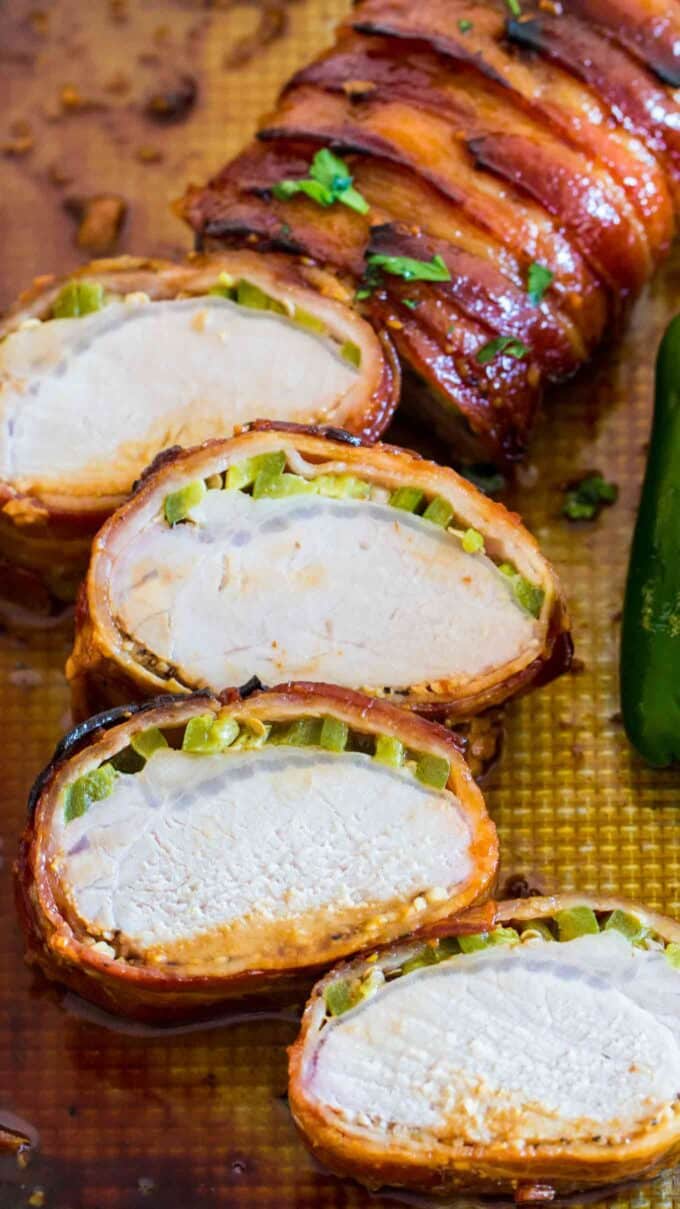 Bacon Wrapped Pork Tenderloin
Bacon Wrapped Pork Tenderloin is the perfect combination of sweet and savory. The tenderloin is flavored with garlic and lots of fresh jalapenos, after that it is wrapped in bacon and smothered in honey. Baked to crispy perfection on the outside, and is tender and juicy on the inside.
The garlic adds so much flavor, and the honey is perfect when combined with bacon and the heat from the jalapenos. This Bacon Wrapped Pork Tenderloin can be an easy dinner, as it requires few ingredients or you can make it the centerpiece of a more formal dinner because everything is better with bacon! This roast is so tasty, watch everyone asking for seconds.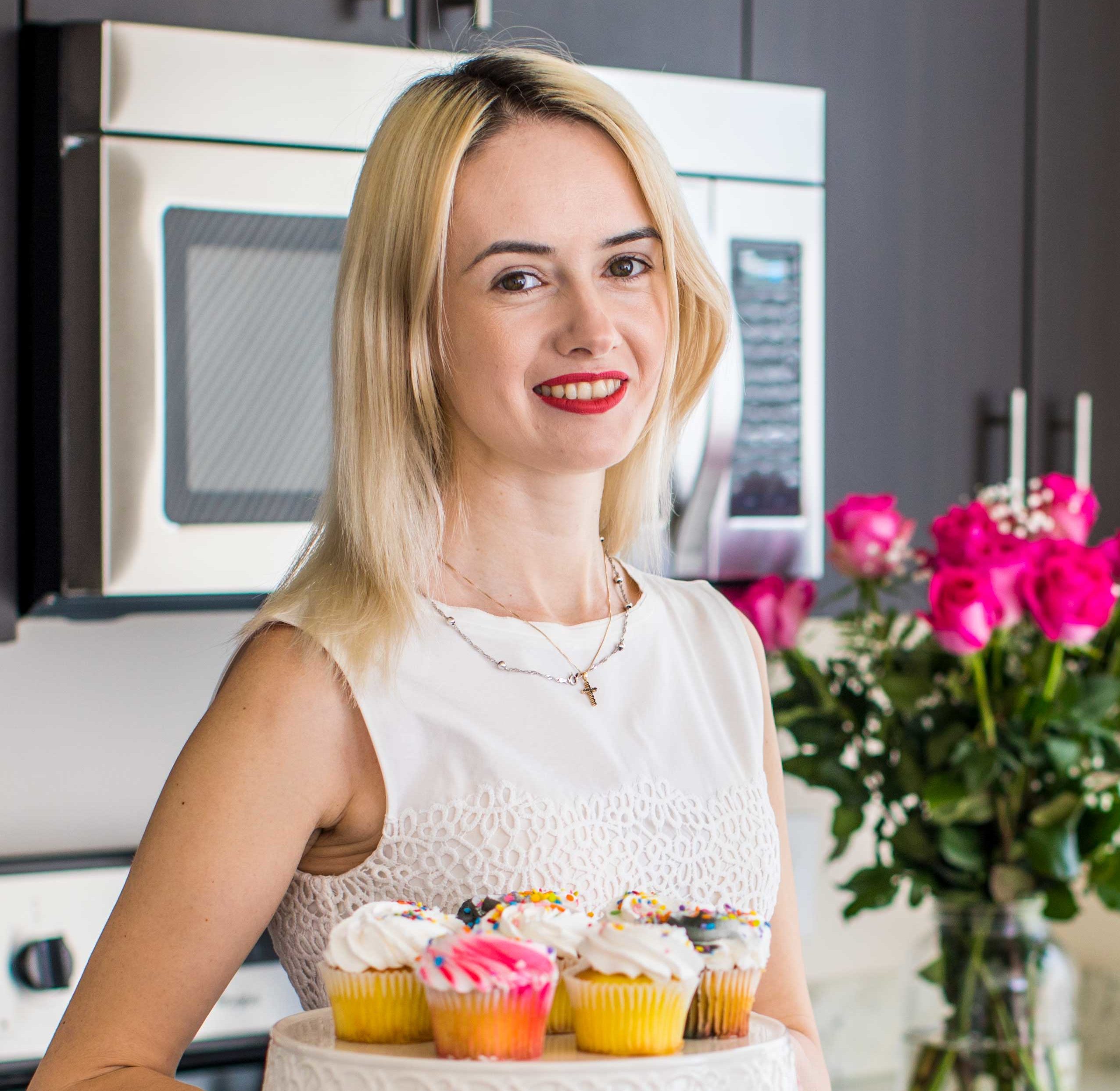 Follow us on Pinterest for more delicious recipes!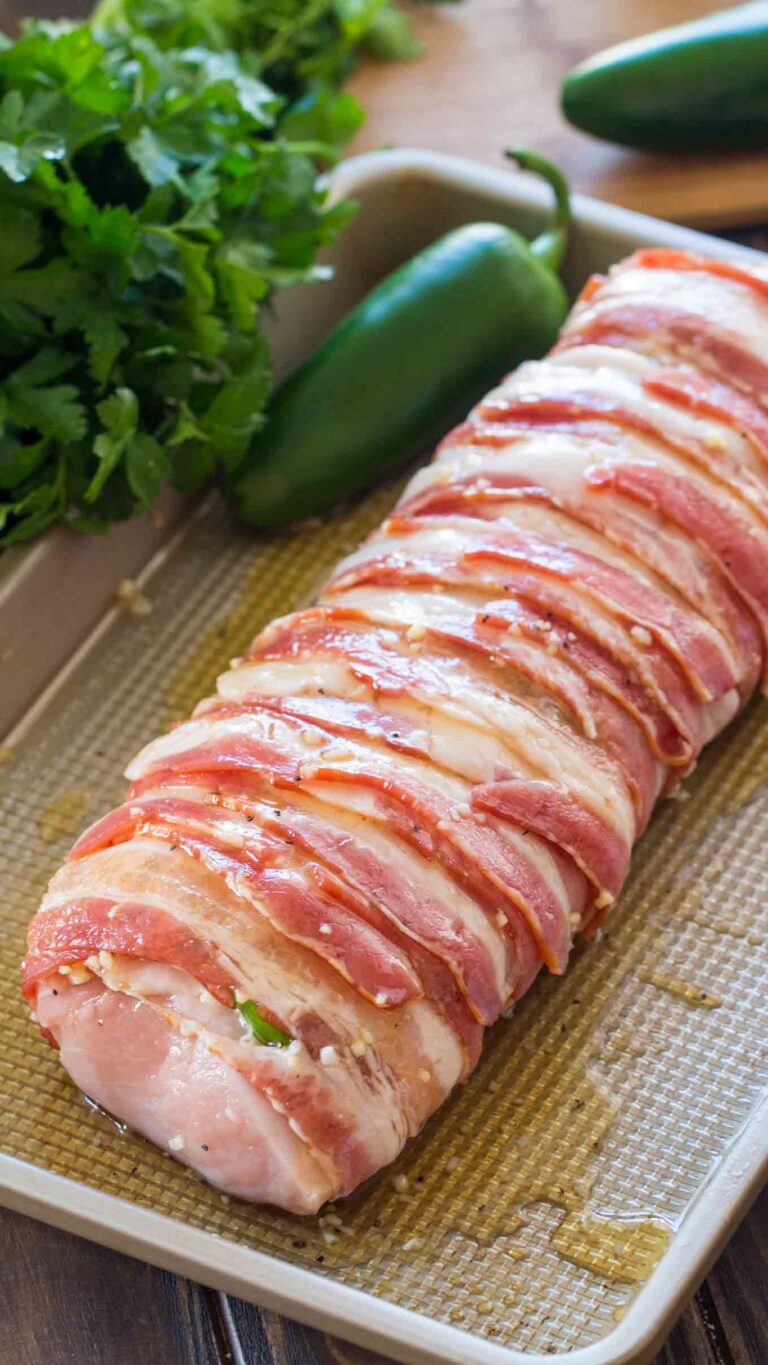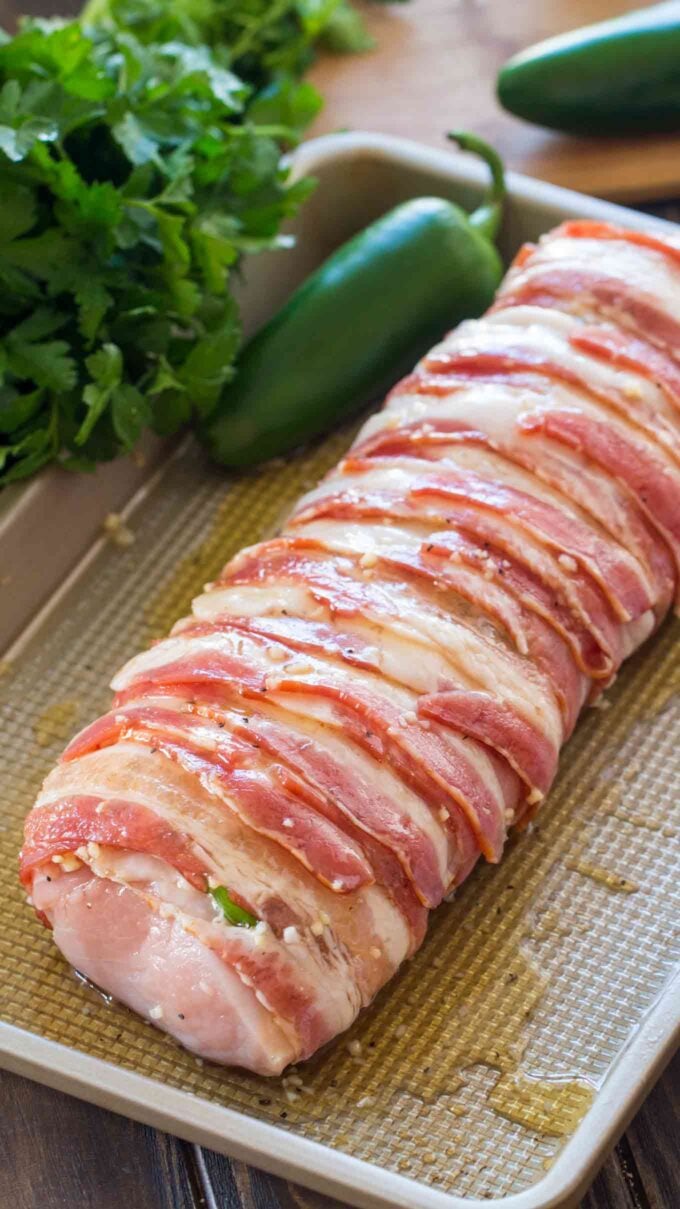 Bacon Wrapped Pork Tenderloin Recipe Tips:
Start this recipe with good quality meat, and make sure the pork tenderloin is at room temperature before cooking.
The garlic and the jalapeños are optional, you can reduce the garlic by half if you prefer less. Also, you can skip the jalapeños all together, if you don't like them or if you don't have any on hand.
The honey can be replaced with maple syrup. I prefer to use honey, as it produces a better glaze.
Make sure you use longer and thinner bacon slices, that can wrap around the pork 1 1/2 times.
Basting the tenderloin while cooking is a very important step, so please don't skip it.
Cook until the pork is no longer pink in the center. An instant-read thermometer inserted into the center should read 145 degrees F (63 degrees C) for medium-rare and 160° F. for medium.
After removing the roast from the oven, place it onto a platter, cover with foil and let it rest for 10-15 minutes before slicing and serving.
To get that bacon extra crispy, broil the roast 5 inches from heat for about 3 to 5 minutes or until bacon is crisp and make sure you baste the roast multiple times!
You can also make this in advance, assemble and refrigerate. Just make sure the before you bake, to remove the pork from the fridge to bring it to room temperature.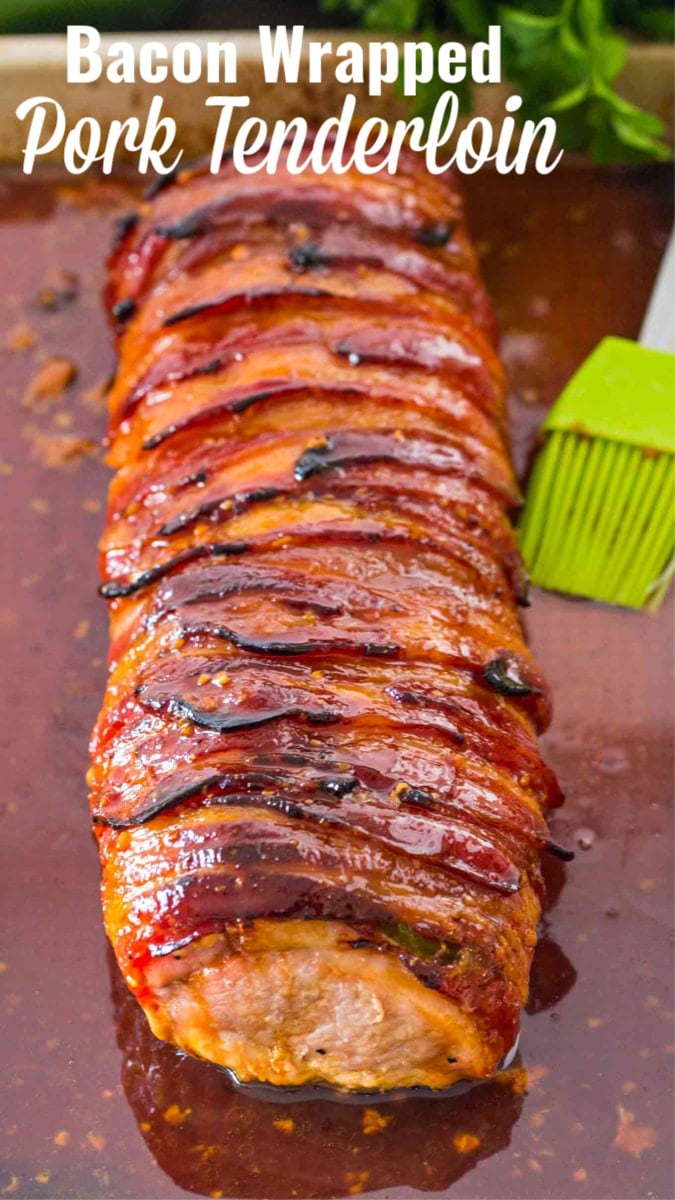 What is the difference between pork loin and pork tenderloin?
The main difference is that these are not cut from the same part of the animal, they also look very different. Pork tenderloin is thin and small, while a pork loin is wide enough that you can cut steak-like pieces from it.
What to serve with this Bacon Wrapped Pork Tenderloin?
Some great suggestions are listed below:
Looking for more Bacon Recipes? Check these out:
Tools I used to make this Bacon Wrapped Pork Tenderloin Recipe:
Bakeware Set – I have this set and I love it, I used the smaller pan for this recipe.
Save Recipe
Bacon Wrapped Pork Tenderloin
Author: Catalina Castravet
Serves: 8 servings
Prep time:

10

minutes
Cook time:

30

minutes
Total time:

40

mins
Nutrition information
Calories: 119
Carbohydrates: 9
Protein: 11
Fat: 3
Saturated Fat: 0
Cholesterol: 36
Sodium: 102
Potassium: 243
Fiber: 0
Sugar: 8
Vitamin A: 40
Vitamin C: 4.6
Calcium: 6
Iron: 0.6
g
Save Recipe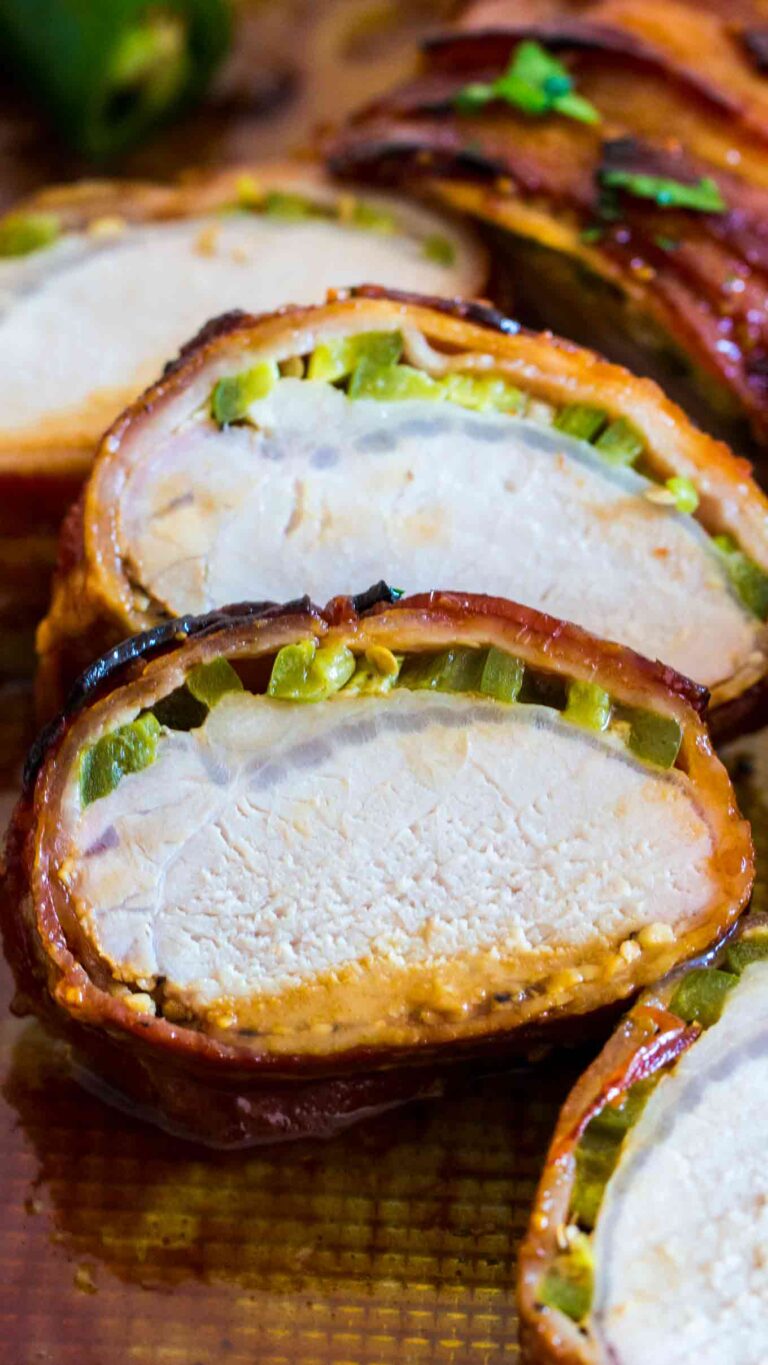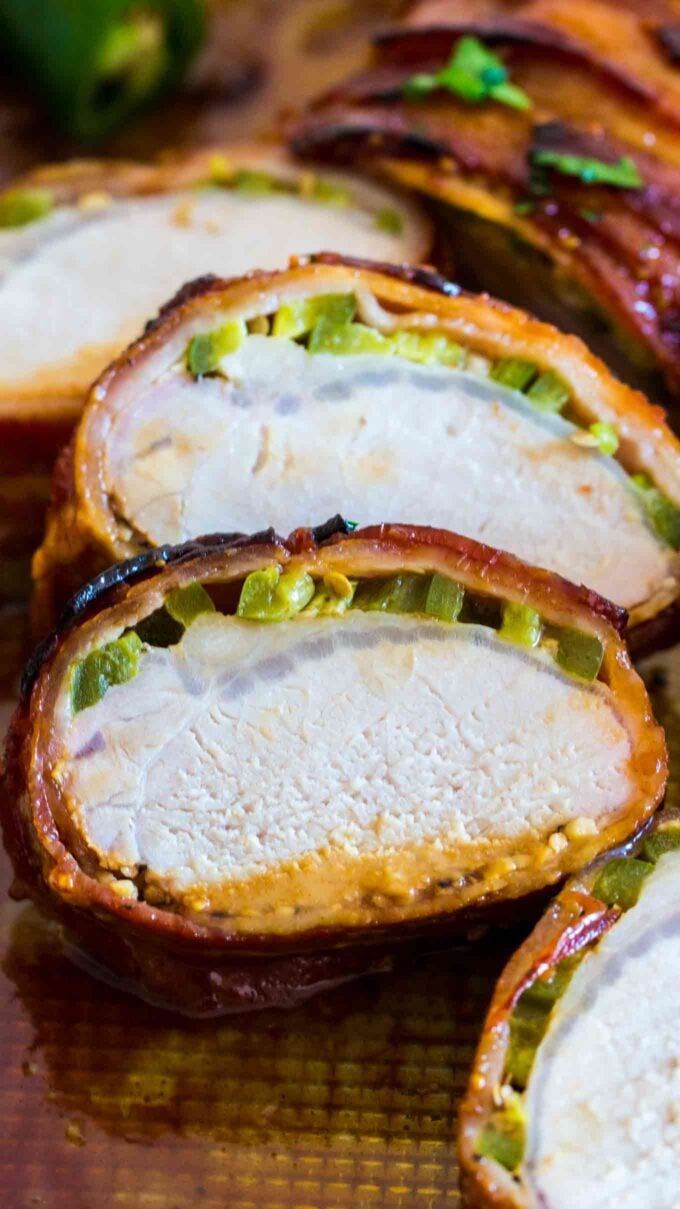 More recipes you might love