Cheese Ball Recipe
This post may contain affiliate links. Please read my disclosure policy.
Cheese Ball made with creamy goat cheese, crispy bacon crumbs, fresh green onions, sharp cheddar cheese and covered in sweet dried cranberries.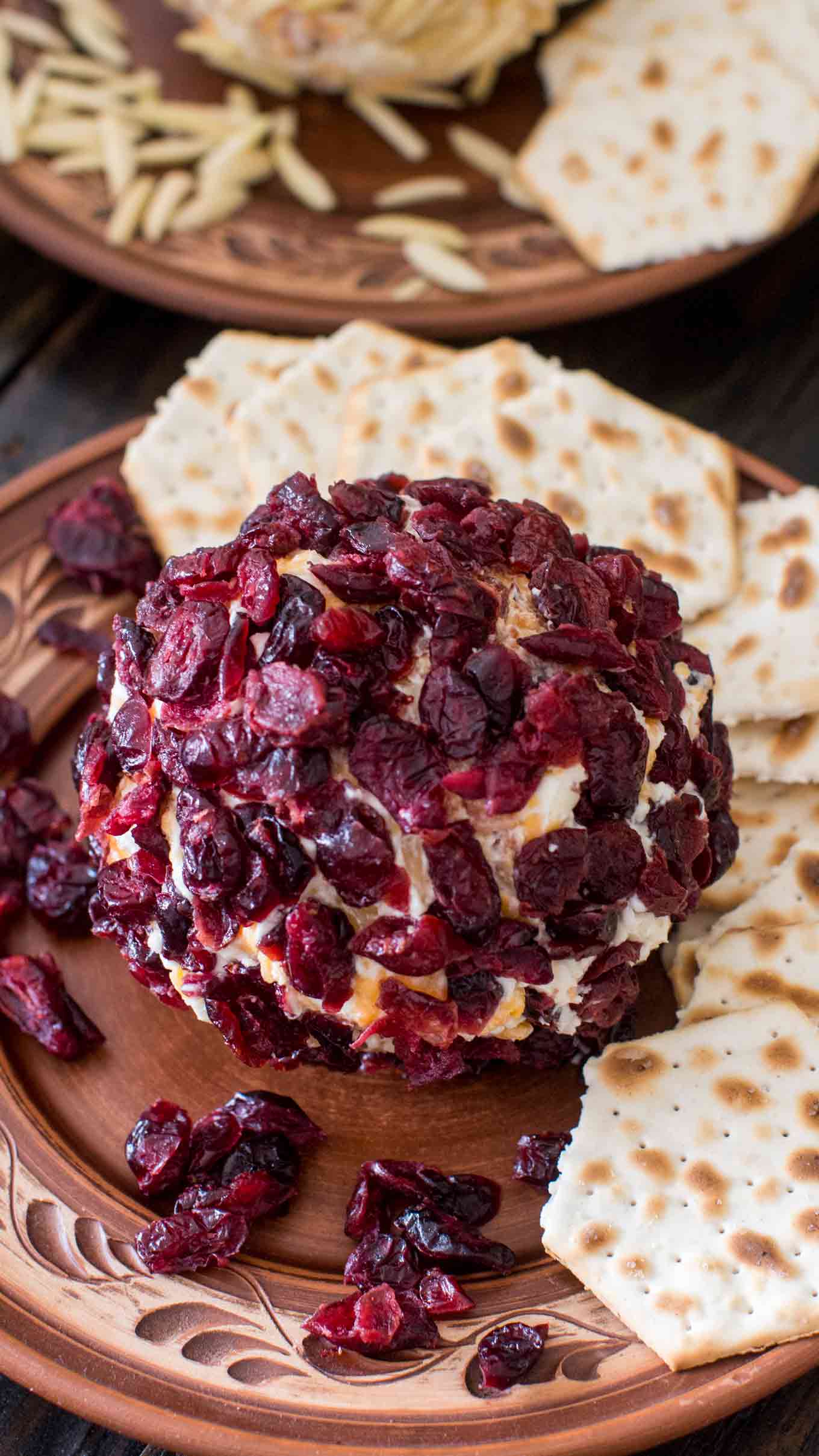 Cheese Ball covered in sweet cranberries or slivered almonds, is the perfect party appetizer. A burst of flavors and textures are captured in this cheese ball recipe, that will disappear in minutes, so you better make two. This is one of the easiest and most delicious appetizers you can make. Also, it is highly versatile, you can use your favorite cheese combos and mix-ins. You can make it more on the sweeter side or savory if you want. I am very happy to partner with the French Ministry of Agriculture, who sponsored this post so I can show you how I bring France into my kitchen with delicious wine and cheese!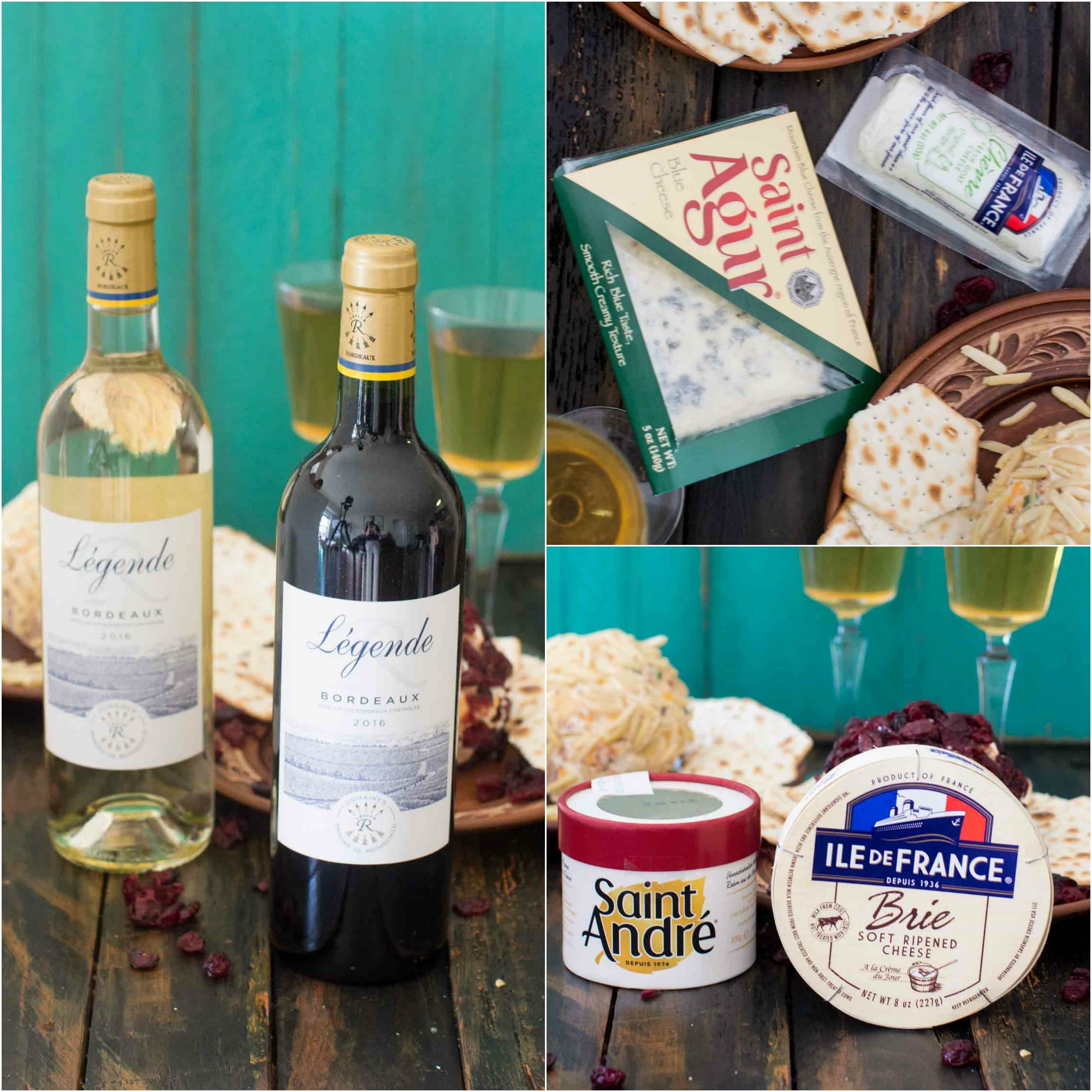 What is a Cheese Ball?
A mixture of dressing mix and usually cream cheese, cheddar cheese shaped into a ball. The ball is rolled into chopped nuts or dried fruits like cranberries. Refrigerated and covered until ready to serve with crackers.
How do you make an easy cheese ball recipe?
Cheeseballs are usually very creamy, so you have to combine cream cheese, mayo or dressing with a harder cheese, like cheddar cheese or parmesan. You can also combine cream cheese with goat cheese, or creamy blue cheese. After that you add your mix-ins, like bacon, dried fruits, nuts and green onions. You shape the mixture into a ball, add chopped nuts onto a plastic wrap and then roll cheese ball in the nuts. Roll up into plastic wrap and refrigerate.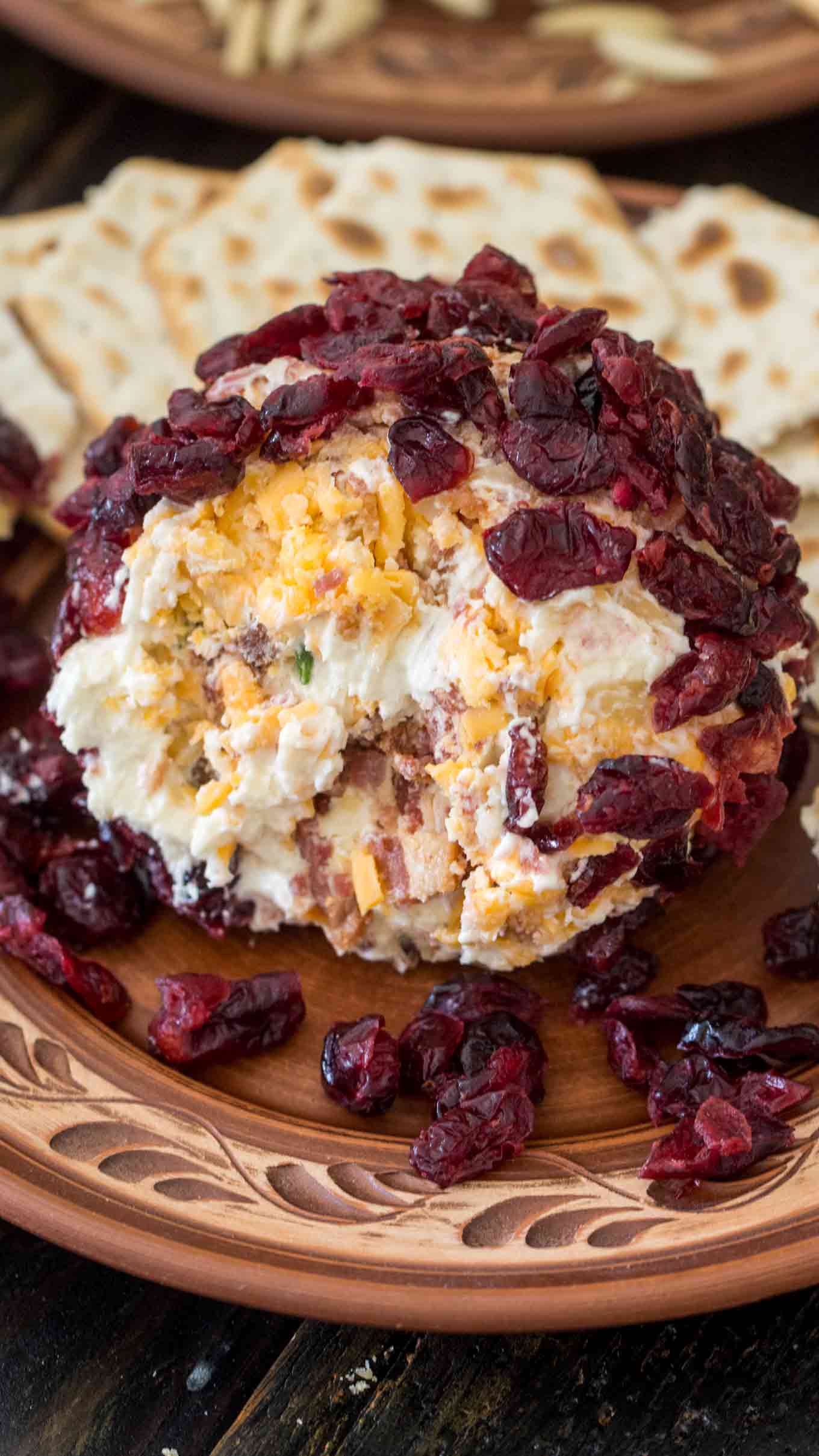 Which cheese to use for cheese balls?
Blue Cheese – I like St. Agur Blue Cheese, a unique and intense Blue cheese with a smooth buttery finish and  rich in butterfat (double crème). You can find it at Whole Foods, TJ, Harris Teeter, Publix, Winn-Dixie etc.
Goat Cheese – I like Ile De France Goat Cheese, a traditional fresh Chevre from Poitou Charentes, using only the freshest goat's milk in the region. You can find it at Harris Teeter, Publix, Shoprite, Albertson.
Sharp Cheddar – adds a delicious nutty flavor.
Smoked Gouda – creamy and smoky!
Feta Cheese – you can even use the one with herbs for extra flavor.
Can you freeze a cheese ball?
I would not recommend doing so, the cheese ball can be refrigerated for up to two weeks, but for best flavors and textures, it is best to serve it, a few days after preparing it. Refrigerate covered in plastic wrap, so the cheese keeps its moisture and doesn't dry out. Always consider the expiration dates of the cheese that you used. If you used fresh herbs, like green onions, that will shorten the storage period.

MY LATEST VIDEOS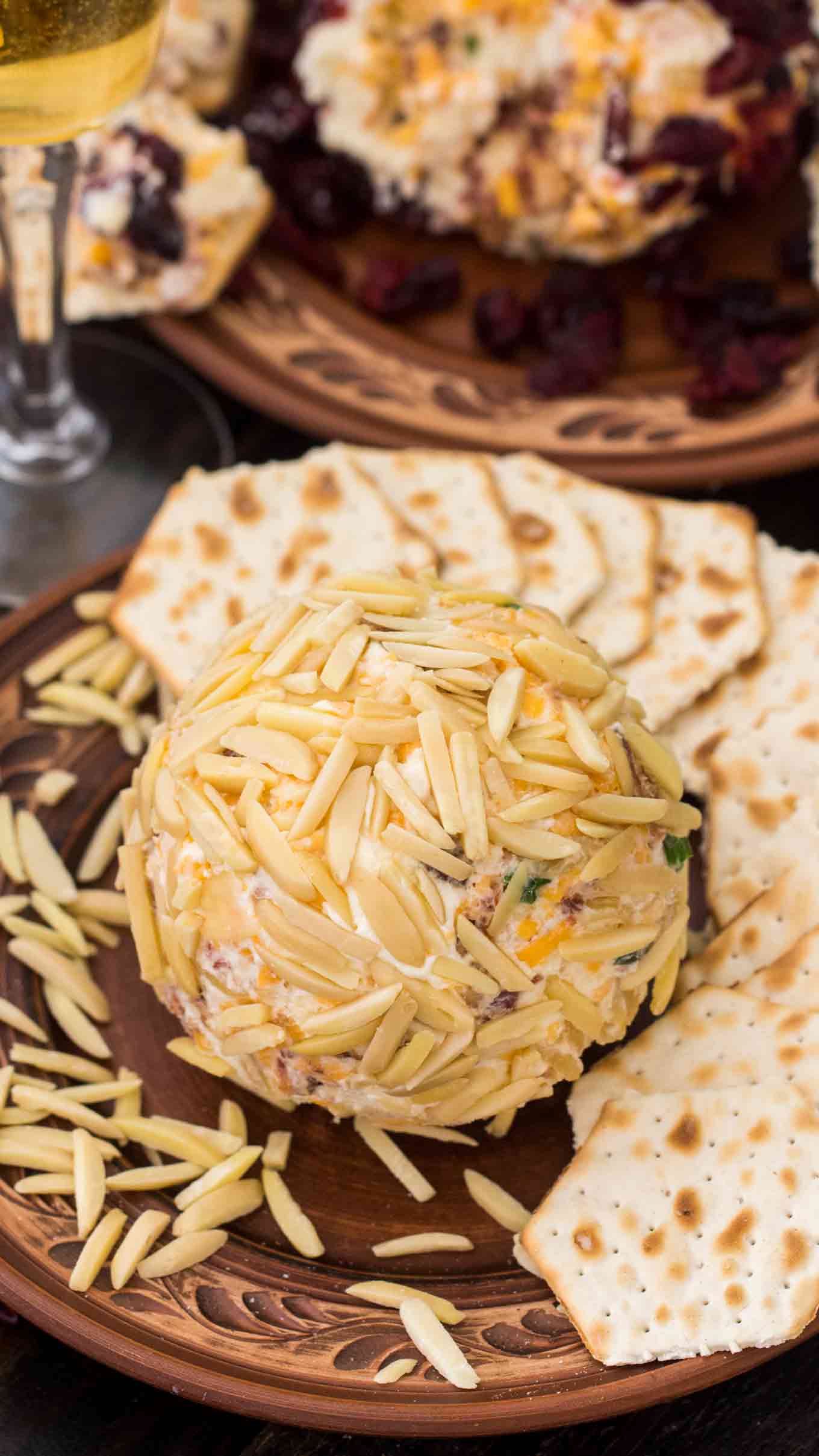 What do I serve a cheese ball with?
Usually all you need is a pretty plate and some crackers, but to make the most of it, I recommend a variety of crackers, with dried fruits, some with olive oil and sea salt, and some gluten-free crackers, so your guests have options.
I like to add fresh fruits: grapes, apple slices and melon.
A variety of dried fruits: figs, cranberries, papaya, candied orange slices.
A mix of dry nuts and honey.
I like to make the cheese ball part of a larger cheese board, and from I am always including another 2 creamy cheeses that I am a huge fan of:
1. Ile de France Brie – Milky and buttery taste featuring a touch of mushroom and hazelnut. It tastes great who paired with apple slices, figs, jams, baguette and crakers. Perfect with white wines.
2. Saint André Cheese – by far one of my favorite! No wonder this cheese is known as "the heavenly cheese", Saint André® is rich as pure butter. Soft ripened triple cream cheese with a salty tang perfectly pairs with white wines, champagne or white beer. Also great with fruit, crackers and chocolate.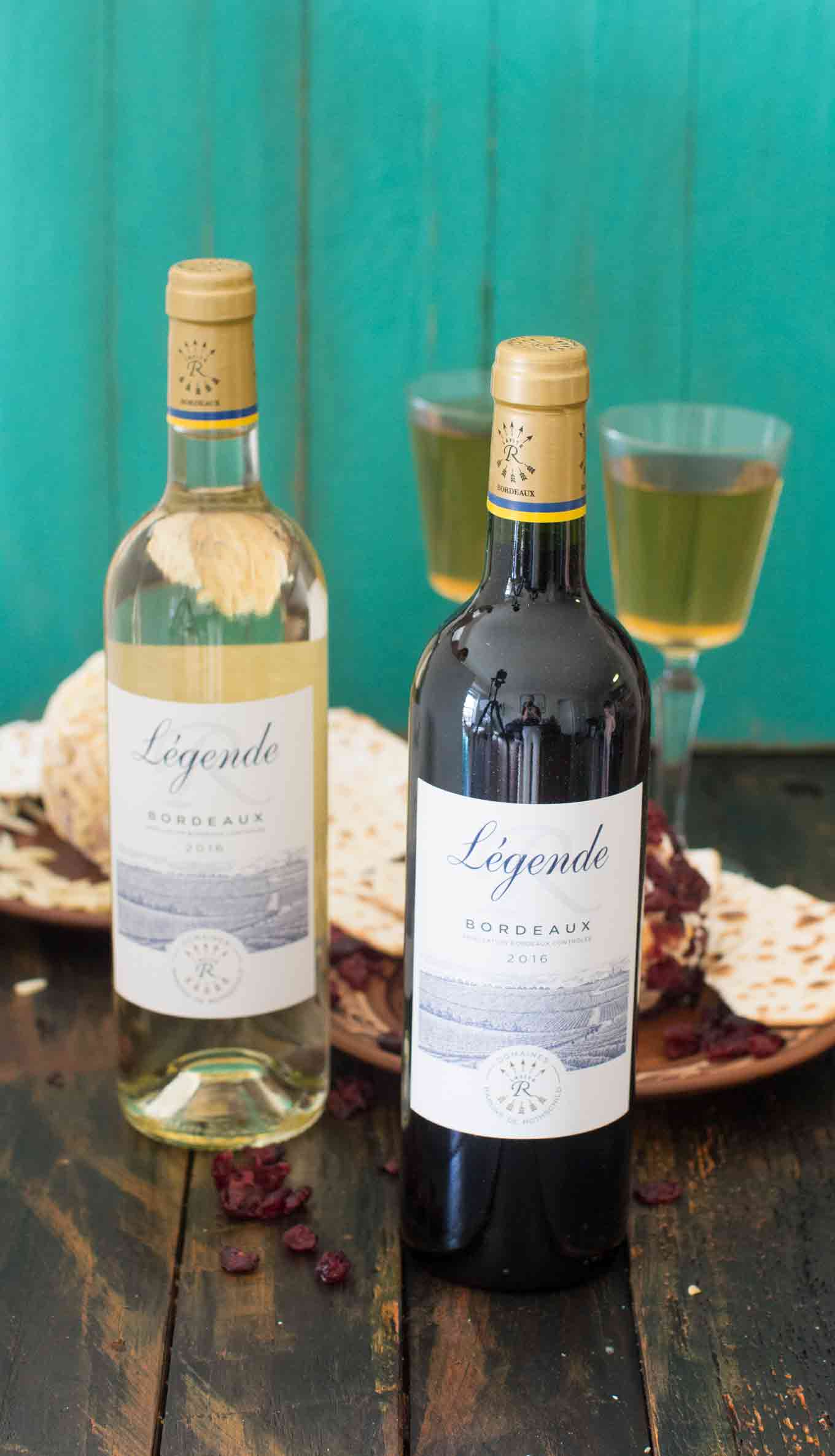 What wines can I serve with a cheese ball?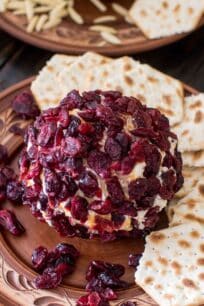 Cheese Ball Recipe
Cheese Ball made with creamy goat cheese, crispy bacon crumbs, fresh green onions, sharp cheddar cheese and covered in sweet dried cranberries.

Ingredients
2

packages

8 ounces each cream cheese, softened

1

cup

grated cheddar cheese

1

cup

creamy blue cheese

or creamy goat cheese

3

tablespoons

blue cheese salad dressing or mayonnaise

2

garlic cloves

minced

1/2

cup

crumbled cooked bacon

1

green onion

finely chopped

1/4

cup

slivered almonds

chopped
Roll Into:
1

cup

dried cranberries

or 1 cup slivered almonds

or 1 cup pine nuts

or 1 cup pecans

chopped

or 1 cup walnuts

chopped
Instructions
In a large bowl, beat cream cheese, cheddar cheese, blue cheese and garlic until blended. Stir in bacon, chopped onion and slivered almonds.

Shape into a ball.

Place a plastic wrap on a flat surface, add the dried cranberries or nuts onto it, roll the cheese ball so its all covered in cranberries or nuts. Wrap in plastic wrap, chill until firm.

Refrigerate up to two weeks. Serve with crackers.

Recipe makes 3 cheese balls, 1 cup each.
Made this Recipe?
Show me what you made on Instagram and tag me at @sweetnsavorymeals or hashtag it #sweetandsavorymeals.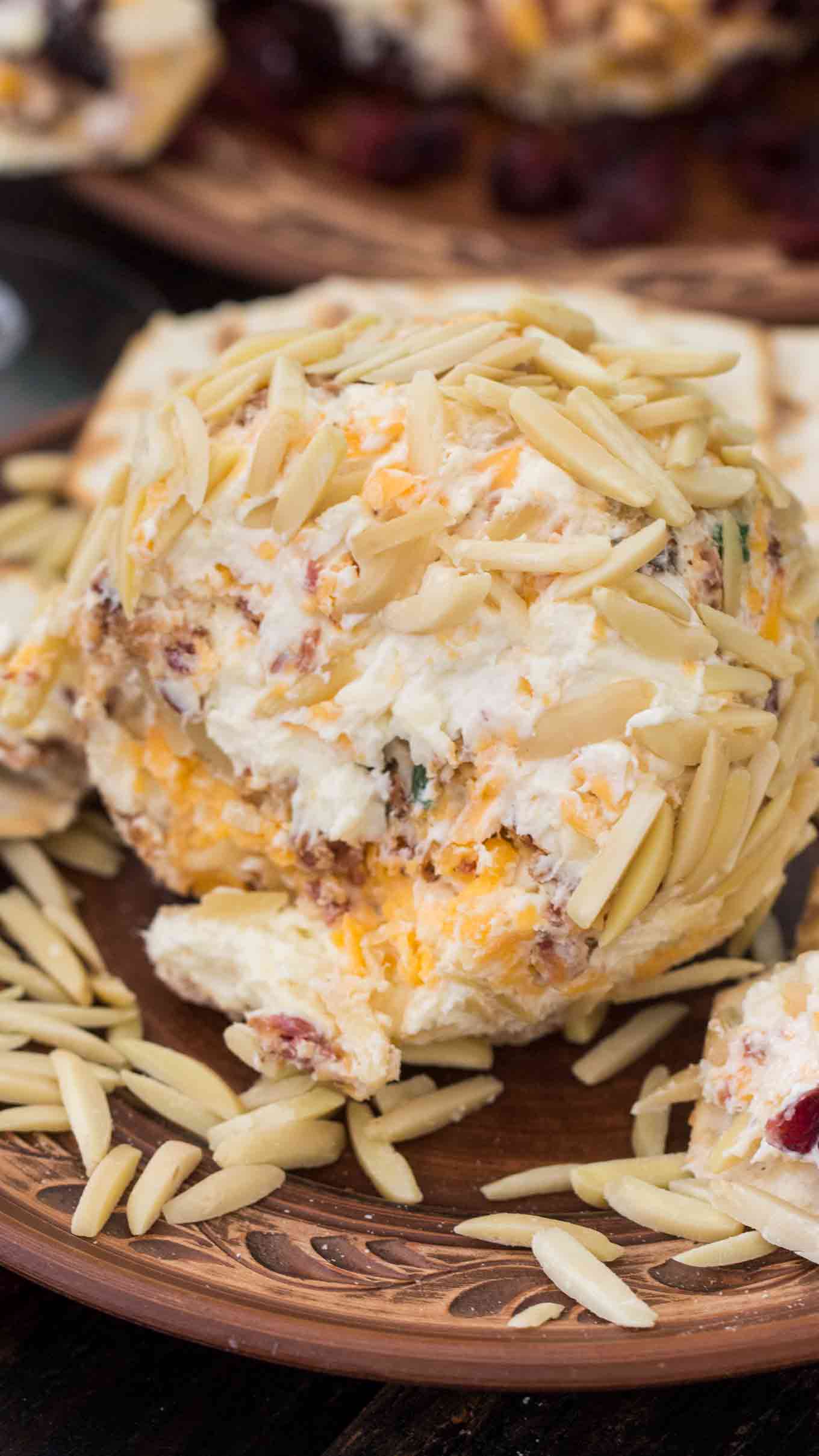 Peas and Peonies, LLC. owns the copyright on all images and text and does not allow for its original recipes and pictures to be reproduced anywhere other than at this site unless authorization is given. If you enjoyed the recipe and would like to publish it on your own site, please re-write it in your own words, and link back to my site and recipe page. Copying and/or pasting full recipes to social media or personal blogs is strictly prohibited. Sharing this recipe is very much appreciated and encouraged. Read my disclosure and privacy policy. This post may contain affiliate links.