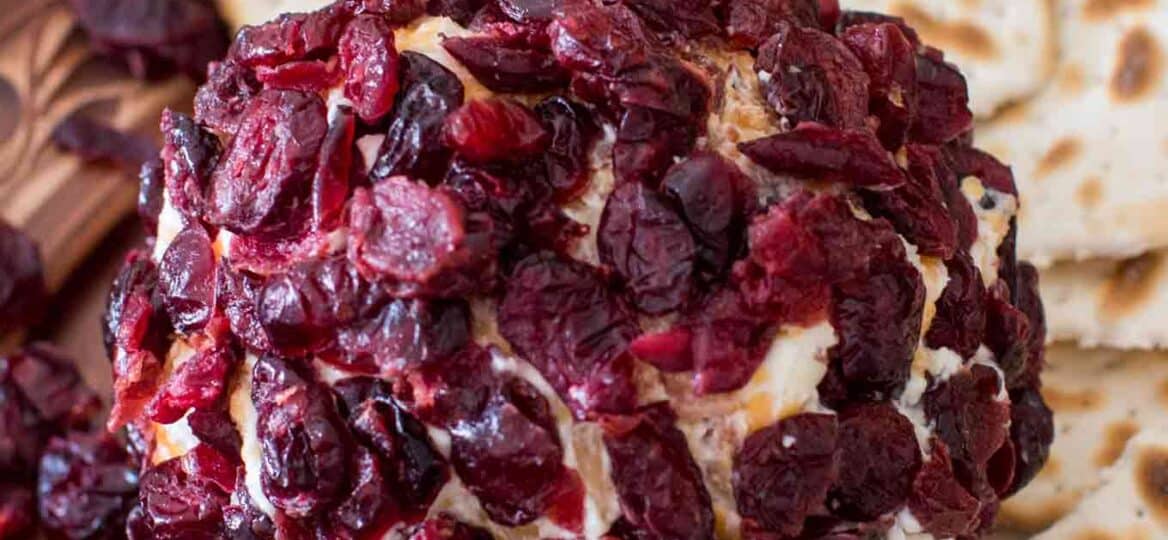 Cheese Ball made with creamy goat cheese, crispy bacon crumbs, fresh green onions, sharp cheddar cheese and covered in sweet dried cranberries.
The Cheese Ball would make a delicious and filling appetizer. For more interesting appetizers, I would recommend Best Million Dollar Dip and Cheese Jalapeno Ham Sliders.
Cheese Ball Recipe
Cheese Ball covered in sweet cranberries or slivered almonds is the perfect party appetizer. A burst of flavors and textures are captured in this cheese ball recipe, that will disappear in minutes, so you better make two. This is one of the easiest and most delicious appetizers you can make. Also, it is highly versatile, you can use your favorite cheese combos and mix-ins. You can make it more on the sweeter side or savory if you want.
What is a Cheese Ball?
A mixture of dressing mix and usually cream cheese, cheddar cheese shaped into a ball. The ball is rolled into chopped nuts or dried fruits like cranberries. Refrigerated and covered until ready to serve with crackers.
How do you make an easy cheese ball recipe?
Cheeseballs are usually very creamy, so you have to combine cream cheese, mayo or dressing with a harder cheese, like cheddar cheese or parmesan. You can also combine cream cheese with goat cheese, or creamy blue cheese.
After that, you add your mix-ins, like bacon, dried fruits, nuts, and green onions. You shape the mixture into a ball, add chopped nuts onto a plastic wrap and then roll cheese ball in the nuts. Roll up into plastic wrap and refrigerate.
Which cheese to use for cheese balls?
Blue Cheese – I like St. Agur Blue Cheese, a unique and intense Blue cheese with a smooth buttery finish and rich in butterfat (double crème). You can find it at Whole Foods, TJ, Harris Teeter, Publix, Winn-Dixie, etc.
Goat Cheese – I like Ile De France Goat Cheese, a traditional fresh Chevre from Poitou Charentes, using only the freshest goat's milk in the region. You can find it at Harris Teeter, Publix, Shoprite, Albertson.
Sharp Cheddar – adds a delicious nutty flavor.
Smoked Gouda – creamy and smoky!
Feta Cheese – you can even use the one with herbs for extra flavor.
Can you freeze a cheese ball?
I would not recommend doing so, the cheese ball can be refrigerated for up to two weeks, but for best flavors and textures, it is best to serve it, a few days after preparing it. Refrigerate covered in plastic wrap, so the cheese keeps its moisture and doesn't dry out.
Also, always consider the expiration dates of the cheese that you used. If you used fresh herbs, like green onions, that will shorten the storage period.
What do I serve a cheese ball with?
Usually, all you need is a pretty plate and some crackers. However, to make the most of it, I recommend a variety of crackers. Such as with dried fruits, some with olive oil and sea salt, and some gluten-free crackers, so your guests have options.
Also, I like to add fresh fruits: grapes, apple slices, and melon.
A variety of dried fruits: figs, cranberries, papaya, candied orange slices.
In addition, a mix of dry nuts and honey.
What wines can I serve with a cheese ball?
Légende Rouge – in this wine elegance meets affordability, it pairs well with beef, lamb, duck, and hard-aged cheeses.
Légende Blanc – perfect balance of alcohol and acidity, and very exuberant aromas. Pairs well with fruits, especially mango, fish and shellfish.
Deliciousness to your inbox
Enjoy weekly hand picked recipes and recommendations