Slow Cooker Corn Chowder with Bacon [Video]
Slow Cooker Corn Chowder with Bacon requires minimum preparation time and effort. Just throw everything in the crockpot and let it simmer to perfection.
We love making Slow Cooker dishes on our blog, and this soup is among our favorite. If you like warm and comfy dishes, please also check out our Ham and Bean Soup, Cabbage Soup, and Crockpot Baked Potato Soup.
Slow Cooker Corn Chowder with Bacon Recipe
Slow Cooker Corn Chowder with crispy bacon is one of my favorite comfort foods. Especially when all the hard work is done entirely by the slow cooker. All you have to do is add the ingredients to the slow cooker and wait patiently for it to do its magic. Made with minimal effort, this meal is such a time saver.
You will be rewarded with a creamy, delicious chowder, that will warm you up during chilly days. This recipe is perfect during any day of the week, especially when the colder days hit. It is creamy, flavorful, and one of the best dishes you can have during the cold, winter days!
Slow Cooker Corn Chowder Recipe Tips:
You can cook this soup on the low or the high setting of your crockpot. Depending on how much time you have. Most of the time I add it to the slow cooker on low and cook it for 8 hours.
Also, if cooking on the high setting, you need to cook it for 4 hours.
The secret to great, creamy texture is using a combination of creamed corn and regular corn kernels.
I add the bacon in two batches, one with all the ingredients to simmer and the rest at the end, right before serving. It preserves the crispiness this way better.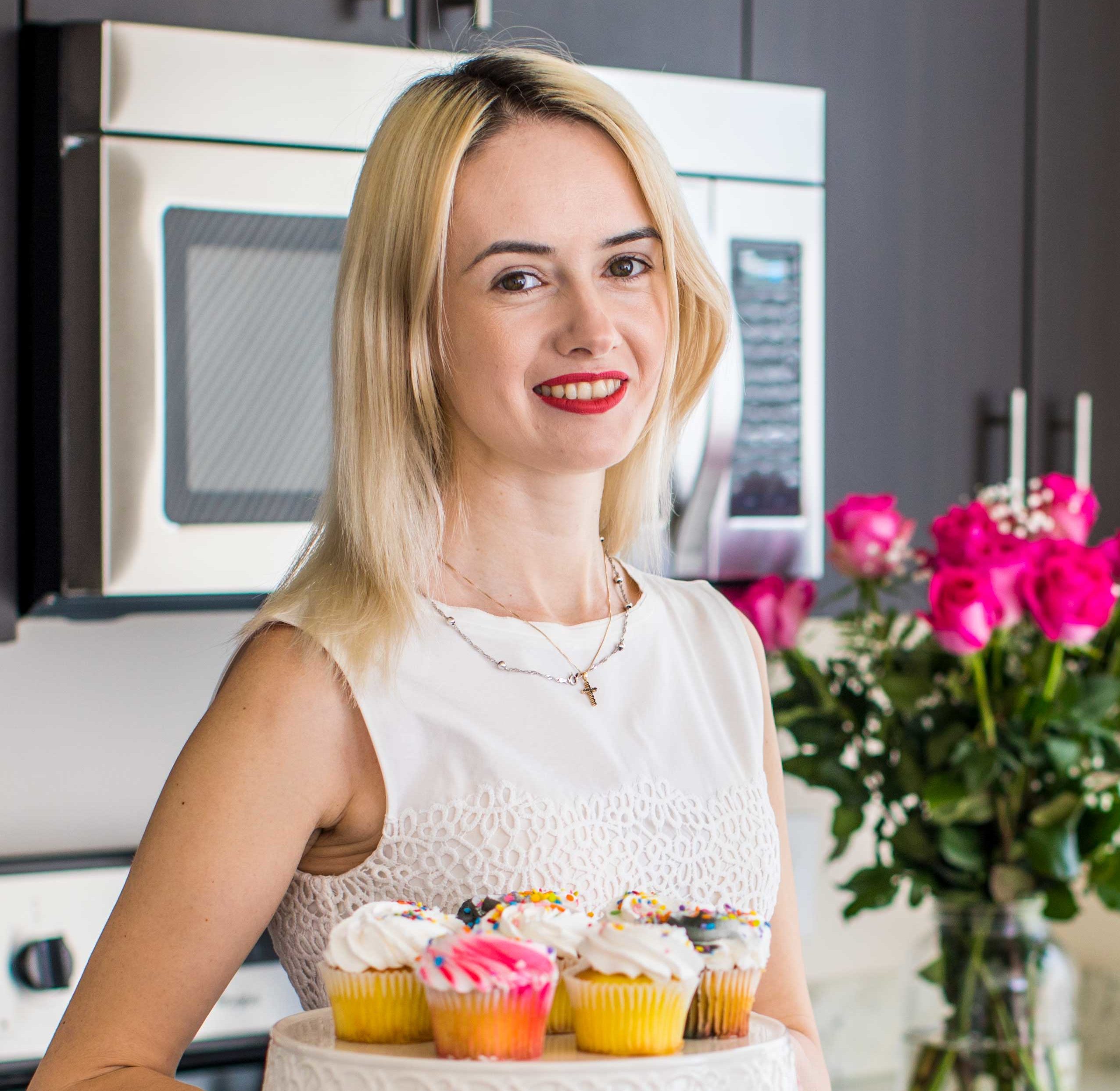 Follow us on Pinterest for more delicious recipes!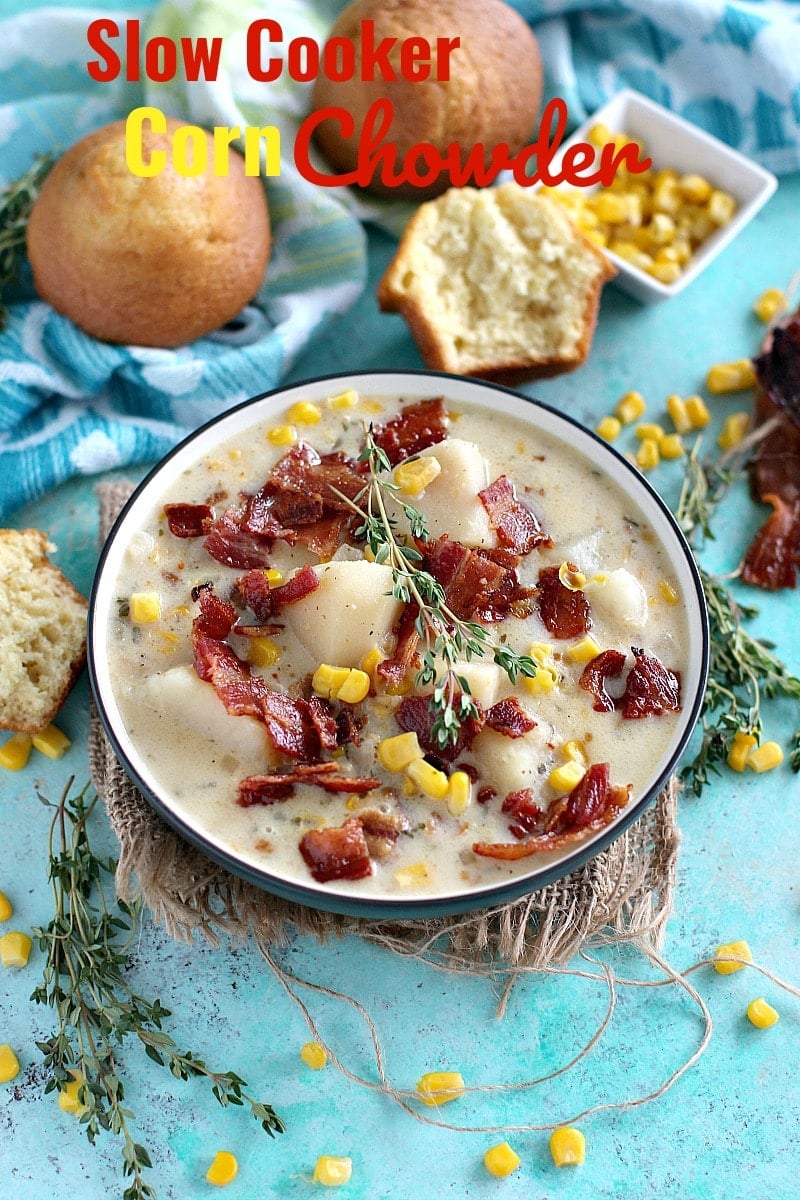 Can I use vegetable broth instead of chicken broth?
Absolutely. You can substitute the chicken broth with vegetable or beef broth-based on your preference. The result will be the same, you will have delicious and aromatic soup!
How to make homemade vegetable stock?
First, heat oil in a large stockpot over medium-high heat.
Then, add the garlic, onions, celery, and carrots to it.
Cook until softened, for about 5-8 minutes, while stirring often.
Next, add the water, frozen vegetable scraps, bay leaves, parsley, thyme, salt, and pepper.
Reduce heat to low and simmer, partially covered, for 45 minutes.
Can you freeze Slow Cooker Corn Chowder Soup?
The soup freezes well. If you want to make a big batch and freeze it, you should do so before stirring in the butter and cream. I recommend using quart bags for this soup. Use a cup to transfer the soup from the pot into the bag. Squeeze out excess air and seal the bags.
The bags can nicely be stored in the freezer for up to 3-4 months. To thaw the soup, remove it from the freezer the night before serving, or put the sealed soup bag in warm water to thaw it faster. After thawing, you can heat the soup on the stove and stir in the butter and cream.
Tools/ingredients that I used to make Crockpot Corn Chowder with Bacon:
Save Recipe
Slow Cooker Corn Chowder with Bacon
Author: Catalina Castravet
Serves: 8 servings
Prep time:

15

minutes
Cook time:

8

hours
Total time:

8

hrs

15

mins
Ingredients
1 large onion (chopped)
2 lbs potatoes (chopped)
3 tablespoons all-purpose flour
2 14-16oz cans of corn (drained)
2 14-16oz cans of creamed corn
4 cups chicken broth
2 cups water
1 lb bacon (cooked and crumbled)
1 teaspoon dried thyme
1 tablespoon dried parsley
1/2 tablespoon garlic powder
salt and fresh ground black pepper to taste
3 tablespoons butter (unsalted)
1 cup heavy cream
Instructions
Add chopped potatoes and chopped onion to a 6 or 7qt slow cooker. Add the flour and toss gently to cover the veggies.
Stir in both types of corn, followed by dried thyme, parsley, garlic powder, black pepper and salt.
Add the chicken broth and water, gently stir to combine. Lastly, stir in 1/2 of the cooked and crumbled bacon. Taste and adjust for sale and pepper if needed.
Cover and cook on low heat for 7-8 hours or high heat for 3-4 hours.
Once done, If not freezing the soup, stir in butter, heavy cream and the remaining cooked bacon. Taste and adjust for salt and pepper.
Garnish with extra bacon and fresh thyme - optional.
Serve immediately!
Calories: 386 Carbohydrates: 21 Protein: 12 Fat: 28 Saturated Fat: 10 Cholesterol: 51 Sodium: 872 Potassium: 757 Fiber: 3 Sugar: 2 Vitamin A: 210 Vitamin C: 22.5 Calcium: 95 Iron: 4.7
Save Recipe
More recipes you might love