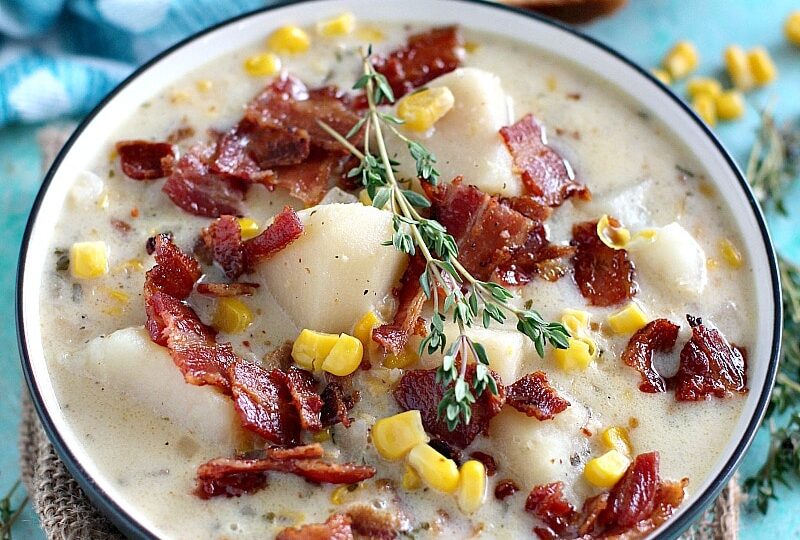 Slow Cooker Corn Chowder with Bacon [Video]
Slow Cooker Corn Chowder with Bacon requires minimum preparation time and effort. It is made with fresh veggies, potatoes, sweet corn, heavy cream, and topped with bacon. Just throw everything in the crockpot and let it simmer to perfection.
We love making easy slow cooker recipes on our blog, and this soup is among our favorite. If you like warm and comfy dishes, please also check out our Ham and Bean Soup, Cabbage Soup, and Crockpot Baked Potato Soup.
Crockpot Corn Chowder
This Slow Cooker Corn Chowder with crispy bacon is one of my favorite comfort foods. It is very similar to our Instant Pot Corn Chowder recipe, but this version is slowly cooked in the crockpot.
This is an easy soup recipe and is perfect to serve during those chilly days or winter months. Also, this classic corn and potato soup is hearty and creamy, and the bacon topping adds just the nice balance of crispiness and flavor to it.
Especially when all the hard work is done entirely by the slow cooker. All you have to do is add the ingredients to the slow cooker and wait patiently for it to do its magic. Made with minimal effort, this meal is such a time saver.
In the end, you will be rewarded with a creamy, delicious chowder, that will warm you up during chilly days. This recipe is perfect during any day of the week, especially when the colder days hit. It is creamy, flavorful, and one of the best dishes you can have during the cold, winter days!
Ingredients:
Potatoes: Feel free to use any type of potatoes you prefer. I go with starchy potatoes, like russet potatoes or Yukon gold.
Onion
All-purpose flour
Sweet corn and creamed corn
Chicken broth: I love using homemade chicken stock as it adds plenty of flavors. However, if you are short on time, you can use store-bought broth.
Bacon: This is optional but I highly recommend using it.
Aromatics: Such as dried thyme, parsley, garlic powder, salt, and black pepper.
Heavy cream and butter: These two ingredients are a must as they make this soup rich and creamy!
How to make Slow Cooker Corn Chowder?
Prep the potatoes: First, wash and clean the spuds. You could also cook them with the skin-on, depending on how you like your soup. Then, cut into smaller cubes, and add them to the bottom of the crockpot.
Add the rest of the ingredients: Next, add the flour, aromatics, chicken broth, and gently stir to combine.
Cook: Cover and cook on low heat for r7-8 hours, or on high heat for 3-4 hours.
Puree: Using an immersion blender, puree it until the desired consistency is ready.
Add the heavy cream: Lastly, during the last 30 minutes of cooking, stir in the heavy cream and butter, and add some more bacon.
Serve: Enjoy it warm with some crunchy bread on the side.
Can I use vegetable broth instead of chicken broth?
Absolutely. You can substitute the chicken broth with vegetable or beef broth based on your preference. The result will be the same, you will have delicious and aromatic soup!
How to make homemade vegetable stock?
First, heat oil in a large stockpot over medium-high heat.
Then, add the garlic, onions, celery, and carrots to it.
Cook until softened, for about 5-8 minutes, while stirring often.
Next, add the water, frozen vegetable scraps, bay leaves, parsley, thyme, salt, and pepper.
Reduce heat to low and simmer, partially covered, for 45 minutes.
How to make corn chowder thicker?
To make it thicker, you could:
Puree it more using the immersion blender or regular blender.
Add some cornstarch prior to adding the heavy cream or half and half.
Use a little bit more flour and butter. Then, simply stir it until the soup gets thicker.
Add some shredded cheese, such as shredded cheddar cheese or parmesan cheese. This will add extra flavor, and make it richer and creamier at the same time!
Can you add meat to this corn chowder soup?
Absolutely! You could easily add some extra proteins to it. Some great alternatives would be oven-baked chicken breasts or leftover rotisserie chicken.
Also, feel free to add some ham, ground sausage, or turkey breasts to it.
More delicious Slow Cooker recipes:
How to store leftovers?
Refrigerate: First, let leftover completely cool at room temperature. Then, transfer it to an airtight container and refrigerate for up to 3 days.
To freeze: If you want to make a big batch and freeze it, you should do so before stirring in the butter and cream. Also, I recommend using quart bags for this soup. Use a cup to transfer the soup from the pot into the bag. Squeeze out excess air and seal the bags. The bags can nicely be stored in the freezer for up to 3-4 months.
To thaw the soup: remove it from the freezer the night before serving, or put the sealed soup bag in warm water to thaw it faster. After thawing, you can heat the soup on the stove and stir in the butter and cream.
Recipe tips:
You can cook this creamy soup on a low setting for 6-8 hours, or a high setting for 3-4 hours. Most of the time I add it to the slow cooker in the morning and cook it on low. Then, when I return home I have a delicious dinner waiting.
Also, the secret to great, creamy texture is using a combination of creamed corn and regular corn kernels.
I add the bacon in two batches, one with all the ingredients to simmer and the rest at the end, right before serving. It preserves the crispiness this way better.
In addition, to make this dish vegetarian, simply replace the chicken broth with vegetable stock and omit the bacon.
Tools/ingredients that I used to make this recipe:
Slow Cooker Corn Chowder with Bacon
Ingredients
1

large onion

chopped

2

lbs

potatoes

chopped

3

tablespoons

all-purpose flour

2

14-16oz

cans of corn

drained

2

14-16oz

cans of creamed corn

4

cups

chicken broth

2

cups

water

1

lb

bacon

cooked and crumbled

1

teaspoon

dried thyme

1

tablespoon

dried parsley

1/2

tablespoon

garlic powder

salt and fresh ground black pepper to taste

3

tablespoons

butter

unsalted

1

cup

heavy cream
Instructions
Add chopped potatoes and chopped onion to a 6 or 7qt slow cooker. Add the flour and toss gently to cover the veggies.

Stir in both types of corn, followed by dried thyme, parsley, garlic powder, black pepper and salt.

Add the chicken broth and water, gently stir to combine. Lastly, stir in 1/2 of the cooked and crumbled bacon. Taste and adjust for sale and pepper if needed.

Cover and cook on low heat for 7-8 hours or high heat for 3-4 hours.

Once done, If not freezing the soup, stir in butter, heavy cream, and the remaining cooked bacon. Taste and adjust for salt and pepper.

Garnish with extra bacon and fresh thyme - optional.

Serve immediately!
Deliciousness to your inbox
Enjoy weekly hand picked recipes and recommendations