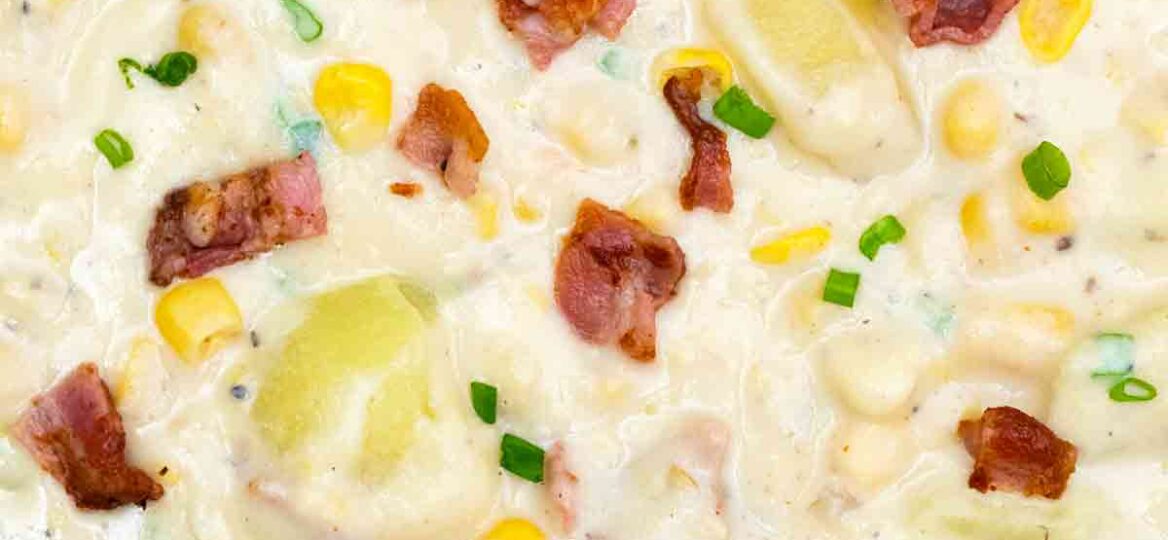 Instant Pot Corn Chowder is the ultimate comfort food. A creamy and flavorful broth, with bits and pieces of corn, bacon, and potatoes. Make this recipe year-round and now in a fraction of the time using your pressure cooker!
We love a hearty and comforting soup, and this creamy corn soup fits the bill! During the summer and fall we love making it with freshly roasted corn, and when the cold hits, canned will do just as well! Serve it with some Homemade Cornbread and also make sure you try our famous Instant Pot Bacon Ranch Potato Soup.
Instant Pot Creamy Corn Soup
Instant Pot Corn Chowder is full of flavors and textures and either you use fresh grilled corn or canned corn, the recipe will be a success. Making soups in your IP is a must, they taste as they have been slowly roasted for a long time. This way they are aromatic and extremely delicious.
Using your pressure cooker to make soup also will save you lots of time and it's the perfect solution for a quick and easy dinner that would feed a large family. The leftovers are incredibly tasty as well, and you can intentionally make a larger batch to freeze for later. This way you save more time and effort when you are out of options for dinner or just in a rush.
This soup is outstanding, especially when paired with the smoky bacon and creamy potatoes. The sweetness from the corn balances the other flavors. Add a bit of creole seasoning or some chili peppers to make it spicy!
What is corn chowder?
It is a chowder soup that has corn as the main ingredient. It also has a creamy base usually achieved by adding cream, half and half, or milk. The soup usually has other starchy vegetables, like potatoes and its smooth texture is achieved using an immersion blender or regular blender.
How do you make Instant Pot Corn Chowder?
Deliciousness to your inbox
Enjoy weekly hand picked recipes and recommendations