Instant Pot Minestrone Soup [VIDEO]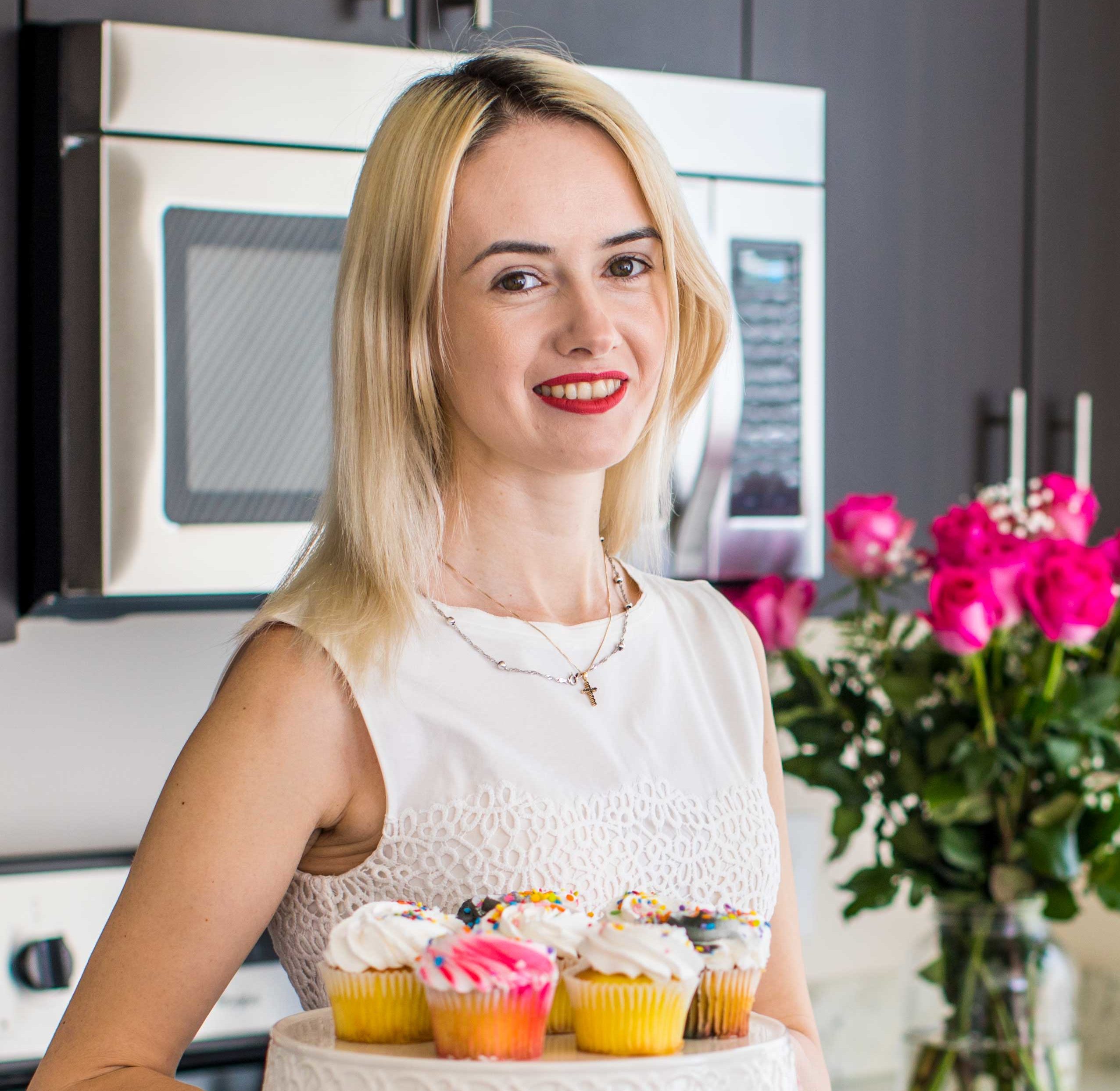 Instant Pot Minestrone Soup is delightfully good, tasty and healthy! Packed with so many hearty veggies and beans you can have a few bowls guilt free.
Making soups in the Instant Pot is a staple around here. We love making delicious and easy soups in the pressure cooker like our popular IP Tomato Soup, IP Ham and Bean Soup and IP Italian Meatball Soup.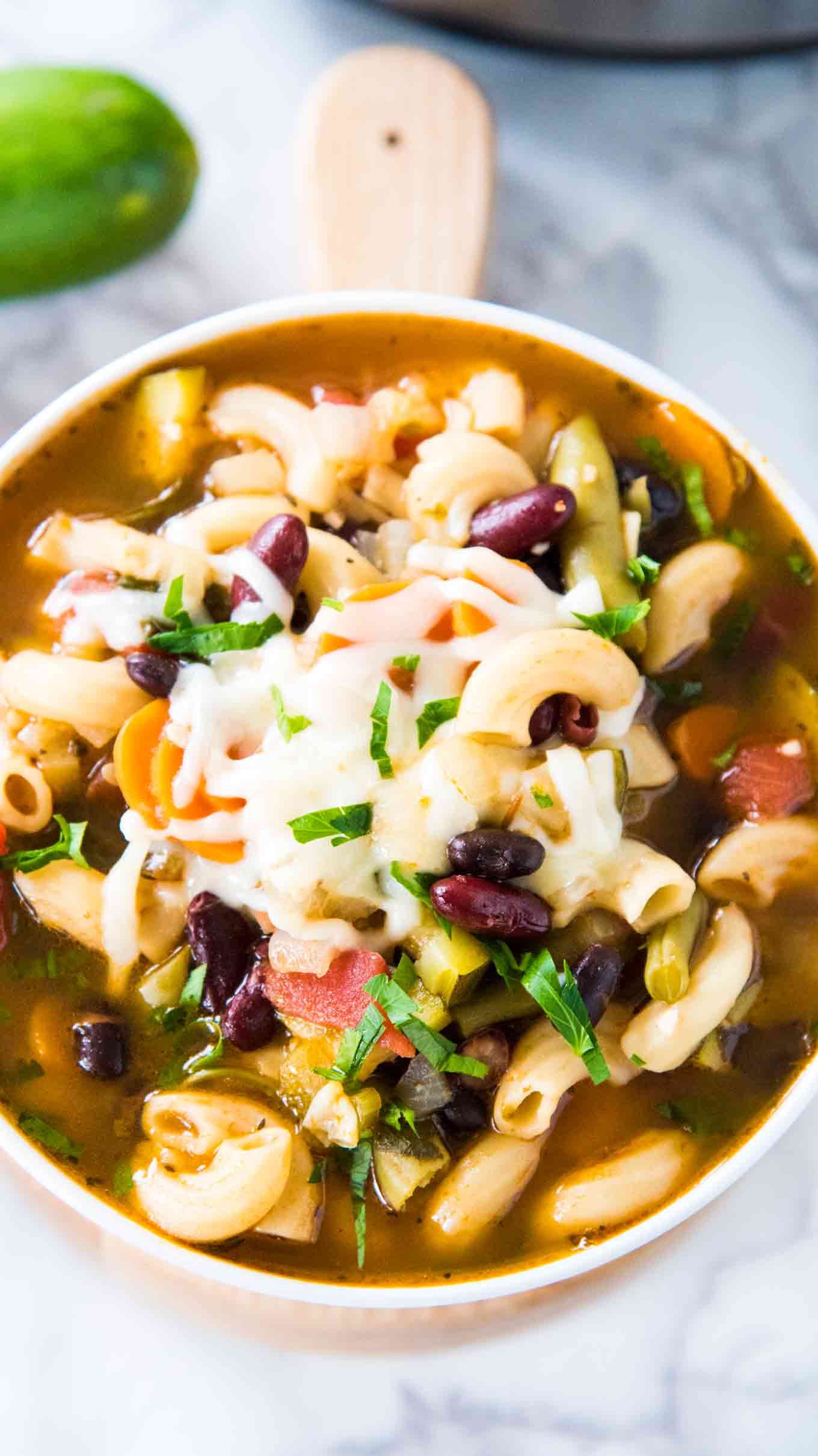 The Best Instant Pot Minestrone Soup
Minestrone Soup is one of the easiest and most healthy soups you can make in the Instant Pot. This soup is full of flavor from all the delicious veggies, beans and herbs. Packed with three types of beans and lots of veggies, this soup hearty and comforting. The broth is just slightly tangy, with a tasty tomato flavor. Chewy pasta is the perfect addition to the soup, and if you want to keep it all on the healthy side, you can add whole wheat pasta.
The soup is naturally vegan unless you pile it up with cheese as I did. Warm tomato broth, vitamin-rich veggies, and delicious beans are all packed into a heartwarming bowl of this fabulous soup!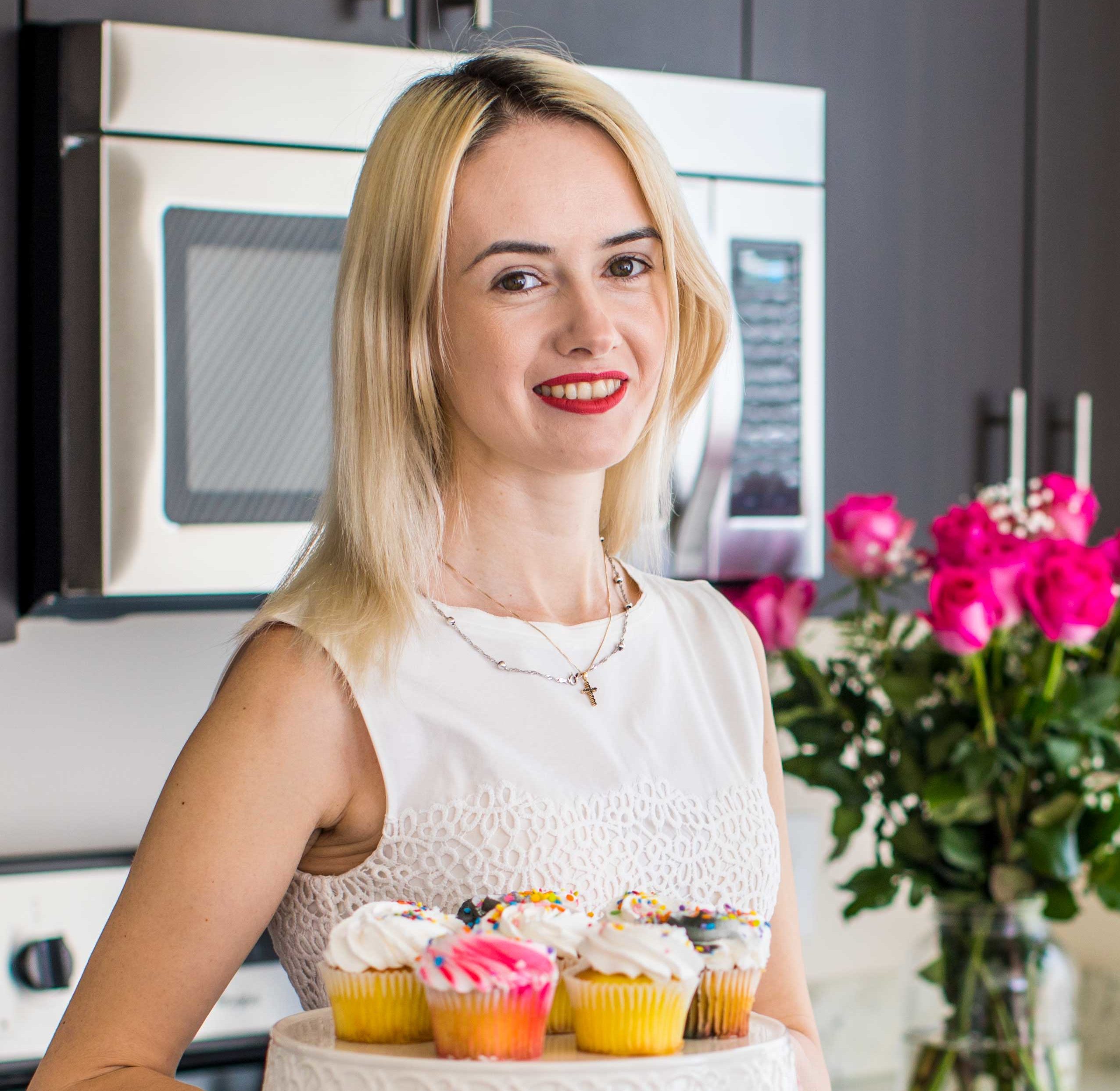 Follow us on Pinterest for more delicious recipes!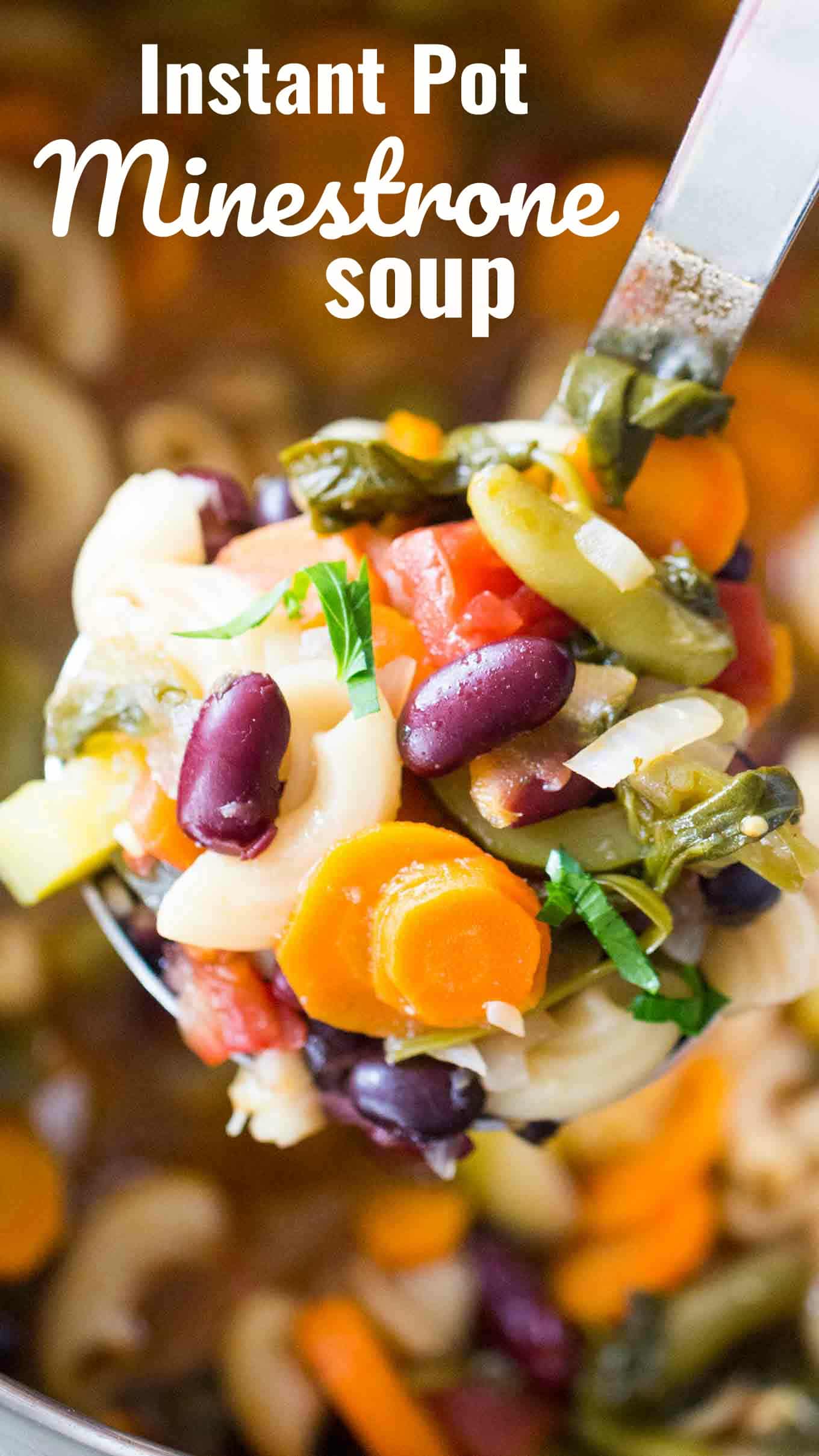 Expert Tips:
For a prominent tomato taste in the broth, I highly recommend that you add 2 tablespoons of tomato paste when sautéing the onion and other veggies.
Also, you can add red pepper flakes and use spicy fire-roasted tomatoes, for a spicier kick.
Similarly, use fresh garlic, because it will add amazing flavor to your soup.
Celery or other veggies can be skipped, if not liked.
If you want your spinach to be less cooked, fold it in right after the soup is done the cooking.
In addition, spinach can be substituted with kale.
The IP will take some time to come to pressure because there are a lot of ingredients and liquid involved.
WHAT KIND OF PASTA DO YOU USE IN MINESTRONE SOUP?
For this recipe, we use dry pasta shells that get cooked directly in the pressure cooker to make this an easy one-pot meal. Our favorite one to use here is elbow pasta. For an even healthier option, use whole wheat macaroni pasta. Also, you can boil the pasta separately and stir in later or use leftover cooked pasta in this recipe.
Can you freeze Instant Pot Minestrone Soup?
Yes. I recommend using quart bags for this soup. First, use a cup to transfer the soup from the pot into the bag. Then, squeeze out excess air and seal the bags. The bags can nicely be stored in the freezer for up to 2-3 months. To serve put in a large bowl and heat it for 10-20 min on the stove.
What is a 10 Minutes Natural Pressure Release?
A Natural Pressure Release means that the pressure is released gradually. For a Natural Pressure Release, you click on Keep Warm, and wait 10 minutes, after which you open the valve and let any leftover pressure to release.
Another option is to Turn Off/Unplug the pressure cooker, wait 10 minutes and after that open the valve. A natural release is usually used when cooking soups, meat in a large amount of sauce, pasta or steel cut oats. This method prevents any foam from the dish to shoot out through the valve, which can happen during a Quick Pressure Release.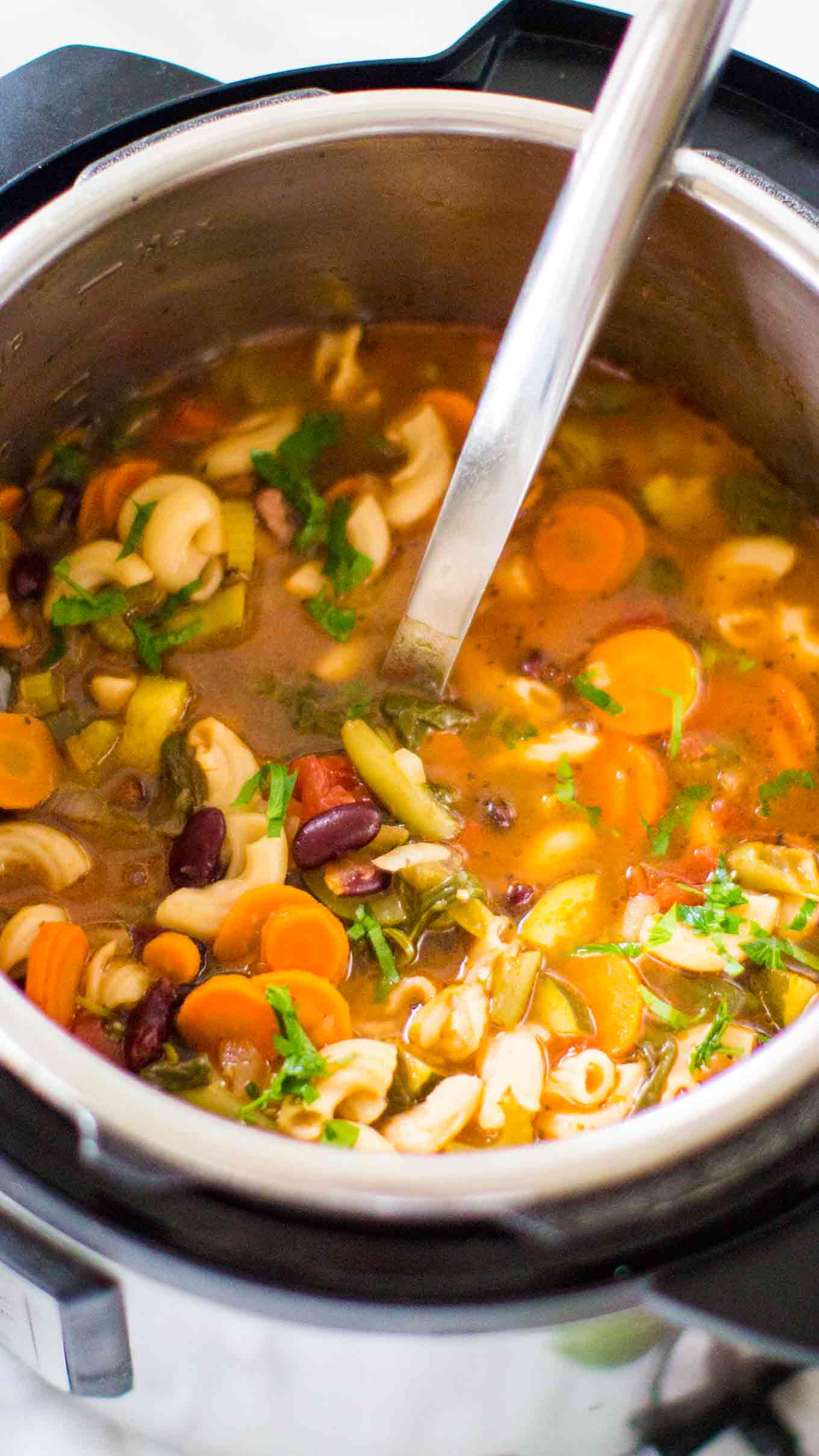 Looking for more comforting soup recipes? Check these out!
Tools/Ingredients I used to make this homemade Soup:
Watch Recipe Video:
Save Recipe
Easy Instant Pot Minestrone Soup
Author: Catalina Castravet
Serves: 8 servings
Prep time:

20

minutes
Cook time:

30

minutes
Total time:

50

mins
Ingredients
4 tablespoons olive oil
1 large sweet onion (peeled and diced)
8 cloves garlic (minced)
2 tablespoons tomato paste (optional)
1 cup carrots (peeled and sliced rondelle (about 1 1/2 large carrots))
1 cup celery (chopped (about 2 stalks))
1 1/2 cups zucchini (diced (about 1 medium zucchini))
1 teaspoons dried basil
1 teaspoon dried thyme
1 teaspoon dried oregano
1 teaspoon dried rosemary
1 teaspoon salt (or to taste)
1 teaspoon pepper (or to taste)
2 14. 5 ounces cans San Marzano diced tomatoes
1 cup small elbow pasta
1 15 ounces can no-salt added red kidney beans (drained and rinsed)
1 15 ounces can no-salt added black beans (drained and rinsed)
1 15 ounces can no-salt added cut green beans (drained and rinsed)
64 ounces low-sodium vegetable broth
3 cups fresh spinach (tightly packed)
3 bay leaves
Garnish:
Fresh parsley leaves (finely chopped)
Freshly grated parmesan cheese or mozzarella cheese
Instructions
Set Instant Pot to saute mode.
Once HOT, add olive oil, let it warm up and add onion, garlic, carrot, celery, zucchini, and tomato paste if using. Mix and cook for about 5 minutes, until slightly softened.
Add basil, thyme, oregano, rosemary, salt, and pepper. Stir to combine.
Add diced tomatoes, stir to combine.
Add pasta and red beans, black beans and cut green beans. Stir to combine.

Add broth. You might not have to use it all, but add enough broth so it covers all the ingredients. Pressure Cooker should be about 3/4 full.

Add spinach, stir to combine and add bay leaves.

Close lid and set to manual High Pressure for 5 minutes. It will take about 10 minutes for the Instant Pot to reach high pressure, then it will cook for 5 minutes. Make sure you close the vent.

When the timer goes off, let sit for 8-10 minutes. Then release any remaining pressure by opening the vent steam.

Remove lid and if you prefer, add 1-2 more cups of spinach right into the hot soup.
Remove and discard bay leaves.
Stir, taste and adjust for salt and pepper.
Serve and garnish with parmesan cheese and fresh, chopped parsley.
Enjoy!
Calories: 167 Carbohydrates: 20 Protein: 3 Fat: 8 Saturated Fat: 1 Cholesterol: 0 Sodium: 1263 Potassium: 287 Fiber: 2 Sugar: 4 Vitamin A: 4375 Vitamin C: 9.6 Calcium: 39 Iron: 1.2 g
Save Recipe
More recipes you might love