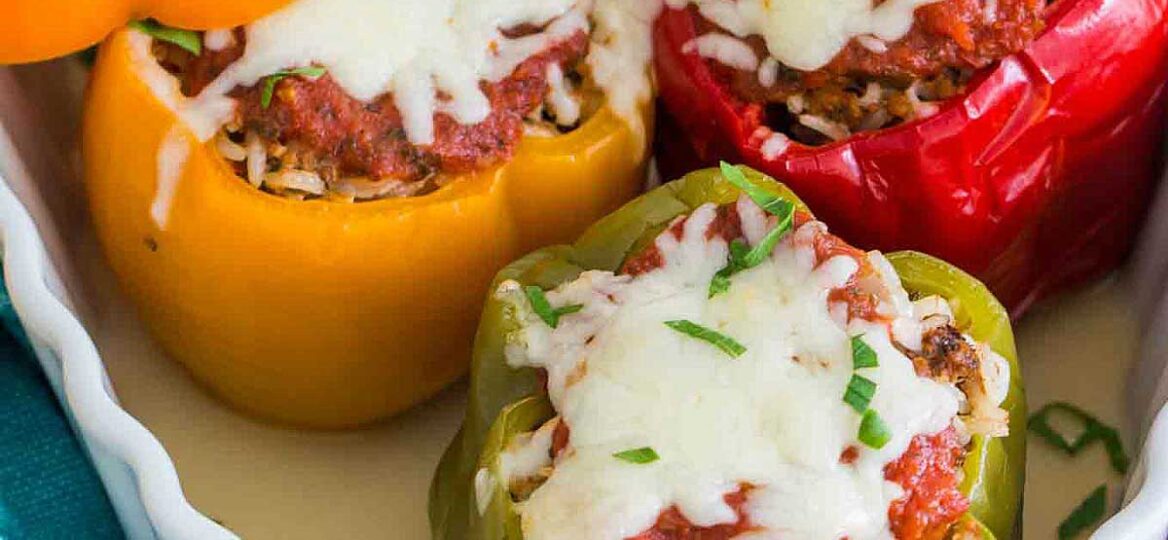 Best Instant Pot Stuffed Peppers [VIDEO]
Instant Pot Stuffed Peppers are made with seasoned ground beef and rice, topped with marinara sauce and melty cheese. A great weeknight meal cooked to perfection in a fraction of time in the instant pot.
Instant Pot meals are a staple around here, because of the convenience and the perfect end result that it's so easy to control. Among our most popular dinner recipes are this Orange Chicken, Instant Pot Ribs, and this Stuffed Pepper Soup recipe.
Easy Pressure Cooker Stuffed Peppers
Instant Pot Stuffed Peppers recipe is one of my favorite dishes to make in my multi-cooker. I grew up eating lots of stuffed peppers, they are highly popular in Eastern Europe. But lately, I started making this easy-peasy comfort food in the pressure cooker, and could not be happier.
The cooking process is so much easier and faster. Using my trick for cooking perfect rice in the Instant Pot this recipe becomes so easy to make. Many pressure cooker recipes for Stuffed Peppers require you to have pre-cooked rice on hand. Well, that makes sense, but the problem is, when I cook using my Pressure Cooker, I really don't want to turn on the stove and cook the rice.
I am also not a huge fan of directly cooking the rice in the pressure cooker's stainless steel insert, as it sticks to it sometimes. Also, the water to rice ratio has to be perfect, that drives me mad sometimes, as in some cases it just does not work as I intend it to! Therefore, when you use my method, you will NOT have any of these problems.
The end result is tender peppers with the most delicious meaty filling. The best part of this easy recipe is that its very versatile. Hence, you can customize it to your own liking to make sure that the whole family loves it.
Ingredients needed:
How to make Instant Pot Stuffed Peppers?
Cook the rice:
The only way I cook rice in the Instant Pot is using a fool-proof method, that requires just a small investment – I always use one of my Stackable Pots. It comes out perfect all the time. Also, this way you can cook instant pot brown rice.
Because you add the right amount of water to the Stackable Pot and you add water to the IP, for it to come to pressure and do its own thing. This way, the rice gets steamed to perfection, every grain is perfectly cooked. Bonus points for the pot being super easy to clean.
Make the Peppers:
This electric pressure cooker recipe is very easy to follow, and if you use my rice cooking fool-proof method, you are guaranteed to have a fantastic meal when you are done. Making this delicious dish in the pressure cooker, you can control the temperature, time, and moisture, so you end up with perfectly cooked stuffed peppers.
Prepare the bell peppers: First, you have to wash, clean, and core them. Also, with a very sharp knife level the bottom of the peppers. Make sure to save the tops of the peppers, you will use them when serving.
Stuffing: The next step is combining all the ingredients and make the pepper filling. After that, stuff the peppers.
Pressure cook: Then, add the water and a trivet to the pressure cooker. Arrange the peppers in a single layer on the trivet, cover with the lid, lock and seal the valve. Pressure cook on high pressure for 7 minutes.
Natural pressure release: Next, when the pressure cook beeps that it's done cooking, do a 5-minute natural release.
Quick pressure release: Then, do a quick release to release the remaining pressure. Carefully open the instant pot and transfer the pepper to a baking dish.
Broil: Top them with marinara sauce or tomato sauce and sprinkle some mozzarella cheese on top. Next, broil them for a few minutes for the cheese to melt.
Serve: Garnish with parsley and serve.
Recipe Variations:
Veggies: To make these healthier, chop and add some veggies into the meat mixture. We like to sauce and add mushrooms, zucchini, corn, and sweet peas.
Seasoning: In addition, to add extra flavor, mix into the stuffing garlic powder, onion powder, chili powder. You can even use Cajun Seasoning or Taco Seasoning to make Mexican Stuffed Peppers.
Beans: As an alternative, add more protein by stirring in some black beans or pinto beans into the filling.
Vegetarian: Skip the ground meat altogether, and replace it with veggies and beans.
Cheese: As an option, dice or shred some cheese and add it to the filling. Melty cheese is always delicious.
Grains: Also, try making this recipe with other grains, like bulgur and quinoa.
Oven-baked version: I have the perfect oven-baked stuffed peppers recipe for you. The preparation time is about 30 minutes, and you have to bake them for 60 minutes.
Slow cooker version: Rather than making these in the pressure cooker, you can make slow cooker stuffed peppers.
How long to cook Stuffed Peppers with raw meat?
If baking in the oven – you will need to bake for about one hour until the pepper is tender, but not mushy.
If cooking in the Instant Pot or other electric pressure cookers – you need to cook for 7 minutes on High Pressure followed by 5 minutes Natural Pressure Release. Follow the recipe notes below for detailed steps.
If cooking in the slow cooker – cover and cook on LOW for 6 to 7 hours or on HIGH for 3 to 4 hours.
How to store leftovers:
Cool: First, let the meal fully coom to room temperature.
Refrigerate: After that, add the peppers to an airtight container or resealable plastic bag. Properly stored, cooked stuffed peppers will last for 3 to 5 days in the refrigerator.
Reheat: When ready to serve, either microwave them or bake at 380 degrees F for about 10 minutes.
How to freeze stuffed peppers:
Cook: Fully cook the Instant Pot Stuffed Peppers, and if you intend on freezing them, do not top with marinara sauce and cheese.
Cool: Then, fully cool them before freezing.
Prep for freezing: You can freeze the peppers by adding them to a freezer-safe dish. Cover well in aluminum foil and then wrap the dish fully in plastic wrap or better if you have freezer wrap. Make sure the dish is fully covered in freezer wrap to avoid exposing the peppers directly to the cold. You can also freeze each pepper individually by wrapping it in freezer wrap and adding it to a freezer bag.
Freeze: Properly frozen the stuffed peppers can be stored in the freezer for up to 3 months at 0 degrees F or less.
How to cook frozen stuffed peppers:
If you have time, thaw peppers in the refrigerator for several hours before cooking. It's ok if you don't, you can cook frozen stuffed peppers as well.
Preheat oven to 350 degrees F.
Then, remove the wrapping from the peppers and add them to a baking dish, leaving enough room between them.
Bake for about 20-30 minutes for frozen peppers or until heated through and about half the time for thawing.
Use a fork to taste the stuffing, to ensure that it has been heated through.
More delicious beef recipes:
Cooking Tips:
To save time, make sure the next time you cook some rice or order from the Chinese restaurant, make or ask for more. This way you can use leftover rice to add to the meat mixture and save time.
In addition, use a variety of colorful bell peppers to make this easy meal more visually appealing.
Also, use large peppers, so you can add more filling to them and make sure to not over-stuff them.
Deliciousness to your inbox
Enjoy weekly hand picked recipes and recommendations