Best Instant Pot Stuffed Peppers [VIDEO]
Instant Pot Stuffed Peppers is the perfect blend of ground beef seasoning and rice. This meal is very easy to make and cooks in a fraction of time in the Pressure Cooker.
Instant Pot recipes are a staple around here. I love the convenience of it, and that I can make most of the meals in a fraction of the time. Among our most popular recipes are Orange Chicken, Instant Pot Ribs, and Mongolian Chicken. Since my Stuffed Bell Peppers recipe was so well-received, I have added for you a Stuffed Pepper Soup recipe.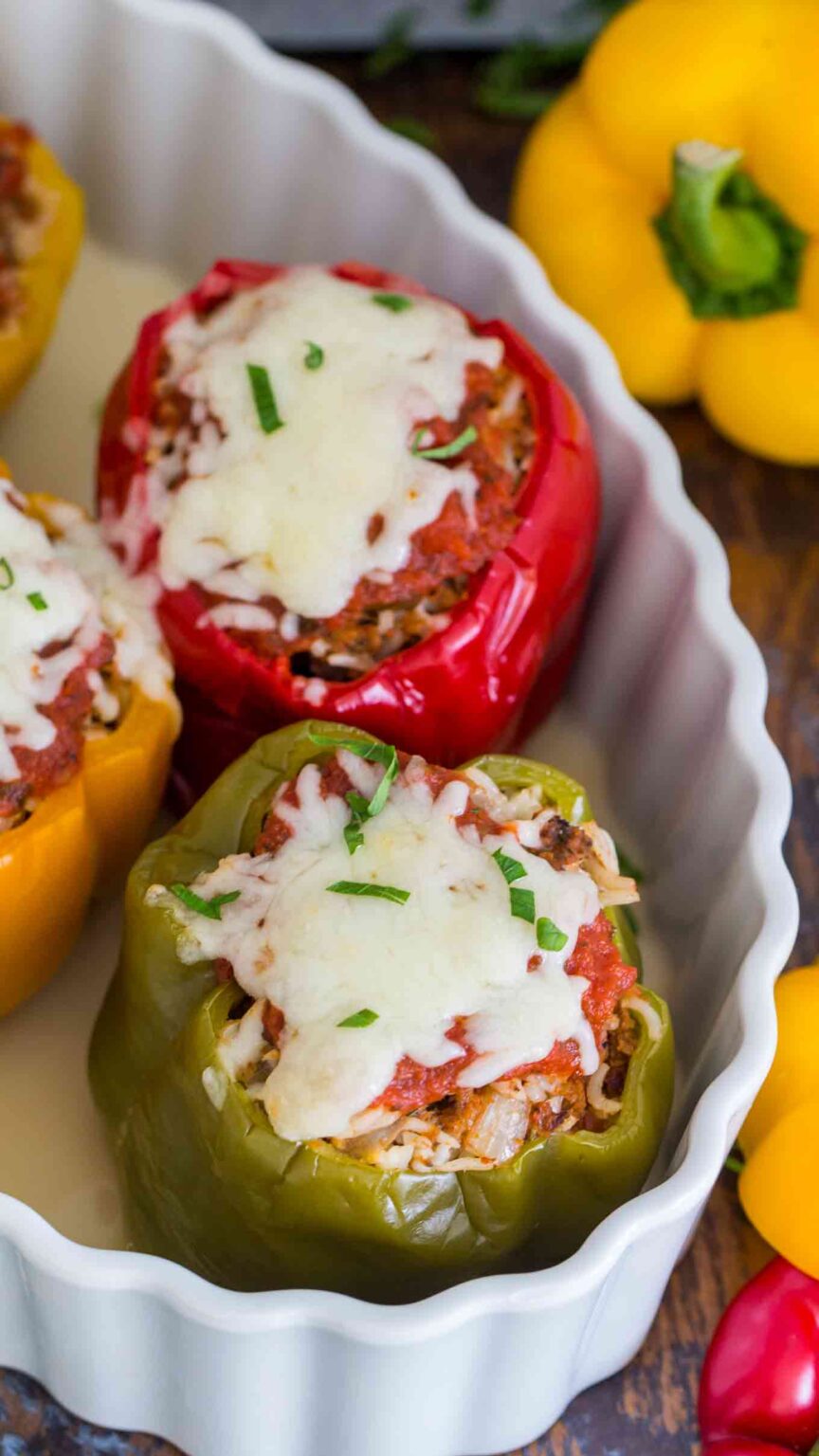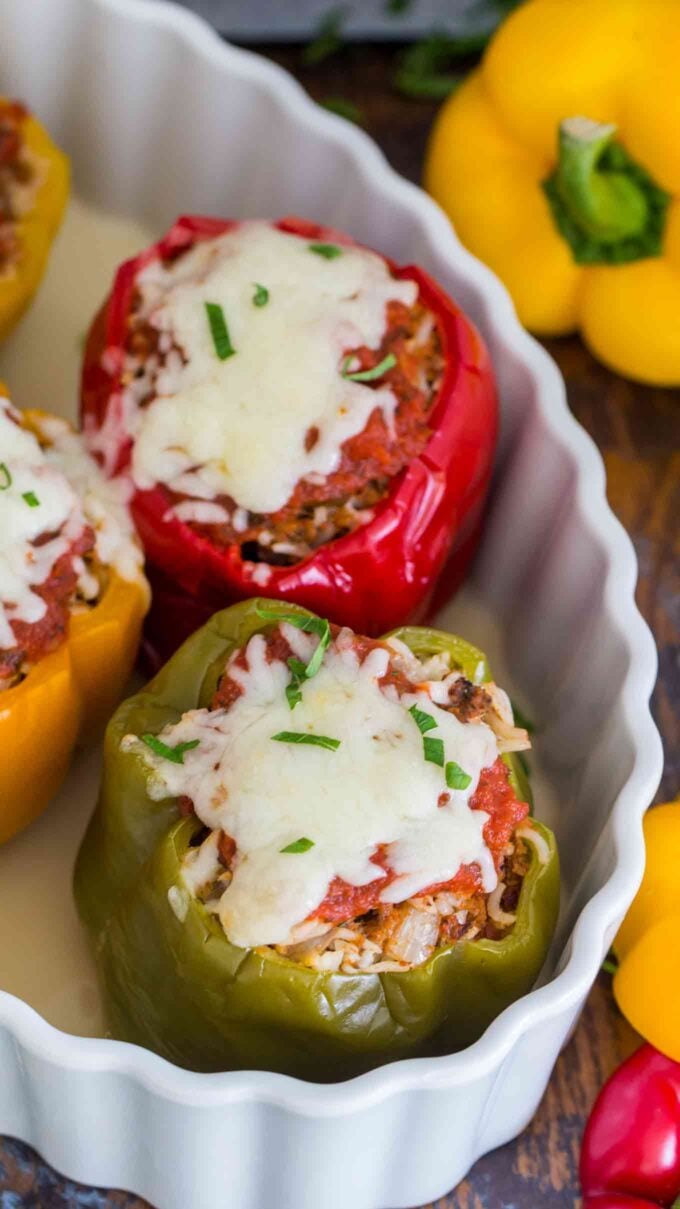 Easy Instant Pot Stuffed Peppers
Instant Pot Stuffed Peppers are one of my favorite dishes to make in my multi-cooker. You see, I grew up eating lots of stuffed peppers, they are highly popular in Eastern Europe. But lately, I started making this dish in the pressure cooker, and could not be happier. The cooking process is so much easier and faster.
Using my trick for cooking perfect rice in the Instant Pot this recipe becomes so easy to make. Many pressure cooker recipes for Stuffed Peppers require you to have pre-cooked rice on hand. Well, that makes sense, but the problem is, when I cook using my Pressure Cooker, I really don't want to turn on the stove and cook the rice.
I am also not a huge fan of directly cooking the rice in the pressure cooker's stainless steel insert, as it sticks to it sometimes. I know, first world problems. Also, the water to rice ratio has to be perfect, that drives me mad sometimes, as in some cases it just does not work as I intend it to!
Ingredients you need to make the Instant Pot Stuffed Peppers recipe at home:
Kitchen tools you need to make this recipe: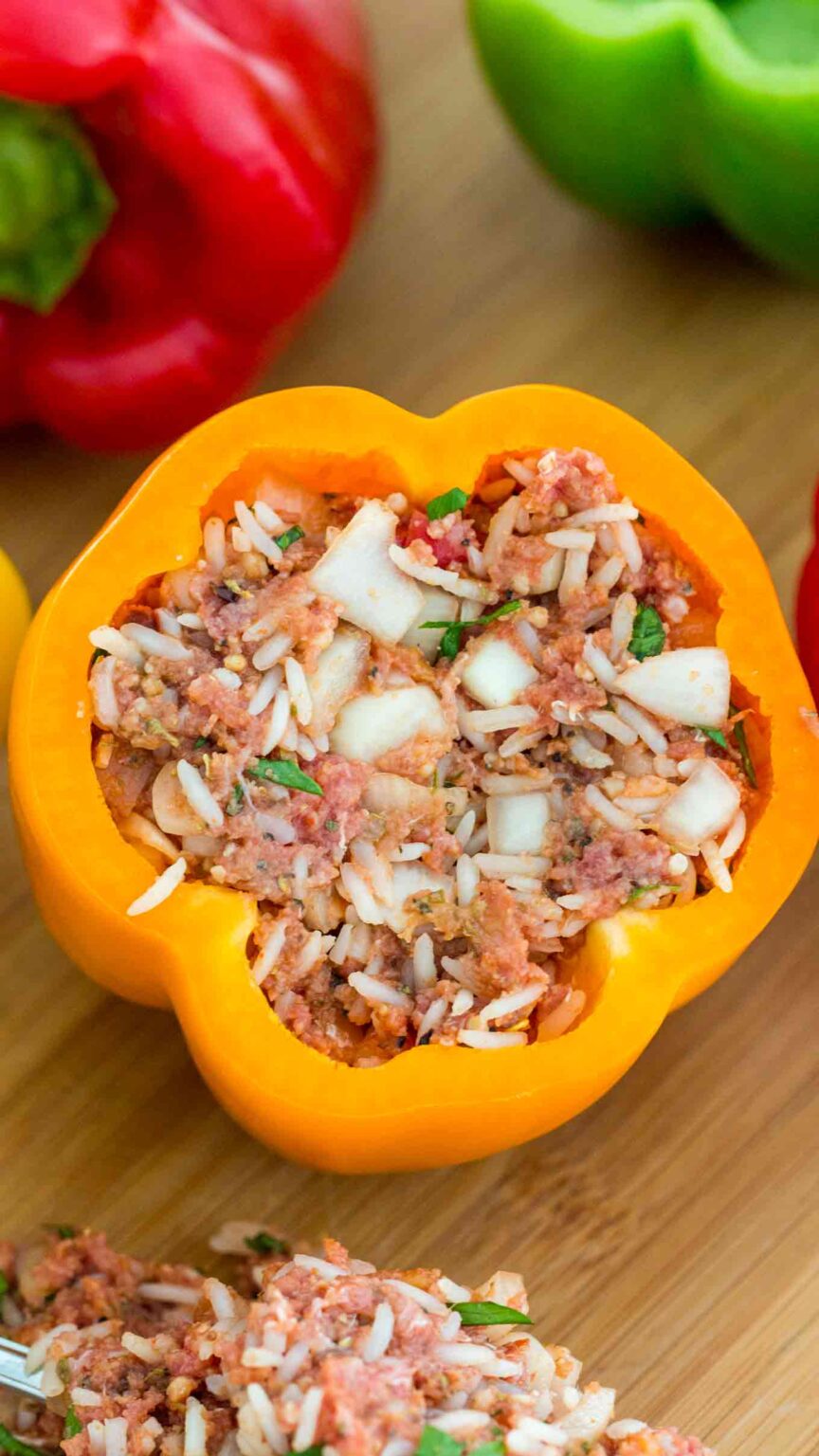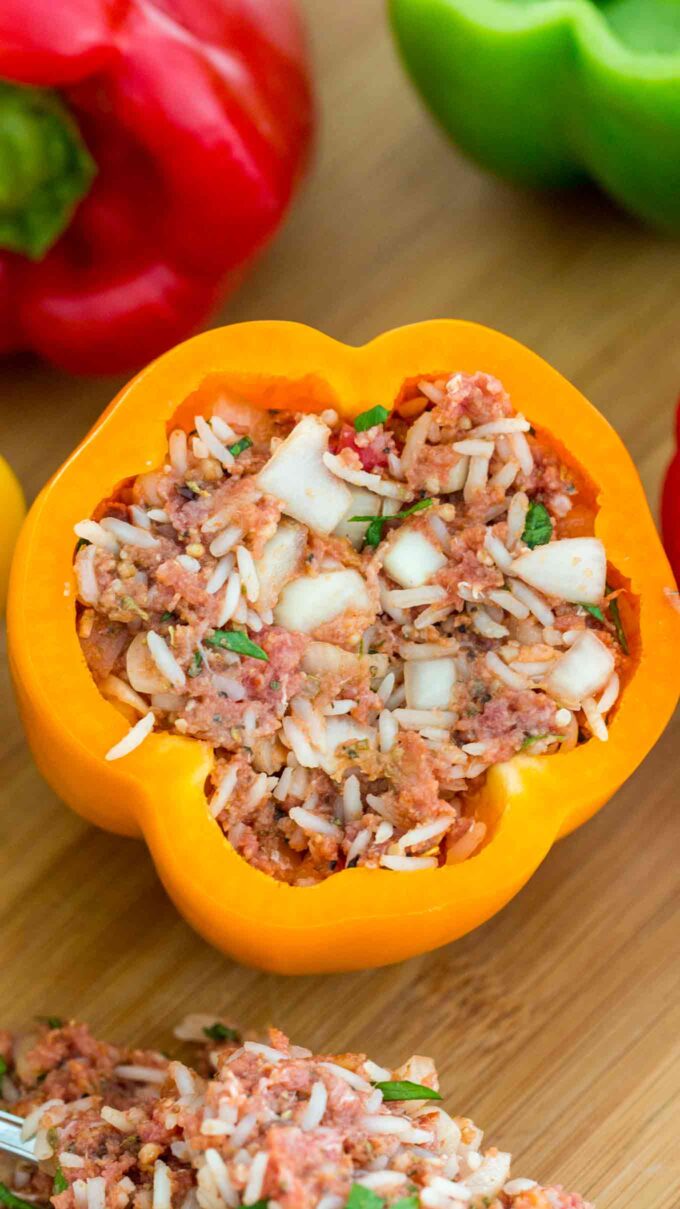 How do you cook the rice for Stuffed Peppers?
The only way I cook rice in my Instant Pot is using a fool-proof method, that requires just a small investment – I always use my one of my Stackable Pots. The rice comes out perfect all the time because you add the right amount of water to the Stackable Pot and you add water to the IP, for it to come to pressure and do its own thing.
This way, the rice gets steamed to perfection, every grain perfectly cooked. Bonus points for the pot being super easy to clean, so you can instantly start making the Instant Pot Stuffed Peppers recipe.
How to make Pressure Cooker Stuffed Peppers?
The recipe that I have for you is very easy to follow, and if you use my rice cooking fool-proof method, you are guaranteed to have a fantastic meal when you are done. Making this delicious dish in the pressure cooker is a tasty way of cooking them, as you can control the temperature, time, and moisture, so you end up with perfectly cooked stuffed peppers.
You have to start by cooking the rice, you can also use pre-cooked leftover rice, or you can use those 90 seconds Instant Rice packages if you enjoy them.
You have to wash, clean, and core the bell peppers. Using different colors will make your dinner very pretty.
The next step is combining all the ingredients and stuff the bell peppers.
Then, add the bell peppers to the pressure cooker and cook.
To make the pepper even more delicious, top them with marinara sauce and sprinkle some cheese on top. Next, broil them for a few minutes for the cheese to melt. Garnish with parsley and serve.
How to make Oven Baked Stuffed Peppers?
If you don't have an Instant Pot or would rather make these peppers in the oven, I have the perfect oven baked stuffed peppers recipe for you. The preparation time is about 30 minutes, and you have to bake them for 60 minutes.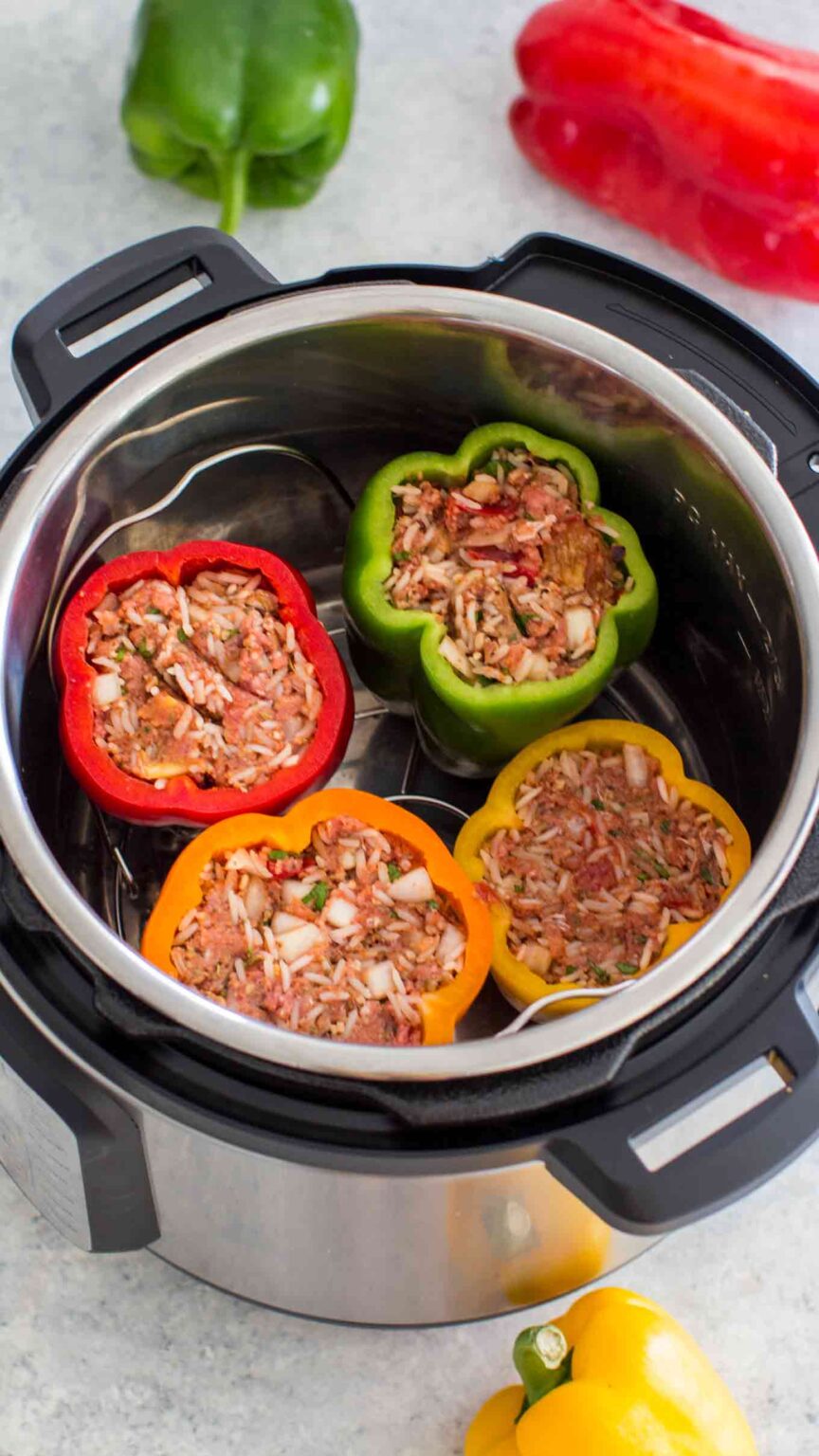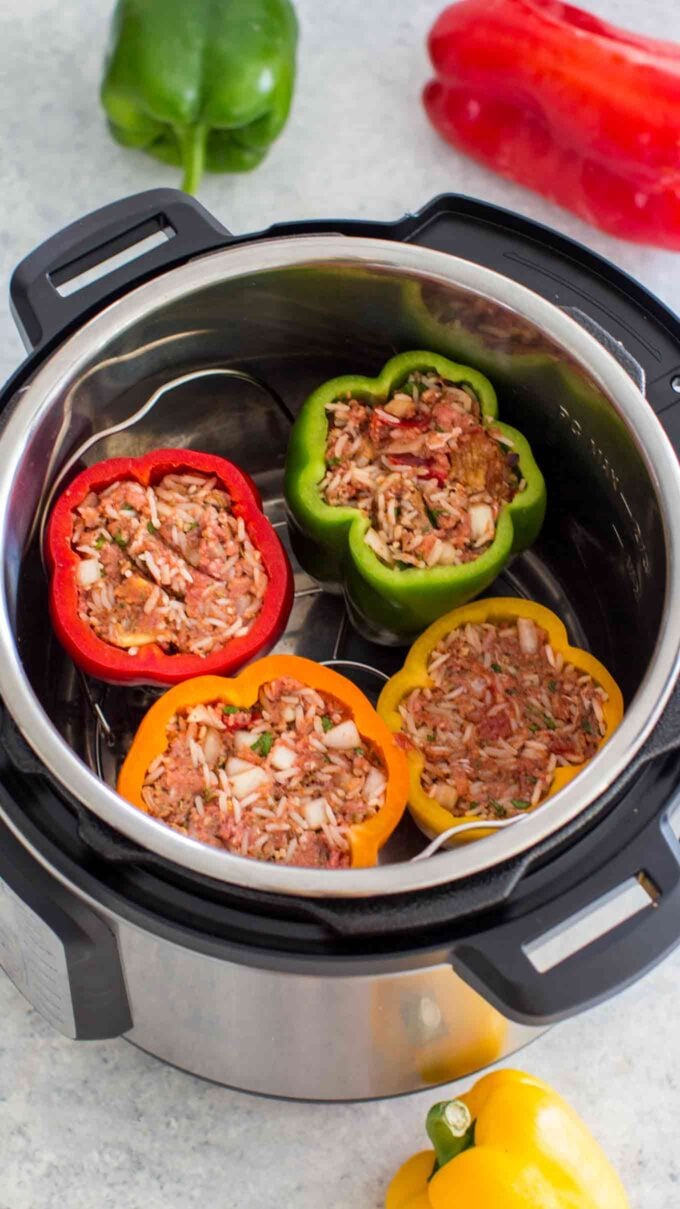 How long to cook Stuffed Peppers with raw meat?
If baking in the oven – you will need to bake for about one hour until the pepper is tender, but not mushy.
If cooking in the Instant Pot or other electric pressure cookers – you need to cook for 7 minutes on High Pressure followed by 5 minutes Natural Pressure Release. Follow the recipe notes below for detailed steps.
If cooking in the slow cooker – cover and cook on LOW for 6 to 7 hours or on HIGH for 3 to 4 hours.
What type of meat can you use to make Stuffed Peppers?
You can use ground beef, ground chicken, or turkey, you can also use ground sausage.
How to make Vegetarian Instant Pot Stuffed Peppers?
Just replace the beef with chopped mushrooms, preferably sautéed. Cooking time stays the same.
You can also add more rice, or canned (drained and rinsed) beans, cooked lentils would work as well. Cooking time stays the same.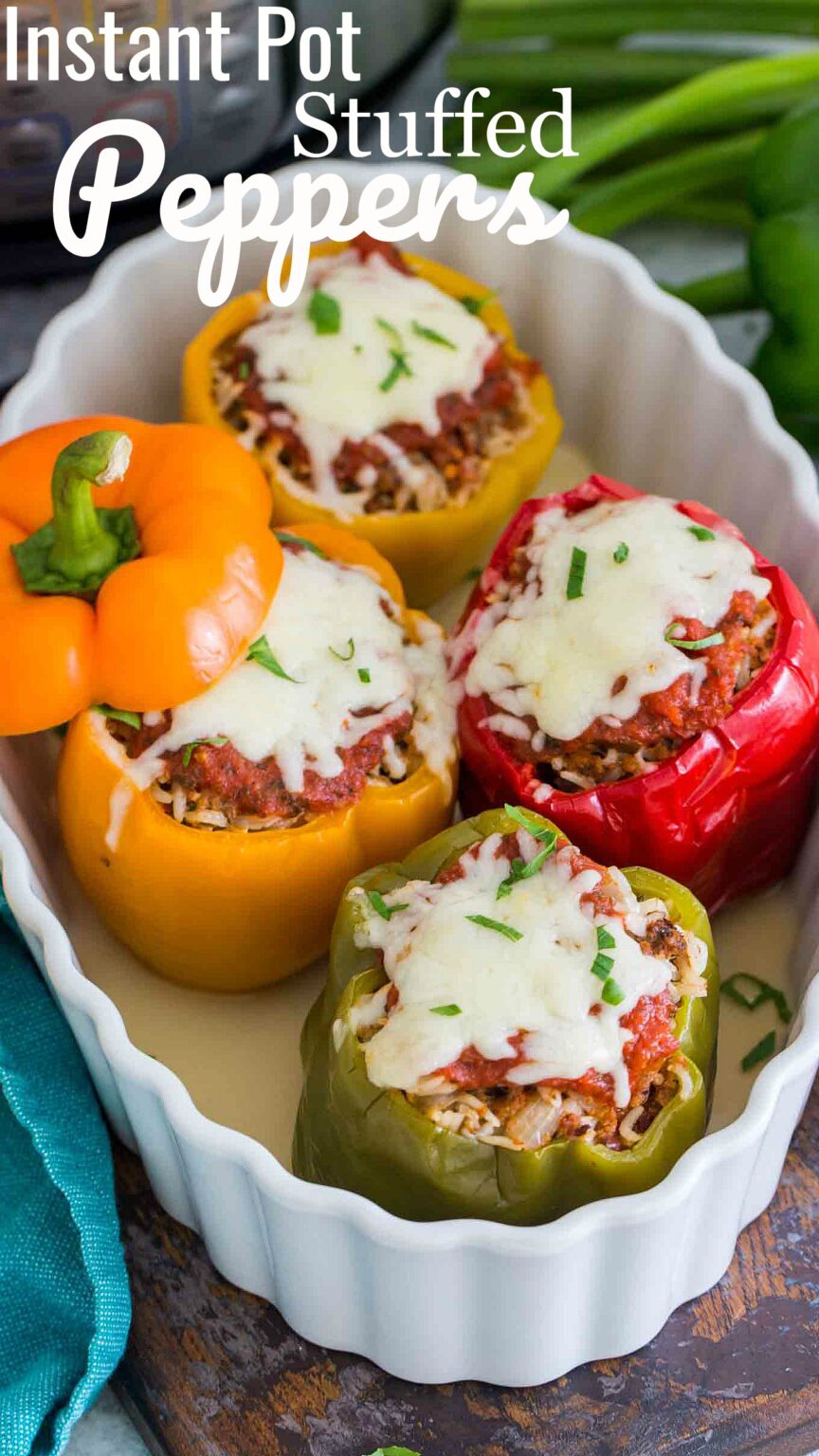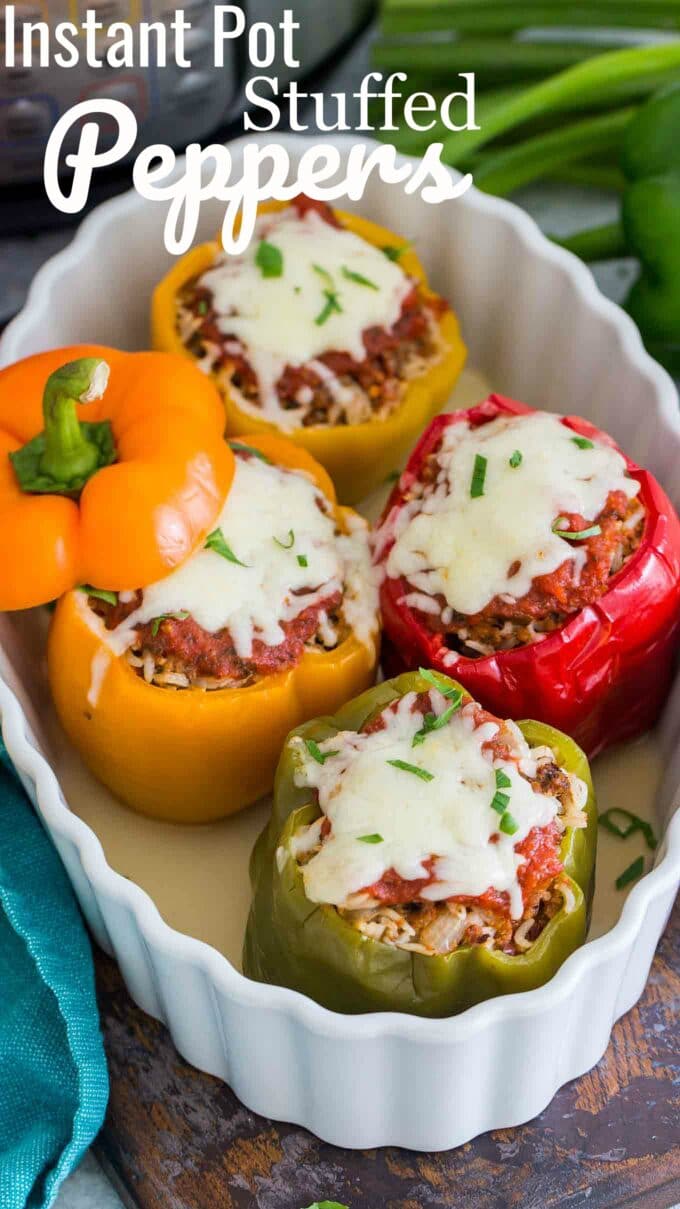 How to cook frozen stuffed peppers:
If you have time, thaw peppers in the refrigerator for several hours before cooking. It's ok if you don't, you can cook frozen stuffed peppers as well.
Preheat oven to 350 degrees F.
Then, remove the wrapping from the peppers and add them to a baking dish, leaving enough room between them.
Bake for about 20-30 minutes for frozen peppers or until heated through and about half the time for thawing.
Use a fork to taste the stuffing, to ensure that it has been heated through.
How to store stuffed peppers?
Refrigerate the peppers in airtight containers or resealable plastic bags. Properly stored, cooked stuffed peppers will last for 3 to 5 days in the refrigerator.
How to freeze stuffed peppers?
Fully cook the Instant Pot Stuffed Peppers, and if you intend on freezing them, do not top with marinara sauce and cheese.
Then, fully cool them before freezing.
You can freeze the peppers by adding them to a freezer-safe dish. Cover well in aluminum foil and then wrap the dish fully in plastic wrap or better if you have freezer wrap. Make sure the dish is fully covered in a wrap to avoid exposing the peppers directly to the cold.
You can also freeze each pepper individually by wrapping it in plastic wrap or better in freezer wrap and adding it to a freezer bag.
Properly frozen the stuffed peppers can be stored in the freezer for up to 3 months at 0 degrees F or less.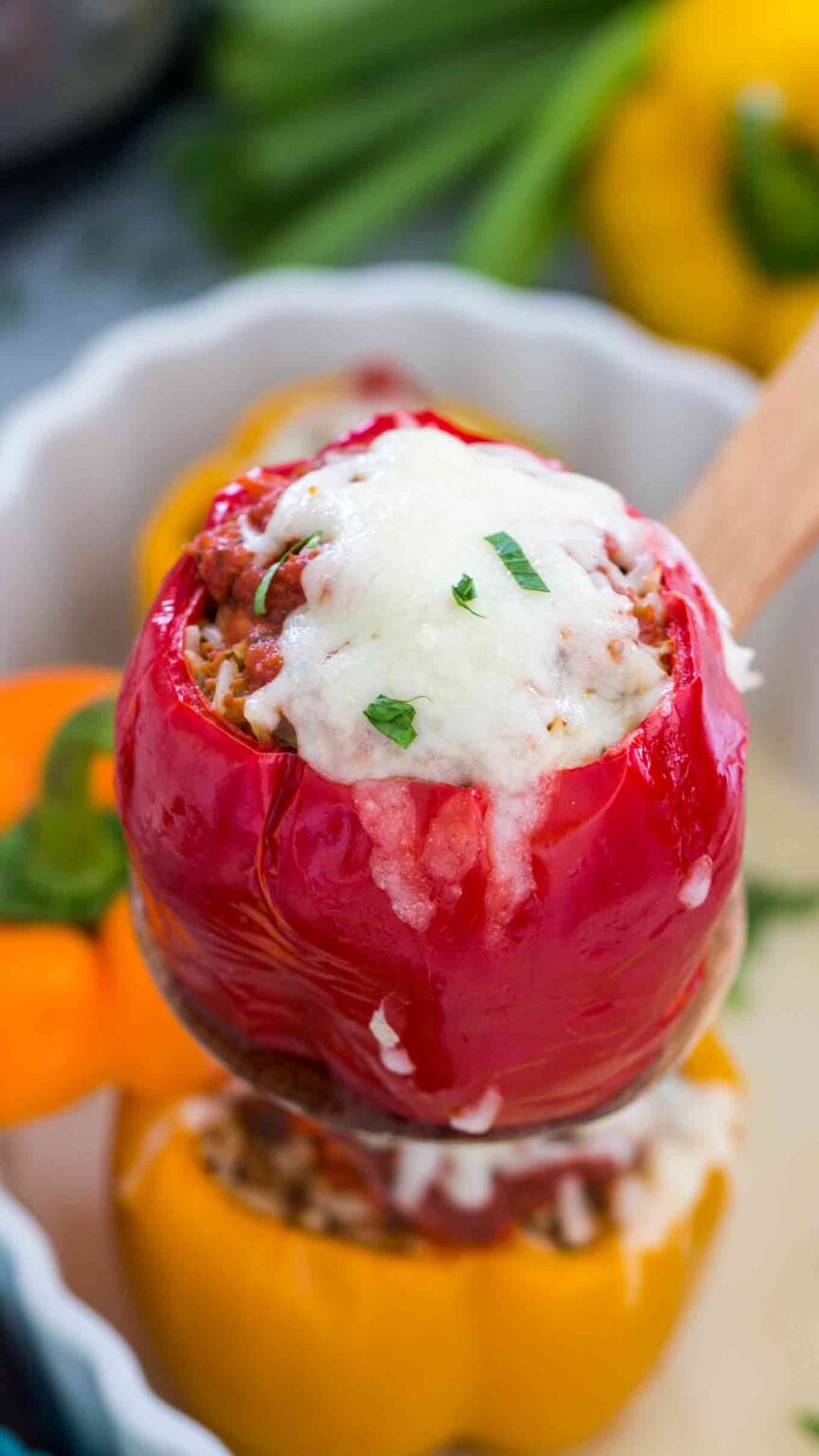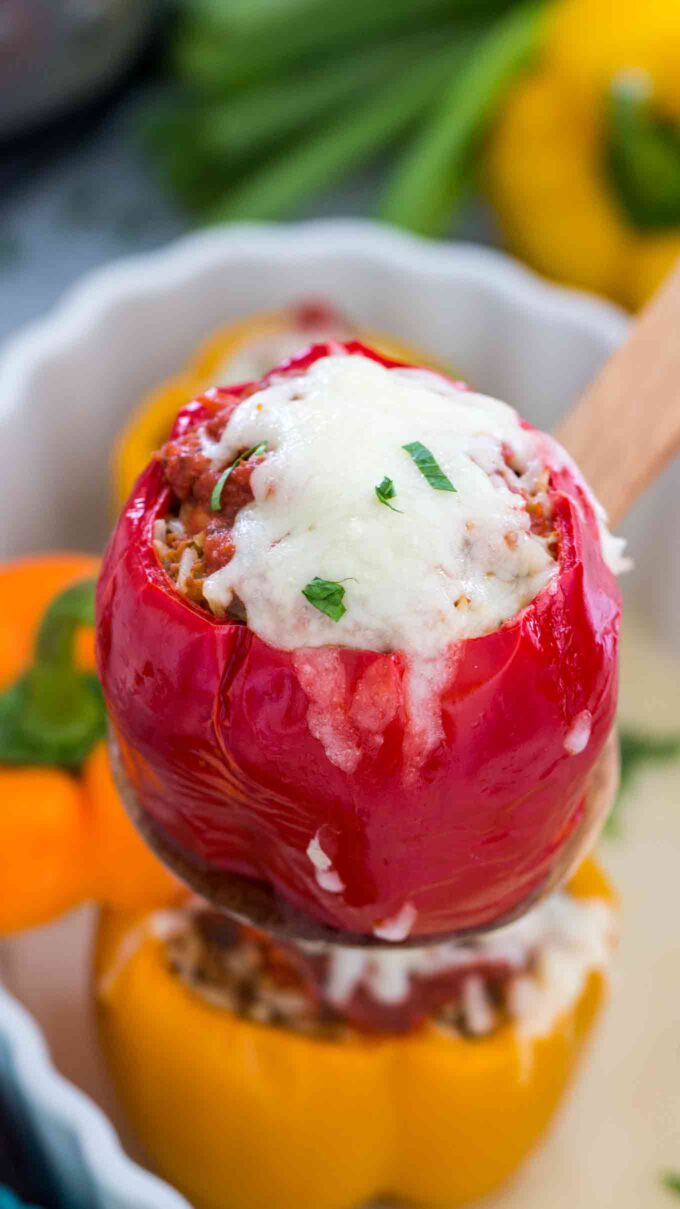 More delicious beef recipes:
Instant Pot Stuffed Peppers Recipe Tips:
This recipe can be made with other meats as well. Pork, turkey, lamb, or even Italian sausage can be used instead of ground beef.
If you are looking for a soup version, then check out my instant pot stuffed pepper soup recipe.
Also, feel free to use your favorite cheeses on top for garnishing. Shredded Parmesan, Cheddar, are great alternatives.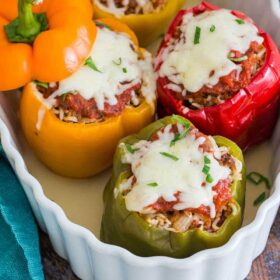 Best Instant Pot Stuffed Peppers
Find out how to make the Best Instant Pot Stuffed Peppers with my perfect cooked rice trick and a delicious blend of ground beef and seasonings.
Save
Share
Print
Pin
Rate
Ingredients
Perfect Instant Pot Rice:
1

cup

basmati rice

(uncooked)

2

cups

water

1

tablespoon

olive oil

1/4

teaspoon

salt
Stuffed Bell Peppers:
5

medium or 4 large bell peppers

1

lb

ground beef

(chicken or turkey)

1 - 1 1/2

cups

cooked rice*

(see notes)

1

small sweet onion

(diced)

1

small tomato

(diced)

1

tablespoon

minced garlic

1

tablespoon

tomato paste

1

teaspoon

paprika

1

teaspoon

oregano

1

teaspoon

Italian seasoning

1/2

teaspoon

salt

(or more based on preference)

1/2

teaspoon

ground black pepper

1/4

teaspoon

red pepper flakes

1

tablespoon

Worcestershire sauce

1

tablespoon

breadcrumbs

2

tablespoons

fresh parsley

(chopped)

1

cup

water
Optional Garnish:
8

tablespoons

marinara sauce

8

tablespoons

shredded mozzarella cheese

Fresh parsley

(chopped)
Instructions
Perfect Instant Pot Rice:
Add the rice, olive oil, salt and the 1 cup of water to an Instant Pot safe dish. Stir to combine. Cover with foil and pinch a few holes or use my favorite Stackable Pot.

Add a long-legged trivet to the Instant Pot and the remaining 1 cup of water.

Add the pot with the rice onto the trivet.

Close lid and pressure cook at High Pressure for 5 minutes + 10 minutes Natural Release. Turn off the heat. Release the remaining pressure. Open the lid.

Carefully remove the dish with the rice from the Instant Pot. Let it stand for 10 minutes, remove the foil and fluff up the rice using 2 forks.

Measure 1 - 1 1/2 cups of cooked rice for the Stuffed Peppers and store the rest.

Rinse the Instant Pot stainless steel insert.
Stuffed Peppers:
Wash the peppers, cut off their tops (I like to keep them to use when serving the peppers), remove the seeds and clean the inside well by removing gently all the veins.

You can brown the beef in a skillet or in the Instant Pot before mixing it with the rest of the ingredients. I prefer to skip this step and save time by using raw ground beef.

In a large bowl combine all the ingredients starting with the ground beef - up to the chopped parsley. Stir well to fully combine.

Stuff the prepared peppers equally with the mixture.
Cook:
Add a trivet with handles to the IP or a steamer basket.

Add 1 cup of water and arrange the peppers onto the trivet.

Close the lid and pressure cook at High Pressure for 7 minutes + 5 minutes Natural Release. Turn off the heat. Release the remaining pressure manually and carefully open the lid.

Using the handles of the trivet or steamer basket, carefully remove the peppers from the pot.
Optional Garnish and Broiling:
Turn on the oven broiler.

Add stuffed peppers to a baking dish.

Top each pepper with 2 tablespoons of marinara sauce and 2 tablespoons of shredded mozzarella cheese.

Transfer the baking dish into the oven under the broiler and cook for 1-2 minutes, until the cheese is fully melted.

Remove from oven, garnish with freshly chopped parsley and serve.
Notes
*The recipe makes enough mixture to stuff 4-5 large bell peppers. You can cook them in batches, if you have more medium bell peppers that won't fit all in the Instant Pot. To make less filling, just enough to stuff 4 medium bell peppers, either use 1 cup of cooked rice instead of two, or use less ground beef, instead of 1 lb.
Nutrition
Serving:
0
g
|
Calories:
426
kcal
|
Carbohydrates:
55
g
|
Protein:
23
g
|
Fat:
22
g
|
Saturated Fat:
8
g
|
Cholesterol:
69
mg
|
Sodium:
651
mg
|
Potassium:
727
mg
|
Fiber:
4
g
|
Sugar:
9
g
|
Vitamin A:
3835
IU
|
Vitamin C:
136.6
mg
|
Calcium:
173
mg
|
Iron:
3.4
mg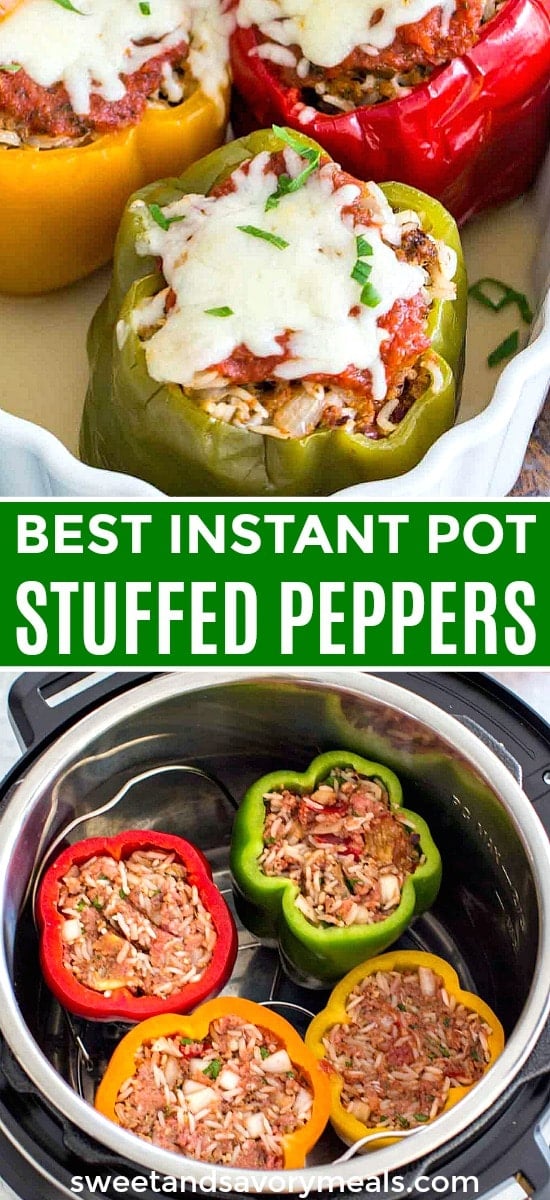 More recipes you might love