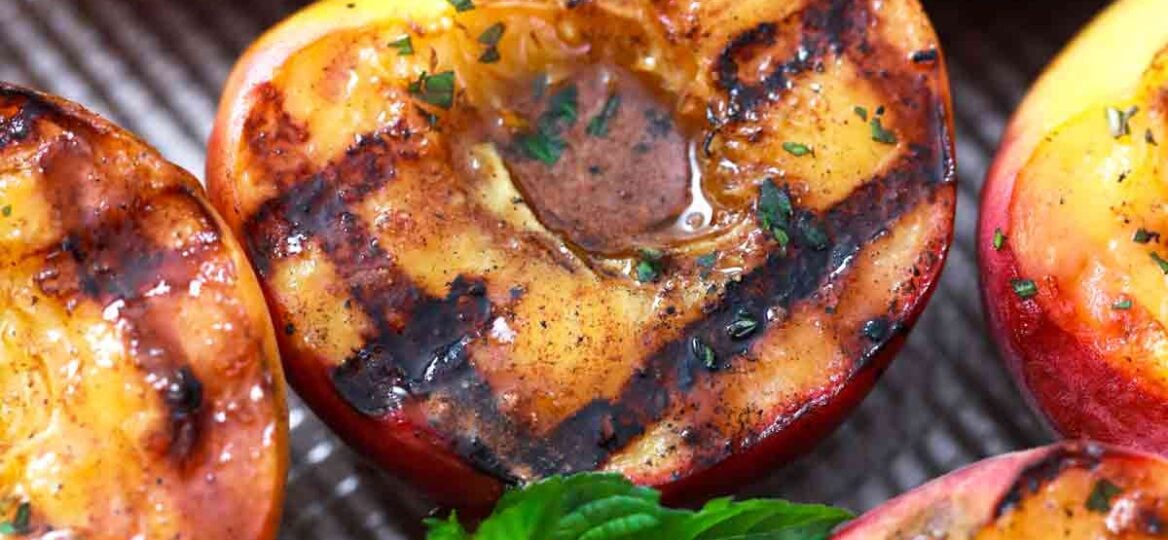 Grilled Peaches Recipe [Video]
Grilled Peaches are made with just 5 ingredients, coconut oil, cinnamon, nutmeg, and almond extract. They are juicy, sweet, and easy to prepare, making them the perfect summer side dish or dessert. Learn how to prepare this delicious recipe fast and you will be hooked.
Serve them with one of my all-time favorite summer meals this Slow Cooker Pineapple Pork Loin. Another option is to use them as a topping on these Air Fryer Hot Dogs. If you would rather have something sweet and refreshing, make this Martini. The grilled fruit can also be served as an appetizer or side dish with the mouthwatering grilled steak and marinade.
How to Grill Peaches
This grilled peaches recipe is perfect for a cookout, family gathering, or just when you want to have a sweet treat that is also healthy. You can add them to any of your favorite main dishes like ribs or apple cinnamon pork chops or peach pork. Similarly, use them for a nice and juicy dessert.
No need to go to a restaurant to get these when they are so easy to make at home. Sometimes I also make grilled shrimp skewers to go with them and to keep the dinner light and tasty.
But as a professional chef and food blogger, you know I had to try the recipe myself instead of buying it from other chefs. I kept the recipe easy and used just a few ingredients! You do not have to go on a shopping spree to get what you need. All you need for this recipe is peaches, coconut oil, honey, cinnamon, nutmeg, and almond extract.
You can also mix up the recipe to suit your taste or whatever main dish you may be making. Try adding homemade salsa for a savory twist or make it an even sweeter dessert by adding butter and sugar. Or drop a scoop of vanilla ice cream on top of the warm peaches right off the grill or grill pan.
In addition, you can increase the ingredients to cook for a large group or to save for later. This is a fun summertime treat or winter dessert that is inexpensive and only takes a few minutes to prepare.
Ingredients needed:
For precise measurements, please look at the grilled peaches recipe card below. You will need these ingredients:
Peaches: You want to use ripe peaches that are still firm. Try a farmer's market for the freshest fruit.
Coconut oil: It is best to use virgin coconut oil in its solid form, but you can also use refined oil in liquid form.

Honey: Organic clover honey is preferred but you can also use avocado or buckwheat honey.
Spices: We use nutmeg and cinnamon in our recipe.

Almond extract: You can also substitute this with vanilla or peach extract.
How to make the best grilled peaches from scratch?
Get ready: First, start the outdoor grill to medium or preheat a grill pan indoors to medium heat.

Prepare the peaches: Next, rinse the peaches and cut them in half. Afterward, remove the pits and rinse out the core.
Coating: After that, slather each of the peaches with coconut oil.
Cook: Next, grill cut side for three to five minutes or until you can see the dark grill grates marks on them. Turn them halfway through to get the cross-hatched char marks. Although grill marks do not affect the taste, it makes them look more appealing.
Make the honey mixture: In addition, mix the cinnamon, almond extract, nutmeg, and honey in a small dish.
Apply the honey mixture: Lastly, spread a coating of the honey mixture over the peaches while they are still warm.

Serve: They are deliciously served with whipped cream or vanilla ice cream on top. Also, sprinkle on a pinch of chopped mint (optional).
Recipe variations:
Add more fruit: Add another fruit like apples or pears.
Sweeten: You can add granulated sugar or brown sugar to make it sweeter.
Sauce it up: Add a bit of sweet and sour sauce for a twist.
Toppings: There are many kinds of toppings you can add like graham cracker crumbles, chopped nuts, or butterscotch chips.
Jam: You can add peach jam to the top for an even peachier flavor.
Canned peaches: If you cannot find any fresh peaches, canned peaches will work in a pinch. However, make sure you do not use peaches that are soft, or it will not cook as well.
How to serve:
The Grilled Peaches are best served warm off the gas grill with a dollop of whipped cream or scoop of vanilla ice cream on top or on the side. However, this delicious dessert is also amazing when it is chilled for a few hours.
There are many ways you can serve them, here are our favorites:
Frequently Asked Questions
How long do these stay fresh in the refrigerator?
These treats are easy to keep in the refrigerator. Let them cool for an hour or so and then place them in an airtight container. You can keep them in the refrigerator for four to five days.
Can I freeze these?
Freezing them is okay too but you will have to let them cool in the refrigerator for a few hours before putting them into a freezer bag or airtight container. You can keep these in the freezer for up to 90 days. When you want to eat, just defrost them by putting them in the refrigerator overnight.
What is the easiest way to halve peaches?
First, find the line that goes down the center of the peach. Following that line, cut all the way around. Twist the peach to get the peach halves apart and use your fingers or a knife to remove the pit.
If you are a fan of peaches, you may want to try another peaches recipe like peach pie, peach cobbler, or Peach Crumb Bars. It takes a bit more time and a few more ingredients, but we think this amazing dessert is well worth it.
Recipe Tips:
It is very important to choose fruit that is perfectly ripe. If it's too ripe, it will become too mushy. Similarly, if it's too green, it just won't taste as good.
Use maple syrup in case you are allergic to honey.
Keep an eye on the fruit, not to overcook it.
Use almond or vanilla extract, it adds a nice touch to the fruit.