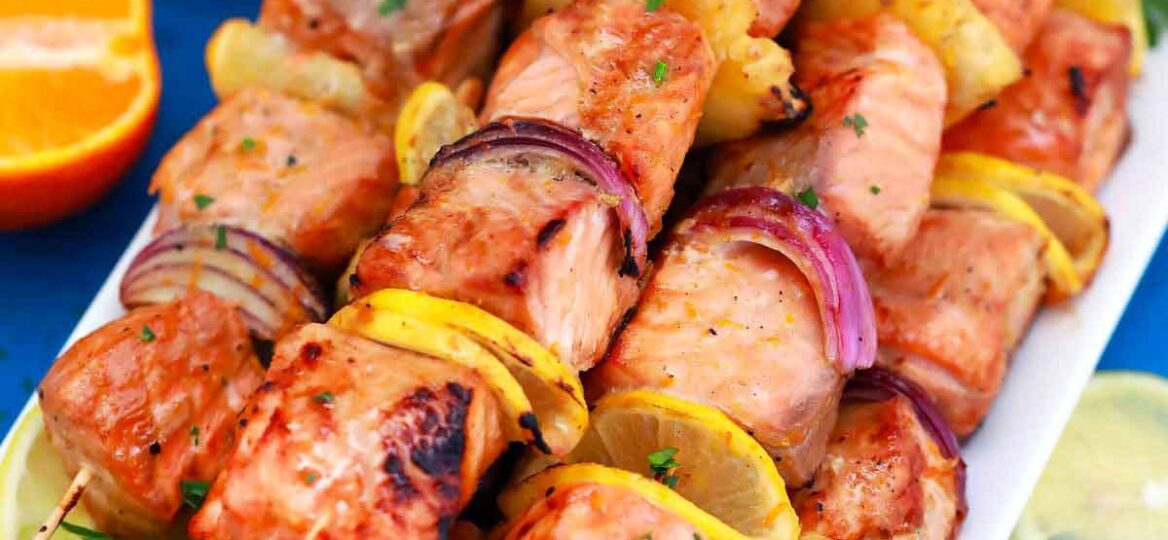 Grilled Salmon Skewers [Video]
Grilled Salmon Skewers are a healthy twist to a classic cookout staple! This grilled to perfection meal can make any outdoor event more refreshing and carefree!
Having a summer outdoor event? Make it more exciting by serving these delicious recipes, choose between Grilled Pork Skewers, Chicken Kebabs, or a lighter meal made of Shrimp Kebabs.
Salmon Kebabs Recipe
Grilled Salmon Skewers make for a great alternative to common BBQ choices such as pork and chicken. I love making them when it seems like everyone could use a good seafood meal.
Moreover, combined with some pineapple and a tropical marinade, it makes this meal over the top. This seafood is loaded with protein, Omega-3, and Potassium, which makes it very nutritious on top of being appetizing.
Not to mention, it takes less than 10 minutes to cook this dish! With such an easy to follow recipe, you'll have more time to chat and enjoy the company.
This flavor-packed kabob is all you will need for the main course in cookouts. I hope you get to enjoy it as much as my family and friends did.
How to make the best Grilled Salmon Skewers
Prepare the marinade. In a bowl, make a Mediterranean-styled marinade with a tropical twist. Whisk together these ingredients: Pineapple juice, orange juice, orange zest, soy sauce, brown sugar, rice vinegar, sesame oil, minced garlic, liquid smoke, salt, and pepper.

Marinade the fish. Cut your salmon into pieces with 1 and a half thickness. Place the pieces into a resealable bag and pour in the marinade. Give it a little shake to coat every fish cut. Seal the bag and refrigerate it overnight or for at least 8 hours. Make sure to lay it horizontally or in a way that the juice coats evenly the fish to ensure that the flavor seeps in every cut.
Skewer. Prepare your kabob by sticking the salmon on the skewer with sliced onions and pineapples alternatively. Leave enough space so the heat is evenly circulated.

Cook. Lay the sticks in a medium heated grill for 8 minutes or until done as preferred. Make sure to rotate every 2 minutes or so for even doneness.

Serve. Let the salmon kebabs stand for 5 minutes after removing them from the heat. Garnish with herbs or drizzle some dressing. Serve on a nice plate.
How long does salmon take to grill?
Salmon takes fairly quick to cook. At medium heat, which is the recommended temperature, a side will be done by only about 2 minutes.
Just like shrimps, you can also determine if the fish is already done when it turns pinkish or opaque.
How do you keep salmon from sticking to the grill?
You can wrap the fish with aluminum foil or lay it on the grill itself. Otherwise, just make sure that your griller is clean and brush it with oil to make it non-stick.
What to serve with Grilled Salmon Skewers?
With an appetizing meal such as this recipe, you want to make sure to pair it with refreshing sides. I recommend making a full course serving this recipe with the following mouthwatering sides:
Best sauces for Salmon Kabobs?
To make the dish even more appetizing, try to make these dressing recipes for an upgrade:
Recipe tips:
Lemon slices are great alternatives to pineapple slices. As lemon is quite tangy, make sure your slices are thinner if you don't want it to be too overpowering.

I recommend garnishing the kabob with herbs such as parsley. Basil, rosemary, and mint also work perfectly if you don't have parsley.

When wrapping the fish with foil, avoid touching it directly. Use a potholder to avoid burning yourself.

Unlike other fish, salmon has a very tasty skin. So, I suggest keeping it on and make sure it is crisp for an utterly luscious taste.