Crispy Potato Wedges Recipe [Video]
Last updated on October 10th, 2021 at 03:38 pm
Crispy Potato Wedges are crispy on the outside but tender and fluffy on the inside! This baked side dish is the best alternative for the all-time favorite French fries!
I love how versatile spuds are and I can't believe that I am sharing with you this recipe just now! I like serving it along with Bacon Cheeseburger Sloppy Joes, Grilled Steak, and Instant Pot Kalua Pork!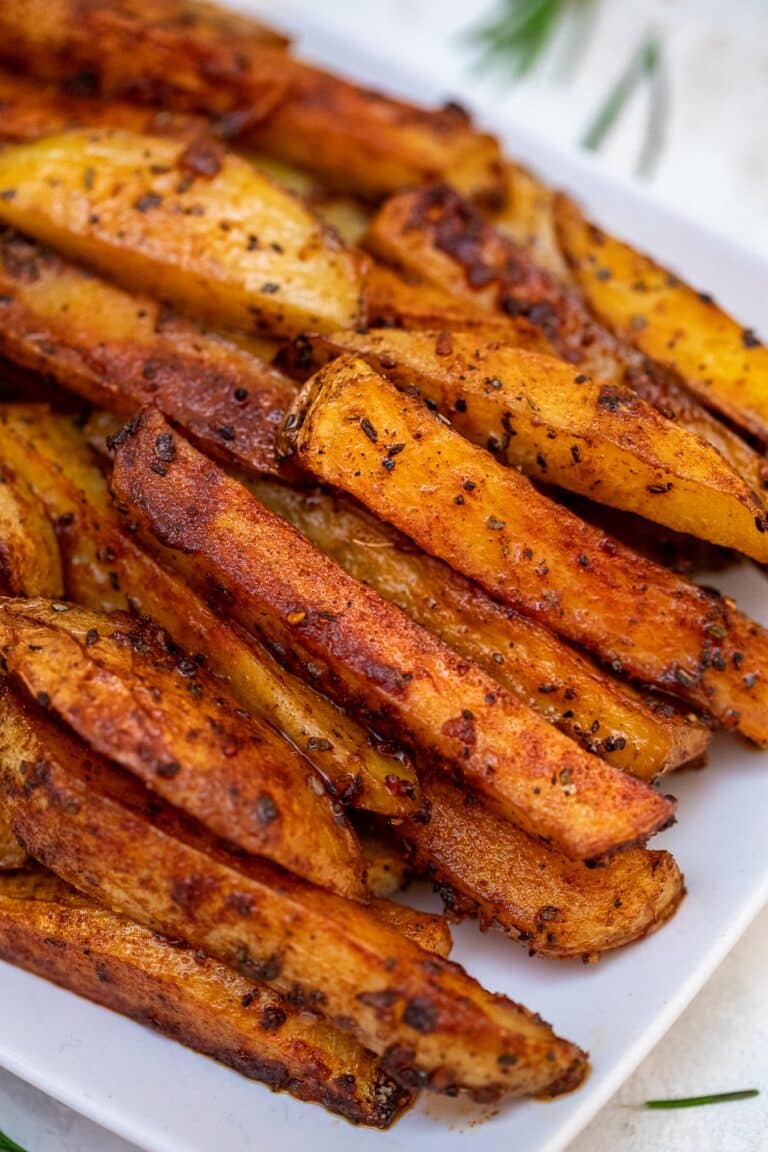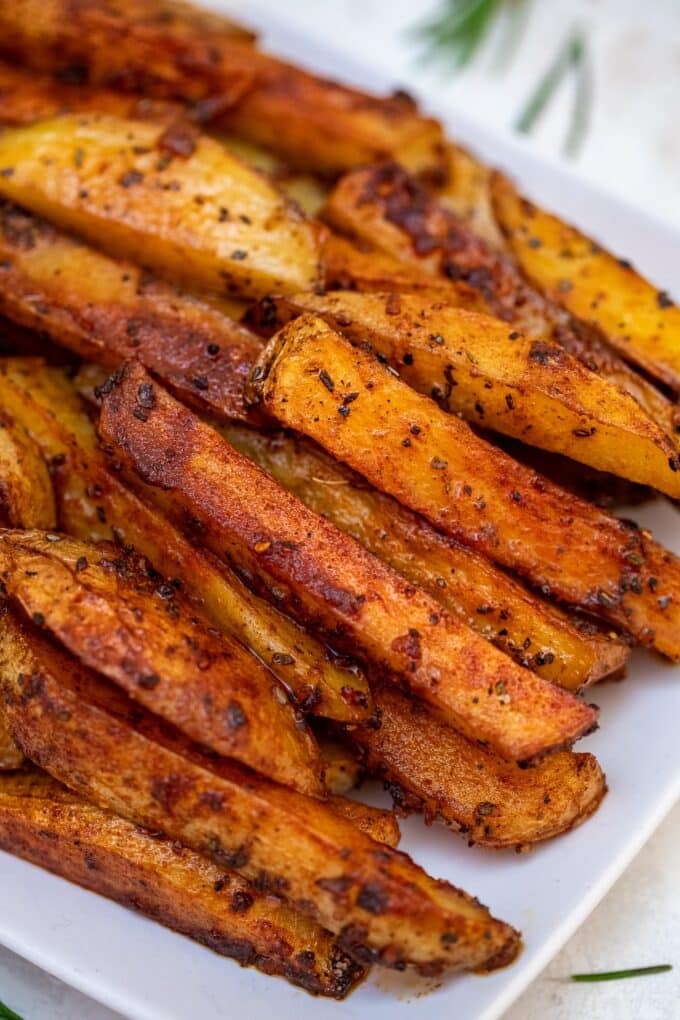 How to make Baked Potato Wedges
Crispy Potato Wedges are a great appetizer that you can simply pair with just about anything. I like that this dish is roasted in the oven which makes it healthier than deep-fried potato chips or French fries.
Potatoes are abundant, versatile, and delicious! We have had a lot of dishes that call for this yummy vegetable. Though it has a very light flavor, the herbs in this recipe add a nice mix of flavor.
The smoked paprika and rosemary add hints of smoky and woody aromas. The dried oregano adds a slightly bitter taste. And when all of these are combined with the kosher salt, ground black pepper, and olive oil, the spuds turn to a savory treat.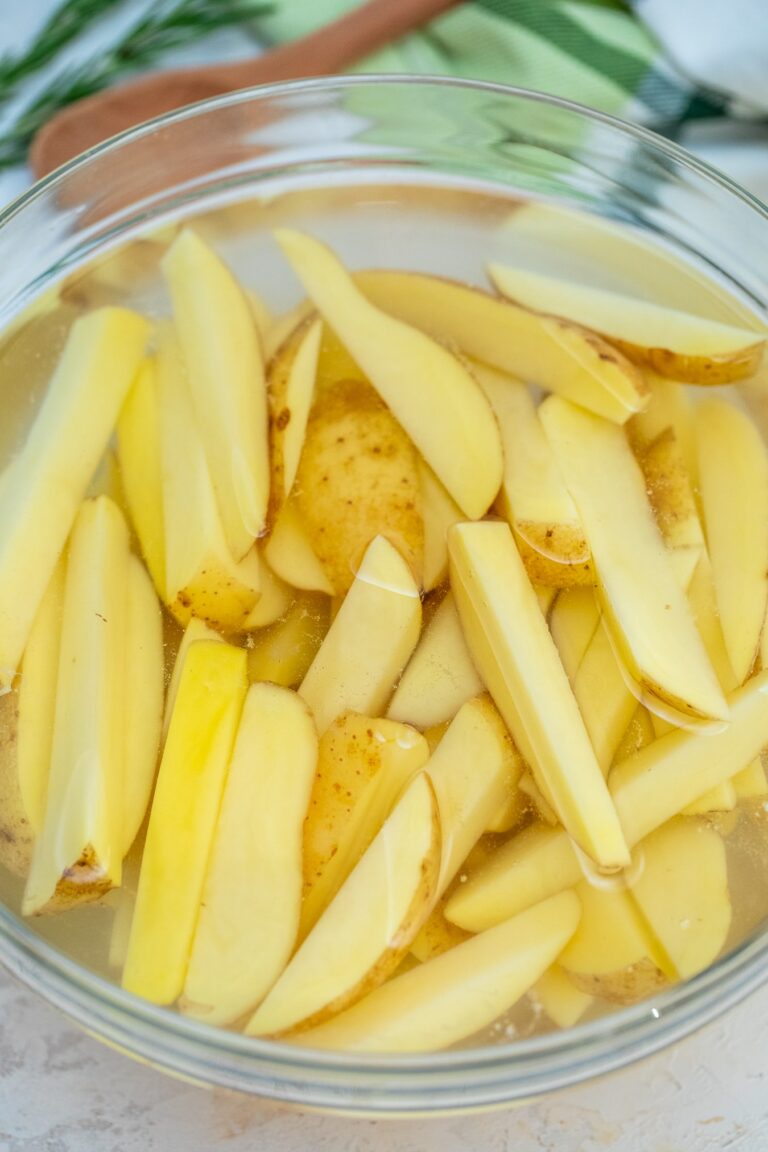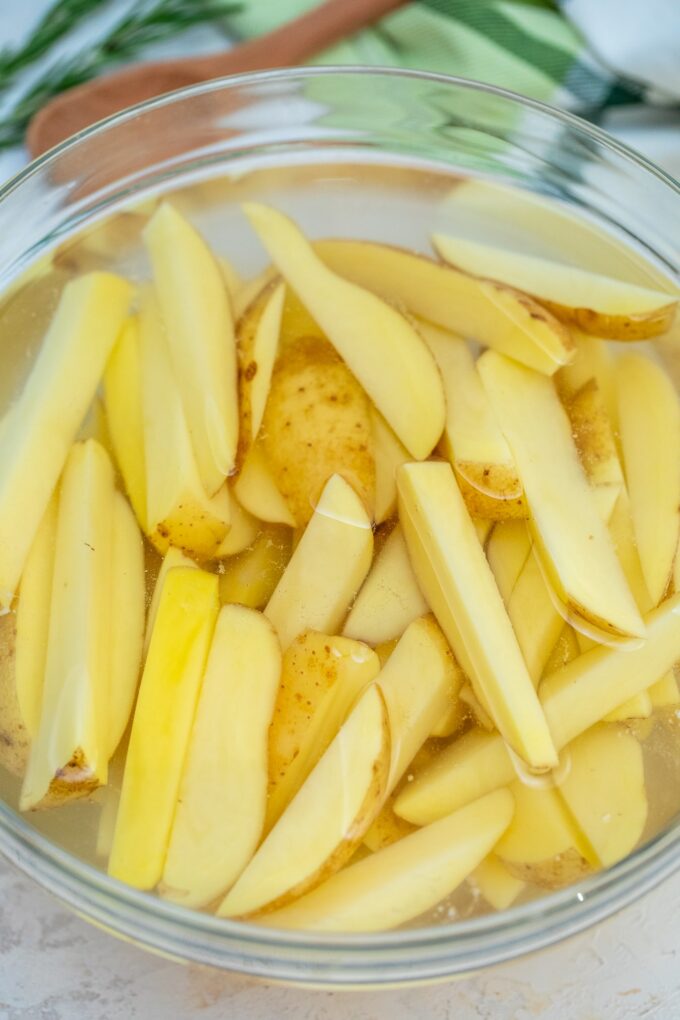 The secret to the crusty wedges is in the preparation of the spuds. The technique is to remove the starch by soaking the spuds in water first. At the same time, moisture seeps in. Then, all the moisture on the surface is removed by draining and wiping before seasoning and baking.
Much of the effort in preparing this dish is in the preparation of the spuds itself but the rest of the cooking is easy peasy!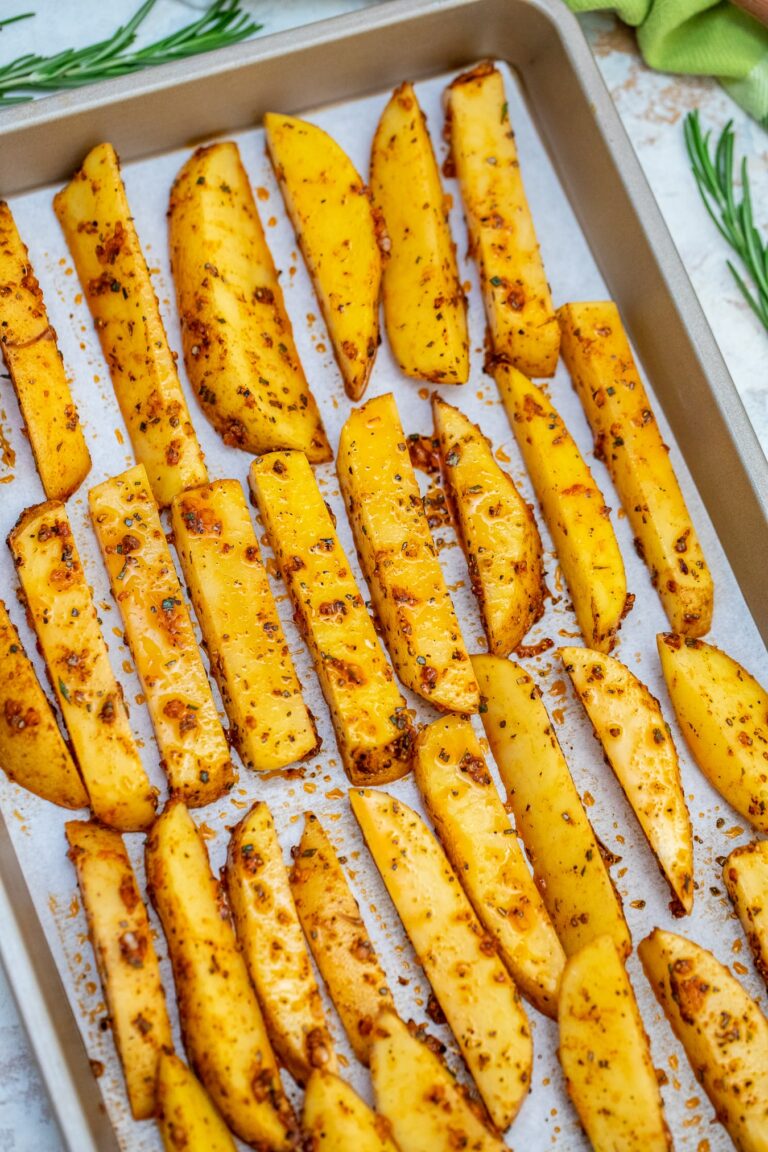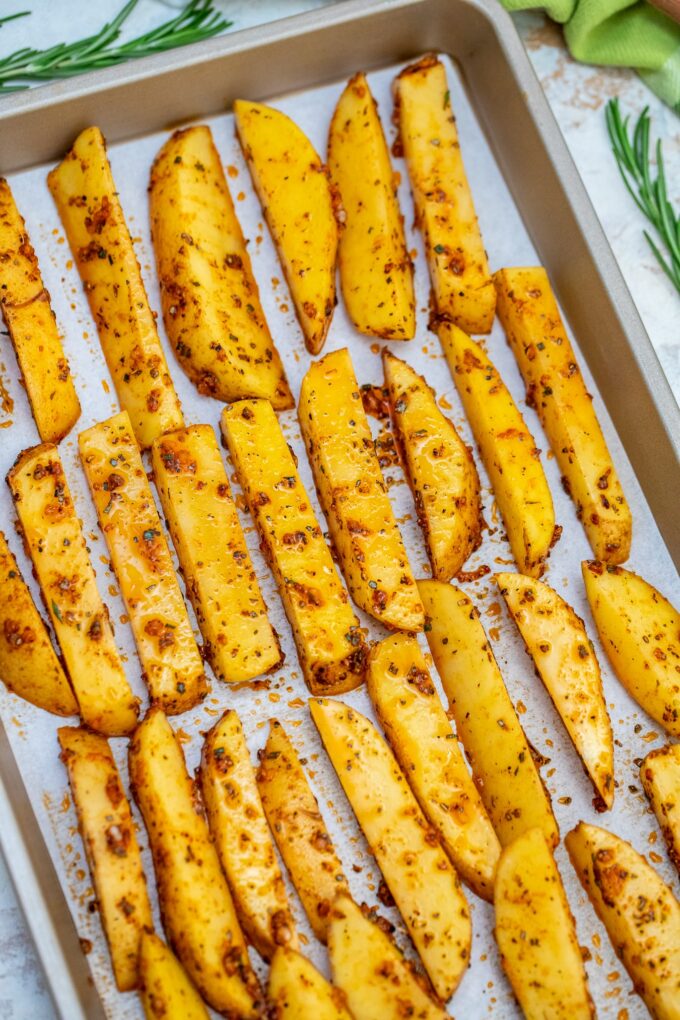 How do you cut potatoes into wedges?
The first step is to clean the surface. If you are using organic ones, then, peeling them is optional. Otherwise, remove the skin using a peeler or a small knife.
Then, follow these simple steps that will give you eight wedges per piece:
Lay it on a chopping board and cut in the middle lengthwise.
Get one half and lay it on its flat side. Then, cut it in the middle lengthwise. At this point, you get two quarters. Do the same for the other half.
Lay one quarter on the chopping board on its curved side. Cut through the middle lengthwise again.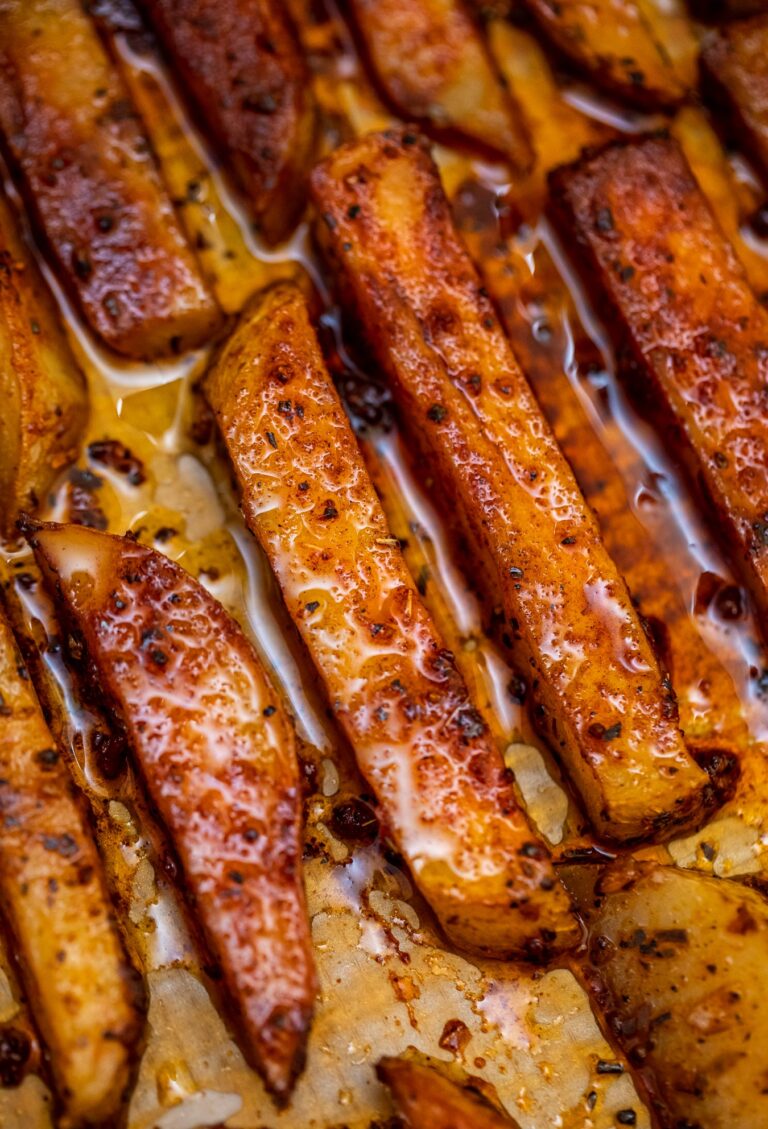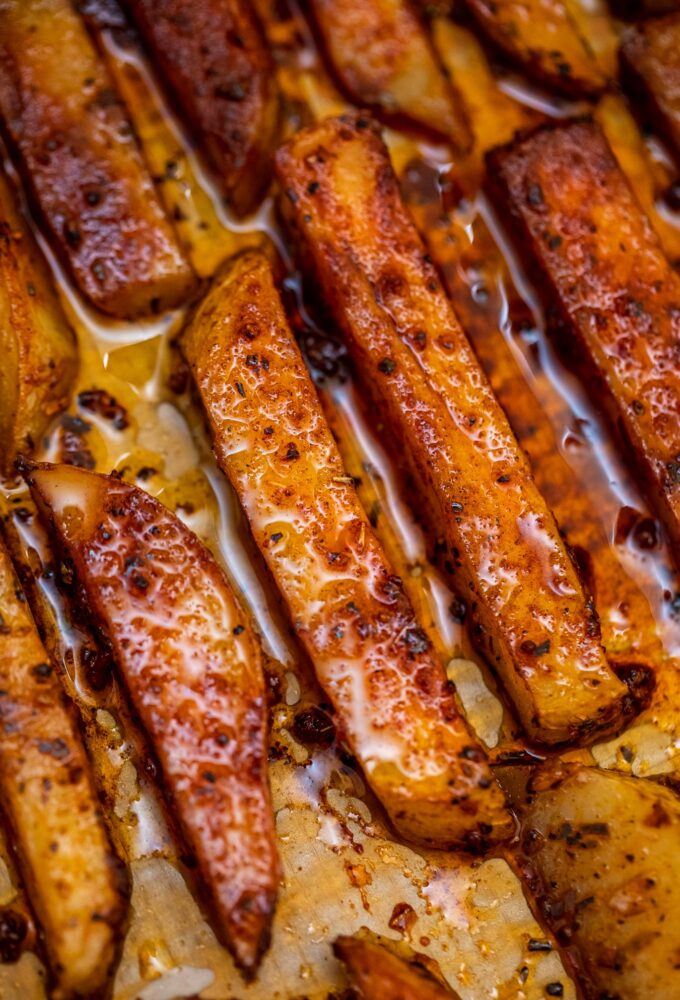 What potatoes are best for Crispy Potato Wedges?
Most people would use starchy ones like the Russet or Idaho varieties, and they make decent wedges. But for this recipe, I like using white potatoes as they are not as starchy. They will hold their shape better.
How to make Crispy Potato Wedges:
Prepare the spuds: Once you have cut the spuds into wedges, soak them in cold water for about an hour. If the water turns whitish, replace it.
Prepare the oven: Meanwhile, preheat the oven and place the rack in the middle.
Season: Drain the water and pat each piece dry. Place them in a bowl. In a small bowl, mix the olive oil and the herbs and spices. Then, season the spuds with the oil mixture. Make sure that each piece is well-coated.
Bake: On the sheet pan, arrange the wedges such that there is space in between. Then, roast in the oven until golden and crispy, flipping twice midway so that each side is roasted evenly.
Serve: Serve warm while they are still crispy along with your favorite dip.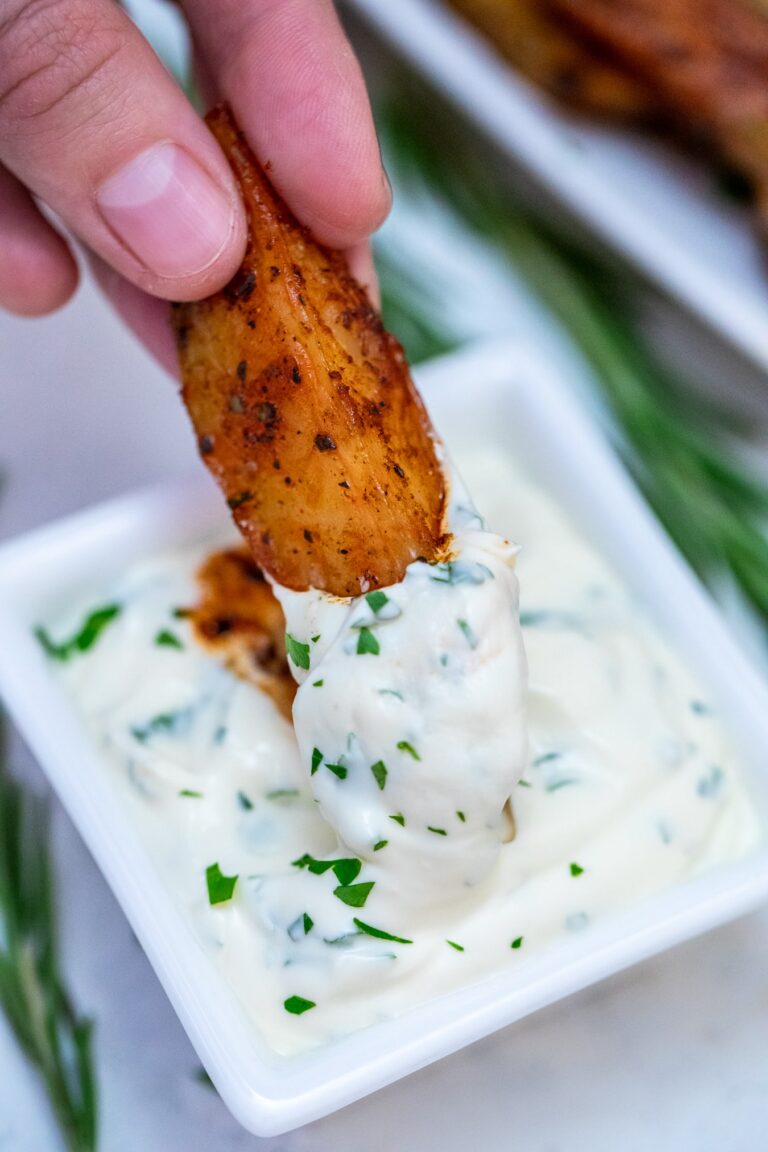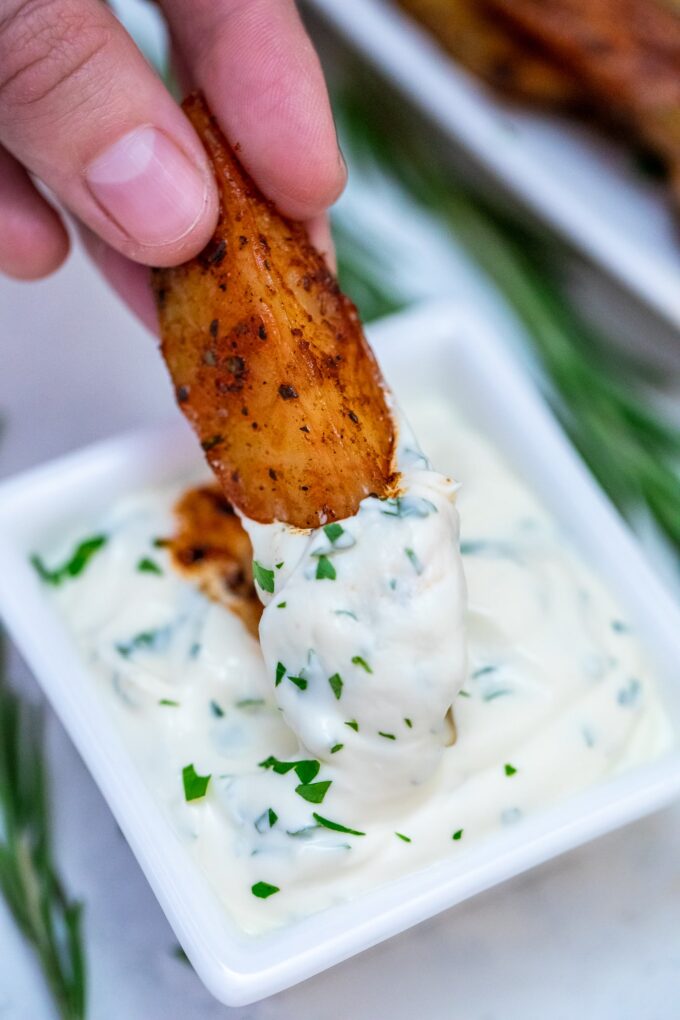 How to Store:
Refrigerate: Place them in an airtight container and refrigerate for 3 to 5 days.
Freeze: Place them in a heavy-duty freezer bag and freeze for 10 to 12 months.
Recipe Tips:
Serve it with either ketchup, mustard, cheesy sauce, or barbecue sauce. Or, top it with your favorite ones like parmesan cheese and taco fillings. Instead of the taco, you have this dish as the base.
Cut the wedges one day ahead if you have limited time. Just soak them completely in water and refrigerate.
Make sure to cut them into even sizes so that they will cook evenly as well.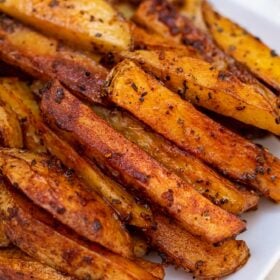 Crispy Potato Wedges
Crispy Potato Wedges are crispy on the outside but tender and fluffy on the inside! This baked side dish is the best alternative for the all-time favorite French fries!
Save
Share
Print
Pin
Rate
Servings:
6
servings as a side dish
Ingredients
4

pounds

white potatoes

1/4

cup

good olive oil

(or more if needed)

2

tablespoons

fresh rosemary

(finely diced)

8

cloves

garlic

(minced)

1

tablespoon

dried oregano

1

tablespoon

smoked paprika

1/2

teaspoon

ground mustard

1 1/2

teaspoons

kosher salt

1

teaspoon

ground black pepper
Instructions
Wash and clean the potatoes. If they are not organic, peel them.

Cut the potatoes into wedges and place in a large bowl. Cover with cold water and let soak for at least 1 hour, change the water if it looks cloudy or whitish.

Preheat oven to 425 degrees F. Place oven rack in the middle of the oven.

Prepare a large sheet pan by covering it with foil or parchment paper. Set aside.

Drain potatoes and rinse under cold water. Place them in one single layer on a kitchen towel. Using paper towels or another kitchen towel, pat dry the potato wedges, removing as much moisture as possible. Transfer to a large, clean and dry bowl.

In a small bowl combine olive oil, fresh rosemary, garlic, paprika, oregano, mustard, salt, and pepper.

Add the oil mixture to the potatoes and toss until well coated.

Transfer the potatoes to the large sheet pan and spread out into 1 layer with enough room between each potato wedge, the potatoes should not over-lap, and should not be over-crowded in the pan.

Roast in the oven for 50 minutes to 1 hour, or until browned and crispy, flipping twice during cooking to ensure even browning.
Nutrition
Calories:
274
kcal
|
Carbohydrates:
39
g
|
Protein:
8
g
|
Fat:
11
g
|
Saturated Fat:
2
g
|
Sodium:
613
mg
|
Potassium:
1286
mg
|
Fiber:
9
g
|
Sugar:
1
g
|
Vitamin A:
608
IU
|
Vitamin C:
35
mg
|
Calcium:
109
mg
|
Iron:
10
mg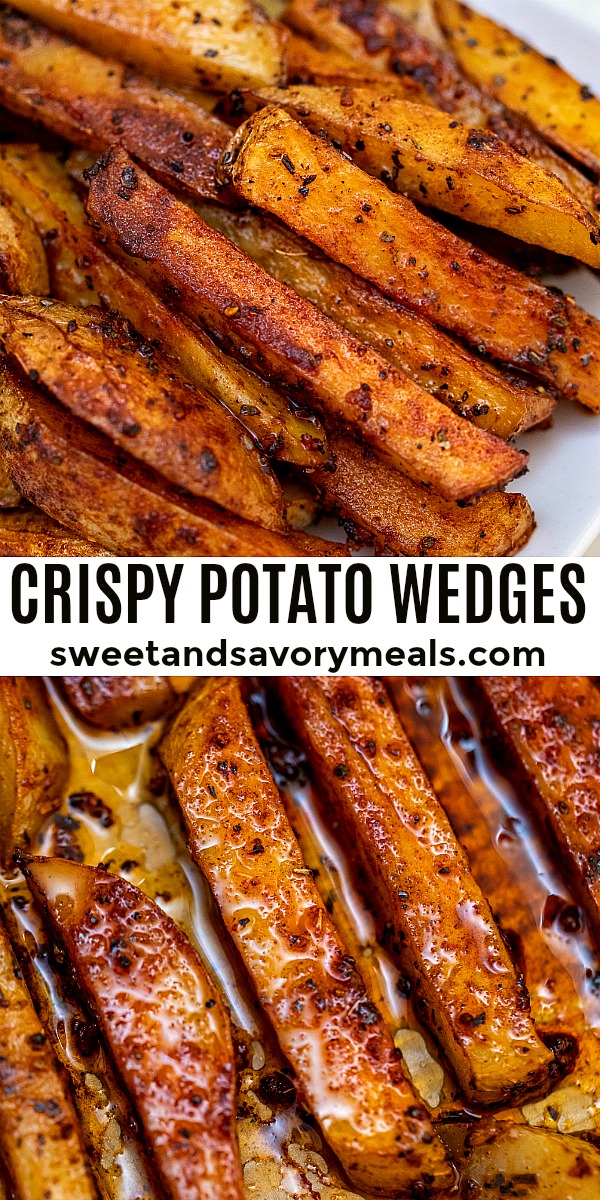 More recipes you might love