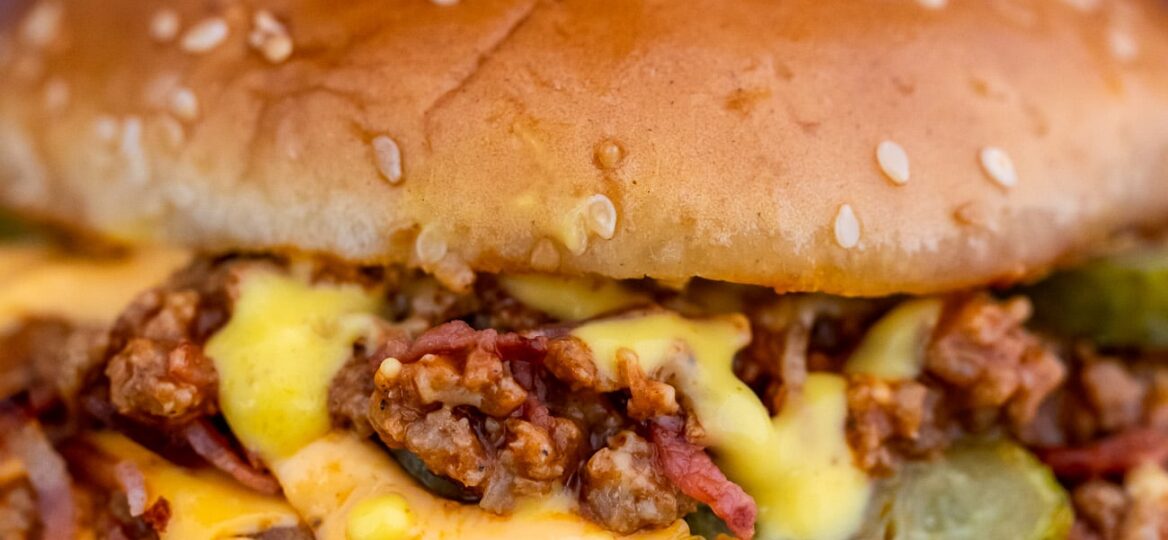 Bacon Cheeseburger Sloppy Joes [video]
Bacon Cheeseburger Sloppy Joes are delicious American-style sandwiches loaded with perfectly flavored ground beef, crispy bacon slices, and melted cheddar cheese.
If you love meat and cheese, try our recipes like Monte Cristo Grilled Cheese Sandwiches, Bacon Wrapped Cream Cheese Stuffed Chicken, and Philly Cheesesteak Stuffed Zucchini Boats.
Homemade Bacon Cheeseburger Sloppy Joes
Bacon Cheeseburger Sloppy Joes have been on my list of favorite foods ever since I was a kid. Now as an adult, I still consider it as my go-to comfort food.
Thankfully, these sandwiches are so easy to make, that they are always a great dinner alternative. Kids and adults equally enjoy them!
When cooking the ground beef, I concentrate on the sauce mixture to make sure I achieve the perfect burst of flavors. I also like making the bacon bits extra crispy.
This recipe is definitely a treat for meat lovers like me. In about half an hour, I can already enjoy this cheesy meaty goodness.
I usually serve the flavored beef on freshly toasted buns or sliced bread with extra cheese and bacon toppings.
What is a cheeseburger?
It is basically a hamburger, or meat patties, topped with cheese. Both the cheese and cooked meat patties are placed inside a bun.
The sandwich usually consists also of lettuce, tomato, and pickles. The most common condiments are mayonnaise, ketchup, and mustard.
What are sloppy joes?
Sloppy joes are flavored ground beef usually eaten on sliced bread or burger buns. This dish originated in America, and people usually refer to it as a loose-meat sandwich.
Ground beef must be cooked mainly in a combination of Worcestershire sauce and tomato sauce to get its distinct tomato flavor.
What are the ingredients in bacon cheeseburger sloppy joes?
The main ingredients are cheese, ground beef, bacon, and hamburger buns. For exact measures, please see the recipe card below.
To cook the ground beef, you need to prepare the following:
diced onion
minced garlic
olive oil
Kosher salt
ground black pepper
Worcestershire sauce
beef broth
tomato sauce or ketchup
cornstarch
paprika
cheddar
pickles and mustard (for garnish)
How do you make bacon cheeseburger sloppy joes?
This is comfort food at its best, which is very easy to prepare. Also, I have included a short recipe video to better guide you through the cooking process. The general steps are highlighted below:
Start by cooking the bacon in a large nonstick pan. Make it extra crispy and set aside.
Next, add the ground beef to the pan. Stir the meat and wait until a deep brown crust appears. Drain the fat.
Saute onion and garlic.
Chop half of the bacon set aside earlier and put it back to the pan.
Prepare the sauce mixture by adding salt, black pepper, paprika, tomato sauce, and Worcestershire sauce. Stir well to combine.
In a separate bowl, combine beef broth with cornstarch. Add this to the pan and mix well.
Cook and wait until the sauce mixture thickens.
Turn off the heat. Add the cheese and stir as it melts.
Serve on buns or sliced bread. Add your favorite toppings.
What to serve with bacon cheeseburger sloppy joes?
These sandwiches can be eaten on their own as they are very filling. If you want to eat these with side dishes, serve chips, Tater Tots or Taco Fries.
Storage, Freezing, and Reheating instructions:
If you have leftovers, make sure to put them in an airtight container before leaving them in the refrigerator. It will be best to serve the dish at most 3 days after storage.
You may reheat leftovers using the pan or microwave.
If you want to make it last longer, you can freeze the beef mixture for up to 2 months. Remember to defrost overnight before reheating.
You can cook the ground meat a day in advance and store them in the fridge. After heating, serve it on freshly toasted buns and choose your favorite toppings.
More beef recipes:
Recipe Tips
Feel free to try Pizza Sloppy Joes or Slow Cooker Sloppy Joes. Both recipes are to die for!
If you want a stronger cheese flavor, replace cheddar cheese with blue cheese.
Also, if you don't like ground beef, you may try using ground pork or turkey. The cooking procedures remain the same.
For a healthier version, add mushrooms and serve on whole-wheat buns.
To make the flavor sweeter, add brown sugar to the sauce mixture. For added tanginess, use a bit of apple cider vinegar.