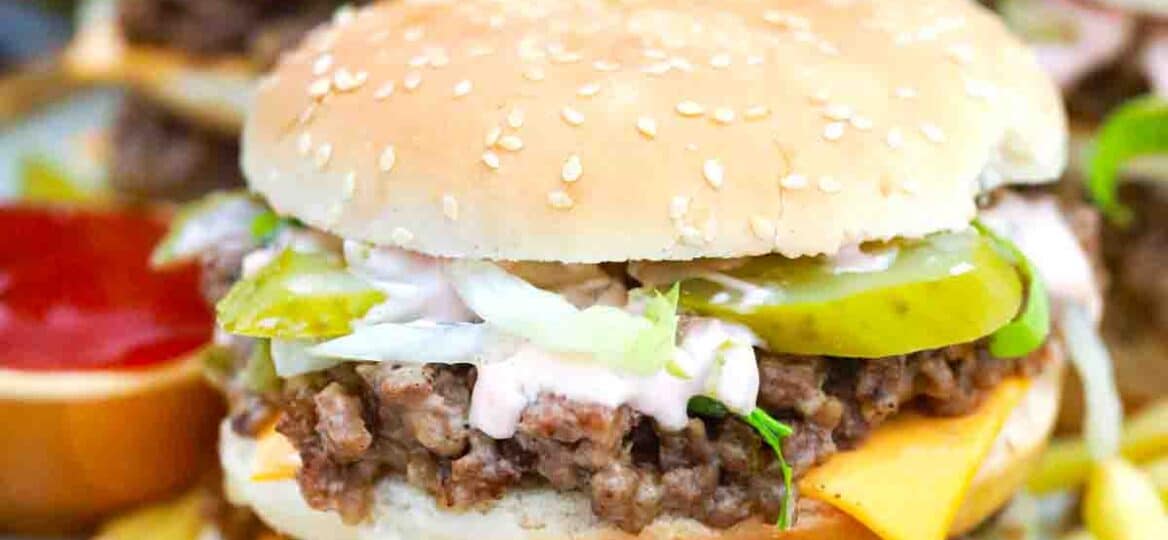 Juicy Big Mac Sloppy Joes Recipe
Big Mac Sloppy Joes are perfectly seasoned like the restaurant burger with big mac sauce, onions, lettuce, and pickles on a sesame seed bun. It only takes a few minutes and a handful of ingredients you probably already have in your kitchen so you can make these for dinner tonight!
For classic sloppy joes, try our Slow Cooker Sloppy Joe recipe with brown sugar and tomato sauce. Another way to enjoy this delicious sandwich is by using our Bacon Cheeseburger Sloppy Joes made from lean ground beef and thick sliced bacon and seasoned with paprika and Worcestershire sauce.
The Big Mac was created by a McDonald's franchise owner from Uniontown, Pennsylvania in 1967, making it more than 50 years old. His name was Jim Delligatti and he became famous for the discovery.
When the Big Mac turned 40 in 2007, Delligatti and his family opened a Big Mac Museum Restaurant. It is open to the public in North Huntington, Pennsylvania where you can see the largest Big Mac statue in the world.
These homemade sloppy joes taste amazing with all the same flavors as the restaurant chain burger and more. You just need a bun, chopped onions, ground beef, chopped pickles, and a few other basic ingredients for a copycat McDonald's big mac with all the toppings. Fast food lovers will be amazed at how this big mac sloppy joe tastes.
Looking for something different for dinner? Try this Turkish cabbage stew made with ground lamb, fresh cabbage, and beef broth. Another popular recipe to try is our slow cooker crack chicken with boneless chicken breasts, bacon, ranch dressing, and cream cheese.
Ingredients needed:
Ready for a big mac sloppy joe? Gather these ingredients and then scroll down to the bottom of the page to our recipe card. There you will find the correct measurements and step-by-step directions.
Lean ground beef: We used 80/20.
Small yellow onion: Diced.
Garlic cloves: Minced.
Cornstarch
Beef broth
Cheese slices
Toasted sesame seed buns
Worcestershire sauce
Thousand island dressing
Kosher salt
Black pepper
Toppings: Shredded lettuce, extra dressing, and chopped dill pickles.
How to make big mac sloppy joes from scratch?
Cook the meat: First, using a large skillet, combine ground beef and diced onions and cook over medium-high heat until the meat is browned.
Drain the grease: Next, add the garlic and Worcestershire sauce to the ground beef and cook for one more minute. When fully cooked, drain the excess grease.
Add the special sauce: Now, add the thousand island dressing, salt, and pepper to the meat and stir well to combine.
Thicken the sloppy joe mix: After, combine the beef broth and cornstarch in a small bowl before adding it to the pan with the meat over medium heat. Stir until the sloppy joe sauce is thickened.
Make the sloppy joes: To prepare the bun, place a slice of cheese on the bottom and then add a little bit of the ground beef mixture. Add the bottom bun from another bun and put more of the sloppy joe mixture on top of that.
Serve: After, add another slice of cheese, top with shredded lettuce, diced pickles, and more of the copycat big mac sauce before placing the top bun. Serve while still hot.
How to make slow cooker big mac sloppy joes from scratch?
Brown the meat: To begin, brown the ground beef in a large skillet.
Make the sauce: While the meat cooks, prepare the creamy sauce by mixing onions, garlic, Worcestershire sauce, thousand island dressing, salt, pepper, beef broth, and cornstarch. Add all that to a crock pot.
Cook the sloppy joes: Next, drain the ground beef before adding it to the crock pot. Stir, cover, and cook for three hours on high or six hours on low.
Prepare the burger: Last, prepare the sandwich by adding a piece of cheese on the bottom bun topped with a scoop of the meat mixture before adding another bottom bun and more meat and cheese. Add lettuce, pickle slices, and more dressing before putting on the top of the bun.
Time to eat: Finally, serve warm with your favorite sides and extra sauce.
Recipe variations:
Hamburger buns: You can use any kind of buns or bread you like for this recipe. Brioche buns are especially delicious.
Other cheese: Instead of sliced American cheese, try using swiss or cheddar cheese.
Shredded cheese: Using shredded cheddar or American cheese is fine too.
Different meat: You could also try ground chicken or ground turkey instead of ground beef.
Toasted sesame seed bun: Lightly toasted buns make this one of the best sloppy joe recipes you have ever had. A toasted bun can make all the difference.
Other veggies: Feel free to use your own favorite veggies like white onion instead of yellow and sweet relish instead of chopped pickles.
Other dressing: Try french dressing instead of thousand island dressing for a different twist on this classic sandwich.
Ground chuck: For less fat and fewer calories, use ground chuck instead of beef.
Garlic powder: If you do not have garlic or onions, you can use onion and garlic powder instead.
How to serve:
this one-pan meal is easy to make and only takes a few minutes so you can serve it any time for dinner, lunch, or a snack. You can try one of our serving ideas or share some of your own in the comment section at the bottom of the page.
Add your own favorite condiments such as ketchup, yellow mustard, or mayonnaise.
Big mac sloppy joes go great with french fries. Try our easy recipe for crispy potato wedges.
Top your sloppy joes with a few slices of crispy bacon for even more flavor.
Another type of fries you may enjoy with these is our air fryer sweet potato fries.
Use leftovers to make big mac salad. Just mix the meat sauce with chopped lettuce, tomatoes, and your other favorite salad toppings.
Tater tots are also a fun side dish for these sloppy joes.
Frequently asked questions
How do I toast my buns for this recipe?
First, preheat your oven to 425 degrees F. Then, lay your sesame seed buns open-side down on a baking sheet covered in parchment paper. Toast the buns for about four or five minutes or until they are just lightly toasted. For more toastiness, flip the buns halfway through the cooking time.
Do I have to brown the meat first?
Although some people do not worry too much about whether the meat is browned before cooking with it, we find that it tastes better if you do. It gives your sloppy joes a better flavor and lets you get rid of the grease. It only takes a few minutes, and it caramelizes the ground beef for a tastier sloppy joe.
What is a New Jersey sloppy joe?
The main difference between regular sloppy joes and New Jersey sloppy joes is that it has two types of meat. For example, one may use ground pork and beef or ground chicken and turkey. Other differences are that the New Jersey-style sandwich is made with coleslaw instead of lettuce, swiss cheese instead of American, and rye bread instead of buns.
What are the nutrition facts in this recipe?
Each sloppy joe has 850 calories, 60 grams of carbs, and 23 grams of sugar. It also has 46 grams of fat including 15 grams of saturated fat and 18 grams of monounsaturated fat. In addition, the burger has 140 milligrams of cholesterol, 2,310 milligrams of sodium, and 15 grams of sugar.
But you will also get 600 units of vitamin A, 5 milligrams of vitamin C, 7 milligrams of iron, and 408 milligrams of calcium as well as 800 milligrams of potassium, 49 grams of protein, and 3 grams of fiber.
How to store leftovers:
Store: Make sure you let your sloppy joe mix cool completely before refrigerating. It will stay fresh in an airtight container for several days.
Freeze: It is also safe to freeze your big mac sloppy joe sauce for up to three months.
Thaw: Remember to put the frozen leftovers in the fridge to thaw overnight for best results.
Reheat: To reheat, put the sloppy joe mixture into a pan and cook on the stove for two minutes on medium-high heat.
More easy dinners to try:
Cooking tips:
Make your own shredded lettuce by chopping up iceberg lettuce with a sharp knife or food processor.
If you cannot find sesame seed buns, add your own sesame seeds to the sauce.
Shorten prep time by using pre-chopped onions and other veggies.
Using shredded cheese is also a lot faster and easier.
Add big mac sauce on the side with this easy recipe for the special sauce.
If your ground beef is frozen, you can cook it up easily in your instant pot.
Big Mac Sloppy Joes
Ingredients
1 1/2

lb

lean ground beef

1

small yellow onion

finely diced

2

cloves

garlic

minced

1

tablespoon

Worcestershire sauce

1/3

cup

Thousand Island Dressing

1/2

teaspoon

salt

or to taste

1/2

teaspoon

black pepper

or to taste

1

tablespoon

cornstarch

1/2

cup

beef broth

low sodium

8

cheese slices

8

sesame seed buns
Toppings:
Shredded Lettuce

Thousand Island dressing

Sliced pickles
Instructions
Place a large cast iron skillet over medium-high heat and add ground beef and onions. Cook stirring with a wooden spoon until meat is browned.

Add garlic and Worcestershire sauce, stir and cook for 1 more minute.

Next, add Thousand Island Dressing, also add salt, and pepper. Stir to combine.

In a small bowl, combine cornstarch and beef broth until the cornstarch is fully dissolved.

Add the broth slurry to the pan and stir until thickened, 1-2 minutes.

To serve, place a cheese slice on the bottom bun and then some of the meat mixture, top with the bottom bun of another set of buns, and then add more meat mixture. Add another slice of cheese.

Add the toppings: shredded lettuce, pickles, and Thousand Island Dressing.

Top with the top of the bun and serve.
Deliciousness to your inbox
Enjoy weekly hand picked recipes and recommendations