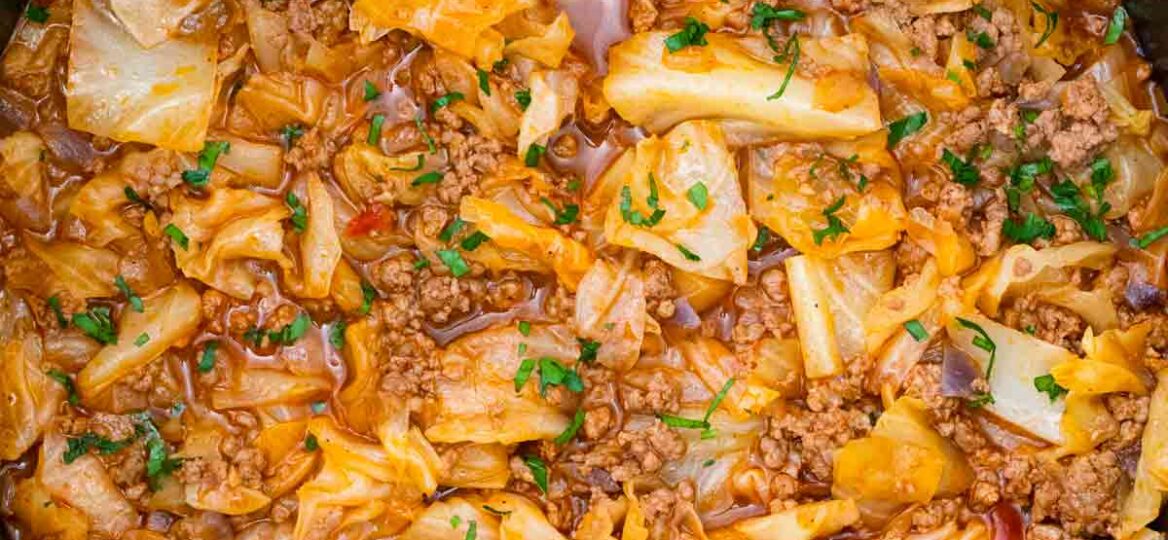 Turkish Cabbage Stew is a comforting combo of beef and vegetables simmered in tomato paste and spices. A rustic meal that's both healthy and satisfying.
Got more ground beef in your fridge? This hearty and quick-cooking meat is perfect for family dinners. Enjoy it in the Best Cheeseburger Pasta, Pizza Sloppy Joes, and Hamburger Steak with Mushroom Gravy!
Turkish Cabbage Stew with Ground Beef
Turkish Cabbage Stew, aka kapuska, is a hearty beef and cabbage dish which gets its flavor from tomato paste and warm spices like cumin, coriander, and paprika. It's a fantastic cold weather stew you can enjoy all year long. This dish is also keto-friendly and can be adapted for vegetarian diets.
On top of that, it's also an excellent "clean the fridge" recipe. Got a stray bell pepper or carrot on the verge of wilting? Maybe you have half a pound of ground pork you have no idea what to do with. Throw them into the pot with the rest of the ingredients!
Finally, it's healthy, versatile, and ready for dinner in less than an hour. I'm sure you'll enjoy this comforting meal as much as we do!
What is Turkish Cabbage Stew?
It's a delicious stew of ground beef and chopped cabbage gently braised in broth, tomato paste, and spices. This dish is also known as kapuska, and it's a staple in Turkey, the Balkans, and much of Eastern Europe.
Is Cabbage stew healthy?
Yes! It has everything you need in a balanced meal. First, you have the beef that's packed with protein, minerals like zinc and iron, plus B6, B2, and other vitamins. There's also cabbage, which is a great source of fiber and nutrients. This recipe also has very little oil, fats, and simple carbs.
Just like our Weight Loss Soup, it's low in calories, satisfying, and very good for you!
How to make Turkish Cabbage stew?
Sauté. Cook the onions in melted butter until fragrant and soft. Add the meat, crumbling and sautéing until browned.
Season. To the browned meat and onions, add the tomato paste followed by the spices and pepper flakes. Stir around for a minute.
Cook. Add the vegetables to the pot followed by the broth. Cover and simmer on low for about 15 to 20 mins., or until the veggies are tender enough for your liking.

Serve. Ladle into bowls, top with fresh parsley, and enjoy hot.
Recipe variations and substitutions:
Vegetarian: Use veggie stock, and sub the meat with chopped mushrooms, crumbled tofu or tempeh, or ground vegan meat.
Include grains: Stir in some cooked rice, quinoa, couscous,

Use other meat: Instead of beef, make it with ground lamb, turkey, chicken, or pork.
Add more veggies: We love this with chopped carrots, bell peppers, mushrooms, peas, chickpeas, fresh tomatoes, minced garlic, baby spinach, and black or red beans.
Use other herbs and seasonings: Try it with a dash of dried thyme and oregano, some honey to balance out the tomato paste, red pepper paste instead of tomato, chili powder, smoked paprika, or cayenne for heat.
What to serve with Turkish cabbage stew?
We love topping up this stew with some mint, garlic yogurt, and lemon wedges for garnish. It's also delicious with crusty bread or fresh-baked rolls! For a heartier meal, we recommend serving it with lamb ribs or lamb chops, simply grilled pork tenderloin, or baked chicken breasts.
How to store leftovers?
Allow the leftovers to cool down completely first, then transfer them to containers with tight seals. Store in the fridge and consume within 5 days or earlier.
This stew also freezes really well! Again, cool the leftovers before transferring them to freezer-safe baggies or containers. Freeze up to 3 months.
To reheat, thaw overnight or defrost on the counter. You can microwave it until hot, or heat the stew in a skillet with a splash of stock.
More homemade cabbage recipes to try:
Recipe tips:
Make sure to remove the core before chopping the vegetables, because it's too tough to eat.
You can substitute the beef with ground pork, lamb, or chicken.
Use either green or white cabbage for this stew.

The heat should be on low while simmering. If the heat is too high, the vegetables will become soggy instead of vibrant and tender.
Deliciousness to your inbox
Enjoy weekly hand picked recipes and recommendations