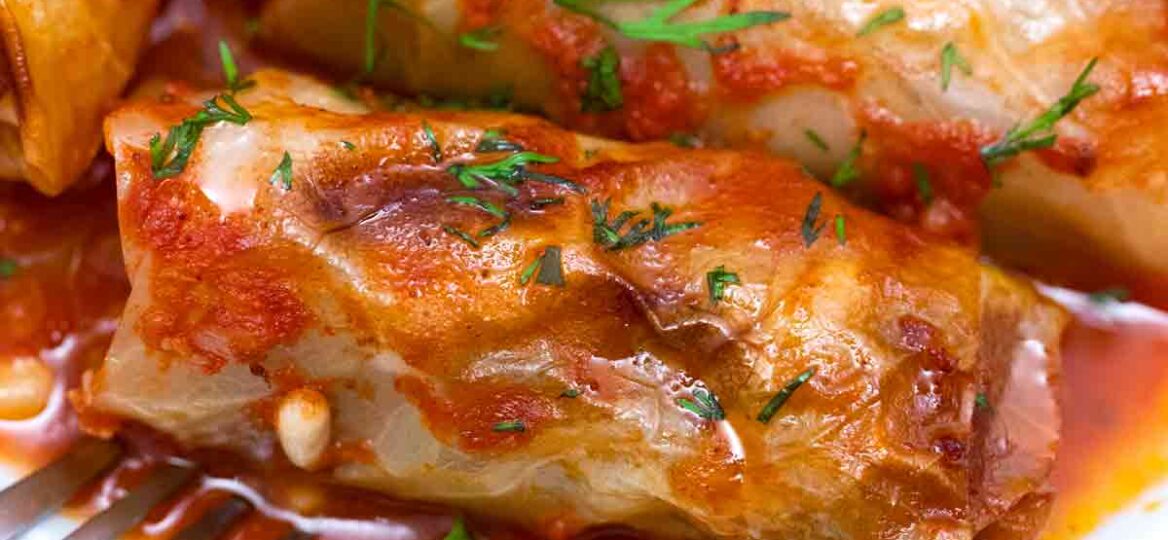 Turkish Cabbage Rolls Recipe [Video]
Turkish Cabbage Rolls are made with spiced lamb, crunchy pine nuts, a medley of Turkish spices and herbs, then all baked in an aromatic Turkish tomato sauce. This is a super healthy dish that tastes simply amazing!
If you've never had lamb before, these rolls are a fantastic introduction! This versatile meat is also amazing in this Easy Shepherd's Pie, Garlic Lamb Chops in the Oven, and Lamb Stew.
Homemade Turkish Cabbage Rolls Recipe
Turkish Cabbage Rolls is similar in structure to our popular Stuffed Cabbage Rolls, but this version is filled with a spiced lamb, apricot, and pine nuts.
Also, the Turkish tomato sauce is mouthwateringly fragrant with cinnamon, cumin, and allspice. Topping it all off is a refreshing mint yogurt sauce.
This dish also reheats beautifully, so you can make it ahead and heat up to enjoy anytime. In addition, feel free to make it in advance and store it for later. It will taste even better the following day as the flavors will sit together.
Are cabbage rolls healthy?
Yes, both the classic version and this one are super healthy recipes! This Turkish meal has protein-loaded lamb, which also a great source of vitamins, minerals, and amino acids.
You also have the cabbage which has tons of fiber and vitamins. The other ingredients are nutritious too, such as the pine nuts with protein and healthy fat.
How do you soften cabbage for cabbage rolls?
Freeze: First, stash the whole head in the freezer overnight, then thaw. They're soft enough to roll!
Peel and blanch: Next, peel off the leaves, and submerge in boiling water for a minute or two until tender.
Microwave: Place the entire head in a bowl. Add water, about a cup. Cover tightly, then microwave for 10 mins.
Blanch the whole head: Boil salted water, then submerge the whole vegetable for about 10 to 12 mins until tender. Cool before using.
How long do you blanch cabbage for cabbage rolls?
Blanching the entire head takes longer, about 10 to 12 minutes depending on how big the vegetable is. Blanching just the leaves only takes a couple of minutes, so make sure you keep an eye on it to avoid soggy leaves.
How to make Turkish Cabbage rolls?
Soak the bulgur wheat. Soften in cool water for about 20 mins.
Prepare your cabbage. Then, blanch, freeze, or microwave. Cool the leaves while you're getting the rest of the ingredients ready.
Make the sauce. Next, sauté the aromatics, then add tomatoes along with the broth, spices, and sugar. Simmer for a couple of minutes. Pour half onto the dish and spread evenly on the bottom.
Mix the lamb filling. Mix the bulgur wheat with the lamb, sauce, pine nuts, and the rest of the filling components.
Assemble. Flatten a leaf, stuff with the lamb mixture (about 1/3 cup), then roll. Place in the dish. Repeat until the dish is filled, then cover with the rest of the Turkish tomato sauce.
Bake. Use foil to tightly cover the dish. Bake at 350F for around an hour.
Serve. Garnish with fresh herbs like mint or dill, some toasted pine nuts, and a bowl of Greek yogurt on the side. Enjoy hot!
Cabbage rolls recipe variations:
Use different meats: Try this with ground turkey, beef, pork, or chicken.
Vegetarian. Sub the meat with crumbled tempeh or tofu, and use veggie stock.
Low-carb: Skip the bulgur wheat, and sub with riced cauliflower for a keto-friendly version.
Use other grains: Sub the bulgur with quinoa, farro, or rice.
What to serve with Turkish Cabbage rolls?
Serve with some crusty Beer Bread or fluffy 30-Minute Dinner Rolls to soak up that awesome Turkish tomato sauce! We also love it with some Tzatziki sauce on top.
For a heartier meal, enjoy it with Irish Colcannon, Garlic Roasted Potatoes, or Chickpea Salad.
Can you make cabbage rolls in the slow cooker?
Yes. Assemble as directed, but arrange directly in the pot instead of a baking dish.
Set crockpot for 4 hrs. (high) or 8 hrs. (low). Read more details about this method in my recipe for Slow Cooker Stuffed Cabbage Rolls!
How to store leftovers?
First, cool the leftovers in the baking dish, or transfer to a tightly-sealed container before storing up to 3 days in the fridge.
You can also freeze the leftovers individually for about an hour or two. Once frozen, place in freezer bags or containers. To reheat, thaw then heat in a skillet with the sauce. You can also microwave until hot.
More cabbage recipes to try:
Recipe tips:
Roll those leaves tightly, like burritos. Tuck the seams and ends properly so the filling doesn't spill.
Also, feel free to add the juice of the crushed tomatoes to the Turkish tomato sauce to loosen it up.
Toast the pine nuts before adding them to the dish. That smoky flavor is so delicious!
If you want to swap up the meat, use beef or pork instead.