Cheesy Cabbage Gratin Recipe
Cabbage Gratin features roasted cabbage baked in a herbed cream sauce, then topped with melted cheddar and mozzarella. A rich and impressive veggie side dish!
Don't know what to feed your picky eaters? Here's a secret— no one can resist cheese! Serve this Cheesy Instant Pot Taco Pasta, Cheesy Crack Chicken Casserole, or Cheesy Rotini, and watch them ask for seconds and thirds.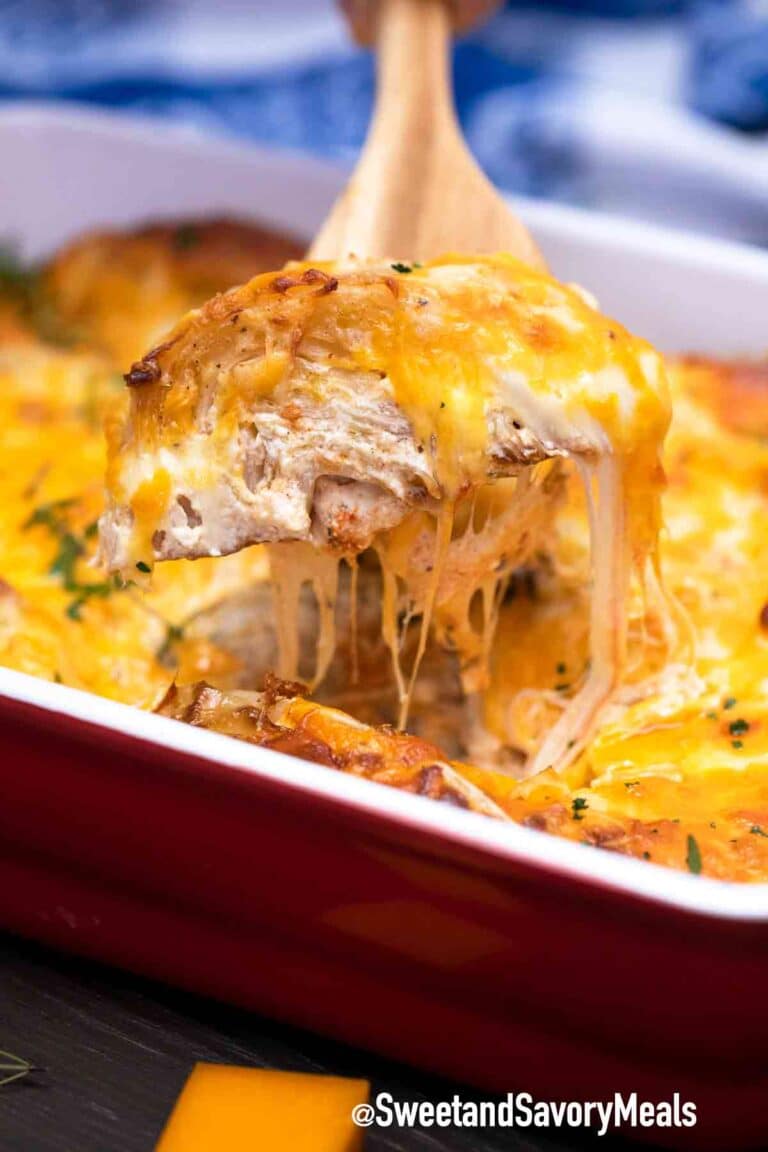 Cheesy Cabbage Gratin Recipe
Cabbage Gratin takes this humble vegetable into fancy and cheesy territory! It's a lighter take on Creamy Potato Gratin, aka comfort food heaven. It's still loaded with cheese and cream, but without the potatoes, you consume fewer carbs. You also get tons of fiber, vitamins, and minerals from the veggies.
Whatever you do, don't skip roasting the wedges. It draws out the sweetness from the vegetables while giving them flavorful, caramelized edges. It also releases moisture, so you get a thick and creamy white sauce instead of a watery mess.
If you follow a low carb diet and want to impress your friends, you should definitely make this dish! No one will miss the carbs, the cheesy cabbage gratin is so hearty, filling, loaded with flavor, and most importantly lots of cheese.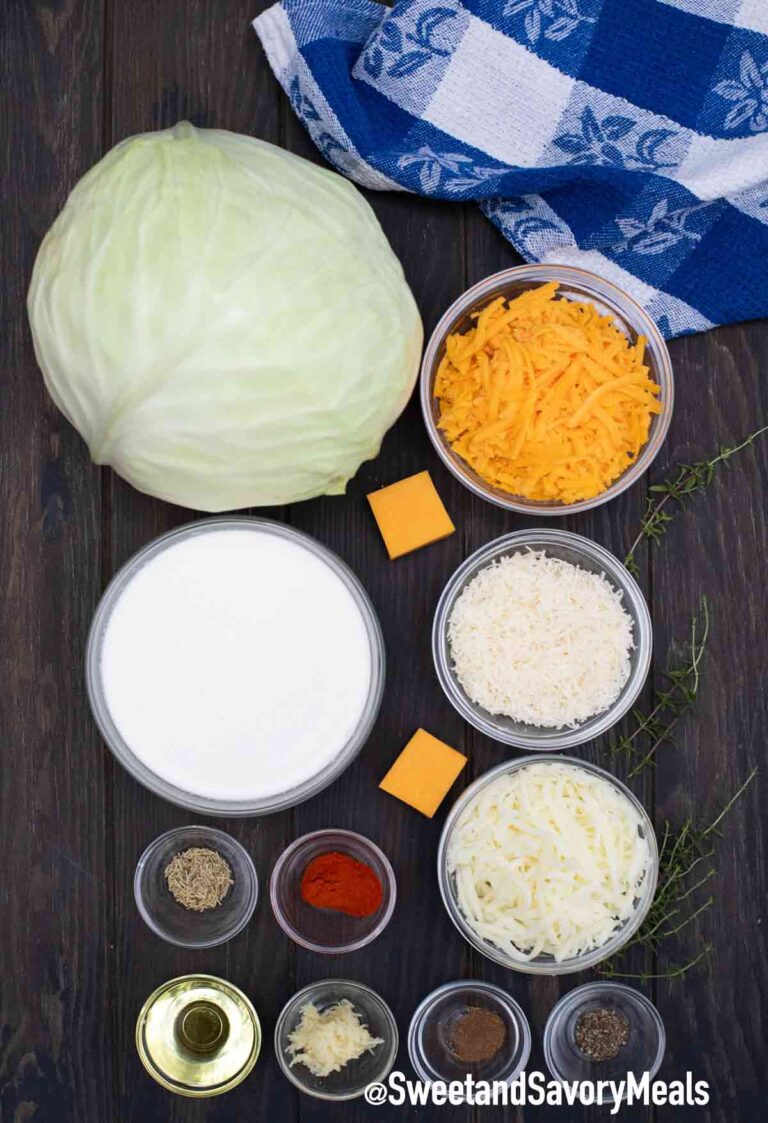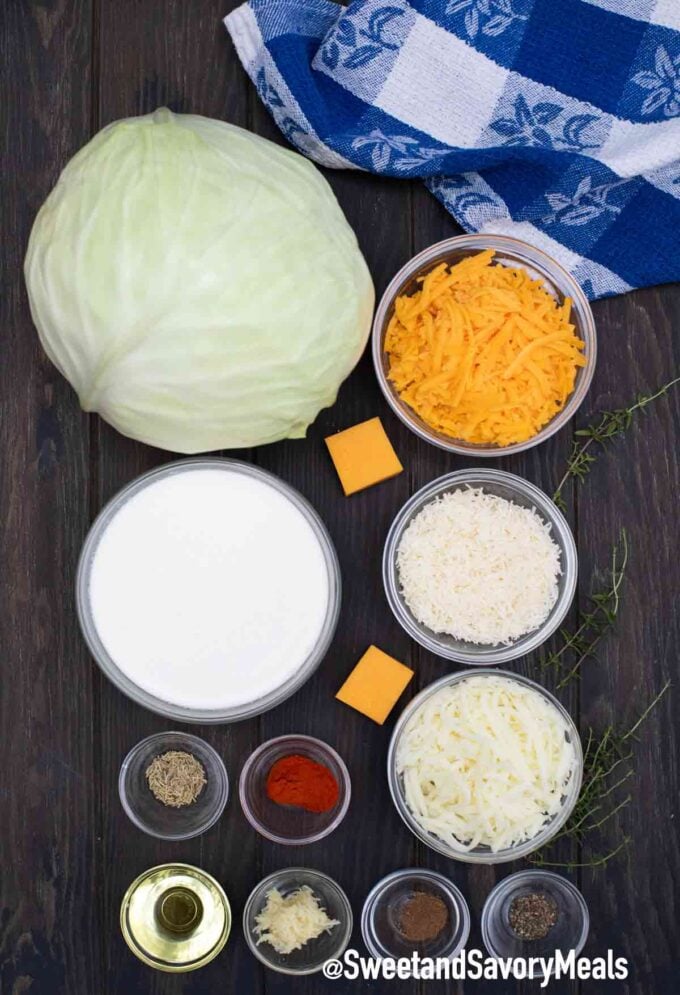 The caramelized veggies pair so well and are baked to perfection, but still has some crisp and a slightly chewy texture. The herbed sauce is flavored with garlic and it is very creamy. Use your favorite cheese, to adapt the recipe and take it over the top!
Another suggestion, if you don't care about the side dish being vegetarian, top it with lots of crispy bacon! You will not regret it!
Even my kids can't get enough of this cheesy, gooey, and hearty dish. Who knew cabbage could be so crave-worthy!
What is the definition of gratin?
The gratin cooking technique involves topping a dish with cheese or breadcrumbs, then broiled until the top becomes a crispy crust.
What is the difference between a gratin and scalloped?
The answer is cheese! Traditional gratin always uses cheese as a broiled topping. Meanwhile, scalloped dishes rely on milk or cream for richness, and don't necessarily include melted cheese on top.
However, I combine both techniques in my Scalloped Potatoes and Ham Recipe! I bake the potatoes and ham in a white cream sauce, then sprinkle cheese on top and melt that into gooey perfection. You have to try it!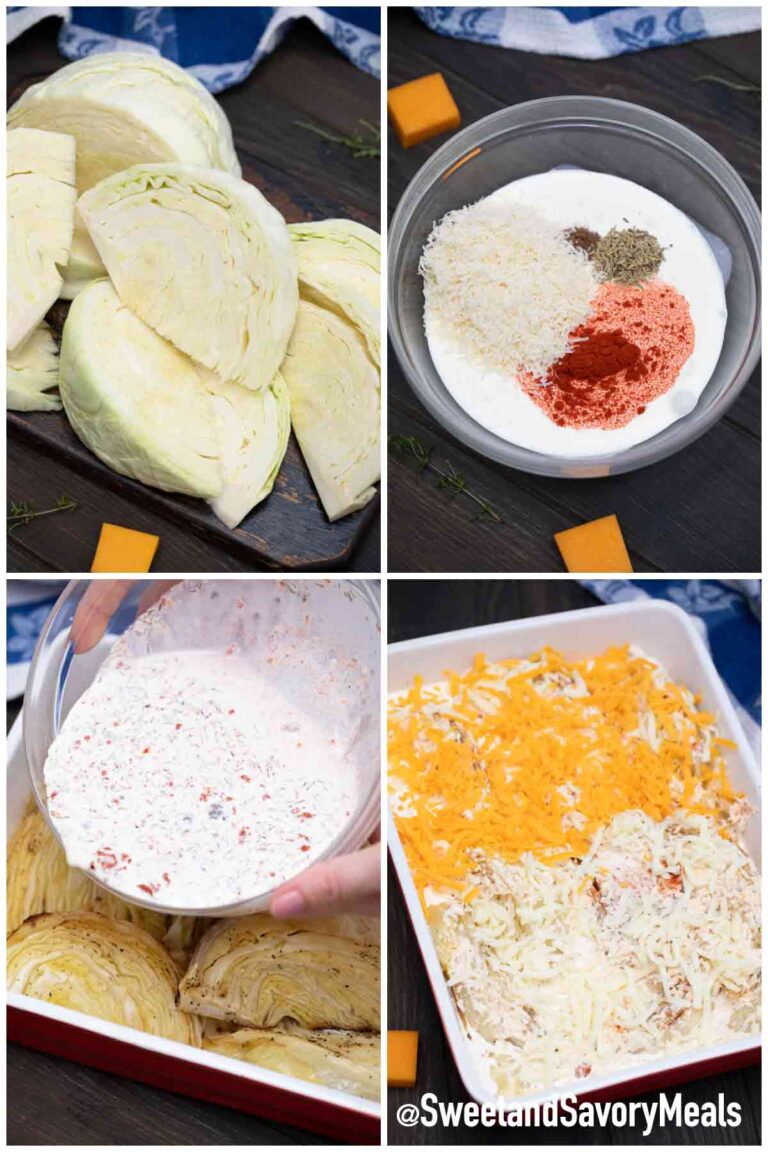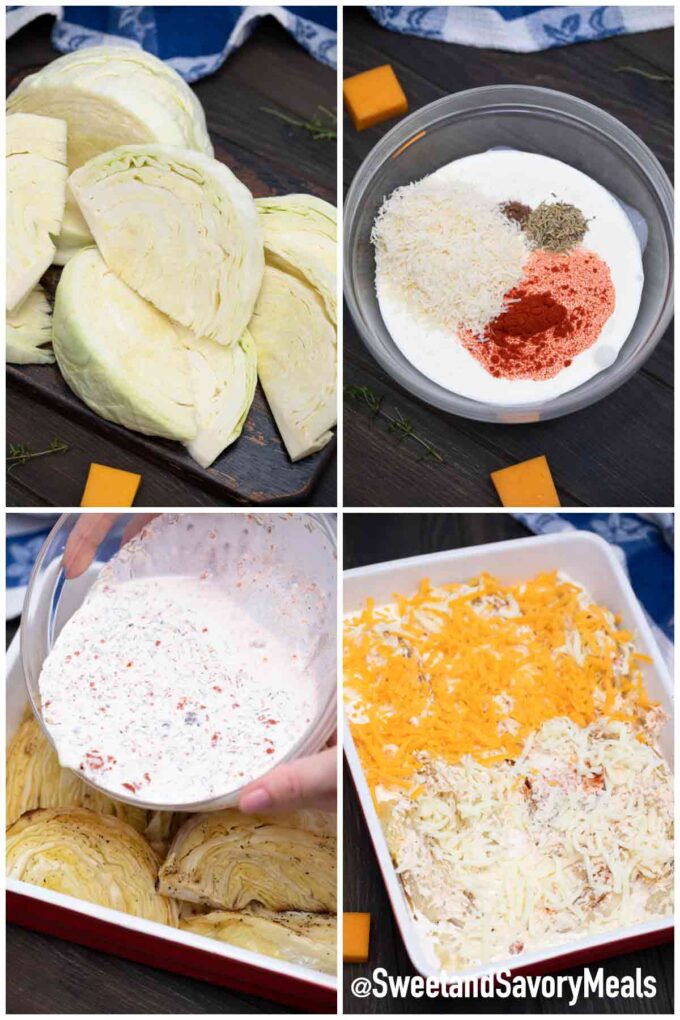 How do you make Cabbage Gratin?
Roast. Drizzle the wedges with oil, season, and bake on a sheet for 45 minutes in a 350F oven. Turn them halfway so both sides get roasted evenly. Transfer to a baking dish.
Bake. Whisk the cream sauce ingredients together, then pour evenly all over the roasted wedges followed by fresh sprigs of thyme. Sprinkle shredded cheddar and mozzarella on top. Try to cover the surface completely. Bake until the cream sauce thickens and both the wedges and cheese are deeply golden.
Serve. Plate up with parsley on top and enjoy hot.
Recipe Variations:
Add bacon or ham: Chop up some thick-cut bacon or cubed ham and add to the dish.
Top with toasted bread crumbs or nuts: For additional crunch, toast some breadcrumbs and sprinkle on top. Toasted pine nuts work as well.

Add other vegetables: Pack more veggies in there if you'd like! Choose hardy vegetables that can stand up to roasting like broccoli and carrots.
Use other cheeses: Try topping it with provolone, pepper jack, feta, and your other favorite cheeses.
Add Bacon: Take this side cheesy cabbage gratin recipe over the top by adding a final layer of crispy bacon!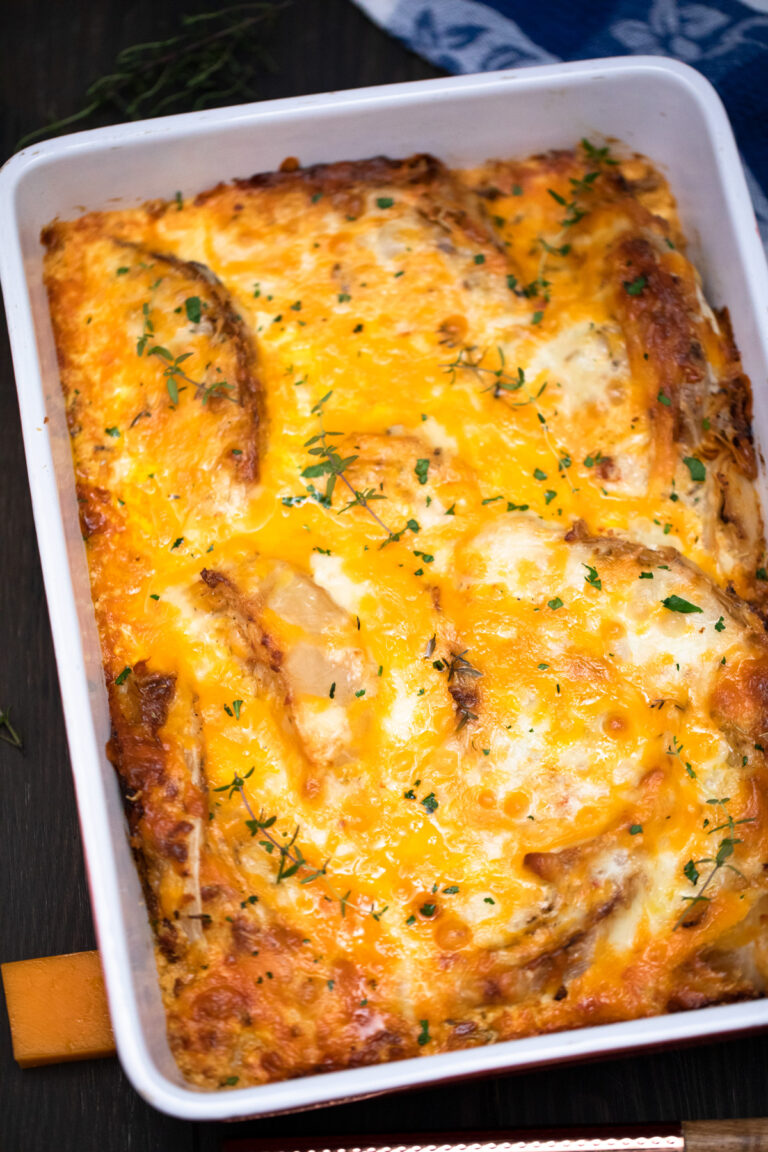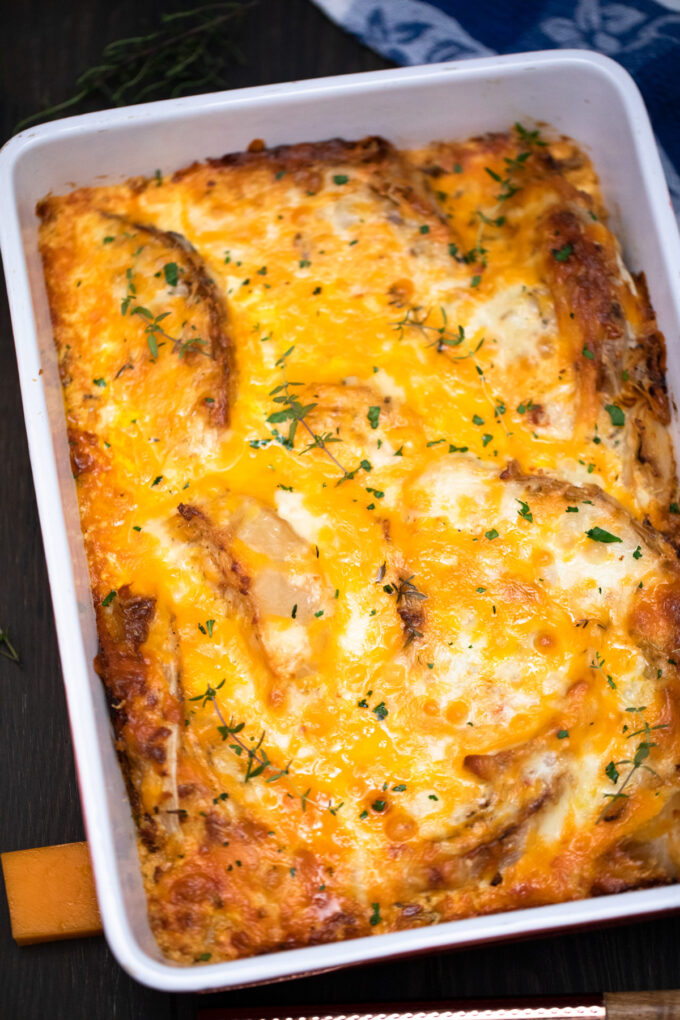 What cabbage is best for Cabbage Gratin?
White or green is perfect for this dish. One, this variety can withstand the long roasting time without the leaves getting mushy. Their mild and slightly sweet flavor also goes so well with the cheese and cream.
What cheese is best for Cabbage Gratin?
I usually stick to crowd-friendly parmesan, cheddar, and mozzarella. But I also do a "grown-up" version with other cheeses like crumbled blue cheese, Gouda, gruyere, and other fancier cheeses. It's really up to you!
What do you eat Cabbage Gratin with?
It's fantastic with barbecued or grilled mains! Try it with BBQ chicken or pork chops, grilled salmon, or grilled pork tenderloin. It's also amazing as a side for Pan Seared Steak, roasted turkey or chicken, your favorite beef roast, and fried chicken.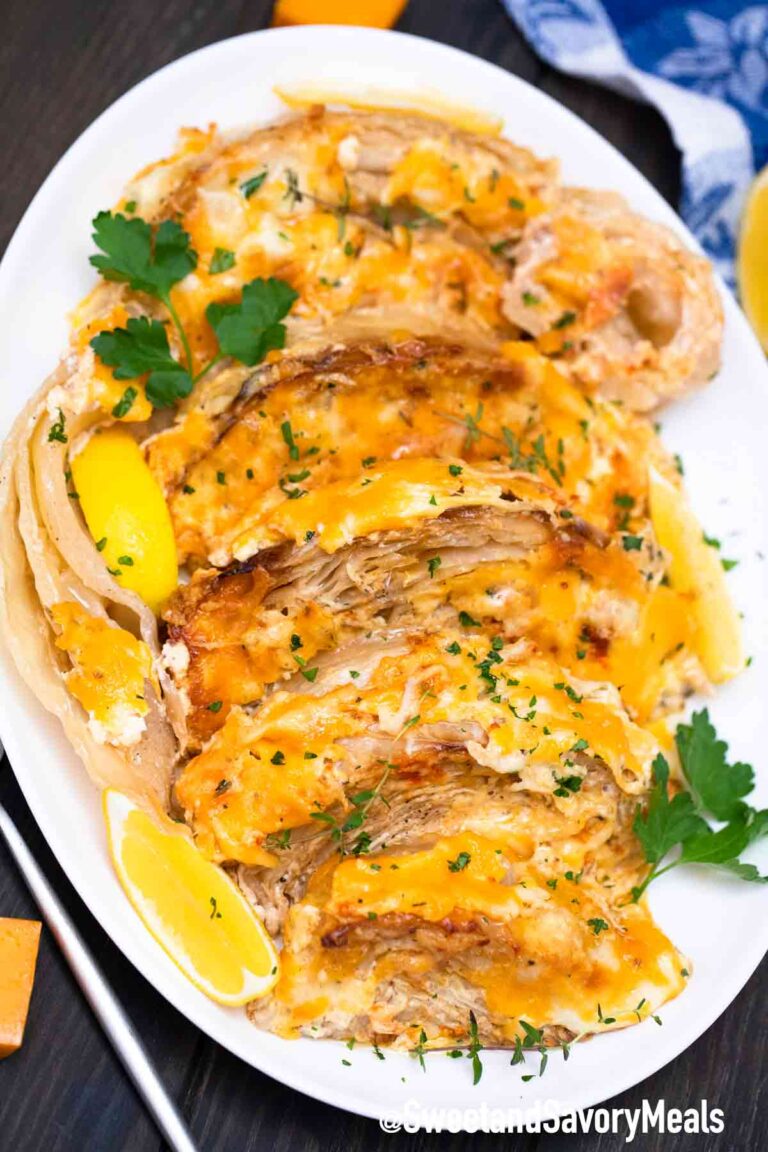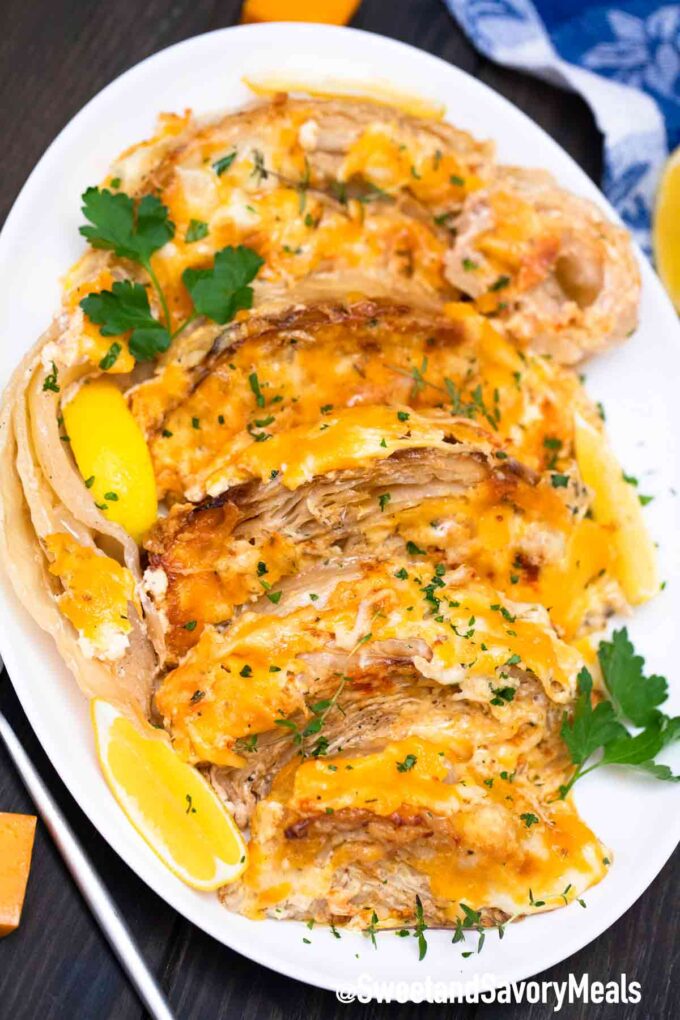 How to store leftovers?
Let it come to room temp first, and once completely cool, transfer to an air-tight covered dish. Place in the fridge and consume within 5 days. You can also freeze it for up to 2 months.
To reheat, thaw overnight (if heating up from frozen), and microwave until hot. You can also bake it covered at 350F until heated through and cheese has remelted.
More Cabbage Recipes: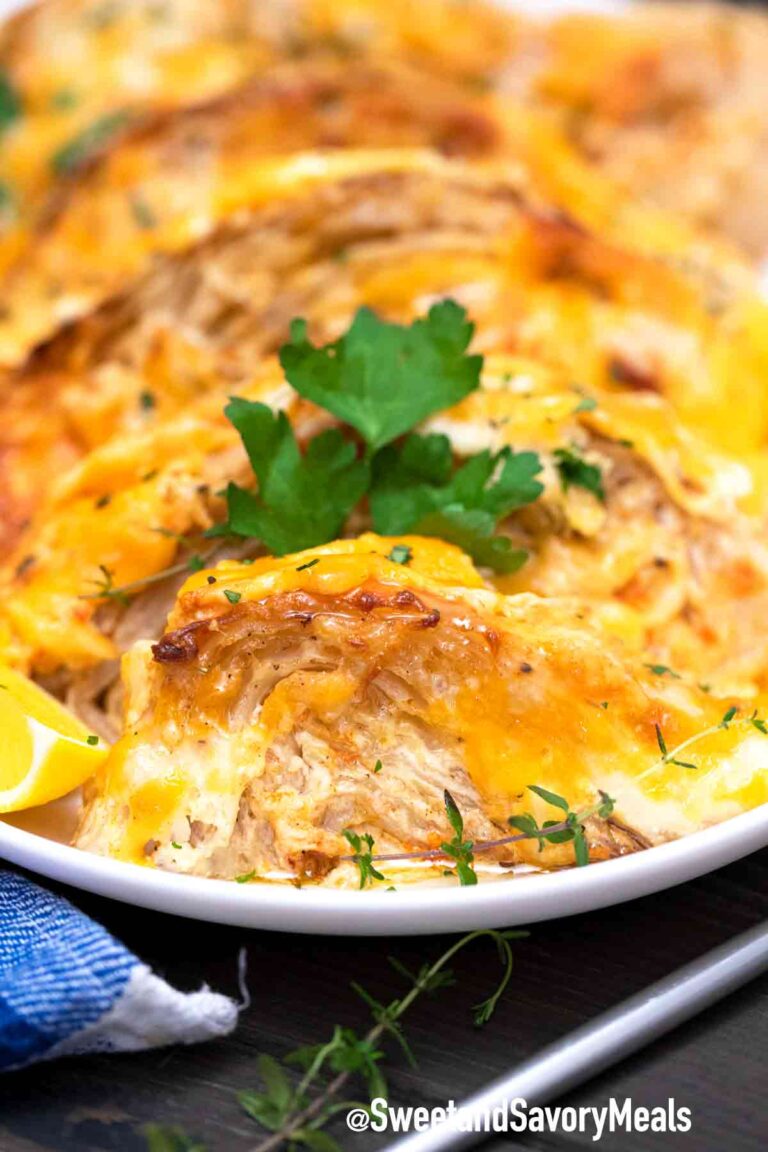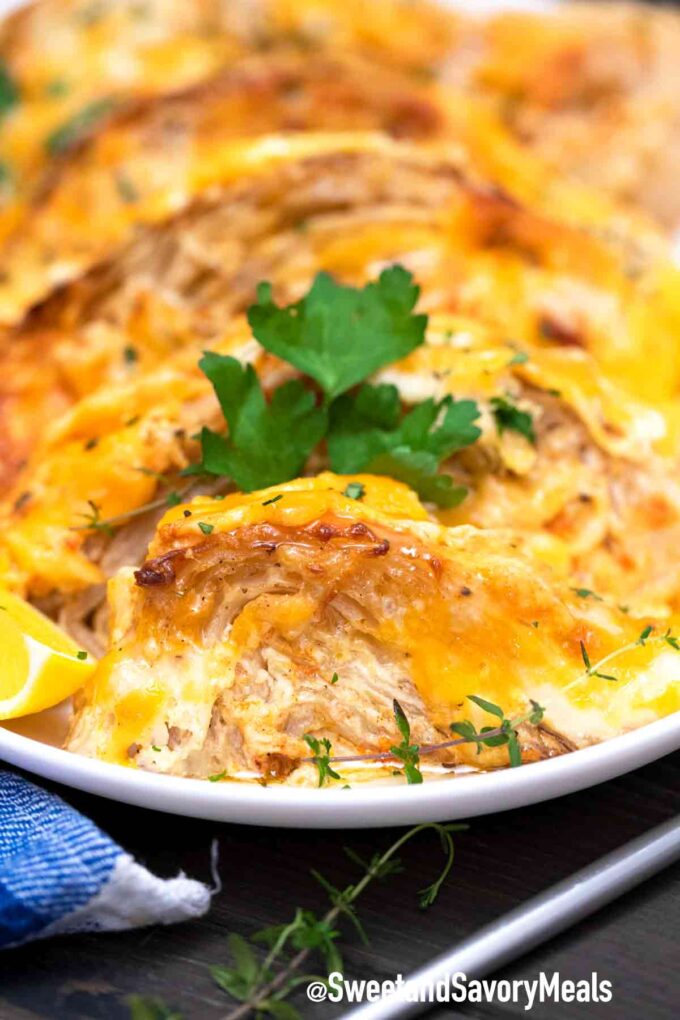 Recipe Tips:
Pat your wedges dry! That way, they get roasted instead of steamed in the oven.
For convenience, feel free to use pre-shredded cheese.

Make sure you use heavy or double cream for the dish, or it may not thicken well.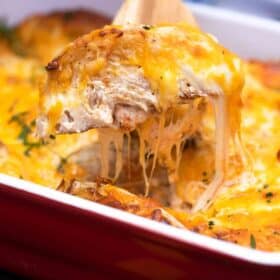 Cheesy Cabbage Gratin
Cabbage Gratin features roasted cabbage baked in a cream sauce, then topped with melted cheddar and mozzarella. An impressive side dish!
Save
Share
Print
Pin
Rate
Ingredients
1

medium green cabbage

(cut lengthwise into 8 wedges)

2

tablespoons

extra-virgin olive oil

Kosher salt and freshly ground black pepper

(to taste)

2

cups

heavy cream

4

cloves

garlic

(minced)

1/4

teaspoon

ground nutmeg

1

teaspoon

smoked paprika

1/2

teaspoon

dried rosemary

1/2

cup

freshly grated Parmesan

1

cup

shredded mozzarella

1

cup

shredded cheddar cheese

4

sprigs fresh thyme
Instructions
Preheat oven to 350 degrees F.

Cover a large baking sheet with foil.

Place cabbage wedges onto the baking sheet and drizzle them with oil, and season generously with salt and pepper on all sides.

Roast in the preheated oven, turning once halfway through, until tender, about 45 minutes.

In a medium bowl, whisk together cream, minced garlic, nutmeg, paprika, dried rosemary and Parmesan cheese. Set aside.

Transfer roasteed cabbage wedges into a 9x13 inches baking dish, pour cream sauce on top. Top with shredded mozzarella and cheddar cheese. Add the thyme sprigs.

Continue to roast until cream sauce begins to thicken and cabbage is golden, cheesy on top should be lightly browned and bubbly, about 30 minutes.

Serve immediately garnished with parsley and lemon wedges.
Nutrition
Calories:
226
kcal
|
Carbohydrates:
10
g
|
Protein:
12
g
|
Fat:
16
g
|
Saturated Fat:
8
g
|
Cholesterol:
36
mg
|
Sodium:
323
mg
|
Potassium:
309
mg
|
Fiber:
3
g
|
Sugar:
7
g
|
Vitamin A:
642
IU
|
Vitamin C:
42
mg
|
Calcium:
363
mg
|
Iron:
1
mg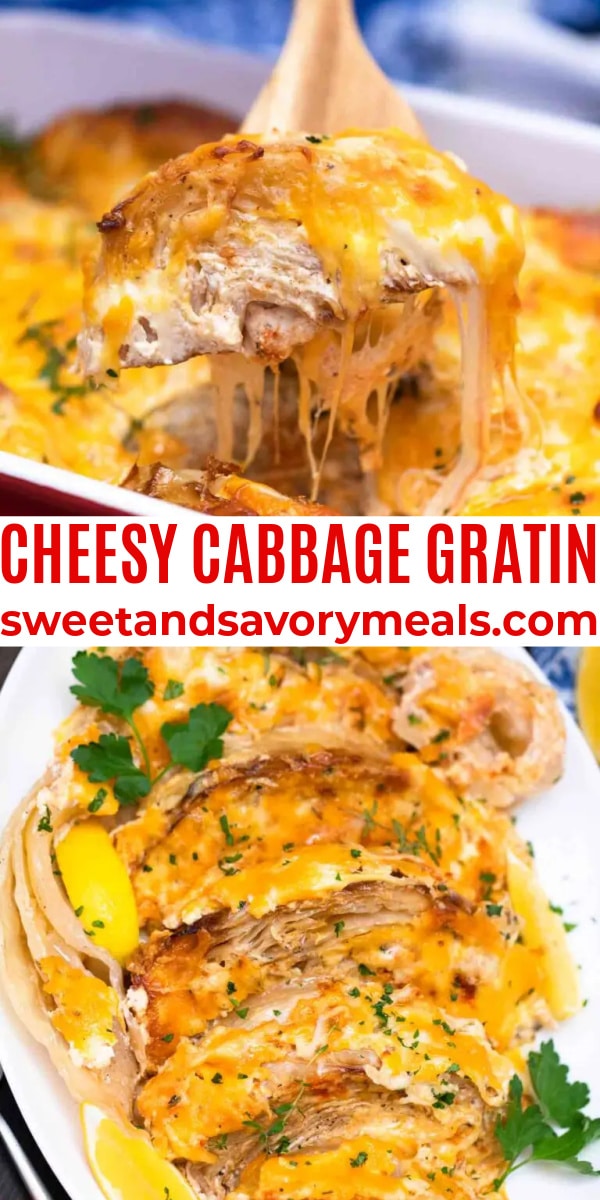 More recipes you might love