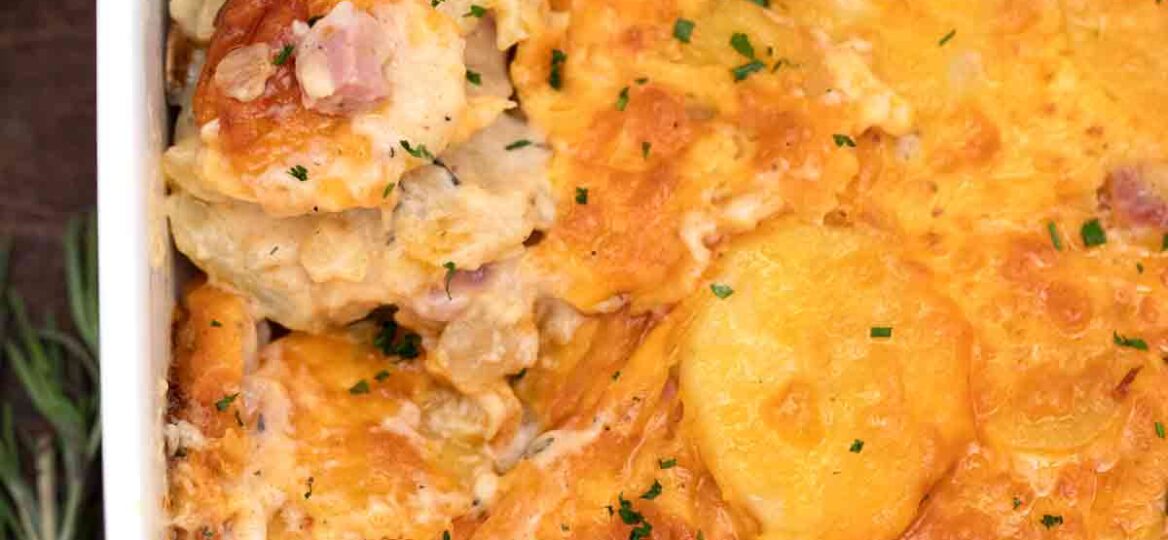 Scalloped Potatoes and Ham [Video]
Scalloped Potatoes and Ham has layers of tender potatoes and meaty ham drenched in a velvety white sauce. Topped with melted cheddar for a cheesy, creamy, and hearty side dish! A delicious twist on our favorite classic Scalloped Potatoes Recipe.
I'm a huge fan of easy and delicious casseroles. They have tons of flavors and are suitable for large crowds. This dish goes perfectly well with Classic Meatloaf Recipe or Pot Roast.
Ham and Scalloped Potatoes
Creamy Scalloped Potatoes with Ham is one of the easiest and quickest comfort foods you can make at home. This delicious dish goes pretty much with every dinner. I love making it during the holiday season, as it is one of my favorite dishes to make for friends and family.
This recipe has the humblest ingredients— ham, potatoes, cream, and cheese. Seasoned with garlic, onion, broth, paprika, and herbs. Then, all baked up in the creamiest, melt-in-your-mouth layers.
This is comforting and filling in the very best way. What sets this homemade scalloped potatoes with ham apart is the way it's constructed. The thin potato slices soak up that rich and creamy sauce, while the chunks of meat add a nice bite to it.
Also, since we're doing this in layers, you can taste all those delicious components in every forkful. The familiar flavors make it a no-brainer if you're serving kids or picky eaters! I'm telling you: serve this once, and you better be ready for everyone to request it again and again.
How to make Scalloped Potatoes and Ham?
Preheat the oven: Set your oven to 350F. Prepare a 9×13 casserole pan.
Make your creamy sauce: First, start by cooking the onion in butter until soft. Then, add your herbs, garlic, and flour. Cook for a couple of minutes. Next, slowly whisk in a little of the milk at a time. It may be lumpy at the beginning, but keep whisking. It will smoothen out. Stir in your seasonings, broth, and cream. Boil for a minute.
Layer the dish: Next, slice your potatoes thinly and chop the ham. Layer them with the sauce, and make sure the topmost layer is properly covered with the sauce
Bake: Place the casserole in the oven, and bake for the last 15 minutes, top with cheddar.
Rest and Serve: Let the baked dish rest for at least 15 minutes. Garnish with chopped parsley and serve.
Recipe variations and substitutions:
You can do so many delicious variations to this homemade dish:
Use thick-cut bacon instead of ham, or use both!
Also, feel free to throw in some baby spinach, bell peppers, fresh kale, or mushrooms to the white sauce.
Want it extra herby? Stir in some pesto into the cream mixture.
Create a sweet and savory version by using sweet potatoes. You can also be half white and half sweet.
Experiment with cheese! I like this with some gouda, mozzarella, gruyere, pepper jack, or fontina. You can also sprinkle some crumbled feta, goat cheese, or diced brie in there. You can even try it with blue cheese!
In addition, mix some grated parmesan into the sauce for extra cheesiness.
Top with butter-toasted breadcrumbs or Italian breadcrumbs for a crunchier topping.
For a gluten-free version, replace the flour with the gluten-free variety.
Use Cajun seasoning, ranch seasoning, or other dried seasoning blends in the sauce.
For a little kick, add horseradish or some hopped jalapeno peppers.
What are scalloped potatoes?
This cooking technique hails from France. It's made of spuds cut into thin rounds, then baked as a casserole dish with milk or heavy cream.
The most basic form of this dish only calls for milk, butter, and heavy cream. For seasoning, salt, pepper, and grated nutmeg. The casserole is topped with buttered breadcrumbs so that the top layer crisps up.
The beauty of this dish is that it's so versatile. You can protein and veggies in there to make this side into a main. Also, the simple flavors lend themselves well to the addition of herbs, different cheeses, and other variations I'll talk about later.
For my version, I add ham, cheese, and herbs to the base recipe. The ham adds a nice smokiness, and it's subtle enough to not take away the spotlight from the rest of the dish.
Do you have to peel potatoes for slapped potatoes?
No, this step is not necessary. Generally, I like to peel them. However, this is not necessary. Simply, can wash them and slice them thinly (about 1/4 inch).
Best potatoes to use:
Any variety will do, but Russets and Yukon hold up well to the sauce and baking even when sliced thin.
Can I make scalloped potatoes and ham without dairy?
Yes, you can make a dairy-free version of it by using non-dairy alternatives for milk and butter. You can use options like almond milk, coconut milk, or dairy-free margarine to achieve a creamy texture and flavor.
How do I prevent the potatoes from turning brown?
To prevent the sliced potatoes from turning brown, place them in a bowl of cold water after slicing. This helps remove excess starch, which can cause discoloration. Also, pat the slices dry before layering them in the dish.
What to serve with Scalloped Potatoes and Ham?
You can serve it as a main because it's complete with starch and protein. It also goes well with a light salad and Roasted Asparagus.
As a side dish, it pairs perfectly with the Best Ever Grilled Chicken, Juicy Pork Loin, or Garlic Herb Butter Roasted Chicken.
Serve it with some Homemade Lemonade to balance out the richness!
Can you freeze scalloped potatoes with ham?
Yes. I recommend leaving the dish a tiny bit undercooked before cooling and freezing. That way, the spuds won't break apart when you bake it again but become perfectly cooked and tender.
More delicious side dishes: