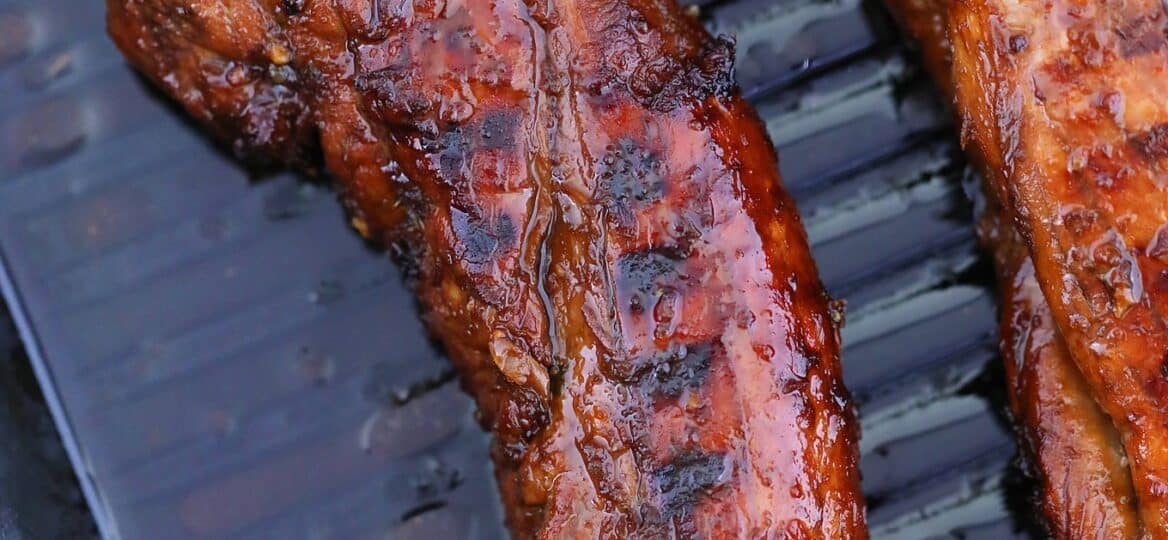 Juicy Grilled Pork Tenderloin Recipe with [Video]
Grilled Pork Tenderloin is super juicy and tender, coated in a delicious soy sauce-based marinade. Ready in under one hour, this recipe will be a great addition to your summer grilling!
If you love grilling, then you should also try Grilled Pork Chops, Grilled Chicken, and Potatoes.
Tender Grilled Pork Tenderloin
Grilled Pork Tenderloin calls for easy preparation of the marinade before the actual cooking. The ingredients are easy-to-find, and the meat cut itself is not expensive considering that you get a lean cut. All these are just a few of the reasons why this recipe is a hit!
Pork can sometimes be difficult to cook as it can dry out quickly and leave you with a tough lump of meat. But this recipe fixes this problem! Enjoy pork in all its meaty goodness with this easy recipe!
You can make this crowd-pleaser part of your backyard barbecue menu without hassle. Prepare the meat way ahead of time and simply grill it when ready. We'll teach you how!
What is the difference between pork loin and pork tenderloin?
To clarify, you cannot substitute one for the other as these are two different meat cuts despite the similarity of what we call them.
Pork loin can be bought bone-in or boneless, fattier and more rounded, and is perfect for roasts. On the other hand, tenderloin is always boneless, has a darker color and elongated, and is usually grilled. In addition, it is long and thin.
Of the two, tenderloin is a bit pricier, but this is not without reason! It is the muscle that is located along the backbone and since this part is not being exercised, the muscle never toughened up. This makes it a perfect candidate for grilled recipes like this.
Is pork tenderloin healthy?
As it is a lean cut with minimal fat, this part has health benefits, too. It is also rich in phosphorus, potassium, and protein. According to the USDA, 100 grams of raw meat can have 20.95 grams of protein.
How many calories are there in grilled pork tenderloin?
A serving of about 85 grams has 125 calories only!
How to make pork tenderloin marinade?
In a bowl, simply whisk together the marinade ingredients: juice and zest of lime, canola oil, soy sauce, and rice vinegar.
How do you make grilled pork tenderloin?
Marinate the meat – For a juicy, tender, and flavorful meal, we strongly recommend to marinate it for at least 2 hours. For best results, do so for up to 24 hours.
Make the paste – Right before you grill the pork, make the paste. This is simply done by mixing the ingredients in a small bowl. The ingredients are honey, canola oil, garlic, lime juice, lime zest, dried oregano, brown sugar, smoked paprika, onion powder, and cayenne powder. Take out the meat from the marinade, pat it dry, and spread the paste on its surface.
Grill the meat – Prepare the grill by heating it up to medium-high heat. Then, grill the meat until lightly charred and the internal temperature must read 145 degrees Fahrenheit. This takes about 20 minutes.
Coat it with the herb sauce – Make the herb sauce by combining the following ingredients in a bowl: extra-virgin olive oil, red wine vinegar, lime juice, lime zest, parsley, green onions, garlic, crushed red pepper flakes, kosher salt, and freshly ground black pepper.
Rest it – Once cooked, let it rest for 5 to 10 minutes to get the flavors absorbed. Then, serve it sliced with the herb sauce.
For this recipe, we used tenderloin that is over a pound in weight. For larger ones, instead of grilling, cook them in the oven at 400 degrees Fahrenheit for about 20 minutes, too.
How to make juicy pork tenderloin?
Marinating the pork adds in flavors and makes it juicier, and this is the main secret to get it super juicy. Apart from this, it is also important to allow the meat to cook until its internal temperature reaches 145 degrees Fahrenheit (according to pork.org).
Also, right after grilling, allow it to rest. During this resting period, the internal temperature still rises by about 5 to 10 degrees. This means that the meat continues to cook and so, you can take it out of the grill earlier so as to avoid overcooking it which will produce dry and tough meat.
What to serve with grilled pork tenderloin?
You can have a balanced meal with this dish by adding sides such as rice, baked potatoes, mashed potatoes, and casseroles. Also, serve it with some creamy cucumber and tomato salad, strawberry spinach salad, or roasted asparagus.
Can you make it in advance?
Yes, you can. Divide the marinade into two and put them in two separate freezer bags or freezer-safe containers. In one bag, add in the meat and seal. When ready to cook, simply thaw, add in the marinade from the other container, and grill as directed.
How to store it?
You can refrigerate leftovers for three days, kept in airtight containers.
This makes a good freezer meal, too. It can keep up to 3 months in the freezer. Also, ensure to thaw for 24 hours in the fridge before baking it in the oven until the required internal temperature of 145 degrees is achieved.
More easy Pork dishes:
Recipe Tips
Let the meat rest before slicing and this should take no less than 3 minutes. This will allow the juices to redistribute.
Prepare the tenderloin by removing the silver skin. This refers to the silvery strip of connective tissue that remains tough even after cooking.
In addition, feel free to adjust the ingredients of the paste according to your liking. The brown sugar added is basically for the caramelization that adds browning.
To check the internal temperature, use a meat thermometer and insert it into the thickest part of the pork.
This recipe would be a great addition to Memorial Day or Independence Day menu!
Deliciousness to your inbox
Enjoy weekly hand picked recipes and recommendations