Grilled Eggplant Recipe [video]
Grilled Eggplant is a healthy and flavorful side dish with crispy-edged that pairs well with many meals. It is super easy to prepare with just a few basic ingredients.
With summer around the corner, grilled vegetables are a nice complement to just about any meal. You can pair this dish with anything from Pork Chops, Chicken to Roasted Beef Tenderloin.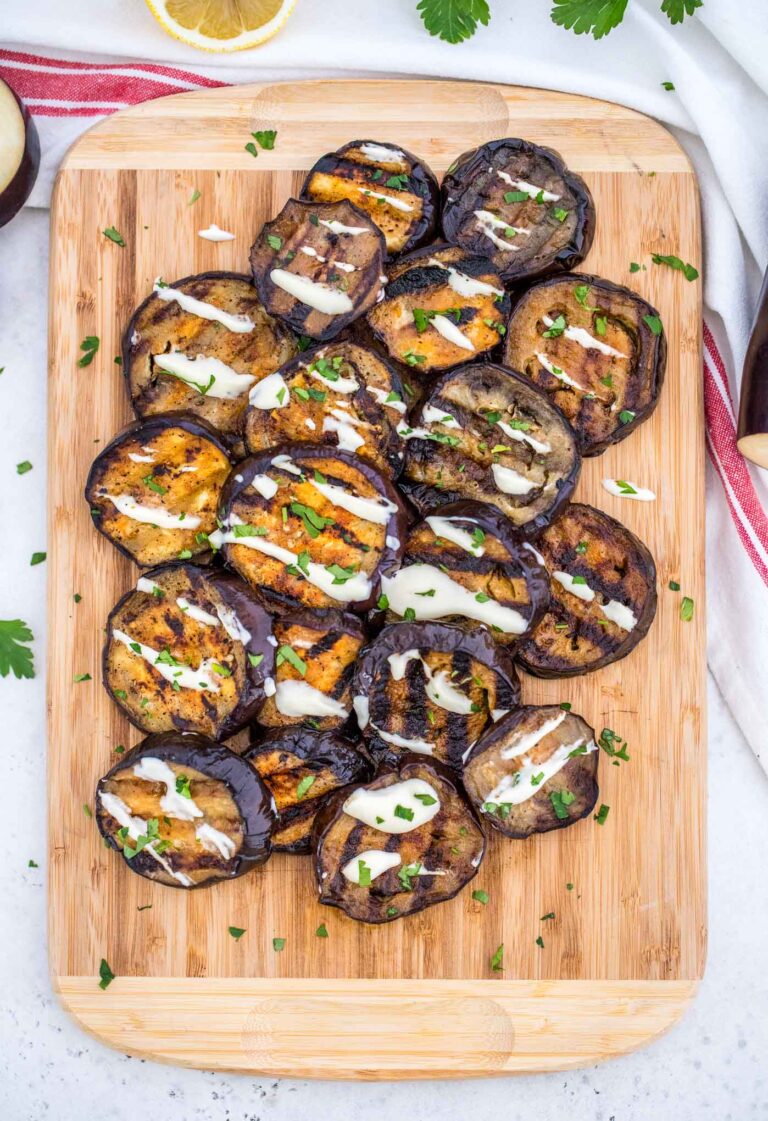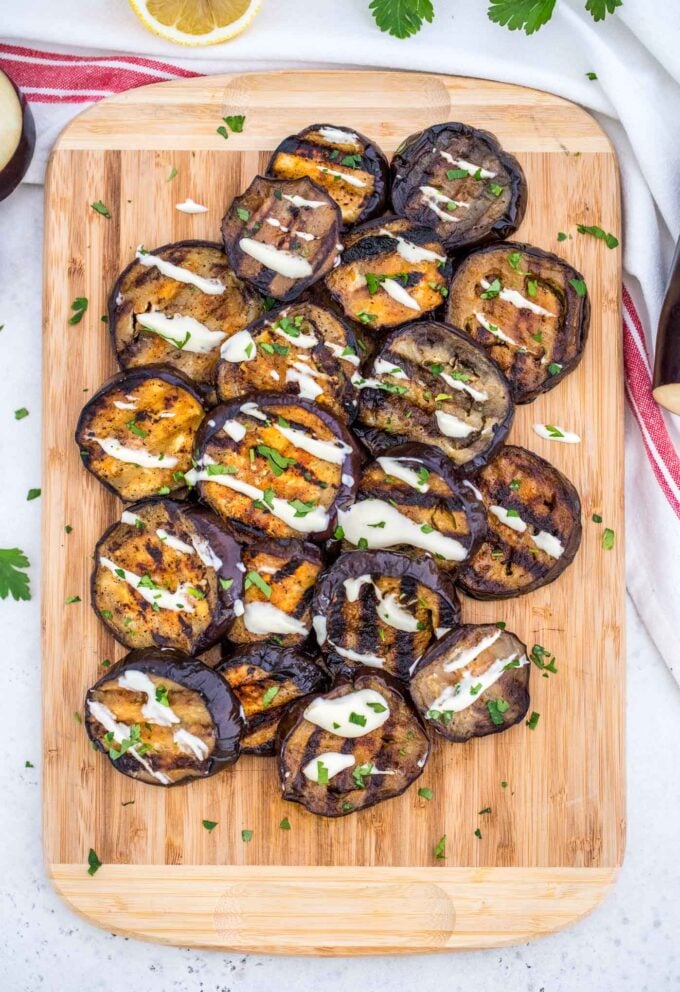 Perfect Grilled Eggplant
Grilled Eggplant is probably one of our favorite fruit. Yes, it is a fruit! Although many think of it as a vegetable, it is actually a fruit! We have so many friends who are not a fan of this fruit, but once they tried it grilled, it quickly became one of their favorite ways to serve it.
Not only is this dish healthy, nutritious, and easy to make, it complements pretty much any meal. You can enjoy it with other barbecue dishes, on a burger, salad, or simply as is. The most important part is to properly prepare and cook it, the rest is simple. Just follow the steps below, and you will love it just as much as we do!
What do you need to make this dish?
You will need the following ingredients:
Eggplants
Olive oil
Lemon juice
Salt and pepper
Optional – cajun seasoning for a spicier kick.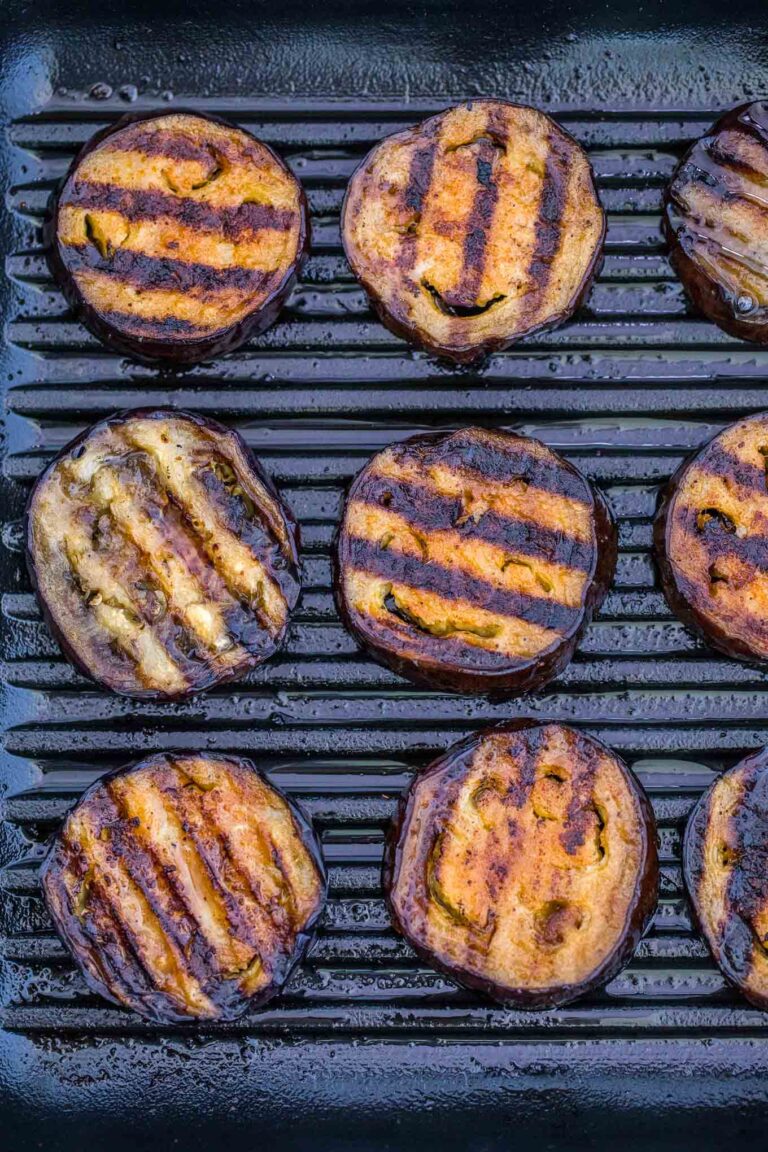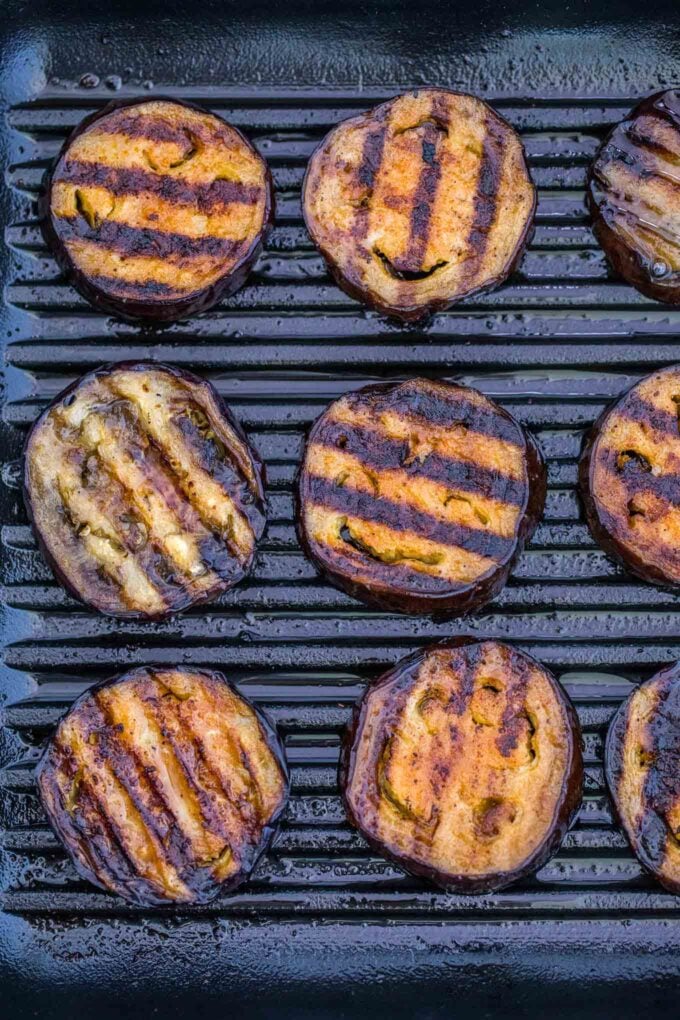 How to make grilled eggplant?
This is a super easy dish to make. First, you want to wash it properly, and pat dry with a paper towel.
Next, cut it into about 1/4 to 1/3 inch thick slices. Then, salt the slices and let them sit for about 15-20 minutes. What this does, it draws the bitterness out of it, as well as the moisture. This results in a tastier and more flavorful dish.
After, remove the salt by patting each side with a paper towel.
Brush each slice with olive oil, and drizzle with some lemon juice, salt, and pepper.
Lastly, grill for about 3-5 minutes per side depending on how thick they are.
Please note this recipe is great on both outside grill, griddle, or stovetop in a cast-iron skillet. The steps and cooking time will not differ.
Is eggplant healthy?
Absolutely! Not only is this a perfect side dish that is delicious and pairs well with just about anything, but it is also quite healthy as well. According to Wikipedia, it is composed of 96% of water and is low in fat, cholesterol, and sodium.
Also, it contains great nutrients such as Manganese, Potassium, Vitamin C, and K, which are essential for a healthy lifestyle.
Do you need to peel eggplant?
You do not! The skin of it is totally edible and quite healthy. Some of the larger eggplants might be a little tough, so try going with young, and not too large once. This way, you will end up with tender, and delicious fruits, that are also full of vitamins and nutrients.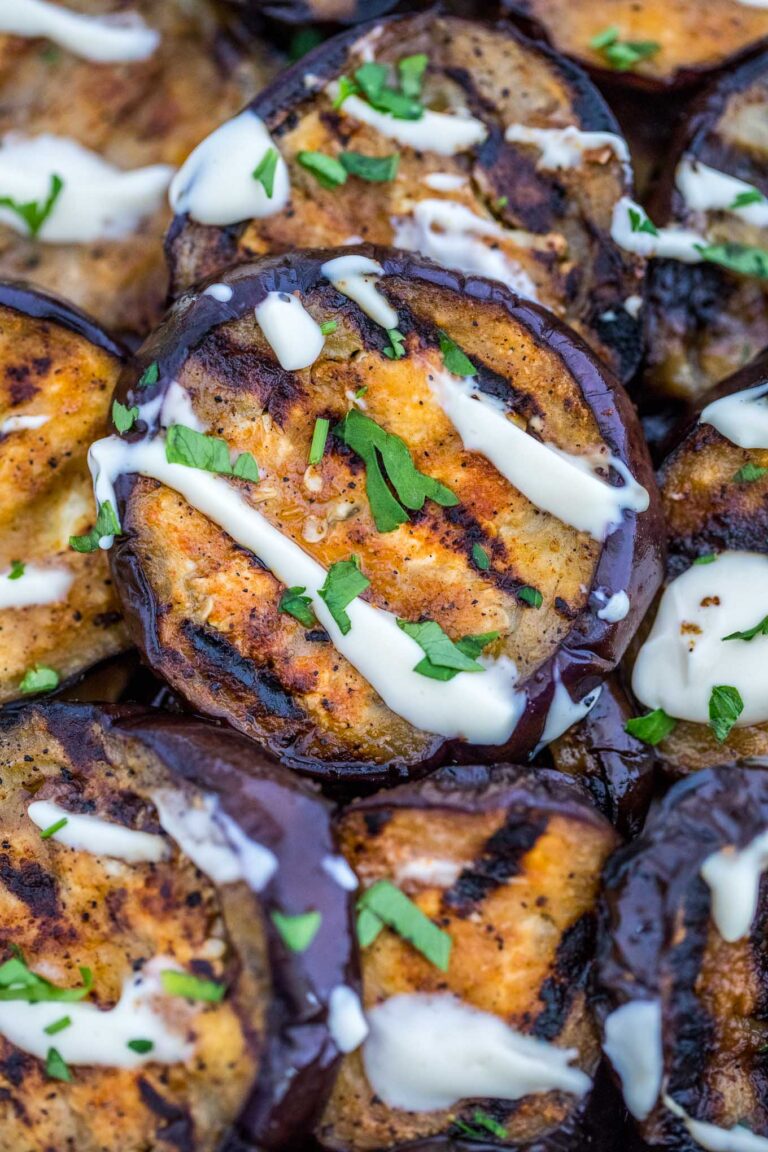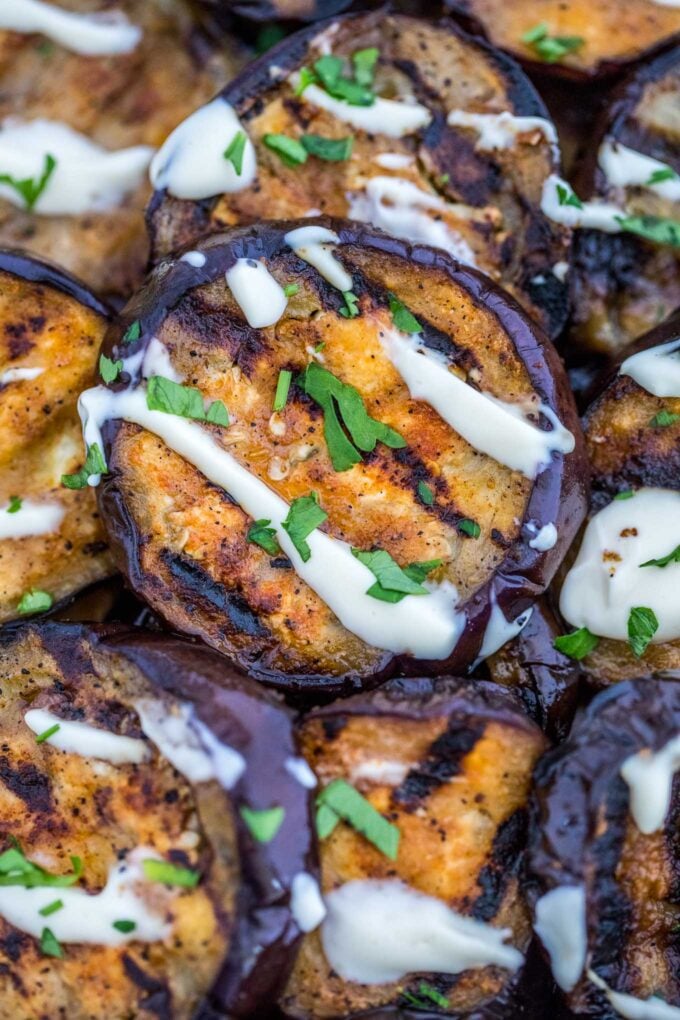 What does grilled eggplant taste like?
As stated above, this fruit has a 96% water content so the taste will depend a lot on how you cook it. It has a mild flavor and is somewhat similar in taste to squash, but also different.
The outside purple skin is tough and slightly bitter, and the inside (seedy part) is the most flavorful. If properly prepared, is one of the yummiest dishes out there!
What to serve with grilled eggplant?
They are best served warm, as a side dish. However, if you like them cold, they are great on salads, or as antipasti platter. Also, grilled slices can be used on sandwiches, hamburgers, or even bruschetta.
For additional flavor, top them with some cheese, such as Parmigiano, or feta cheese, or drizzle some balsamic over them. They are delicious either way!
how many calories does it have?
A cup of raw eggplant has about 20 calories and about 3 grams of fiber. Please note, when mixing with other ingredients such as cheese, the calories will increase.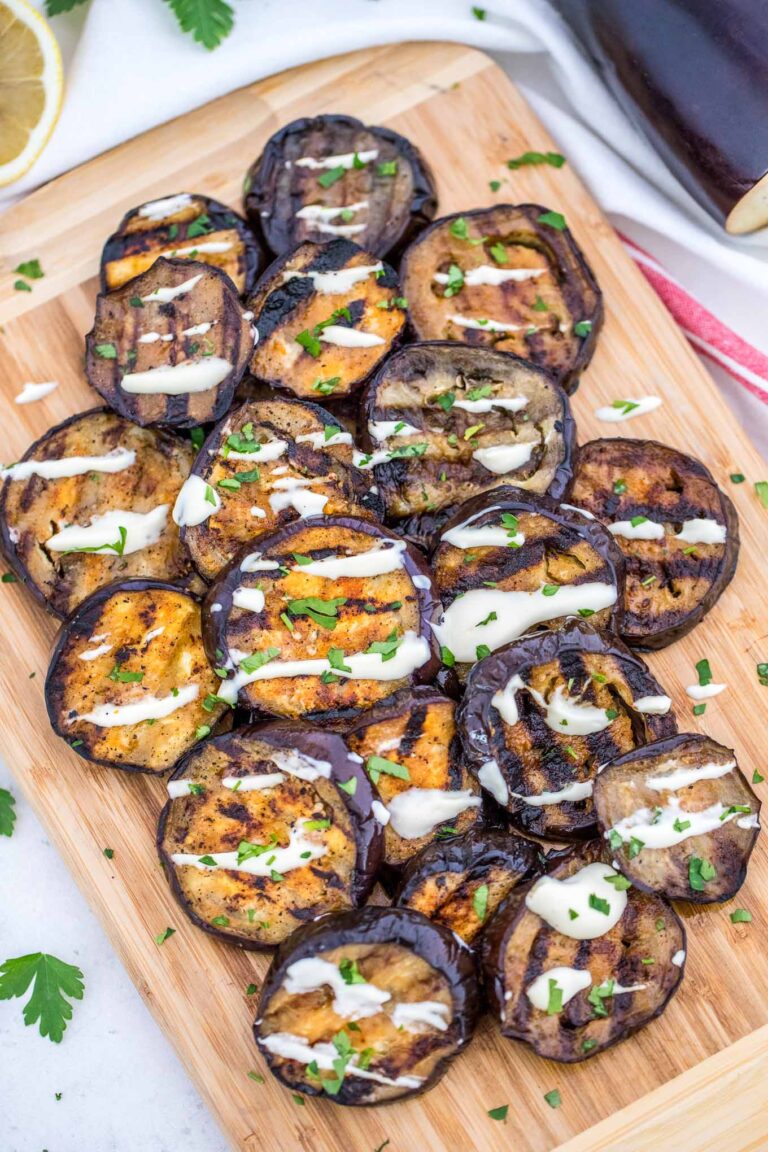 Recipe Tips
If you have leftover eggplant, use it in salads, on burgers, or sandwiches the next day. Remember to store them in the fridge, and properly wrap them. They will last for about 4 days in the refrigerator.
To grill it on an electric stove, simply follow the same steps as in the recipe card. The cooking time should be about the same, around 4-5 minutes per each side.
For additional flavor, top them with some herbs and minced garlic.
It is important to slice them uniformly, about 1/4 to 1/3 inch thick, so they evenly cook.
After grilling, sprinkle the slices with some olive oil or balsamic for added flavor.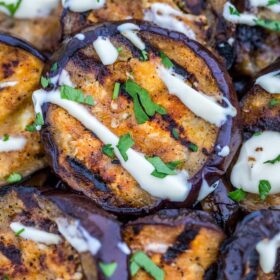 Grilled Eggplant with Lemon Aioli
Grilled Eggplant is a healthy and flavorful side dish with crispy-edged that pairs well with many meals. It is super easy to prepare with just a few basic ingredients.
Save
Share
Print
Pin
Rate
Ingredients
2

small eggplants

(cut into 1/2-inch slices)

1/4

cup

olive oil

2

tablespoons

soy sauce

2

tablespoons

lemon juice

1

teaspoon

garlic powder

1/2

teaspoon

onion powder

1

teaspoon

smoked paprika

1/4

teaspoon

cayenne pepper

(optional)
Lemon Aioli
1/3

cup

mayonnaise

1/3

cup

sour cream

1

tablespoon

lemon juice

1

teaspoon

lemon zest

salt and pepper

(to taste)
Instructions
Combine olive oil, soy sauce and lemon juice in a small bowl.

In another small bowl combine garlic powder, onion powder, paprika, and cayenne pepper.

Arrange the eggplant slices on a baking sheet.

Brush the slices with the oil mixture on both sides.

Sprinkle with the seasoning mix on both sides. Let stand for 5-10 minutes.

Heat a grill or grill pan over medium-high heat. Once hot, brush with a bit of olive oil.

Add the eggplant and place something heavy on top (cast iron skillet) or just press it firmly with a spatula.

Grill on both sides for about 3-4 minutes or until the eggplant is a little tender and has pronounced grill marks.

Serve with lemon aioli.
Nutrition
Calories:
229
kcal
|
Carbohydrates:
12
g
|
Protein:
3
g
|
Fat:
20
g
|
Saturated Fat:
4
g
|
Cholesterol:
10
mg
|
Sodium:
327
mg
|
Potassium:
403
mg
|
Fiber:
5
g
|
Sugar:
6
g
|
Vitamin A:
276
IU
|
Vitamin C:
7
mg
|
Calcium:
32
mg
|
Iron:
1
mg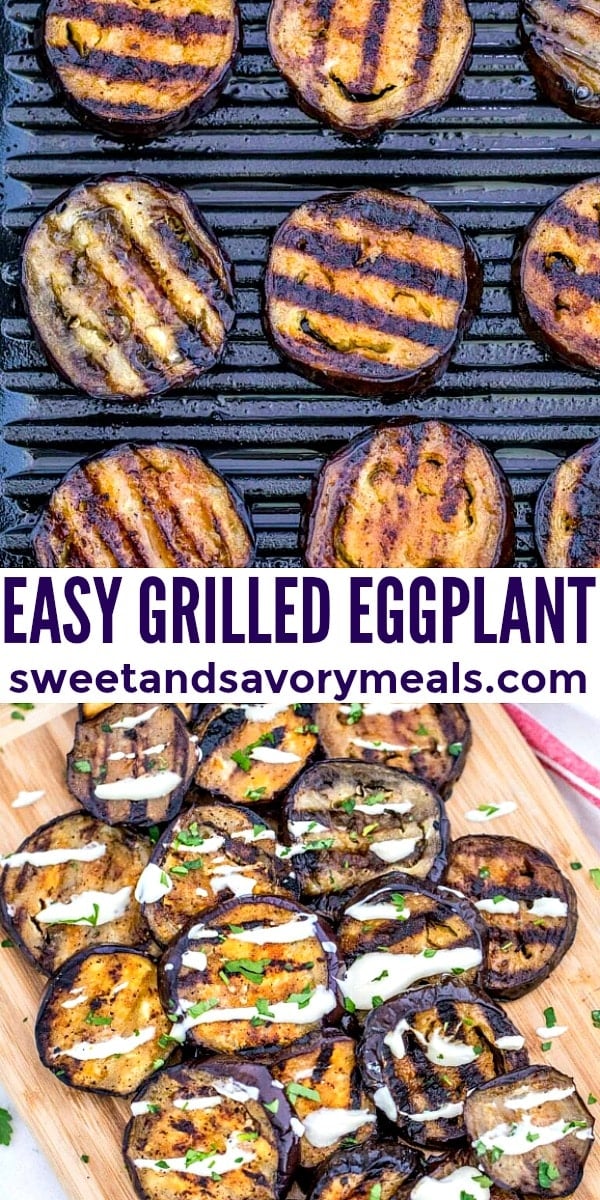 More recipes you might love