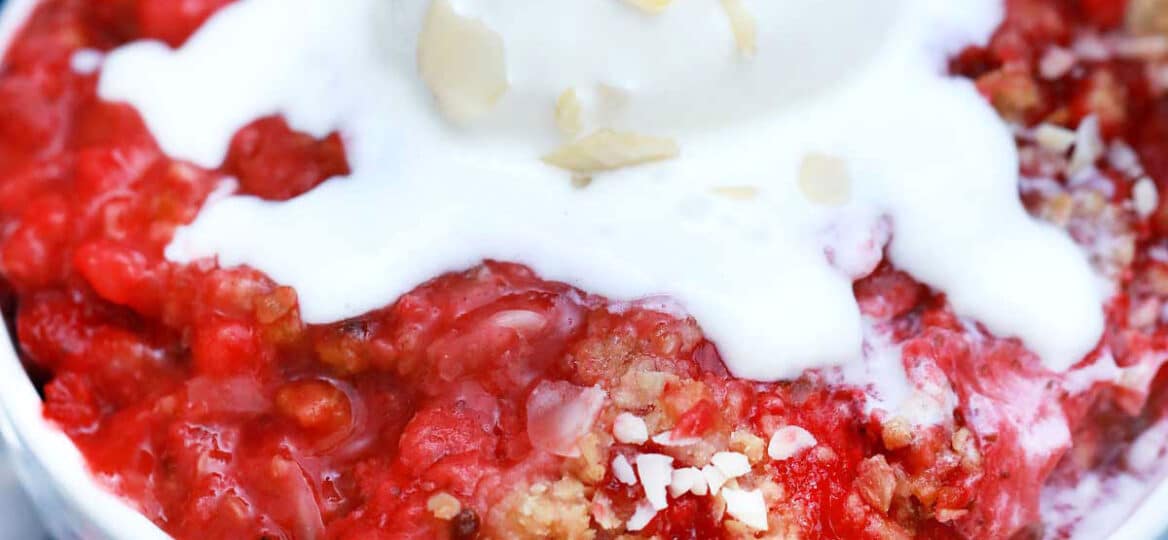 Strawberry Crisp Recipe [Video]
Strawberry Crisp is a great summer dessert, made with fresh berries and a buttery crumb topping, it is perfect served with some vanilla ice cream.
I scored a big batch of strawberries over the weekend, so I am making this dessert! It is nice to serve it after a meal of savory dishes like Crack Chicken Baked Ziti, Pan Seared Steak, and Spinach Ricotta Stuffed Shells.
Homemade Strawberry Crisp Recipe
This Strawberry Crisp is a nice take on the summer fruit. It is simply refreshing. At this time of the year, you will get only the freshest, sweetest, and the cheapest strawberries so this recipe will come handy.
Hence, during summer, we enjoy this dessert most often than at any other time of the year. And we bring it in potlucks, picnics, tailgating, and just any occasion where a warm, home-cooked meal is welcome.
The oats provide a crunch that pairs well with the juiciness of the fruit layer underneath. That textural contrast is one of this dessert's strengths. Add to that the creaminess of the vanilla ice cream which is usually served with this also elevates this dessert.
What is Strawberry Crisp?
It is a twist to the traditional version made with apples. This one is made with a strawberry filling and topped with a crunchy pastry layer primarily made with oats.
What goes into Strawberry Crisp?
The ingredients are basic ones that you can already have at home, so this makes the recipe even easier for you to try making at home! Here is the list:
Filling: fresh strawberries, lemon juice, vanilla extract, granulated sugar, all-purpose flour
Topping: old fashioned oats, all-purpose flour, brown sugar, granulated sugar, ground cinnamon, lemon zest, melted unsalted butter
How to make Strawberry Crisp
Prepare for baking: Preheat the oven to 375 degrees Fahrenheit and grease your baking dish.
Make the filling: Just mix the filling ingredients in a bowl. Once mixed thoroughly, you can then pour the mixture into the baking dish.
Prepare the topping: Mix all the dry ingredients first then stir in the melted butter. Place the mixture on top of the filling.
Bake: Pop it in the oven for 30 to 40 minutes until the top layer turns golden brown and the filling bubbles.
Serve: Cool then serve with vanilla ice cream. You can also garnish with some mint leaves!
How to serve Strawberry Crisp?
You can serve it as is or add your favorite toppings! You can top it with vanilla ice cream which is probably the most popular pair for this dessert. Or, you can try it with whipped cream, creme fraiche, or Greek yogurt.
Can you use frozen strawberries?
Yes! You can use frozen ones if you thaw them first and remove any excess moisture that may develop.
What's the difference between a crisp and a crumble?
This recipe has oats as the main ingredient that gives the topping the crunch that you need. While in a crumble, the topping is more doughy and denser, and it sometimes contains nuts aside from the optional oats.
Can you make a crisp ahead of time?
Yes! What you can do is mix the topping and filling ingredients separately and refrigerate for later. Once ready, assemble then bake.
Or, you can bake them today and store for later. At room temperature, it can stay good for up to 2 days. Refrigerate for serving later up to 4 days. To reheat, simply reheat in the oven.
How do you keep a crisp from getting soggy?
Do not cover it right away when it is still hot. The condensation will turn the topping soggy. So, make sure to cool it thoroughly before storing it. Using a paper towel to cover it may also help with the condensation.
Another thing to consider is to not make it way in advance as the topping can get soggy as it sits in contact with the filling for a long time. What you can do is to store them separately at first then assemble and bake later.
Can you freeze it?
You can freeze the topping and the filling in separate containers, then, assemble right before baking. You will need to lengthen the cooking time if you will be baking them frozen.
Recipe Tips:
You may find that the topping browns much faster than you would have wanted. Extend the cooking without burning the top by covering it with foil.
The flour in the filling serves as the thickener. You can substitute it with arrowroot starch, potato starch, or corn starch.
Do not leave out the lemon juice. It enhances the flavors of the fruit.
Deliciousness to your inbox
Enjoy weekly hand picked recipes and recommendations