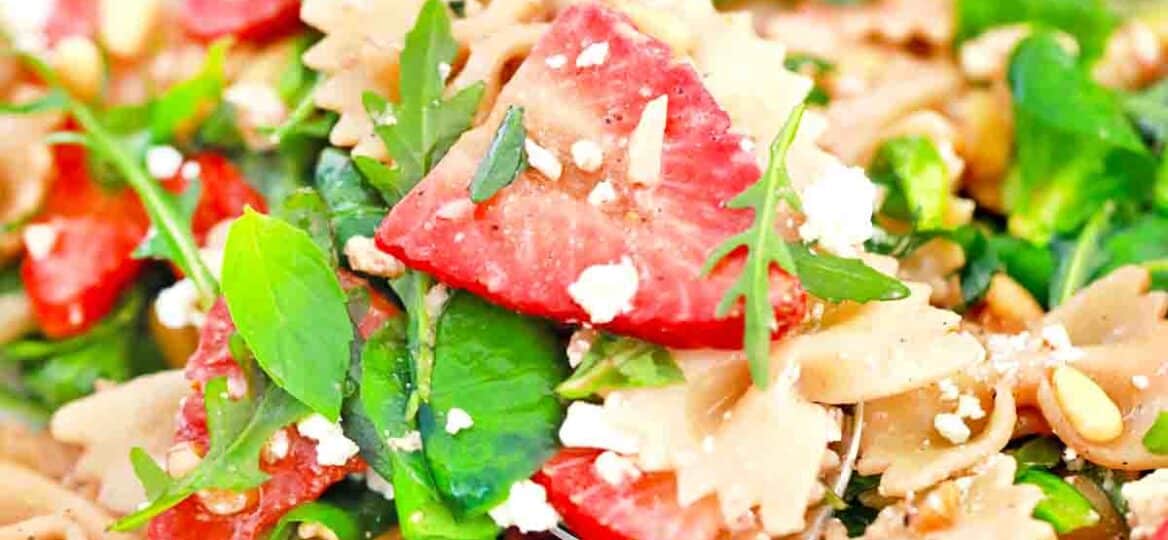 Strawberry Balsamic Pasta Salad Recipe
Strawberry Balsamic Pasta Salad is made with fresh sweet strawberries, nuts, and greens, seasoned with maple syrup and balsamic dressing for a deliciously healthy salad. My family would be happy eating pasta salad for lunch or dinner all summer long, so I have to mix it up and make new recipes like this one.
Looking for other great salad ideas? Cut the pasta out and use extra veggies and herbs for this delicious Arugula Strawberry Salad. Besides strawberries and arugula, you need goat cheese, red onion, nuts, radishes, avocados, and green onions. For something more savory, our Southwest Ranch Pasta Salad is filled with vegetables like corn, tomatoes, onion, peppers, and jalapenos and coated in homemade ranch dressing.
Pasta salad has been around since the first century when Jewish law prohibited any kind of cooking on the Sabbath. It is thought that Italian Jews are the ones who decided to use day-old pasta to eat during the Sabbath. However, the more modern version made with macaroni noodles showed up in an American cookbook in 1914.
This is a delicious side dish with lots of vitamins and minerals but little saturated fat. Not only does it give you both sweet and tangy flavors but it is also quite pretty to look at. For our strawberry pasta salad recipe, all you need are some greens, nuts, strawberries, and pasta. Then toss it in balsamic vinegar glaze for an amazing salad.
If you love strawberries, try some of our other popular recipes like this strawberry shortcake pie made with cream cheese, whipped cream, and strawberry sauce. Then it is topped with a yummy homemade strawberry shortcake topping for some crunchy goodness. For something quick and easy, this strawberry fudge recipe only uses three ingredients including strawberry frosting, butter, and white chocolate chips.
Ingredients needed:
To make this incredibly easy strawberry balsamic pasta salad, all you need are the ingredients listed below. When you are ready, go to the recipe card (recipe key) at the bottom of the page for the instructions and measurements.
For the salad:
Bow tie pasta
Sea salt for pasta water
Crumbled feta cheese
Pine nuts
Walnuts: Roughly chopped.
Fresh spinach
Arugula
Strawberries: Sliced with stems removed.
Balsamic dressing:
Balsamic vinegar
Balsamic reduction
Maple syrup
Kosher salt
Black pepper
Garnish:
Pine nuts
Fresh basil
Strawberries
How to make strawberry balsamic pasta salad from scratch?
Boil the pasta: To begin, fill a large pot of water about 2/3 full and add salt. Bring the water to a boil before adding the pasta. Let the noodles cook, stirring often, for about 10 minutes or until they are al dente. It helps to use the package directions.

Make the balsamic glaze: While you wait, stir together the balsamic vinegar, balsamic reduction, syrup, olive oil, salt, and pepper in a small bowl. Whisk until it is combined before adding the strawberries. Gently toss until it is all coated. Put it in the fridge to chill until ready to use.

Drain the pasta: Once the pasta is finished, drain the water and rinse the cooked pasta under cold water to stop the cooking process. Make sure all of the excess water is drained.

Mix it all together: Now, put the pasta in a large bowl and pour the strawberry balsamic mixture on top. Add greens, nuts, and half of the cheese, tossing well to combine and coat everything. Season generously as needed.

Garnish and serve: Finish it off by garnishing with fresh basil, pine nuts, feta, and fresh strawberries before serving. Add more salt and pepper if needed.
Recipe variations:
Goat cheese: You can use goat cheese instead of (or in addition to) feta if you like.

Soft cheese: Actually, any soft cheese will work in this salad including brie, gorgonzola, Roquefort, and mascarpone.

Other kinds of kinds of vinegar: Feel free to use your own favorite vinegar for this such as red wine, champagne, apple cider, or rice wine vinegar for a tangy delicious taste.
More veggies: To make this recipe even heartier, add your favorite veggies like red onion, chopped celery, halved grape tomatoes, broccoli florets, and grated carrots.

Add meat: For one of those pasta salads that can fill everyone up, add your favorite meat such as grilled chicken, turkey, pork, or beef.
Other fruit: If you cannot find strawberries anywhere or just do not like strawberries, use other fruit instead. Some great choices are blackberries, raspberries, and blueberries.

Honey: Add honey for more sweetness or you can replace the syrup with honey for less sugar.

Gluten-free: Any kind of gluten-free pasta will work in this recipe.
How to serve:
This balsamic strawberry pasta salad recipe is ready in minutes and would make a delicious lunch. Add more veggies, fruits, and meat for a hearty dinner salad. Here are some great serving ideas you can try. You can also share some of your ideas in the comments at the bottom of the page. I really enjoy reader interactions as it keeps me going.
Add some parmesan, romano, or another kind of dry cheese to your salad for an extra cheesy flavor.

A drizzle of caramel sauce would make this scrumptious salad sinfully delicious.
Alternatively, you could also top this salad with shredded cheeses like cheddar, mozzarella, or Monterey jack.

For dessert, how about a scoop of our creamy strawberry ice cream with chocolate chunks?

For some extra protein and flavor, top your lunch or dinner salad with bacon bits.

Try this with a glass of our frozen strawberry daiquiri on a hot summer day at the pool.

Add more nuts like slivered almonds or chopped pecans to this dish for more crunchiness.
Frequently asked questions
How do I make balsamic reduction?
Balsamic reduction is just balsamic vinegar simmered until it becomes thick. Some people add sugar, honey, or some other sweetener but you do not have to. Simply pour the balsamic vinegar into a saucepan. Turn the heat to medium and bring the vinegar to a simmer, stirring frequently to check the consistency. Keep simmering until the glaze is thick like syrup and covers the back of a spoon. Remember, it will become thicker as it cools.
What is the best pasta for this recipe?
We used bowtie pasta but any kind of short pasta with a lot of nooks and crannies works great. Some of these are penne, rotini, farfalle, and fusilli. The small size makes them easier to eat and the creases and folds will hold the small ingredients and dressing for a burst of flavor in every bite.
Can I add other greens?
Although this recipe only calls for spinach and arugula, you can use whatever greens you like in your strawberry balsamic pasta salad. Green or red leaf lettuce, Napa cabbage, chicory, and romaine lettuce are some great choices. Butter or bibb lettuce, curled endive (frisee), escarole, and iceberg lettuce can also be used.
What is the nutrition information in this recipe?
Worried about nutrition, calories, and fat? These numbers are just an estimate based on the ingredients and serving size. Each serving has 320 calories, 14 mg of cholesterol, 15 grams fat, and 3 grams of saturated fat. You will also get 225 mg sodium, 38 carbs, and 7 grams sugar. But there are vitamins and minerals too including 1 mg iron, 155 mg calcium, 165 mg potassium, 24 mg vitamin C, 11 grams protein, 3 grams fiber, and 94 units vitamin A.
How to store leftovers:
Store: Leftover strawberry balsamic pasta salad can be refrigerated for several days in an airtight container.

Freeze: Freezing is not recommended.
More pasta salad recipes:
Cooking tips:
You can use a food processor or blender to chop the nuts but slice the strawberries yourself by hand.

Do not cook your pasta too much. Al dente means soft and chewy but not mushy.

Be sure to drain your pasta well or you will end up with watery pasta salad.

To save prep time, cook the pasta and chop the strawberries and nuts the day before.

Instead of olive oil, you can use whatever you like to dress your salad with.
Do your best to chop all the pieces about the same size for better consistency and flavor.
Dress the pasta with part of the glaze while it is still warm so it will absorb the flavors. Then add the rest of the dressing before serving.
If you cannot find fresh berries in your area, go ahead and use frozen ones.
Strawberry Balsamic Pasta Salad
Ingredients
1

tablespoon

sea salt

for pasta water

1

pound

bow tie pasta

1/3

cup

olive oil

3

tablespoons

balsamic vinegar

2

tablespoons

maple syrup

1

tablespoon

balsamic reduction

1/4

teaspoons

salt and pepper each

2

cups

strawberries

stems removed and sliced

2

cups

arugula

2

cups

spinach

1/2

cup

walnuts

roughly chopped

1/4

cup

pine nuts

1

cup

feta

crumbled
Garnish:
Strawberries

Basil

Pine nuts
Instructions
Add enough water to a large pot to boil the pasta, add 1 tablespoon of sea salt, and bring the water to a boil.

Add the pasta, give it a stir, and cook until al dente, about 10 minutes, but read the package instructions. Make sure to stir it often while it cooks.

In a medium mixing bowl add the olive oil, balsamic vinegar, maple, balsamic reduction, salt, and pepper, and stir to combine.

Add the strawberries and toss them in the balsamic mixture. Store in the fridge until ready to use.

When the pasta is done cooking, drain using a colander and rinse it under cold water to cool it down. Drain well.

Add the cooled pasta to a large bowl and add the strawberry mixture and all its juices to the bowl.

Next, add the salad greens, walnuts, pine nuts, and half of the feta cheese, toss to combine, and coat everything in the sauce. Taste and adjust for salt, pepper, and balsamic vinegar as needed.

Before serving garnish with more fresh strawberries, remaining feta cheese, pine nuts, and fresh basil leaves.
Deliciousness to your inbox
Enjoy weekly hand picked recipes and recommendations