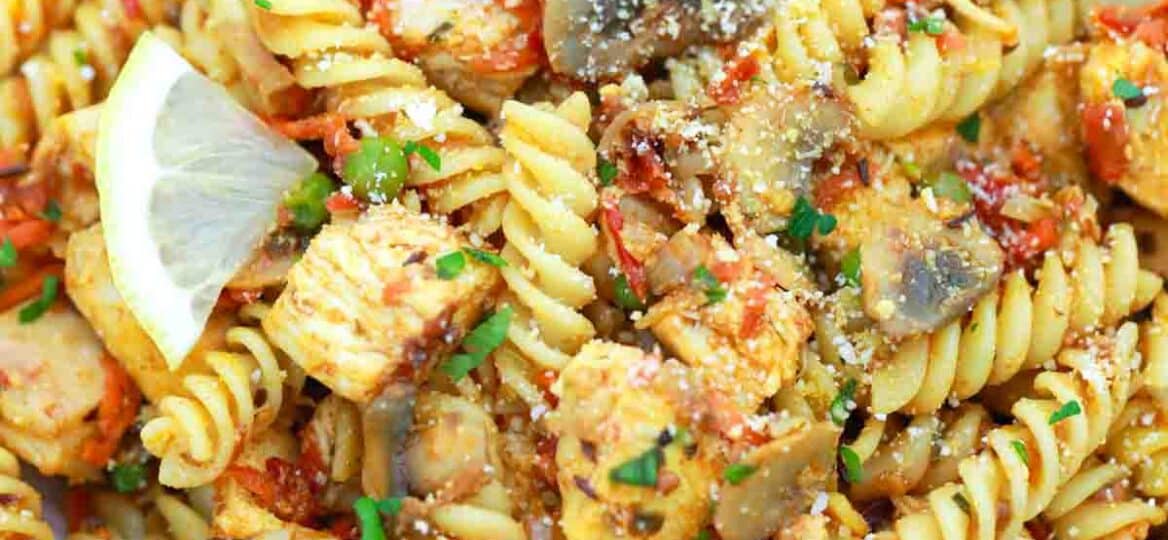 Indian Curry Pasta Salad Recipe [Video]
Indian Curry Pasta Salad is full of fresh herbs and spices with tender chicken breasts and fusilli pasta, in a flavorful creamy sauce. It is similar to coronation chicken with pasta added. The mouth-watering herbs and veggies add to the overall yummy taste you get in each delicious bite.
For a vegetarian curry dish, try our Indian Coconut Butter Cauliflower seasoned with coconut milk, ginger, and curry powder. Another delicious chicken recipe is this Instant Pot Orange Chicken made with white wine, soy sauce, and orange juice. Or try our One Pan Hunan Chicken recipe with zucchini, oyster sauce, and rice wine.
Curry is an Indian dish with a seasoned sauce that dates back centuries. But it is also a curry powder that is made of turmeric, cinnamon, coriander, and cumin as well as peppercorns, mace, star anise, nutmeg, and cardamom.
It is one of the most common seasonings in Indian foods from soup to salad. We agree, it is a rich and delicious taste for just about anything. Indian curry pasta is a rich and tasty dish you can serve as a meal or a side dish with or without chicken.
You can add sauce or dressing as you wish or eat it the way it is. With all of the herbs and spices, you will not need any extra seasoning. This is also a healthy dish you can feel good serving your family. Your whole family will love this dish so make sure you save the recipe.
For other salad recipes, try our easy macaroni salad made from elbow pasta, veggies, and a creamy mayo-yogurt dressing. If you are looking for something for taco night, this delicious taco pasta salad is perfect, or try this Mexican street corn pasta salad recipe. There are many scrumptious pasta salads that are perfect hot or cold.
Follow us on Pinterest for more delicious recipes!
Ingredients needed:
To make this delicious curry pasta salad recipe, you will need to gather up all of the ingredients below. Then, scroll down to our recipe card when you are ready to begin for complete instructions and exact measurements.
Cooked chopped chicken breasts
Cassava kitchen fusilli pasta
Jalapeno: Finely chopped.
Onion: Finely chopped.
Tomatoes: Finely chopped.
Mushrooms: Sliced.
Frozen sweet peas: Thawed.
Shredded carrot
Parmesan cheese
Lemon juice
Olive oil
Mustard seeds
Cumin seeds
Garlic cloves
Chopped cilantro
Ginger paste
Cumin powder
Garam masala
Paprika
Crushed red pepper flakes
Oregano
Turmeric
Salt to taste
Curry leaves: Optional.
How to make Indian curried pasta salad recipe?
Cook pasta: First, boil pasta in a large pot in salted water. Cook until the noodles are al dente. Then let it drain completely before adding to your salad.
Temper seeds: In the meantime, using a large skillet or frying pan, heat olive oil until it is hot. Then, temper the cumin and mustard seeds. Add part of the cilantro, ginger paste, minced garlic, and curry leaves when the seeds start to crackle.
Add the veggies: Next, add the chopped onions and jalapeno and cook on medium-high heat until the onions are translucent. Then add the tomatoes and salt and let it cook until the tomatoes are soft.
Spice and cook mushrooms: After, spice the mushrooms and add them to the pan. Cook for another five to seven minutes until the mushrooms are cooked. Add carrots and peas and cook for two more minutes.
Add the spices: Now you are ready for the spices. Add red pepper flakes, oregano, paprika, garam masala, cumin, and turmeric and stir until combined.
Add pasta: Finally, you can add the cooked pasta and mix it thoroughly to make sure the masala coats the noodles before adding the chicken.
Garnish and serve: Finally, garnish with lemon juice, parmesan cheese, and the rest of the cilantro, and serve with warm garlic bread.
Recipe variations:
Other meat: You can change the chicken to pork, turkey, or beef for a different flavor.
Curry powder: Instead of or in addition to using your own, try using a teaspoon of curry powder.
More flavor: Feel free to add other herbs such as celery salt, cardamom, and nutmeg.
Other pasta: Besides fusilli pasta, you can also try some other shapes or types of pasta noodles.
Wheat pasta: Using wheat pasta for this salad is perfectly fine too.
Add fruit: Add a cup of dried cranberries, raisins, chopped apples, or some mandarin oranges to make your dish even tastier.
Add nuts: For some crunchiness and protein, add some nuts like slivered almonds or chopped pecans.
Make it vegan: Omit the meat and the parmesan cheese and this is a vegan dish. If you want more substance, add some tofu.
How to serve:
Serve your curried pasta salad in a large bowl with garlic bread on the side. We also have some other fun serving suggestions you can try. Or share some of your tips in the comments section at the bottom of the page.
Add a bowl of curry dressing to the table for guests to serve themselves. To make deliciously creamy curry dressing, just add one cup of mayonnaise with two tablespoons of curry powder.
Use leftovers to make a different kind of salad like curry chicken salad with cashews, raisins, and veggies.
This is the perfect dinner for a cold night as the garam masala warms your body. Pair it with a good wine for a romantic meal.
Top with a spoonful of peach or mango chutney. Or try one of our delicious jam recipes like this tangy and sweet peach jam.
Add some of your favorite veggies on top like green onions or scallions for extra flavor.
Another way to serve this is on top of a bed of white or brown rice. Try our rich buttery white rice recipe.
Looking for desserts to go with this dish? Fresh fruit is one great choice. A large bowl of grapes, bananas, and apples would be perfect.
Frequently asked questions
What is the best pasta noodle for this recipe?
Although you can use any pasta noodle, it is best to use one that holds the seasoning and sauce. You want there to be some little pockets that fill with your ingredients and meld with the garam masala.
Tubed noodles like macaroni or penne work great. A short pasta like the fusilli that this recipe calls for is perfect because it has nooks and crannies, and it is small enough to serve and eat easily.
Should I use dry or fresh pasta?
Even though fresh pasta is yummy and fresher, the dry pasta will hold up better when you toss it and mix it with all the veggies and other ingredients. This is also a great feature for serving cold or at room temperature because fresh is not as firm as the dried and enriched ones you get at the grocery store. They are also a lot less expensive.
What is garam masala?
Garam masala is an ancient Indian spice blend used in soup, curries, and other Indian foods. The name means "warming spice" in Indian, and it is supposed to warm the body and increase your metabolism.
The ingredients typically include cardamon pods, cumin seeds, peppercorns, coriander seeds, mace, and cinnamon. They are toasted and crushed to a fine powder.
What are the nutrition facts in this recipe?
If you use all the ingredients exactly as the recipe states with no extra ingredients, your curried pasta salad will have about 400 calories, 70 grams of carbohydrates, and 20 grams of sugar. It also has 9 grams of fat with 2 grams of saturated fat, 550 milligrams of sodium, and 45 milligrams of cholesterol.
On the plus side, each serving contains 24 grams of protein, 7 grams of fiber, 5 milligrams of vitamin C, 205 units of vitamin A, and 99 milligrams of calcium as well as 5 milligrams of iron, 16 micrograms of folate, 1 milligram of thiamine, and 560 milligrams of potassium.
How to store leftovers:
Store: Refrigerate leftover curried pasta salad in an airtight container for up to five days.
Freeze: If you cannot eat all of your pasta salad in a few days, bag it up in a freezer bag and freeze it for up to three months.
Thaw: Remember to put your frozen leftovers in the fridge to thaw overnight before serving.
Reheat: No need to reheat. This is best served chilled or at room temperature.
More pasta salad recipes:
Cooking tips:
Check out our food blog site for more great recipes whether you want Indian, Mexican, or American food, we have all that and more.
To shorten prep time, use precooked or canned chicken. Or you can use rotisserie chicken.
Another way to save time is to use curry powder instead of all the extra seasonings.
Be sure to use salted water to cook noodles for more flavor.
Add some sprigs of parsley for extra minerals and vitamins like magnesium, calcium, and iron.
Make sure you remove the seeds from the jalapeno unless you like to eat extra spicy foods.
Also, wear kitchen gloves when working with jalapenos so the juice does not soak into your skin. This will save you from burning your eyes or mouth if you happen to touch your face after.
Indian Curry Pasta Salad
Ingredients
16

ounces

dry fusilli pasta

macaroni or small shell pasta

1

tablespoon

olive oil

1

lb

cooked chicken breast

chopped

1

teaspoon

mustard seeds

1/2

teaspoon

cumin seeds

4

curry leaves

optional

6

cloves

garlic

minced

1

tablespoon

grated ginger

1

jalapeno

desseded and finely chopped

1

small white onion

finely diced

2

cherry tomatoes

finely chopped

1

cups

baby Bella mushrooms

sliced

1/3

cup

frozen sweet peas

defrosted

1/2

cup

shredded carrots

2

teaspoons

cumin powder

1/2

tablespoon

garam masala

2

teaspoon

paprika

1

teaspoon

crushed red pepper flakes

1

teaspoon

oregano

1

teaspoon

turmeric

1

teaspoon

salt

or to taste

4

tablespoons

chopped cilantro

1

tablespoon

lemon juice

2

tablespoons

grated Parmesan cheese
Instructions
Bring a large pot of salted water to a boil, and cook pasta per package directions aiming for al dente. Drain pasta, drizzle it with a bit of olive oil, and set it aside.

Place a large nonstick pan over medium-high heat and heat the olive oil.

Once the oil is hot, temper mustard seeds and cumin seeds for about 30-60 seconds.

Add curry leaves, minced garlic, ginger, and half of the cilantro. Saute for 1-2 minutes.

Next, add the chopped jalapeno and onion. Saute for 2-3 minutes, till the onions turn translucent.

Then add tomatoes, and season the mixture with salt. Continue to saute until the tomatoes are cooked.

Add the mushrooms, stir and saute for 5-7 minutes or till the mushrooms are cooked.

After that, add the green peas and carrots. Continue to saute for 2 more minutes.

Then add the turmeric, cumin powder, garam masala, paprika, oregano, and crushed red pepper flakes.

Toss into the mixture the cooked pasta and chicken. Adjust for salt.

Garnish with the remaining cilantro, Parmesan cheese, and a drizzle of lemon juice. Serve.