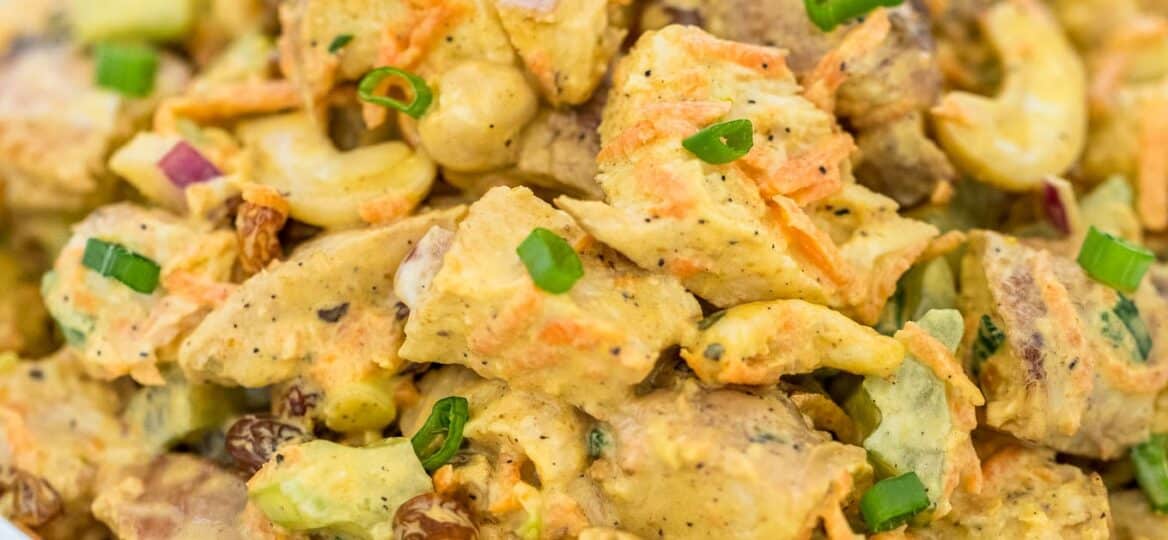 Curry Chicken Salad [video]
Curry Chicken Salad is a creamy and refreshing dish that is easy to prepare and bursting with a distinct Oriental taste – you'll love it so much, you'd be craving for more!
This rich and easy-to-prepare salad is so full of flavors that you would be trying this out often. This is on our favorite list of chicken dishes such as Best Szechuan Chicken Recipe, Easy Chicken Quesadillas, and Chicken Cordon Bleu Casserole.
Easy Curry Chicken Salad Recipe
Curry Chicken Salad is a mouthwatering dish that can be a complete meal by itself. We prepare this simple and tasty salad a few days a month at least! We love making this recipe because of the distinct essence not just of the curry but of the aromatic and crunchy vegetables.
Curry, in the Southern part of Asia, means the way they cook their dishes with a uniquely Oriental spice, curry. It is a combination of different herbs and spices but the main spices used are cumin, coriander, and turmeric.
What's interesting about this is the combinations are different for every region in the southern part of Asia, even prominent families have their own combination of this spice!
Our friends like the exotic taste of this dish whenever we prepare this salad during our get-togethers. They never fail to ask me for the recipe before they leave our home.
WHAT IS CHICKEN SALAD?
This salad is usually a combination of cooked chicken with vegetables dressed by either a creamy dressing or vinaigrette. We love playing around with this kind of salad particularly with the creamy combination of mayonnaise and yogurt and other vegetables to it.
WHAT IS CURRY?
Curry, as mentioned above, is not just a single spice but a combination of spices. What's interesting to us is that for every part of South Asia, they have different concoctions. So the uniqueness of the dishes served is absolutely amazing!
HOW DO YOU MAKE CURRY CHICKEN?
This recipe is easy to make. First, if you have decided to cook the meat for this recipe, make sure you boil it in a flavorful broth. Let it cool and shred it into smaller pieces. Next, combine the ingredients for the dressing. Last is just combining both and adjusting your seasoning to taste.
To make this recipe even easier, you can use pre-cooked, leftover chicken.
CAN YOU USE ROTISSERIE CHICKEN FOR THIS SALAD?
Certainly! This is a great idea if you want to cut on time, and it will make the salad taste really good. Any leftover chicken is welcome to be transformed into this creamy easy salad dish!
HOW DO YOU COOK CHICKEN FOR CURRY CHICKEN SALAD?
If you decide to cook the meat, I would recommend boiling it in a mixture of broth and spices. Just add some garlic, onion, green onions, fresh ginger, two bay leaves, and some peppercorn for extra flavor.
IS CURRY CHICKEN SALAD HEALTHY?
This recipe is definitely a healthier option, as the dressing, is not all mayo-based, but it has some yogurt as well. This dish to be totally healthy just use yogurt and omit the mayonnaise.
HOW DO YOU MAKE LIGHT CURRY CHICKEN SALAD?
You can make a light version of this salad by substituting the mayo and yogurt-based dressing a with vinaigrette one. Making your own vinaigrette is easy. Just combine one part lemon or lime juice and two or three-part peanut oil. Then add the rest of the ingredients included.
For a creamy healthier version, use greek yogurt and a squeeze of lemon juice.
HOW DO YOU STORE CURRY CHICKEN SALAD?
This salad is easy to store. Just transfer it in an airtight container and it can be stored in the refrigerator for 2 – 3 days. It's a bit difficult to store it in the freezer because of the mayonnaise and yogurt. But you can always prepare the chicken breast ahead of time and store that in the freezer. Just whip up the dressing when needed!
HOW LONG CURRY CHICKEN SALAD CAN SIT OUT?
This salad should be served chilled, so it can only sit out for an hour. So just serve enough for one go, depending on the number of people you have invited, and just add some more as you need!
HOW DO YOU SERVE IT?
Since this dish should be served chilled, it is important to retain its temperature. Therefore, it is best to serve this dish in a bowl lined with lettuce and place it over another bowl filled with ice. If you are serving this at a party, you should change the ice once or twice.
WHAT OTHER MIX-INS CAN YOU ADD TO CURRY CHICKEN SALAD?
You can easily add other vegetables to this dish like carrots, French beans or green peas and even slices of apples or chunks of pineapple!
RECIPE TIPS:
To make this recipe easy for you, you can prepare the chicken breast ahead of time. Once it's cooled you can store it in the freezer in heavy-duty kitchen bags, especially you're preparing a huge batch.
You can also prepare the vegetables included a few hours before you need it and store it in airtight containers to seal in the freshness.
Garnish the salad with chopped green onions and strips of carrots to add color to your presentation.
Retain the temperature of the salad by serving it over a bowl filled with ice.