Best Szechuan Chicken Recipe
Szechuan Chicken is an easy recipe with a perfect harmony of sweetness and spiciness in one savory dish. Ready in less than 30 minutes, it is the ideal weekday dinner meal!
We love Asian recipes that are easy to make and ready in no time. Some of our all-time favorites are Chicken and Broccoli Stir-Fry, Hunan Chicken, and Instant Pot Cashew Chicken. Check them out!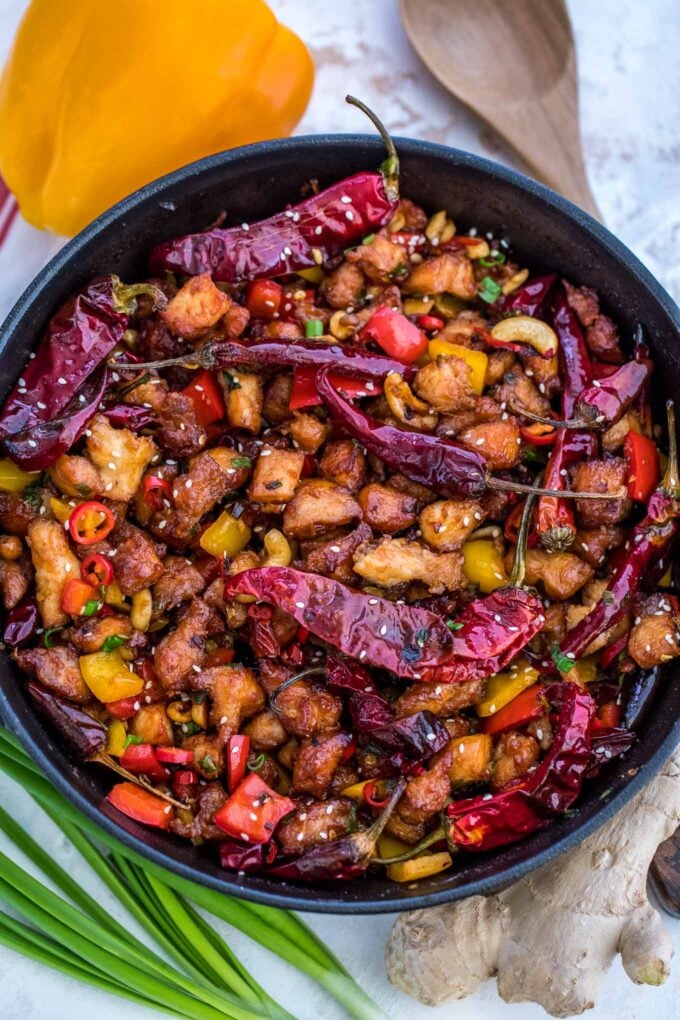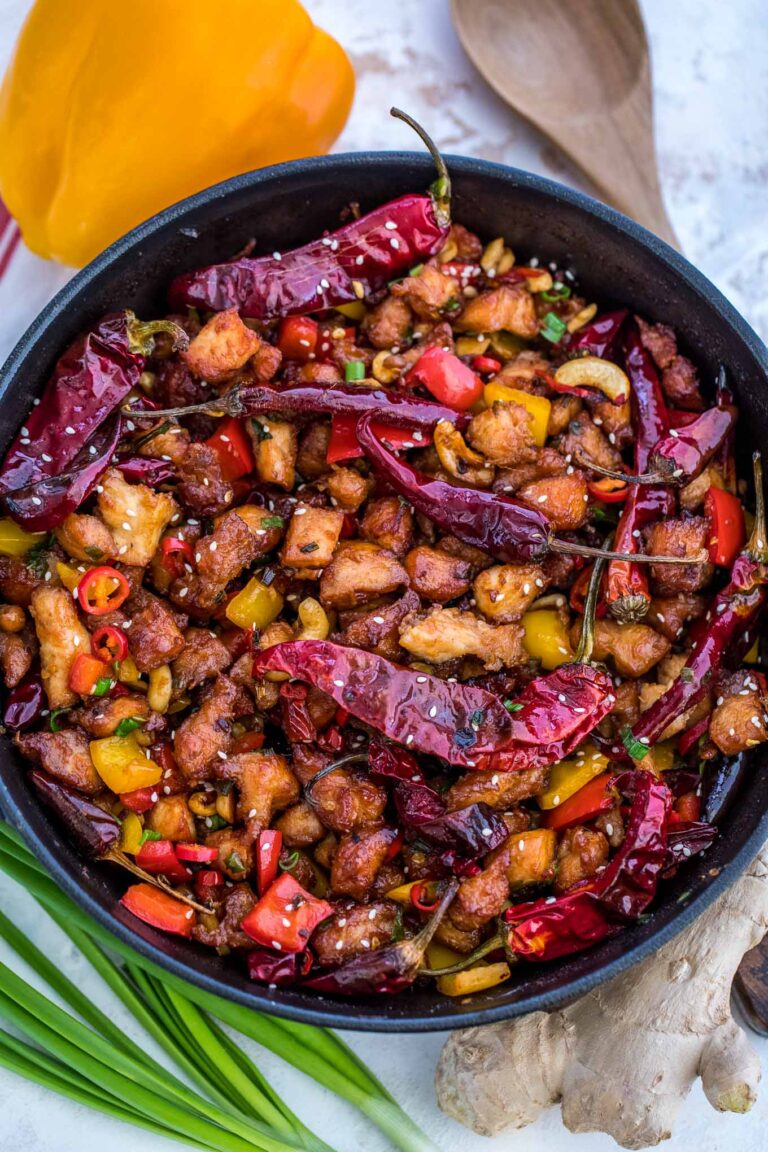 Szechuan Chicken is a classic Chinese dish that is pretty healthy with an explosion of flavors. If you crave some delicious and easy-to-make Chinese food, then this dish is for you. Also, you can make it with any vegetables you have on hand or desire. This dish is very versatile and just perfect for a quick dinner during busy weeknights.
Making it at home is also budget-friendly and healthier. We like it on a spicier side, so we go with some extra chili pepper or Sichuan peppercorns. However, if you do not like spicy food, feel free to reduce or even omit the chilis.
This particular recipe is a fairly common traditional version, with true to authentic flavors. If you are craving some Asian food that is hot and flavorful then you will love this mouthwatering dish. Give this easy stir fry dish a try, and you will see why it tastes better than the one you get at the Chinese restaurant.
Ingredients needed:
Chicken: I mostly use boneless breasts, and cut them into smaller chicken pieces.
Sauce: Rice wine, corn starch, white pepper, soy sauce, sesame oil.
Vegetable Oil
Szechuan peppercorn or regular peppercorns: You can find this at any Asian store.
Red chili peppers and dried red chilis
Veggies: Such as red bell pepper, yellow bell pepper, minced garlic, green onion
Peanuts
White sugar: To balance the spicy flavors.
Soy sauce
Sesame oil
Sesame seeds
How to make Szechuan Chicken?
Making this dish has three parts: preparing the chicken, cooking the stir-fry vegetables, and then mixing them together.
Szechuan chicken is best prepared using chicken breasts cut into cubes. Also, we like to marinate the chicken in a mixture of seasonings with cornstarch. This takes some additional time, but it is definitely worth it. However, if you are short on time, then skip the marinade part.
The seasonings include rice wine, soy sauce, white pepper, and sesame oil. These alone make the meat super tasty. After marinating, fry the chicken until cooked evenly on both sides.
Next, in a large skillet, over medium-high heat, stir fry the vegetables. Simply add in minced garlic, ginger, chilies, bell peppers, scallions (or green onions), nuts, and the famous Szechuan peppercorn.
After a few minutes, toss in the fried chicken to combine with the rest of the ingredients. Remove from heat, garnish with sesame seeds, scallions, and more chili peppers!
Serve with rice and you've got yourself a complete savory meal of carbs, protein, and fiber.
Possible Flavor Variations:
Meat: Feel free to swap up the chicken breast with steak, shrimp, thighs, or even tofu.
Vegetables: I mostly go with bell peppers here. However, you can add anything you like. Some great additions would be mushrooms, celery, broccoli, carrots, green beans, etc.
Nuts: For an even crunchier texture, simply use more peanuts. Alternatively, go with cashews, water chestnuts, or almonds.
Instant Pot: Do you have an instant pot? Then, try making this Instant Pot Szechuan Chicken.
Seasonings: You can use other seasonings as well. Such as red chilies peppers, red pepper flakes, chili garlic powder, cayenne pepper, hoisin sauce, chili paste, etc.
What is Szechuan Chicken?
This dish is a sweet and spicy recipe from the Chinese province of Sichuan. This incorporates the Szechuan peppercorn which lends a slightly citrusy flavor to the whole dish.
Also, it is a dish on a spicier side, that because very popular all over the world. Nowadays, you can find this recipe pretty much in all Chinese restaurants.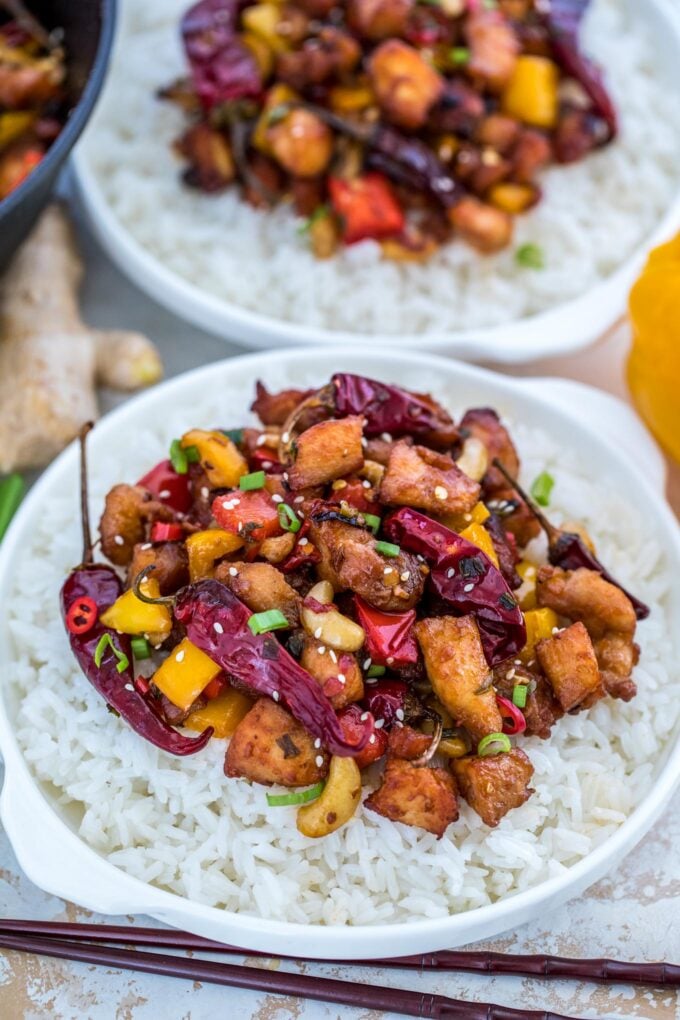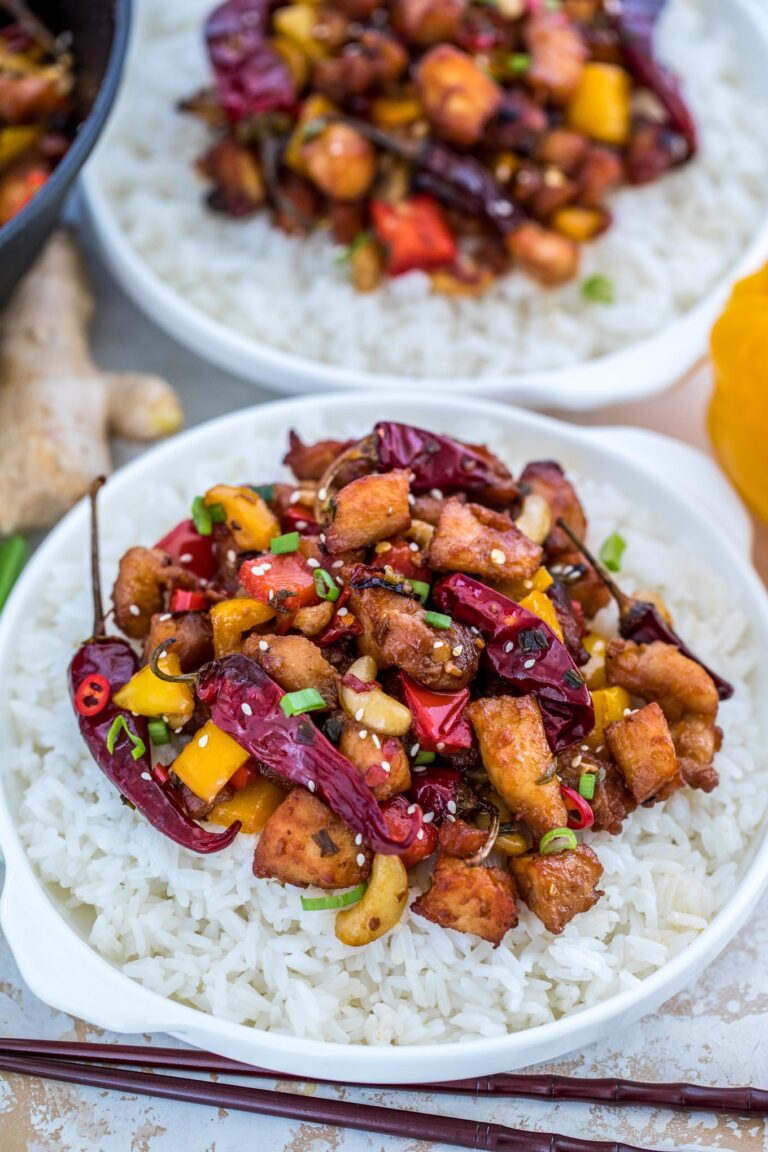 What vegetables are in Szechuan Chicken?
The following veggies are mostly used in this recipe: green onions, bell pepper, garlic, ginger, chili's, and your choice of nuts.
Bell peppers are closely related to spicy chili peppers. They are fruity and sweet when cooked which enhances the flavors of this savory dish. Using bell peppers of different colors also makes this dish visually appealing.
Garlic, ginger, and green onions are commonly used in Asian dishes for their flavor. They add a nice kick to the overall taste. Taking out one will definitely feel like you are missing something.
The nuts complement the overall texture of the dish. They add up more crunch in every bite. Nuts are also good sources of fats and protein.
Variations of this recipe incorporate vegetables like broccoli, mushrooms, carrots, and celery. It is your call if you want to add other vegetables. Just remember to cut them evenly so that they will be cooked evenly as well.
What is the difference between Szechuan and Hunan Chicken?
Hunan Chicken is more oily and spicier than the sweeter Szechuan Chicken. Though both contain chili peppers, the Hunan chicken spiciness is brought about by the use of chili bean paste while in this dish, it is the mouth-numbing peppercorn that makes the difference.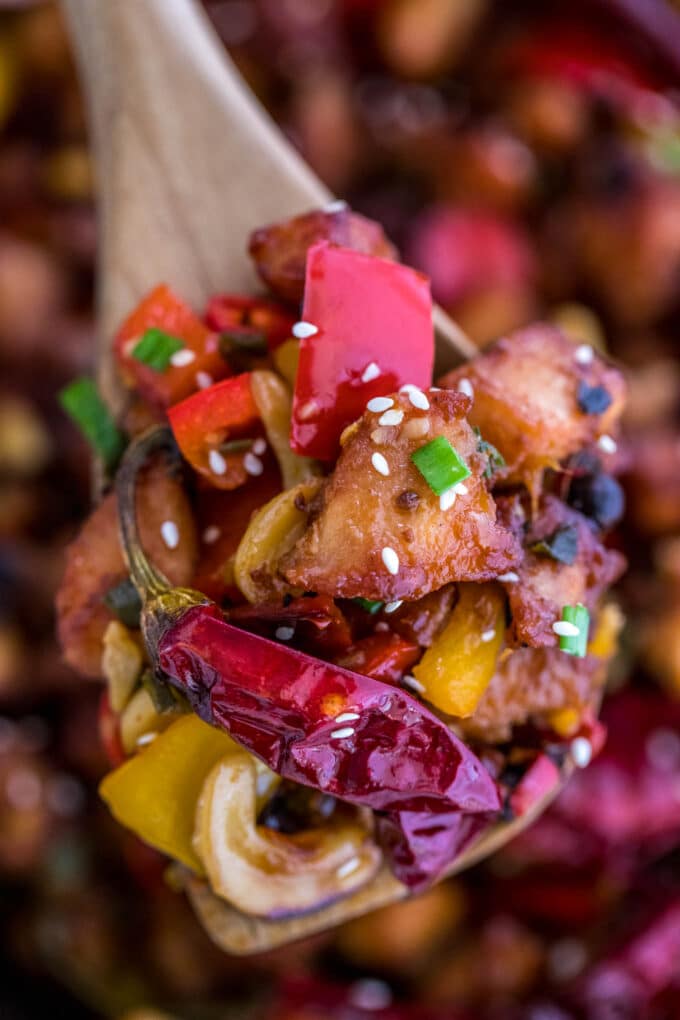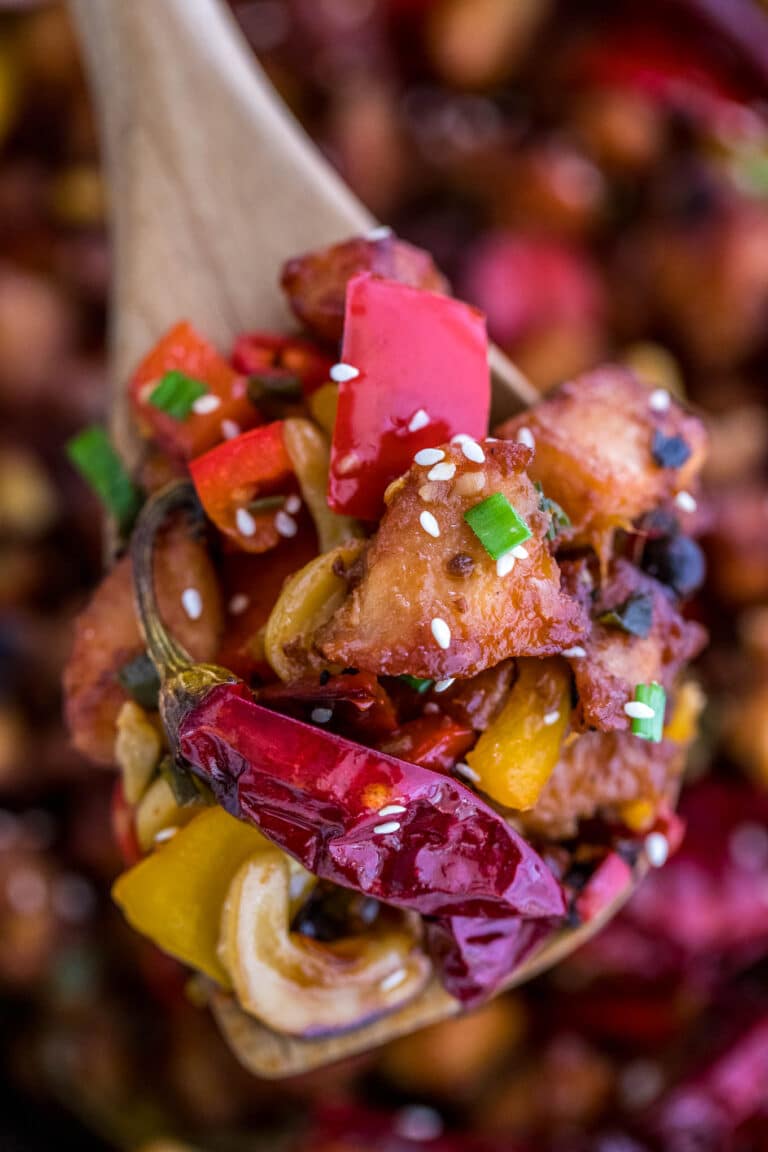 How spicy is it?
Usually, this is a hot dish intensified by the use of the Szechuan peppercorns or chili peppers. The Szechuan peppercorns have a trademark mouth-numbing effect. This helps the spiciness of the chili peppers stand out more.
If you cannot take the heat, you can tone down the spiciness level by reducing the chili peppers.
Also, if you do not have this ingredient, you can use some jalapeno, or habanero peppers as a substitute.
How many calories are in it?
A cup of this dish has about 200 to 400 calories depending on the types of vegetables used. Boneless and skinless chicken breasts are merely 100 kcal per 4 oz. The half-cup of peanuts alone can add up to about 400 calories to the dish.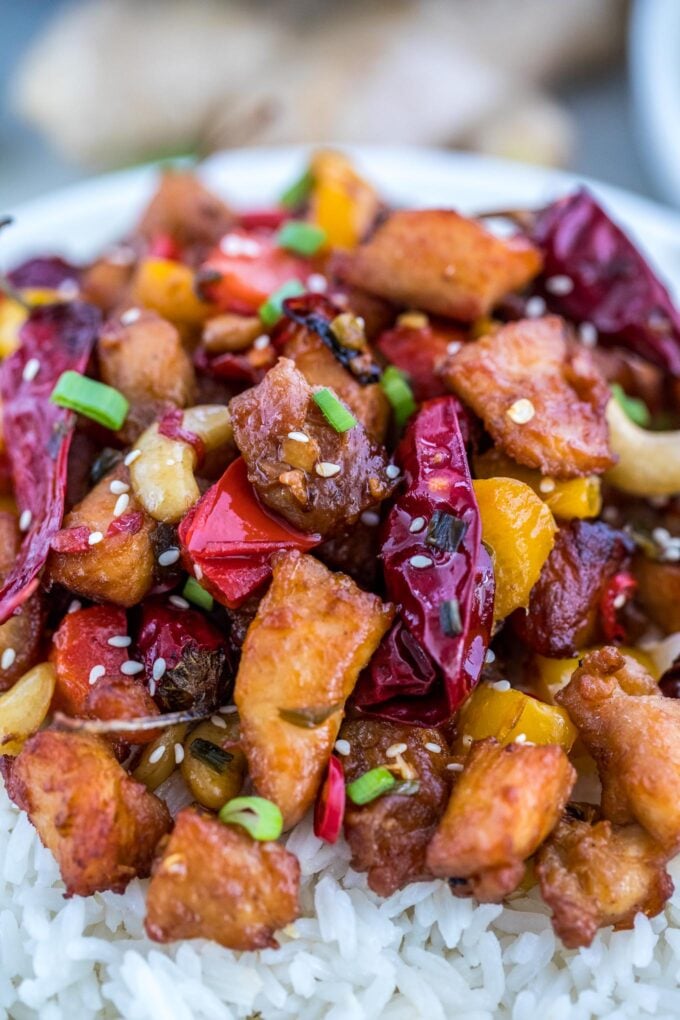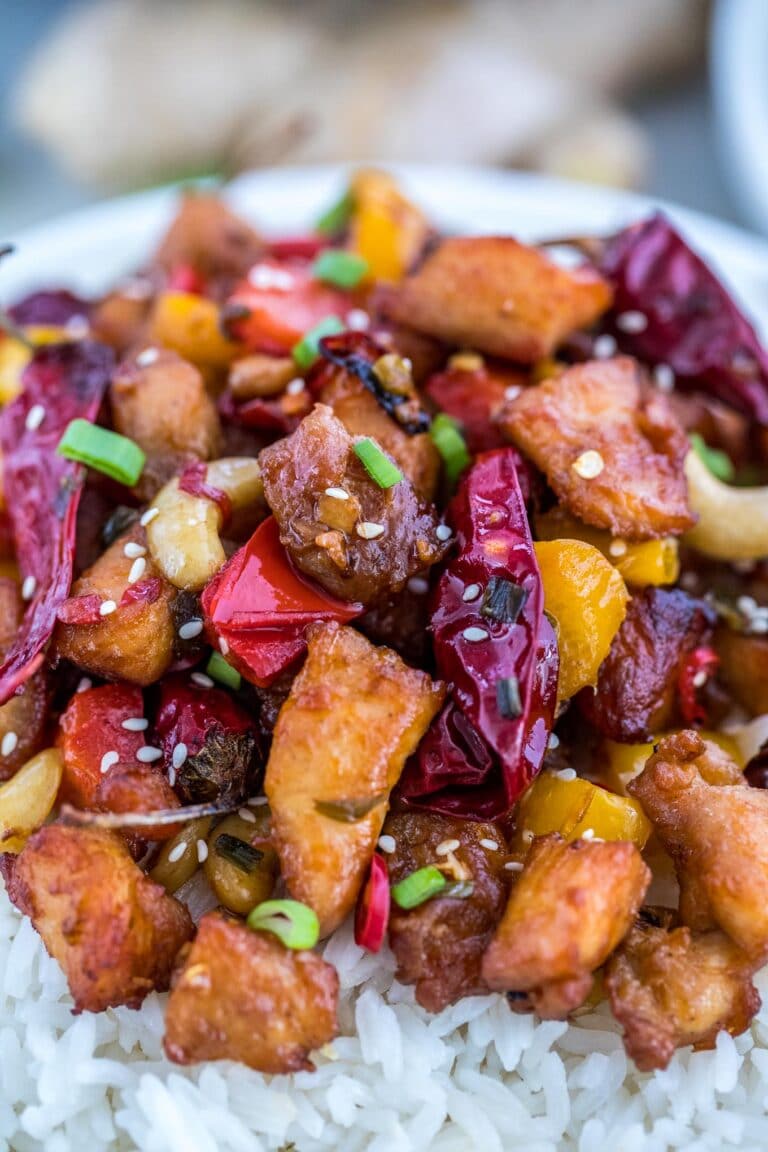 More Easy Asian Dishes:
Cooking Notes
While Szechuan chicken is best paired with steamed white rice, you can also opt for noodles to tame the spiciness. Also, brown rice, coconut rice, or jasmine type works well with it.
In addition, feel free to make a batch of Szechuan Sauce and refrigerate it for late use. This way you can quickly use it during the week or add it to other Chinese chicken recipes.
Make sure to stir fry the vegetables just enough for about 2-3 minutes and not overcook them. Otherwise, they will lose their crispiness.
This dish can last up to 5 days in the refrigerator as long as properly sealed in an airtight container, and cooled down before storing leftovers. You can make it in advance and just reheat it when needed.
By all means, this is a spicy stir fry dish. Therefore, feel free to adjust the spice level by using less of a spicy sauce, along with fewer red chillies.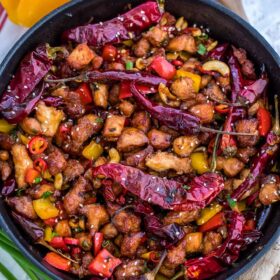 Best Szechuan Chicken
Szechuan Chicken is an easy recipe with a perfect harmony of sweetness and spiciness in one savory dish. Ready in less than 30 minutes, it is the ideal weekday dinner meal!
Save
Share
Print
Pin
Rate
Ingredients
2

large chicken breasts

(cubed into bite-size pieces)
Marinade:
3

tablespoons

cornstarch

1

tablespoon

rice wine

½

teaspoon

white pepper

3

tablespoons

soy sauce

2

tablespoons

sesame oil
Other Ingredients:
vegetable oil

(as needed for frying)

1

tablespoon

Szechuan peppercorn

5

red chilis

(cut into thin rounds)

25

dried red chilis

(whole)

1

red bell pepper

(cut into bite-size cubes)

1

yellow bell pepper

(cut into bite-size cubes)

1

tablespoon

minced ginger

5

cloves

garlic

(minced)

1

stalk green onions

(chopped)

1/2

cup

peanuts or cashews

(unsalted and roughly chopped)

1

tablespoon

white sugar

2

tablespoons

of rice wine

2

tablespoons

soy sauce

1

tablespoon

sesame oil
Garnish:
Green onion

(chopped)

Sesame seeds

More fresh red chilis
Instructions
Combine marinade ingredients in a bowl and add the cubed chicken. Marinate for 30 minutes or more.

Next, add about 2 inches of oil to a non-stick or cast-iron skillet and place over medium heat. Once hot, fry the chicken until browned and crispy. Fry the chicken in one layer, if needed fry in batches. Remove and set aside on a plate.

Then, discard oil from the pan, leaving only about 2 tablespoons. Add the Szechuan peppercorns and dried red chilies. Fry for about 1 minute, just until fragrant.

Add the rest of the fresh red chilies, ginger, garlic, and bell peppers. Stir and fry for about 5 minutes.

Next, add chopped green onions and nuts. Fry for a minute.

Add back the fried chicken pieces, stir and add the sugar, rice wine, soy sauce, and sesame oil. Toss to coat.

Garnish with chopped scallions, sesame seeds, and more red chilis.

Serve as is or over rice.
Nutrition
Calories:
333
kcal
|
Carbohydrates:
20
g
|
Protein:
28
g
|
Fat:
15
g
|
Saturated Fat:
2
g
|
Cholesterol:
72
mg
|
Sodium:
1396
mg
|
Potassium:
805
mg
|
Fiber:
2
g
|
Sugar:
7
g
|
Vitamin A:
1575
IU
|
Vitamin C:
174.7
mg
|
Calcium:
31
mg
|
Iron:
2
mg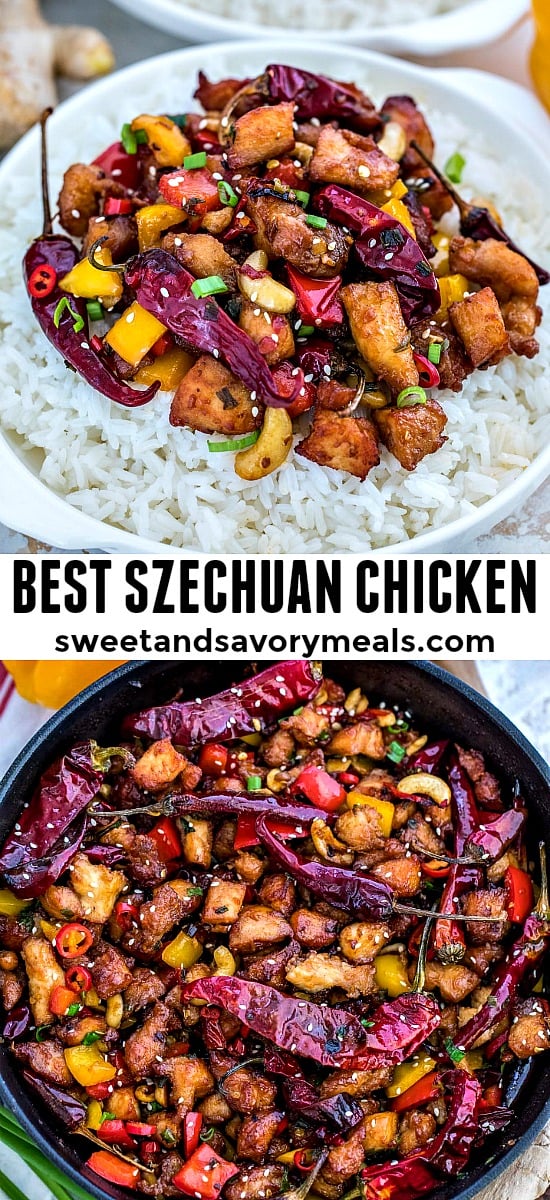 More recipes you might love