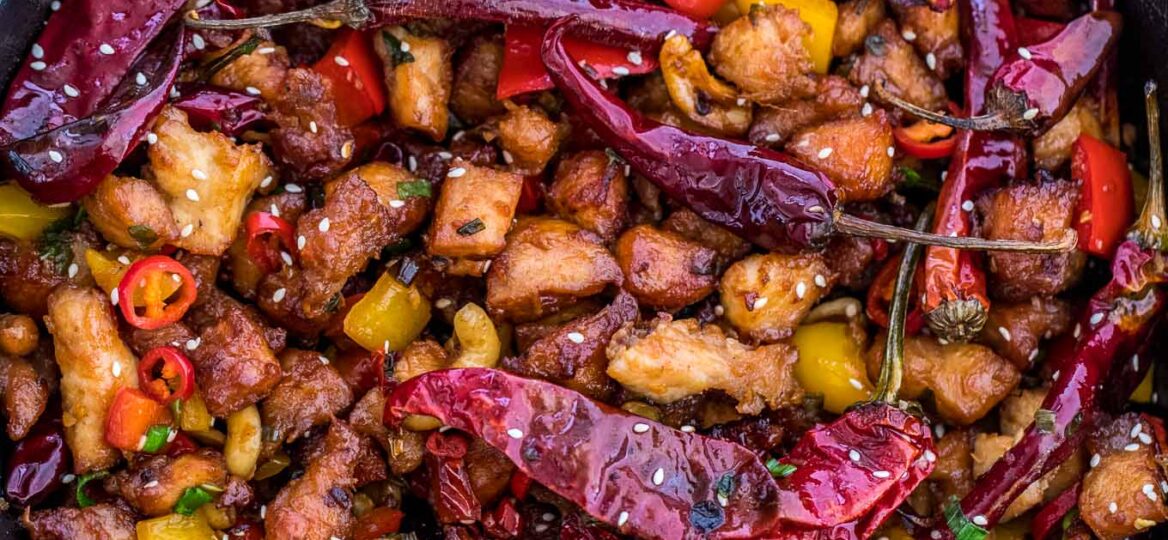 Best Szechuan Chicken Recipe [Video]
Szechuan Chicken is an authentic Chinese recipe for a spicy stir fry, made with juicy chicken, crisp vegetables, and Sichuan peppercorns. Ready in less than 30 minutes, it is the ideal weekday dinner meal!
We love Asian recipes that are easy to make and ready in no time. Some of our all-time favorites meals that are ready in about 30 minutes are this Chicken and Broccoli, Hunan Chicken, Kung Pao Chicken, and this super crispy General Tso Chicken.
The Szechuan Chicken recipe is a classic Chinese dish that is pretty healthy and is loaded with an explosion of flavors. If you crave some delicious and easy-to-make Chinese food, then this dish is for you.
Also, you can make it with any vegetables you have on hand or desire. This dish is very versatile and just perfect for a quick dinner during busy weeknights.
Spicy Szechuan chicken is an easy recipe with a perfect harmony of sweetness and spiciness in one savory dish. Making it at home is also budget-friendly and healthier.
We like it on a spicier side, so we go with some extra chili pepper or Sichuan peppercorns. However, if you do not like spicy food, feel free to reduce or even omit the chilis.
This particular recipe is a fairly common traditional version, which stays true to the authentic flavors of the original dish. If you are craving some Asian food that is hot and flavorful then you will love this spicy stir fry.
Give this easy stir fry dish a try, and you will see why it tastes better than the one you get at the Chinese restaurant. Some of them deviate from the original recipe, so if you are looking for the perfect balance of sweet and spicy make sure to jump to the recipe card and try it for yourself.
Follow us on Pinterest for more delicious recipes!
Ingredients needed:
For the Marinade:
Rice wine vinegar
White pepper
Soy sauce
Sesame oil
Cornstarch
For the spicy stir fry:
Vegetable oil: Alternatively, you can use peanut oil or canola oil.
Chicken: I mostly use boneless chicken breast, and cut them into smaller chicken pieces. However, boneless and skinless chicken thighs would work too.
Peppers: To make the Szechuan chicken recipe we use a variety of peppers like fresh Chilis, dried chilis, red bell pepper, and yellow bell pepper.
Herbs and spices: To complete the dish and add extra flavor we use minced garlic, minced ginger, and green onions.
Nuts: In addition, to add some crunchiness we add some peanuts or cashews.
Sichuan peppercorns: To meet the authenticity of the recipe we also use Szechuan peppercorns.
Szechuan sauce ingredients:
The homemade sauce goes hand in hand with the delicious meat and veggies. Also, the addition of sugar and hoisin sauce balances nicely the spicy flavors in this dish.
Low sodium soy sauce
Mirim
Brown sugar
Chili bean paste or Asian chili garlic sauce
Crushed red pepper flakes
Garlic powder
Chicken broth
Hoison sauce
Cornstarch
Sesame oil
A key ingredient to make the sauce for Szechuan chicken is the Asian chili bean paste also known as toban djan or doubanjiang. You can look for it and other ingredients in the Asian aisle of your local grocery store.
However, if you can't find it, you can replace it with Gochujang or Asian chili paste. When buying Asian chili paste, I prefer to look for the one with garlic, as it has more flavor and depth.
How to make Szechuan Chicken recipe?
Making this chicken stir fry has three parts: marinating the meat, cooking the stir-fry, making the sauce, and then mixing everything together.
Marinate: First, start by combining the marinade ingredients and adding the poultry to them. For maximum flavor marinate for at least 30 minutes. If you are short on time you can skip this step.
Brown: After marinating, heat. oil in a deep pan and fry the chicken until cooked evenly on both sides and crispy on the outside. Set it aside on a plate and discard the oil.
Saute the veggies: Next, in a large skillet, over medium-high heat, saute the Sichuan peppercorns and the dried chilis. Followed by fresh peppers, garlic, and ginger. Stir fry for about 5 minutes and after that add the green onions and nuts.
Make the sauce: In the meantime, in a large bowl stir the Szechuan sauce ingredients until the cornstarch is fully dissolved.
Combine: Next, add the deep fried chicken and the savory sauce to the skillet and stir well. Cook for a few minutes the chicken stir fry until the sauce thickens.
Serve: Remove from heat, garnish with chopped spring onions.
Make the Szechuan Chicken recipe in the instant pot:
Do you have an instant pot? Then, try making this Instant Pot Szechuan Chicken.
First, you can make this spicy stir fry in the instant pot, with either chicken thighs or breasts.
Start by marinating the meat and after that saute it in the Instant Pot. Set it aside.
Next, follow the steps by sauteing the peppercorns and peppers, and make sure to stir constantly.
Saute everything in the pressure cooker as you would on the stove.
After that add the sauce ingredients and an extra cup of chicken broth.
Close the lid and point the valve to sealing and pressure cook for 7 minutes on high pressure followed by a Quick Pressure Release.
The spicy sauce will be watery, so click on Saute, and mix 1 tablespoon of cornstarch with 2 tablespoons of water. Add the slurry to the IP.
Stir well and cook until the sauce thickens. After that, turn off the pressure cooker.
Recipe Variations:
Meat: Feel free to swap up the chicken breast with steak, chicken thighs, and pork.
Seafood: Alternatively, make this 5 stars Szechuan cuisine recipe using shrimp.
Vegetarian: In addition, if you crave some vegetarian spicy food, we recommend making this recipe with firm tofu. Follow the instructions exactly, just switch the meat for tofu.
Vegetables: I mostly keep them light in this easy recipe and only add bell peppers and some spring onions. However, you can add anything you like. Some great additions would be mushrooms, celery, broccoli, carrots, green beans, bamboo shoots, Chinese corn, etc.
Nuts: For an even crunchier texture, simply use more peanuts. Alternatively, go with cashews, water chestnuts, or almonds.
Seasonings: You can use other seasonings as well. Such as red chilies peppers, red pepper flakes, chili garlic powder, cayenne pepper, hoisin sauce, chili paste, etc.
How to serve:
This chicken dinner tastes great served with steamed rice, you can make white rice or brown rice to go with it.
Also, coconut rice or jasmine type works well with it.
In addition, if you are looking for a low-carb side dish, try serving it with cauliflower rice.
Alternatively, serve it over your favorite type of Chinese noodles.
Also, you can add more steamed or stir-fried vegetables on the side.
Frequently Asked Questions
What is Spicy Szechuan Chicken?
This dish is a sweet and spicy recipe from the Chinese province of Sichuan. It incorporates the Szechuan peppercorn which lends a slightly citrusy flavor to the whole dish.
Also, it is a dish on a spicier side, the distinct taste makes it very popular all over the world. Nowadays, you can find wonderful dish pretty much in most Chinese restaurants.
The ingredients are stir-fried and after that coated in a savory sauce, that has a tangy flavor balanced by a sweetness from the brown sugar and hoisin sauce.
What is typically in Sichuan Chicken?
This recipe for Szechuan chicken is mostly made with Sichuan peppercorns, spicy dried red chilies, and also bell peppers. They are fruity and sweet when cooked which enhances the flavors of this savory dish. Using a variety of different colors also makes this dish visually appealing.
Garlic, ginger, and spring onions are commonly used in Asian dishes for their flavor. They add a nice kick to the overall taste. Taking out one will definitely feel like you are missing something.
The nuts complement the overall texture of the dish. They add up more crunch in every bite. Nuts are also good sources of fats and protein.
Variations of this recipe incorporate vegetables like broccoli, mushrooms, carrots, and celery. It is your call if you want to add other vegetables. Just remember to cut them evenly so that they will be cooked evenly as well.
What is the difference between Szechuan and Hunan Chicken?
Though both contain chili peppers, the Hunan chicken spiciness is brought about by the use of chili bean paste while in this dish, it is the mouth-numbing Sichuan peppercorns that make the difference.
In addition, the Szechuan chicken has a better balance of sweet and spicy flavors, while the other one is more on the savory side.
How spicy is it?
Usually, this is a hot dish intensified by the use of the Szechuan peppercorns plus fresh and dried red chilies. The Szechuan peppercorns have a trademark mouth-numbing effect. This helps the spiciness of the chili peppers stand out in a more distinctive way.
Sichuan pepper, also known as Szechuan pepper, is a spice commonly used in the Sichuan cuisine of China's southwestern Sichuan Province. It contains hydroxy-alpha sanshool so when consumed it produces a tingling, numbing effect.
The main difference between Szechuan peppercorns and black peppercorns is that the first ones have a tingling or numbing effect while black peppercorns have more of spicy hotness.
If you cannot take the heat, you can tone down the spiciness level by making this recipe at home and controlling the number of ingredients.
How to store leftovers:
Store: You can store the leftovers for this Szechuan chicken recipe in an airtight container in the fridge for 3-4 days.
Freeze: In addition, you can add the leftovers to a freezer-safe container or Ziploc bags and freeze for 1 month.
Thaw: When ready to serve, meal prep in advance and thaw the frozen dish in the fridge overnight.
Reheat: Either microwave on high or add the leftovers to a large pan and reheat on the stove over medium heat.
More Easy Asian Dishes:
Cooking tips for this easy chicken stir fry:
Make Szechuan chicken recipe using chicken breasts cut into same size cubes, this will ensure even cooking of the meat.
Also, we like to marinate the chicken in a mixture of seasonings with cornstarch. This takes some additional time, but it is definitely worth it. However, if you are short on time, then skip the marinade part.
While Szechuan chicken is best paired with steamed white rice, you can also opt for noodles to tame the spiciness.
In addition, feel free to make a batch of the spicy Szechuan Sauce and refrigerate it for late use. This way you can quickly use it during the week or add it to other Chinese chicken recipes.
Make sure to stir fry the vegetables just enough for about 2-3 minutes and not overcook them. Otherwise, they will lose their crispiness.
This dish can last up to 3-5 days in the refrigerator as long as properly sealed in an airtight container, and cooled down before storing leftovers. You can make it in advance and just reheat it when needed.
By all means, this is a spicy stir fry dish. Therefore, feel free to adjust the spice level by using fewer red chilies.
Best Szechuan Chicken
Ingredients
2

large chicken breasts

cubed into bite-size pieces
Marinade:
3

tablespoons

cornstarch

1

tablespoon

rice wine vinegar

1/2

teaspoon

white pepper

3

tablespoons

soy sauce

2

tablespoons

sesame oil
Other Ingredients:
vegetable oil

as needed for frying

1

tablespoon

Szechuan peppercorn

5

red chilis

cut into thin rounds

25

dried red chilis

whole

1

red bell pepper

cut into bite-size cubes

1

yellow bell pepper

cut into bite-size cubes

1

tablespoon

minced ginger

5

cloves

garlic

minced

1

stalk green onions

chopped

1/2

cup

peanuts or cashews

unsalted and roughly chopped
1/4

cup

low-sodium soy sauce

1/2

cup

chicken broth

2

tablespoons

mirim

2

tablespoons

brown sugar

1

tablespoon

Asian chili garlic sauce

1

tablespoon

hoisin sauce

1/8

teaspoon

crushed red pepper flakes

1/2

teaspoon

garlic powder

1

tablespoon

sesame oil

optional

1

tablespoon

cornstarch
Garnish:
Green onion

chopped

Sesame seeds

More fresh red chilis
Instructions
Marinate:
Combine marinade ingredients in a large bowl and add the cubed chicken. Cover and marinate for 30 minutes or more.
Sauce:
In a medium bowl combine the sauce ingredients and whisk until corn starch is fully dissolved. Set aside.
Fry:
Next, add about 1.5-2 inches of oil to a non-stick or cast-iron skillet and place over medium heat.

Once hot, fry the chicken until browned and crispy. Fry the chicken in one layer, if needed fry in batches. Remove and set aside on a plate.

Then, discard oil from the pan, leaving only about 2 tablespoons.
Stir-fry:
Add the Szechuan peppercorns and dried red chilies. Fry for about 1 minute, just until fragrant.

Add the rest of the fresh red chilies, ginger, garlic, and bell peppers. Stir and fry for about 5 minutes.

Next, add chopped green onions and nuts. Cook for a minute.

Add back the fried chicken pieces, give the sauce a good stir and add it to the pan. Toss to coat.

Stir and cook everything for a few more minutes, until the sauce thickens.

Serve garnished with chopped scallions, sesame seeds, and more red chilis.