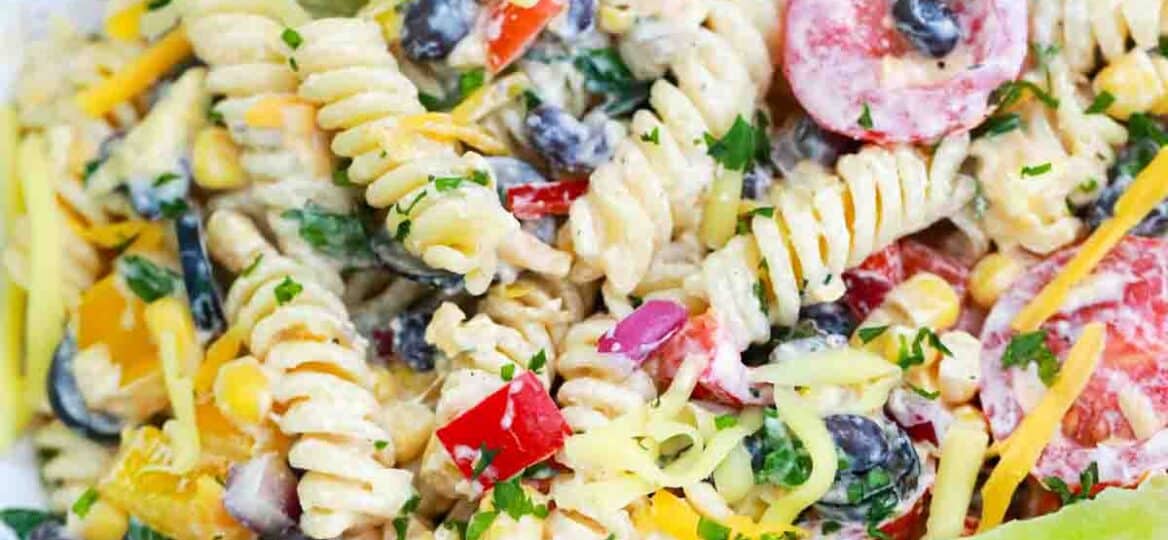 Southwest Ranch Pasta Salad Recipe [Video]
Southwest Ranch Pasta Salad is delicious with the flavors of so many different vegetables and a thick and creamy dressing. With the flavors of crunchy corn, crisp fresh red and green pepper, rich black beans, and spicy jalapeno, you get a mix of deliciousness in every bite.
If you like this pasta salad, try our Taco Pasta Salad made with ground beef, taco seasoning, and Catalina dressing, or this Southwest Salad made from Greek yogurt, maple syrup, and black beans. For something completely different, our Big Mac Salad with cheddar cheese, BBQ sauce, and apple cider vinegar is sublime.
Whether you call it pasta salad or macaroni salad, this dish is popular and has been around in some form for a long time. Although the Italians get credit for inventing the pasta, the salad may have been invented by Germans in the 1800s. The delicious dish did not show up in American cookbooks until 1914.
This pasta salad is the best thing that has ever happened to pasta. In fact, it may also be the best thing to ever happen to salads in general. You can serve it warm, cold, or at room temperature and with or without ranch dressing. Even with no dressing at all, this is a scrumptious creation of noodles, veggies, and flavors.
Are you looking for some other kinds of salad recipes to share with your family and friends? How about this cabbage salad seasoned with Dijon mustard, apple cider vinegar, and lemon zest? Our Caprese salad made from mozzarella balls, balsamic vinegar, and cherry tomatoes is also a nice change from the regular salad.
Follow us on Pinterest for more delicious recipes!
Ingredients needed:
To make this absolutely delicious salad, gather these ingredients. When you are ready to cook, scroll down to our recipe card for detailed instructions and exact measurements.
Small pasta: Such as small shells or macaroni.
Canned black beans: Drained.
Grape or cherry tomatoes: Cut in half.
Canned corn: Drained.
Red bell pepper: Chopped and seeded.
Green bell pepper: Chopped and seeded.
Chopped small red onion

Chopped cilantro
Sliced black olives: Drained.
Jalapenos: Diced and seeded.
Mexican cheese: Shredded.
For the dressing:
Thick and creamy ranch dressing
Sour cream
Fresh lime juice
Chili powder
Ground cumin
Garlic powder
Salt and pepper
How to make southwest ranch pasta salad from scratch?
Cook the pasta: First, in a large pot over high heat, cook the pasta according to the package instructions for al dente pasta, stirring occasionally. Then, drain the noodles and set them aside to cool.

Chop the veggies: While you wait, chop all of the ingredients that need to be chopped.

Make the salad: After, add all the salad ingredients to a large bowl including the cooled pasta and gently stir.

Make the creamy ranch dressing: In a medium bowl, mix the dressing ingredients well. Taste and add salt and black pepper as needed.

Mix the two: Then, use a rubber spatula to scrape all the dressing from the medium bowl into the salad bowl.

Cover and chill: Lastly, cover the bowl with plastic wrap and let it chill for one hour in the fridge. The longer you let the salad ingredients rest and meld with the dressing, the more intense the flavor.

Serve: Finally, serve cold with fresh cilantro, Mexican cheese, and parsley.
Recipe variations:
Other veggies: Feel free to use other veggies in this salad like avocado, pea pods, broccoli, carrots, and celery.

Frozen corn: You could use frozen corn instead of canned corn if you like.

Lemon juice: No limes in season? Try lemon juice instead.

Cooked veggies: If you are not a fan of raw bell peppers and other veggies, cooking them with pasta will be fine. Adding corn and beans when the pasta is almost done is best.

No ranch: Just because it is in the title does not mean you have to use it. Try something different like French or Italian dressing instead.
Crunchy: Make your salad crunchy with a cup of croutons or crumbled tortilla chips.

Fruity salad: There is no rule saying you cannot add fruit to a pasta salad. Toss in some grapes, strawberry slices, or mandarin oranges.
Bacon: Everything is better with bacon. Add bacon bits or crumbled bacon to your salad.
How to serve:
Serve this southwest pasta salad as a hearty appetizer, snack, or a full entree. You can add or omit any of the ingredients to make it your own. This is the perfect side dish for a summer BBQ, dinner tonight, or lunch tomorrow. The longer it chills the more scrumptious it tastes. Try one of our awesome serving suggestions or share one of your own in the comments below.
Make this creamy salad a full meal by adding some shredded or chopped chicken, pork, turkey, or beef.

Creamy southwest pasta salad goes great with grilled whole chicken or slow cooker pork roast.

Sprinkle some parmesan, Romano, or another kind of cheese on top for a cheesier salad.
Serve on the side of a big bowl of instant pot Mexican beef stew for a hearty dinner. It is made with chuck roast, and red potatoes, and flavored with red wine and taco seasoning.

Use spicy ranch dressing like chipotle ranch dressing to give this creamy southwest pasta salad a spicy perspective.
Top your salad with a dollop of Szechuan sauce for a spicy sweet flavor.
Add a pinch of sugar to the dressing just before serving to make it sweeter. The kids will love it!
This salad is a great side dish for our skillet pork chops made with brown sugar and maple syrup.
Frequently asked questions
What can I use instead of cilantro?
A percentage of people actually do not like cilantro. In fact, they say it tastes like soap. So, instead of this popular herb, you can use another green herb like celery leaves, dill, tarragon, basil, or parsley. You can even try chives, scallions, or papal, which is a Mexican herb.
What is the best pasta for this salad?
Believe it or not, it does make a difference in which pasta you choose. You want short noodles that are easy to eat and pasta with holes and crannies for the sauce to hide in, making it extra flavorful. We like macaroni, penne, cavatappi, or rotini. Fusilli and farfalle are also great choices.
Is it better to use fresh pasta instead of dried?
In some dishes, fresh pasta is the right choice. However, for pasta salad, dried is better. It can be served cold or at room temperature and will hold its shape much better than fresh noodles. Although fresh pasta is delicious, it is also more delicate, which is not good for pasta salad.
What are the nutrition facts in this recipe?
One serving of this delicious pasta salad has 325 calories, 45 grams of carbohydrates, 12 grams of fat with 2 grams of saturated fat, 7 milligrams of cholesterol, and 330 milligrams of sodium.
On the other hand, it also has 9 grams of protein, 6 grams of fiber, 625 units of vitamin A, 25 milligrams of vitamin C, and 35 milligrams of calcium.
How to store leftovers:
Store: Go ahead and make extra. It will stay fresh in an airtight container in the fridge for five days.

Freeze: You can also freeze your extra pasta salad for up to three months.

Thaw: For the best flavor and texture, be sure to put your frozen leftovers in the fridge to defrost overnight before serving.
Reheat: To reheat, microwave for 60 to 90 seconds, depending on how much you are reheating.
More pasta salad recipes:
Cooking tips:
Be sure to add salt to the boiling water for extra flavorful pasta.

Rinse pasta in cold water when draining to stop the cooking process.

For a healthier pasta salad, use whole grain noodles and light dressing.

Minimize prep time by using veggies that are already chopped.

We used thick and creamy Hidden Valley Ranch dressing, but you can use your favorite or regular ranch dressing.

The longer you let your salad chill in the fridge, the better it will taste.

For no extra cost, you can get all of our great recipes from our food blog.
Southwest Ranch Pasta Salad
Ingredients
1

pound

rigatoni pasta

macaroni or shell pasta

15

ounces

can black beans

drained and rinsed

1

pint

grape tomatoes

halved

15

ounces

can sweet corn

drained and rinsed

1

red bell pepper

seeded and chopped

1

yellow or green bell pepper

seeded and chopped

1

small red onion

chopped

1/2

cup

chopped cilantro

1

cup

black olives

drained and sliced

2

jalapeños

seeded and diced

1

cup

Mexican cheese

shredded
Dressing:
1

cup

creamy ranch dressing

1/2

cup

sour cream

1

tablespoon

fresh lime juice

1/2

teaspoon

chili powder

1/4

teaspoon

ground cumin

1/2

teaspoon

garlic powder

Salt and pepper

to taste
Instructions
Place a large pot of salted water over high heat and once boiling cook pasta according to the package instructions, aiming for al dente. Then drain and set aside to cool.

Meanwhile, prepare the rest of the ingredients for the salad and add them to a large bowl.

In another bowl combine the dressing ingredients, mix, and season with salt and pepper to taste.

Add the cooled pasta and the dressing to the salad bowl and gently toss until evenly coated.

Cover and chill for at least 1 hour.

When serving garnish with more shredded Mexican cheese and fresh cilantro.