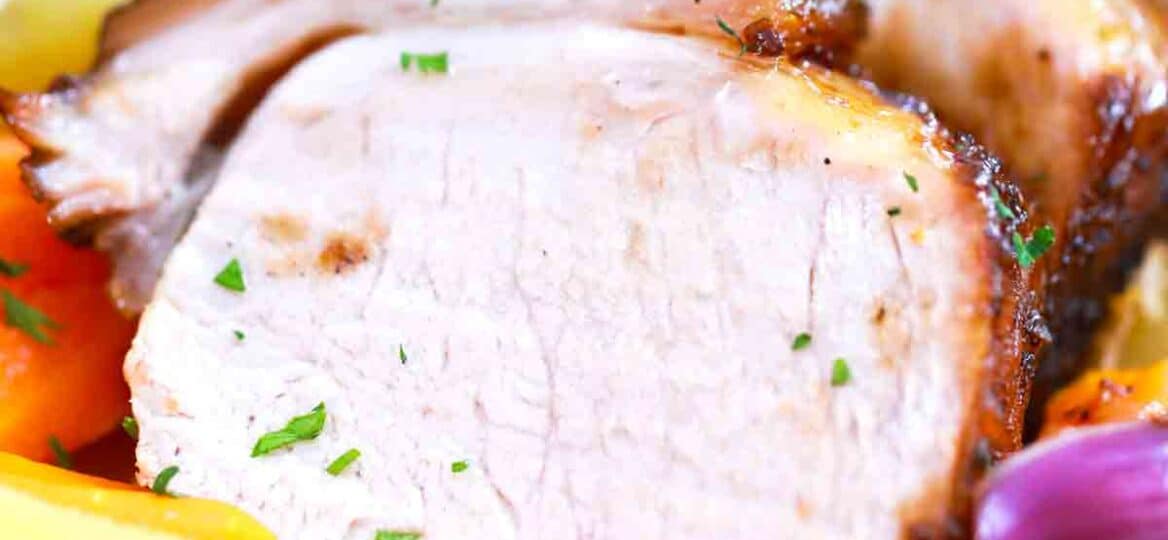 Slow Cooker Pork Roast [Video]
Slow Cooker Pork Roast is a mouthwatering meal bursting with flavor. Tender and juicy pork is topped with a sweet glaze that has hints of brown sugar, balsamic vinegar, garlic, and sweet chili sauce. This is one of the best crock pot recipes you can find and takes comfort food to the next level of heavenly.
For another delicious meal made in the slow cooker, try our juicy Crock Pot Pork Tenderloin. Another way to make pork loin in your slow cooker is with this Crock Pot Balsamic Pork Loin Recipe. Also, try this sweet Slow Cooker Pineapple Pork Loin that will surely be one of your favorite family meals.
The whole family will love this pork loin recipe and it is so easy to do with this great recipe. The family will think you slaved over a hot stove all day when you were really binging one of your favorite shows. Nobody needs to know. Unless you want them to.
You could tell them the truth or let them help you prepare the meal next time so they can see how easy it is to do. It is fun cooking with your family no matter what you are making. Teaching your kids or grandkids how to cook is a great way to bond with them.
This meal is perfect to serve on special occasions as it looks amazing on a plate with colorful veggies. Also, it tastes fancy enough to serve it for Christmas Eve or Thanksgiving dinner, if you are looking for an alternative to turkey.
The meat is incredibly tender ad juicy, with a caramelized top. The brown sugar and the balsamic mixture takes it over the top. Also, this great recipe is very easy to make, hence you can add everything to the crockpot and let it do its magic.
If you are looking for some simple, yet tasty to make for dinner, these juicy baked pork chops are another great option.
Ingredients needed:
Scroll down to see our recipe card for the details but here are the simple ingredients you will need:
Pork roast ingredients:
Pork: We used pork loin, but you can use any cut of meat.

This recipe is great with tenderloin or chops.

Olive oil: Extra virgin olive oil is best.

Red onion: Thinly sliced.
Kosher salt
Black pepper
Glaze ingredients:
Chicken broth: You can also use beef or vegetable broth.
Brown sugar: Firmly packed.

Alternatively, light brown sugar will work as well.

Balsamic vinegar: Another option is to use red wine or rice wine vinegar.
Sweet chili sauce: Homemade or store-bought.
Soy sauce: Homemade or store-bought. In addition, you can use coconut amino acids for a gluten-free version.
Garlic: Minced cloves are best, but garlic powder will be okay.
How do you make slow cooker pork roast?
Brown: First, heat oil in a large skillet over medium-high heat. After seasoning the pork, sear it until it is golden on all sides, about three minutes on each side.
Ready: Then, put the red onions at the bottom of the slow cooker and put the pork on top of them.
Cook: Last, cover, and cook on low for six hours or high for three hours, depending on the size of the roast.
Make the glaze: Meanwhile, add the glaze ingredients to a small bowl and whisk until it is completed combined. Then put it in a small saucepan and cook over medium-high heat until it boils. Reduce heat to simmer for about 10 minutes until it is thick and syrupy.
Glaze: During the last hour of cooking time, brush the roast with glaze every 20 minutes.
Recipe variations:
Add veggies: Make it a whole meal by adding green beans, red potatoes, carrots, and other veggies.

Also, you can add the veggies to the crockpot or roast them separately.

Use other meat: This also works great with a pork shoulder roast. In addition, this recipe is great with turkey breast, whole chicken, or even beef chuck roast.
Heat it up: Add some chopped jalapenos or red pepper flakes if you like spicy food. As an alternative, add some Sriracha sauce or chili powder.
Other seasonings: Alternatively, try adding Italian seasoning or dry ranch dressing.

Spices: Add onion powder for additional onion flavor. Also, you can add a mix of dried herbs, like thyme and rosemary.
Extra flavor: Scrape the pan drippings out of the pan when putting the roast in the crockpot for extra flavor.
Bacon: Everything is better with bacon, you can either wrap the meat in bacon or brown the meat in some bacon fat for extra flavor.
How to serve:
This tender pork roast is great for busy weeknights when you do not have time to cook. Just toss it in the slow cooker before work or try one of these other serving ideas:
Serve topped with our sweet and tangy honey mustard sauce. Or slather it with rich and savory teriyaki sauce.

If you are making a larger roast, use the leftovers to make pulled pork sandwiches.

Or, just use the slices to make some awesome club sandwiches.

You could also cut it into boneless pork chops and serve over mashed potatoes or roasted veggies.
Serve with this heavenly creamed corn side dish.

Another way is to douse it with your favorite barbecue sauce.

This delicious pork roast also goes great with crispy bacon-wrapped asparagus.
Most importantly, do not discard the glaze in cooks into, use those drippings on top of the meat when serving.
In addition, the leftovers are great in casseroles or chopped on top of a salad. Also, we like to add it to wraps or burritos.
Frequently Asked Questions
Do I have to add liquid to cook pork in a crockpot?
The liquid in the pot is what gives your pork the most flavor. Even with all of the aromatics, herbs, and spices, whatever liquid you use is what makes the biggest difference. You should use ¼ cup of liquid per pound.
If you do not want to drown out the aromatics you use, just add water. But if you want more flavor, try barbecue sauce, mustard, beer, orange juice, or even cola. Balsamic vinegar, chicken broth, soy sauce, and ketchup are also great flavors to try.
Can I put raw pork in the crockpot?
There is nothing wrong with putting raw pork in a crockpot. The main reason you use a slow cooker is that it is easy and all you have to do is toss everything in and go. Even if you are putting veggies in there, you can put them in there when the pork is raw.
The heat from the cooker will kill any bacteria that would have been an issue and it is a great way to get everything done at the same time. However, if you want the meat brown, you can sear it before slow cooking, which is what we do in this recipe. It also helps to keep the juices in.
Is four hours on high the same as eight hours on low?
The slow cooker is made to cook things slow (hence the name) but the high and low heat settings on the cooker can be confusing. The only thing different between high and low is the temperature. So, yes, cooking for four hours on high is the same as eight hours on low. It is great for those busy days when you have a million errands to run.
How to store leftovers:
Store: After letting your slow cooker pork roast cool to room temperature, store it in the fridge in an airtight container. Make sure to add the sauce in there too, it will keep the meat from drying out. It can stay good for up to three days.
Freeze: The best way to freeze your leftovers is to put them in an airtight container or to wrap them tightly in aluminum foil and add them to a freezer bag. Lately, we have been practicing a lot using our vacuum sealer. Freeze the leftovers will stay fresh for up to 90 days.
Thaw: Be sure to defrost it overnight in the fridge when you are ready to serve it the next day.

Reheat: Reheat in the oven at 325 degrees F for 20 minutes. Alternatively, you could also heat it in the instant pot or pressure cooker for 10 minutes. Just make sure you have liquid in the bottom of the pot and use a trivet to keep the meat from touching the bottom.
More Slow Cooker Recipes:
Cooking tips:
When cooking pork tenderloin, it is best to cut off the tough silver skin.
If you use pork butt for this slow cooker recipe, be sure to remove as much of the fat as you can.

The cooking time may vary depending on the size and the cut of pork you are using.

Even though you have cooked it all day, it is still good to check the internal temperature with a meat thermometer. It should read 145 degrees F when it is done.
You could also cook your pork roast in the oven using the same recipe. Just follow the same easy steps and bake it at 400 degrees F for 20 to 25 minutes, depending on the size of the roast.
Slow Cooker Pork Roast
Ingredients
2

tablespoons

extra-virgin olive oil

3

lb.

pork loin

1

teaspoon

Kosher salt

1/2

teaspoon

freshly ground black pepper

2

red onions

thinly sliced
Glaze:
1/2

cup

chicken broth

low- sodium

1/4

cup

brown sugar

packed

1/4

cup

balsamic vinegar

2

tablespoons

sweet chili sauce

2

tablespoons

soy sauce

6

cloves

garlic

minced
Instructions
Place a large skillet over medium-high heat, and heat the oil.

Season the pork all over with salt and pepper, then sear until golden, about 3 minutes per side.

In the meantime, add the sliced red onions to the bottom of a 6-qt crockpot.

Place the seared pork loin on top of the onions.

Cover and cook on HIGH for 2-3 hours or on LOW for 6-7 hours, depending on the size of the meat.
Glaze:
During the last hour of cooking, make the glaze.

Place a small saucepan over medium-high heat, add and whisk all glaze ingredients until combined. Bring to a boil then reduce heat and simmer until thicken and syrupy, about 10-15 minutes.

Brush the pork with the glaze every 20 minutes during the last hour of cooking.

When done cooking, slice and serve with roasted vegetables.
Deliciousness to your inbox
Enjoy weekly hand picked recipes and recommendations