Crock Pot Pork Tenderloin [Video]
Crock Pot Pork Tenderloin is seared with a spice rub then simmered long and slow in a garlicky, balsamic glaze sweetened with a bit of molasses. It's one of the juiciest, most flavorful way to cook this cut. Ideal for those lazy days when you want a hearty dinner without a lot of work!
Just because you're busy doesn't mean you can't enjoy a homecooked meal. Try my Slow Cooker Sloppy Joes, Slow Cooker Swiss Steak, and the Ultimate Slow Cooker Beef Stew. They taste impressive, but no one will guess how easy they are to make!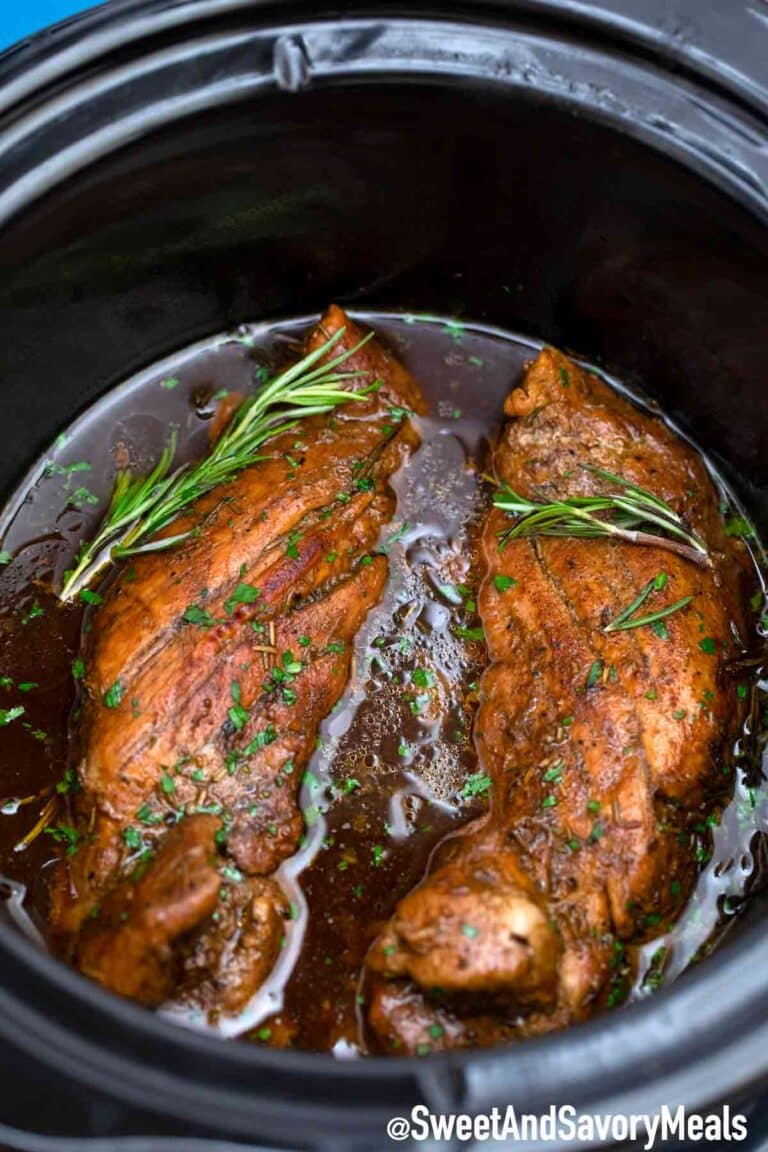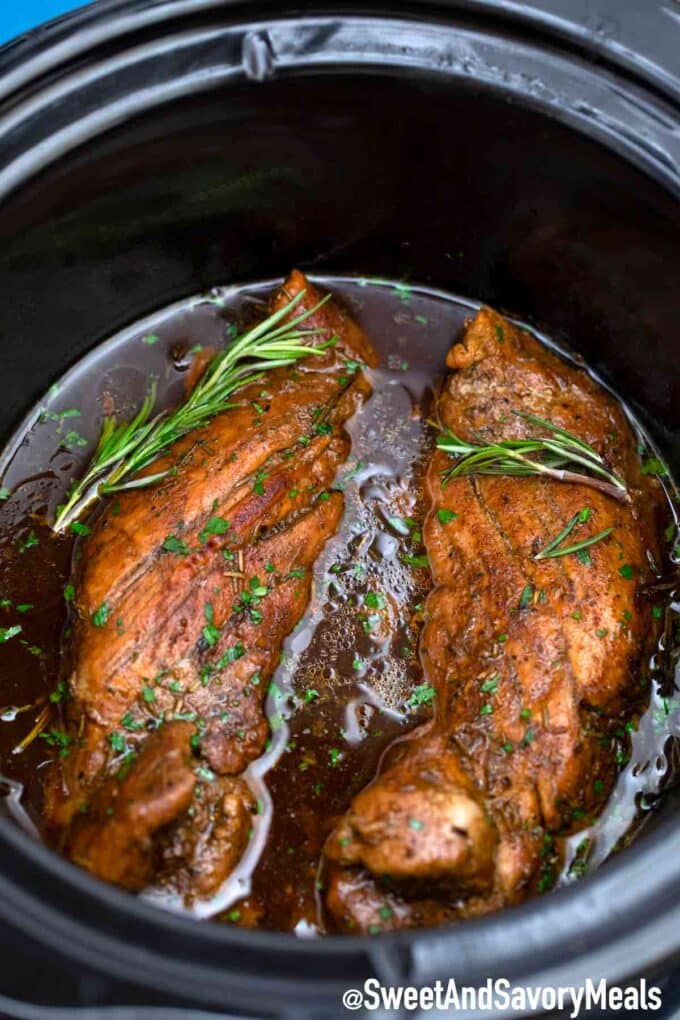 Slow Cooker Pork Tenderloin
Crock Pot Pork Tenderloin is a dish I'll never get tired of. For one, it's easy. The only extra step is searing the meat. It's worth it! Trust me, you want that delicious spice rub getting into every inch of this cut.
Next, it tastes phenomenal. You have that spice rub which creates an amazing crust that seals in all the flavors. Then you've got that balsamic glaze infused with garlic, herbs, molasses, herbs, and a splash of soy sauce.
The slow cooking infuses the entire cut with all that balsamic goodness. The result is ultra-tender meat with a savory-sweet sauce you'll want to lick off the spoon!
Pork tenderloin vs loin?
They have very similar names, but these two cuts are completely different. Be careful not to confuse one with the other, because the wrong cut will not work with some recipes.
Tenderloin is a long and narrow cut. It's tender and lean, boneless, and fantastic for grilling because it cooks fast.
The loin is also a tender cut, but it's larger and a bit tougher so it'll need more cooking time. It also tends to be cheaper. You can get it with or without the bone.
If you bought pork loin instead, use my Crock Pot Balsamic Loin Recipe instead. Only have an oven in your kitchen? Enjoy similar flavors in this oven-baked version!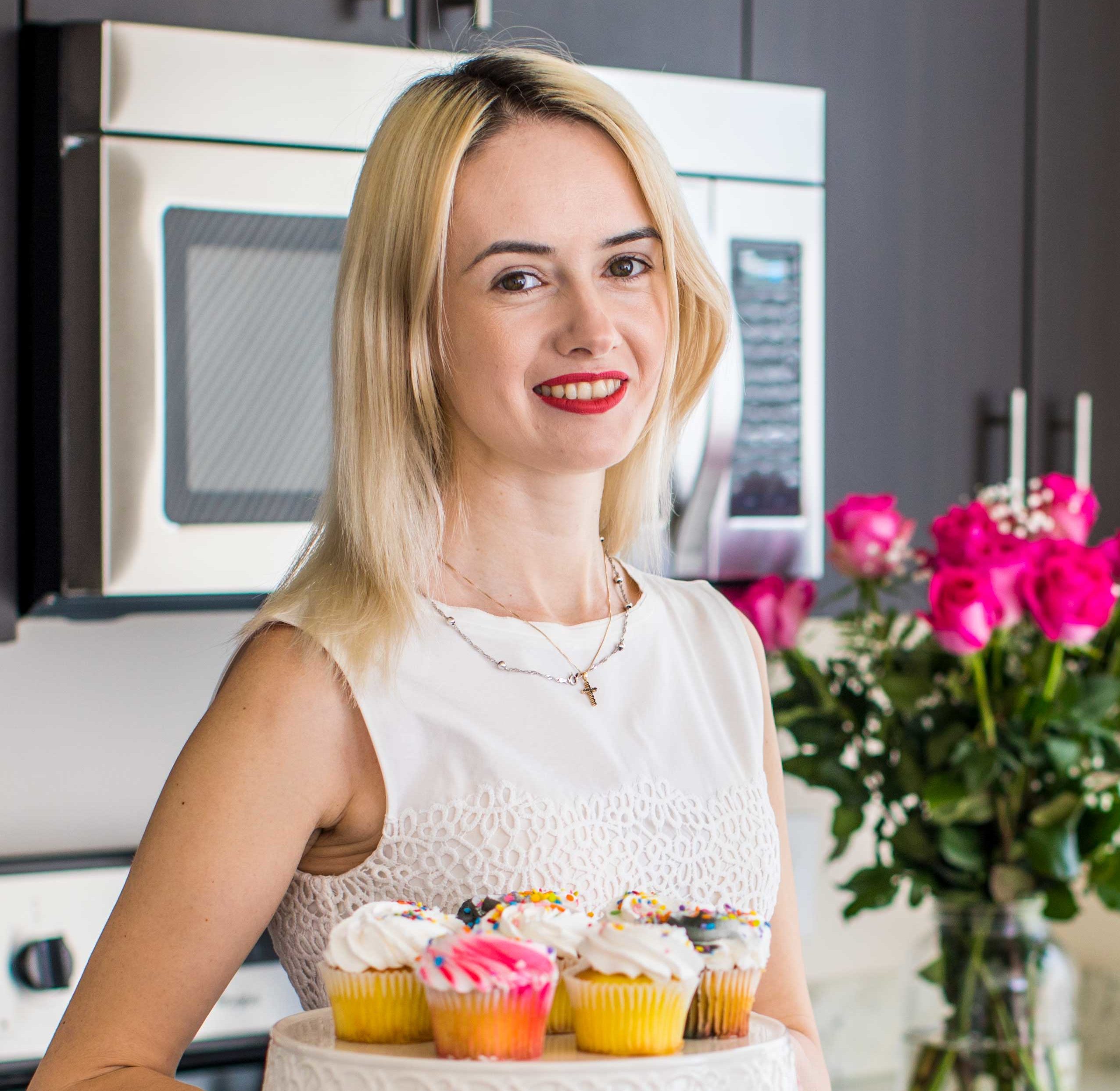 Follow us on Pinterest for more delicious recipes!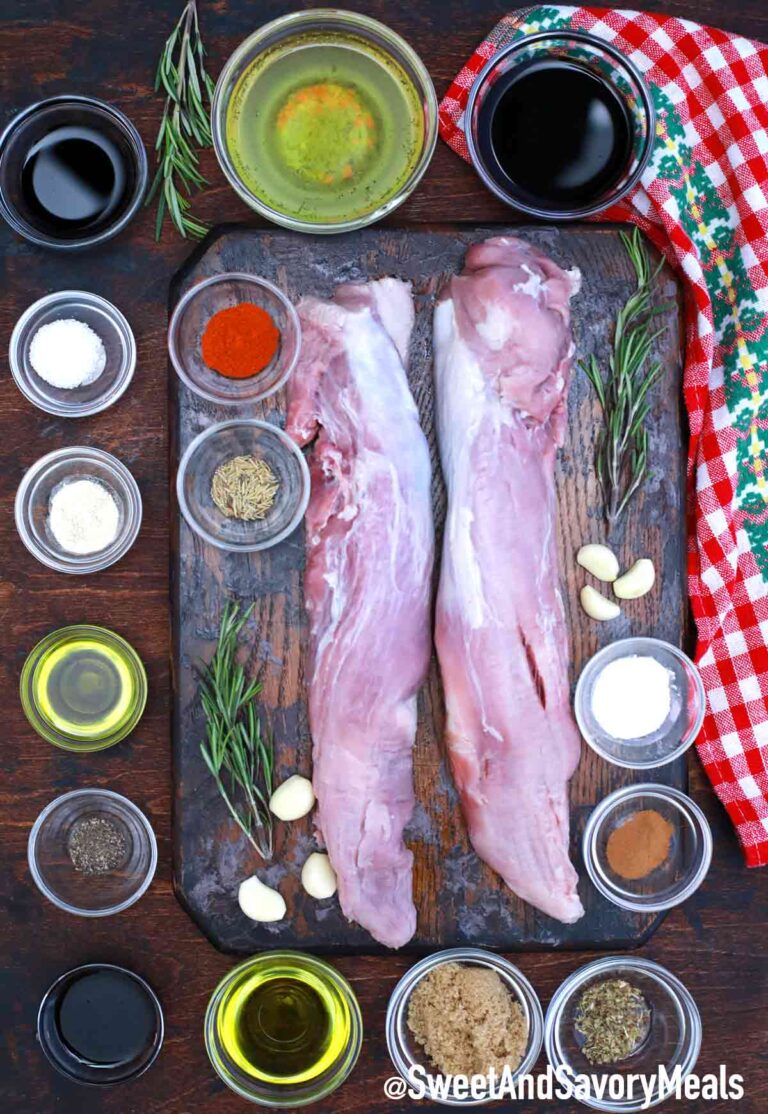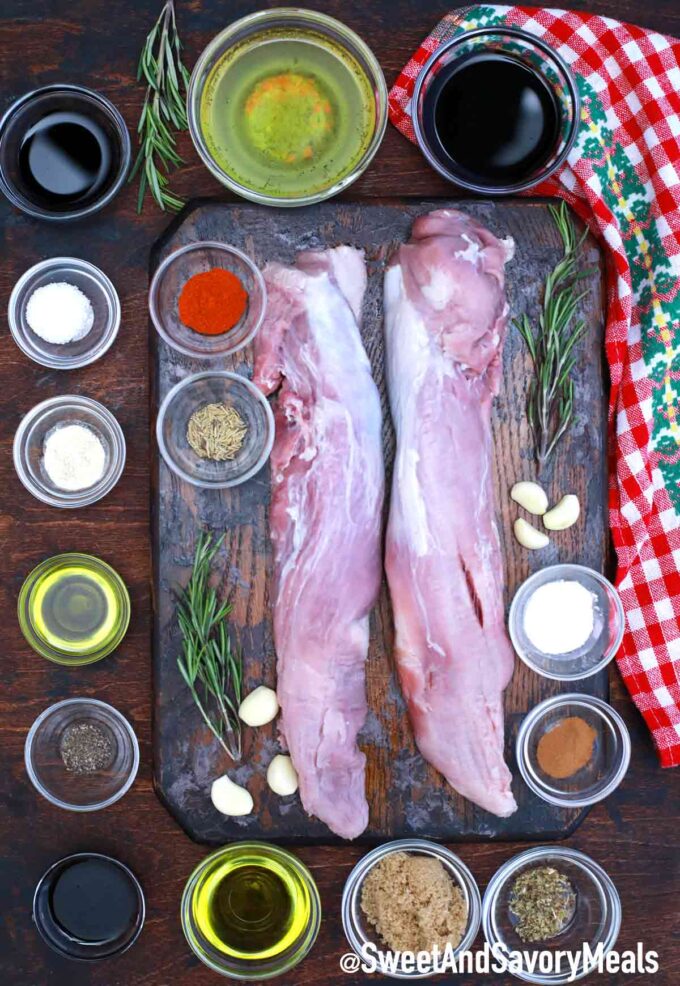 How to make Crock Pot Pork Tenderloin?
Sear the meat.
Gather your rub ingredients and combine well.

Pat the meat as dry as possible so the rub sticks into it.
Massage the rub all over the meat.
Lock in those flavors by searing in a bit of olive oil until golden with a bit of crust.
Cook low and slow.
Gather your sauce ingredients. Add to the pot after mixing.
Place the meat inside and brush with the sauce.
Add rosemary.
Turn on the crockpot and cook.
It's done when the internal temp reaches 145F.
Serve.
Remove pork and rest on a cutting board.
Slice, garnish with herbs and serve with your preferred side.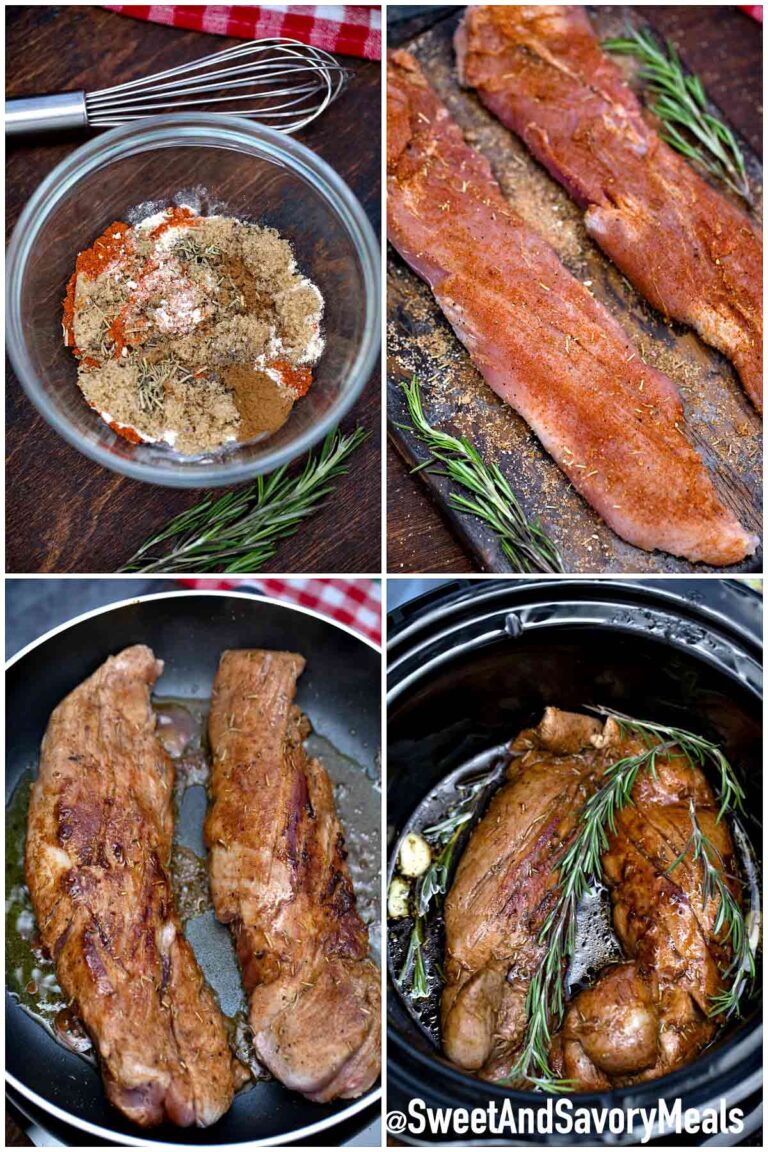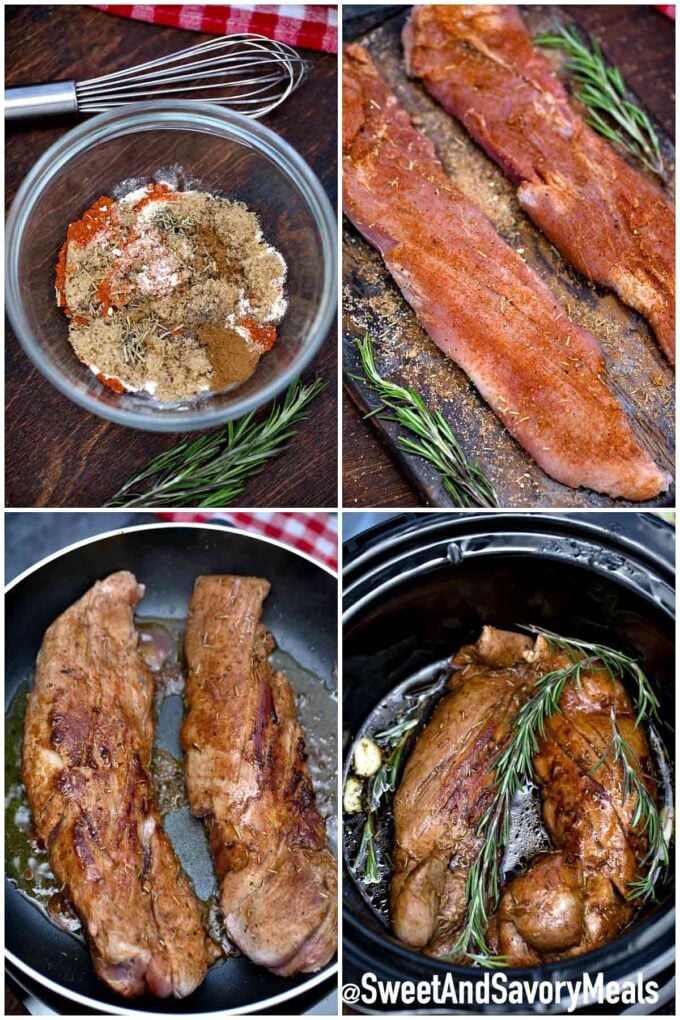 How long to cook pork tenderloin in the crockpot?
In my recipe, it's 3 hours (High) and 4-5 hours (Low). However, it ultimately depends on your crockpot.
Know your crockpot – how well does it heat? Do you usually shorten or lengthen recommended cook times?
What doneness do you prefer? I encourage you to tweak the indicated time in this recipe according to how your crockpot works. You may also check at 1-hour intervals to make sure the meat doesn't overcook.
Can you overcook pork tenderloin in a crockpot?
Yes! You don't have to pay so much attention to your crockpot, but it's good practice to check it once or twice during cooking.
This cut is already tender, which means it's easy to overcook. Instead of moist and juicy meat, you might end up with dry and stringy fibers. The key is to check the internal temp. Once it's at 145F, it's ready.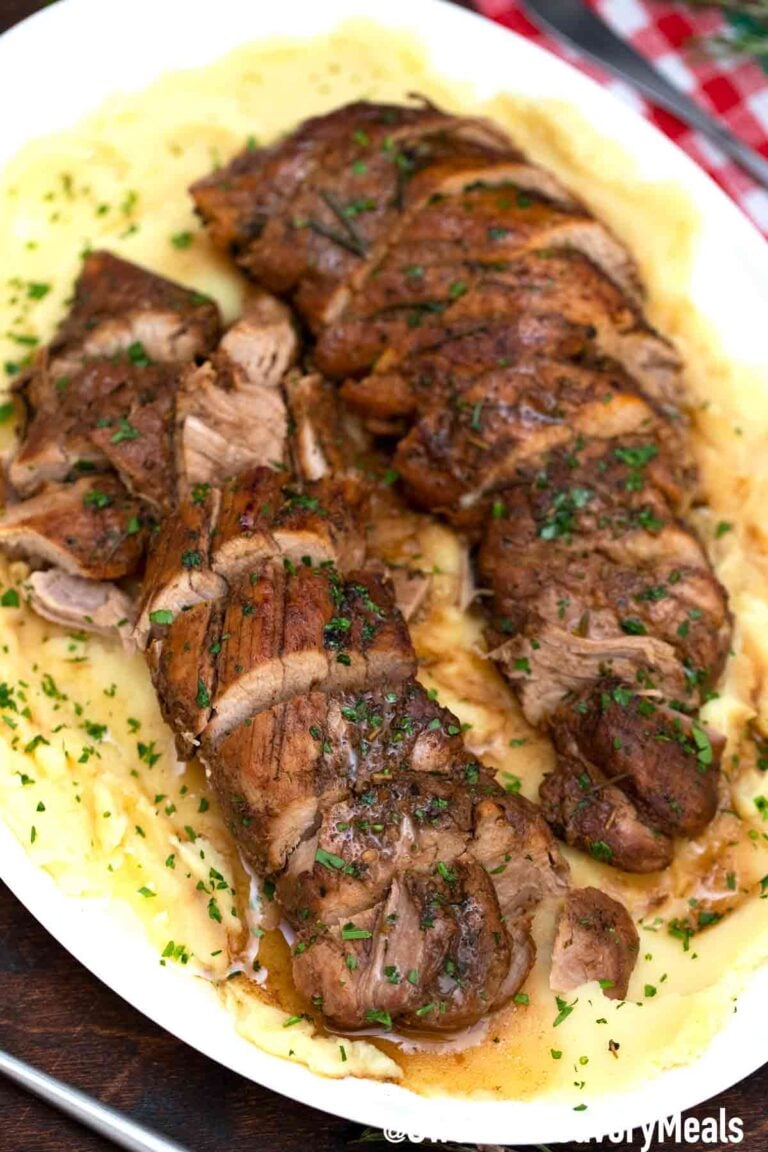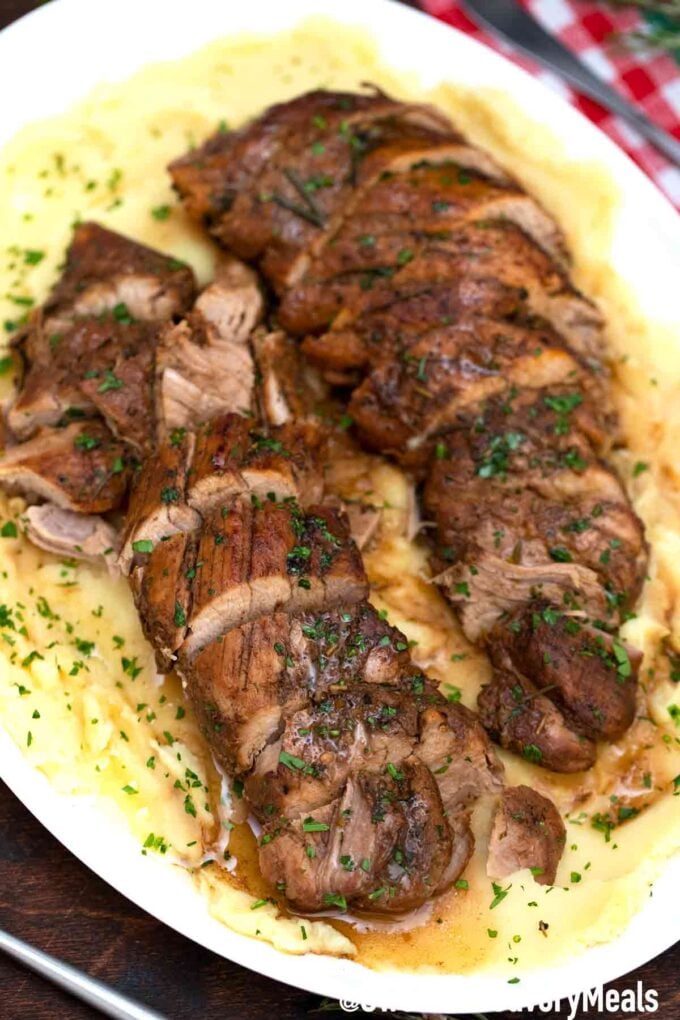 What to serve with Crockpot pork tenderloin?
Pair it with roasted vegetables like cauliflower, carrots, or baby red potatoes. Brown rice is a nice accompaniment too. If you're doing Keto or low-carb, try cauliflower rice.
How to store it?
Cool completely, then store in an airtight container. If there are still any sauce left, add it in there. Keep in the fridge for three days or frozen up to a month.
More delicious recipes: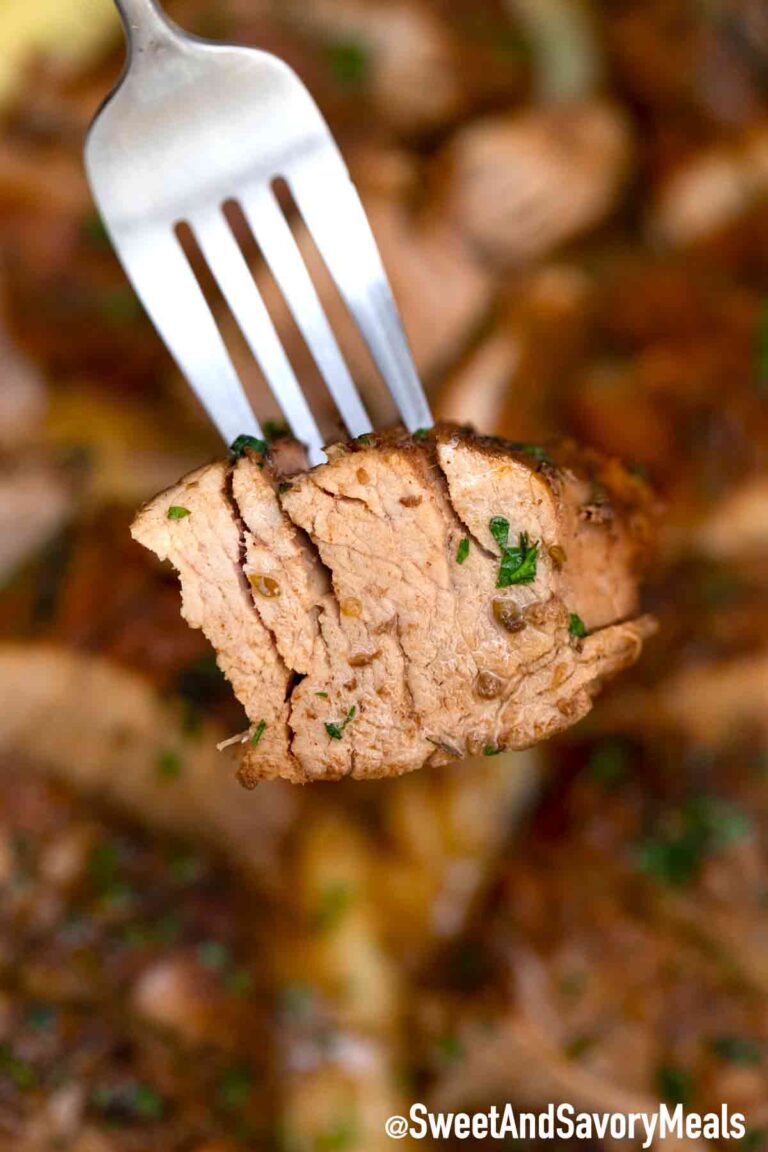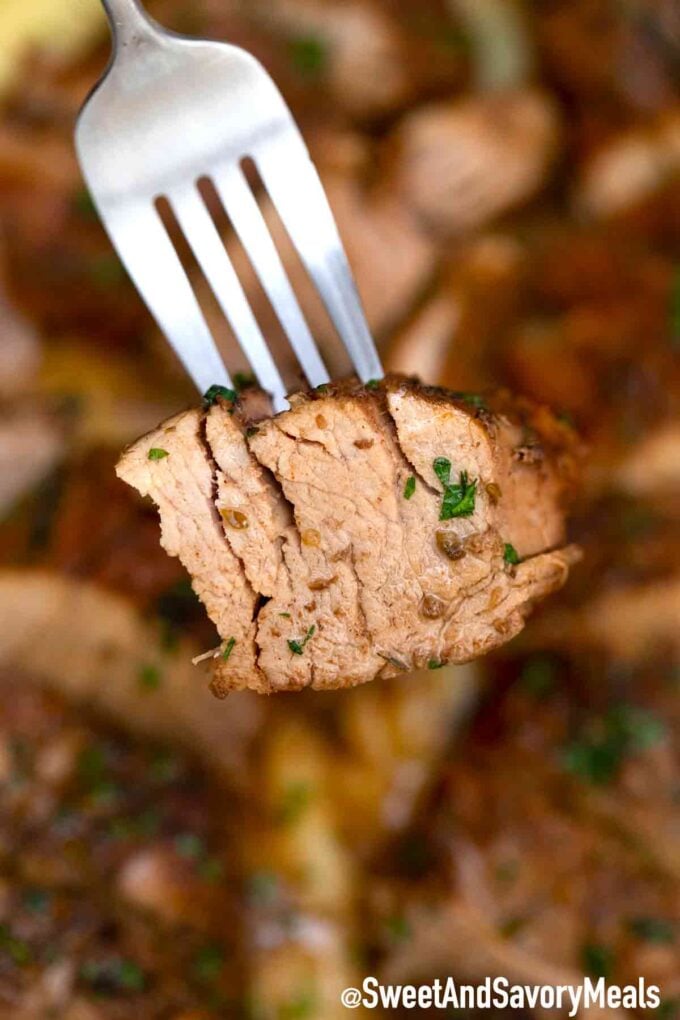 Recipe Tips:
Trim off the tough silver skin.
Don't like balsamic vinegar? Use barbecue sauce instead.
Use whatever broth you have on hand – beef, chicken, or vegetable.

Cook vegetables like carrots and potatoes with the meat for a complete meal.
Save Recipe
Crock Pot Pork Tenderloin
Crock Pot Pork Tenderloin is seared with a spice rub then simmered long and slow in a garlicky, balsamic glaze sweetened with a bit of molasses.
Author: Catalina Castravet
Serves: 6 servings
Prep time:

30

minutes
Cook time:

4

hours
Total time:

4

hrs

30

mins
Nutrition information
Calories: 312 Carbohydrates: 10 Protein: 33 Fat: 15 Saturated Fat: 3 Cholesterol: 98 Sodium: 1083 Potassium: 730 Fiber: 1 Sugar: 8 Vitamin A: 575 Vitamin C: 2 Calcium: 35 Iron: 2
Save Recipe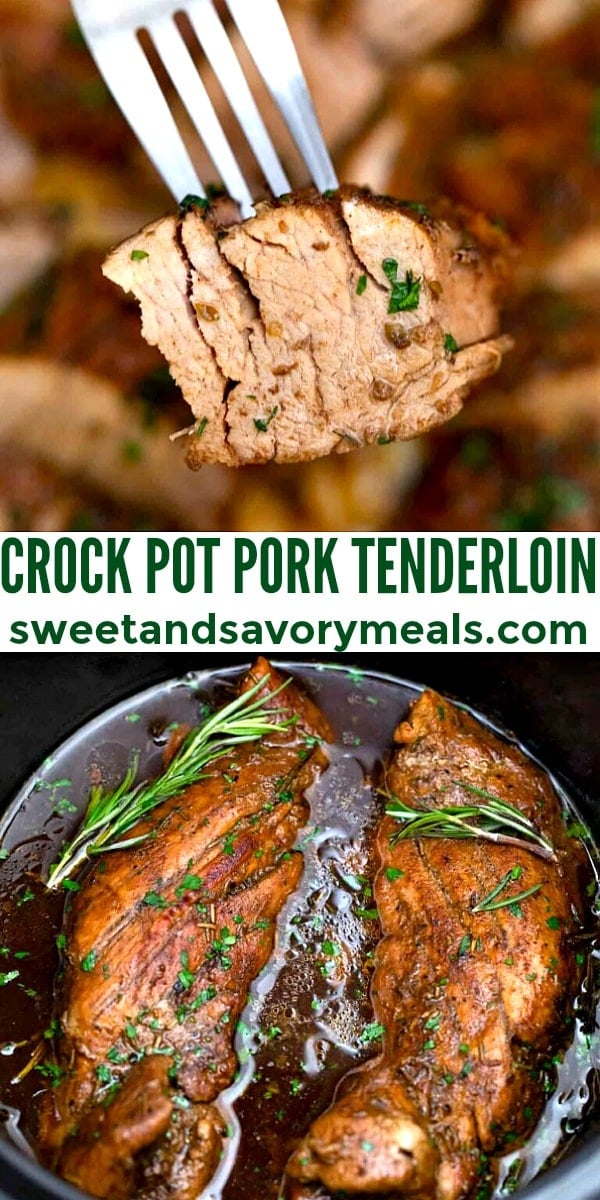 More recipes you might love
Categories: