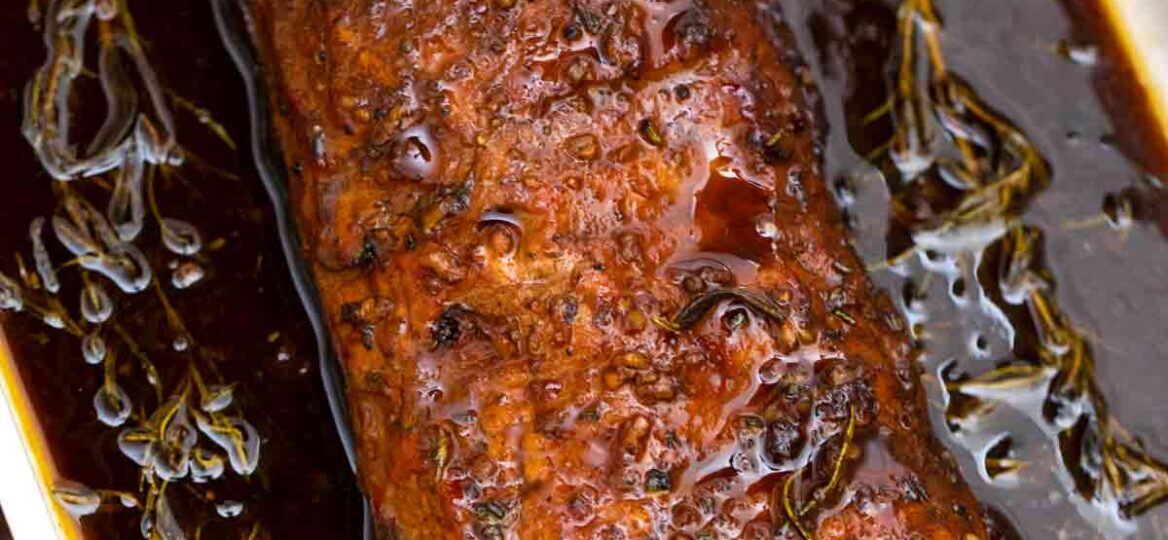 Balsamic Pork Loin Recipe [Video]
Balsamic Pork Loin Roast is an easy dish that is ultra-tender, flavorful, and juicy. The meat is coated in a delicious balsamic glaze and roasted to perfection. An easy family dinner that will melt in your mouth and leave you craving for more!
If you are looking for easy and delicious oven-baked meals, then you should definitely try our award-winning Wine Roasted Beef Tenderloin, Oven Roasted Baby Red Potatoes, and Lemon Garlic Chicken.
This homemade recipe is a take on our famous Roaster Pork Loin recipe. It is the same great recipe with tons of flavors, but with added benefits – the balsamic mixture coating 🙂 This makes a huge difference in texture and flavor.
This Oven Baked Balsamic Pork Loin Roast is the ultimate family dinner. It is a simple recipe and a very delicious and easy dinner. I just love how quick and easy this dish is to prepare. With a few basic ingredients and little preparation time, you will end up with a succulent and juicy meal for the whole family to enjoy. The meat is marinated in a delicious homemade balsamic sauce, white wine, and rosemary marinade.
Next, we roast it to perfection for about 80 to 90 minutes while basting the meat every 30 minutes. Also, this creates the BEST Loin recipe, which is remarkable flavorful, tender, and truly mouth-watering! Prior to serving, I highly recommend resting the meat for at least 5 minutes for the juices to come together.
This delicious dish is the ultimate comfort food that is easy enough to prepare during any day of the week, and fancy enough to serve during the holiday season. We always get rave reviews on it. So, give it a try, and you will not be disappointed.
Balsamic Pork Loin Ingredients:
For this recipe, you will need the following ingredients:
How to Cook Balsamic Pork Loin?
Marinate the loin: Start by marinating the meat. In a large bowl, add all the ingredients except the loin, and whisk them together. Then, using a large zip-log bag, pour the marinade mixture, and add the meat. Marinade for at least 3 hours.
Bake it: Once marinated, remove it from the bag. Preheat the oven to 350 degrees F, and place the loin on a rack or casserole dish. Then, bake uncovered while basting the meat every 20 minutes.
Rest and serve: Once cooked, let it rest for at least 5-10 minutes, then serve.
Recipe Variation:
How Long to Marinate it?
Although marinating the meat is optional, I highly recommend this step. First of all, the marinade will add a ton of flavors as the meat seat and absorbs the juices. Also, it will make it super tender and juicy when cooked. Therefore, try marinating the meat for at least 2 hours prior to cooking.
For ultimate results, pork loin should be marinated for at least 3 hours or even overnight. Simply prepare the marinade in the evening, and place the loin or pork chops in a large zip bag. Then, store in the fridge till the following day.
Making the best balsamic marinade
The secret ingredient here comes from the balsamic vinegar marinade and brown sugar. It has the right combination of sugar and acids. When the loin roasts, the combination of flavors here makes it a super juicy and flavorful recipe.
Also, you end up with a tangy, and savory dish, that goes well with pretty much any side dishes.
The Difference Between Pork Loin vs. Pork Tenderloin
Pork Loin is a thicker cut that also has a fat cap on top. It is also called center cut, and it needs a longer time to roast or grill.
On the other hand, pork tenderloin is a thinner and smaller cut of meat, that is also leaner and more steak-like. Because it is smaller and leaner cut, it is cooked faster and at higher temperatures.
How Long to cook it?
The most important thing in this recipe is not to overcook the meat. This meat cut is quite lean, and because of that, I recommend using a meat thermometer to check the doneness.
Simply, insert the thermometer into the thickest part of the roast. When it reads 140 degrees F remove from the oven and let it rest for another 5-10 minutes prior to slicing. The roast will continue to cook even outside the oven, and its internal temperature will increase to 145 degrees F.
According to the FDA, the recommended internal temperature should be between 145 and 160 degrees. This is a perfectly safe temperature to cook to even though it used to be higher in the past.
You can also refer to this table for desire doneness:
For Medium-Rare – 145 to 150 degrees F.
Medium – 150 to 155 degrees F.
Medium-Well – 155 to 160 degrees F.
Well-Done – 160-165 degrees F.
What to serve with Balsamic Roasted Pork Loin?
This dish goes pretty much with everything. It goes well with:
During the holiday season, such as Thanksgiving or Christmas, pair it with:
Storing Instructions:
Refrigerate: To store leftovers use an airtight container. Then, refrigerate for up to 4 days.
To freeze: You can easily freeze it as well. Transfer the dish to a freezer-safe dish or container and then freeze for up to 3 months.
Reheat: You can reheat leftovers in the microwave, or pop them in a preheated oven at 350 degrees F for 5-10 minutes.
More easy Pork Recipes:
Looking for more easy dinners? Then, try some of our favorite ones:
Cooking Tips:
For super tender and juicy meat, follow the recommended cooking temperature from above. Remember not to overcook it!
Also, let the pork rest for about 10 minutes prior to serving. You can let it rest on a wooden board wrapped in aluminum foil. This will absorb all the juices and flavors, and it will taste the best.
Feel free to use bone-in or boneless loin.
In addition, use other fresh or dried herbs. Great alternatives would be red pepper flakes, onion powder, garlic powder, etc.
You can also add some soy sauce to the marinade. In that case, adjust the salt and pepper per your taste.
Ensure to cook it with the white fat cap side up, and not the other way around.
You can cook it together with vegetables on the side. Just know that the cooking time will increase as the veggies will keep some of the heat from cooking the pork.
Tools Used to make this recipe: